Journal Starters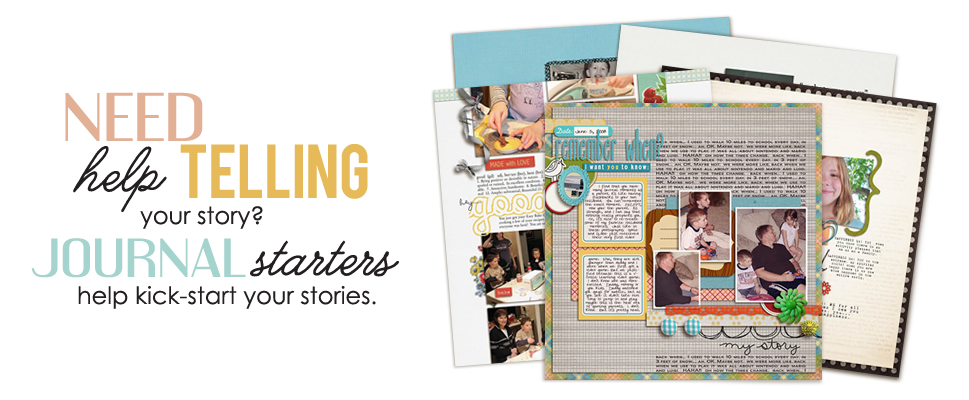 One random day I was thinking…  "I wish there was a website or place that I can go to for some journaling inspiration or find a good quote to use on a page."  In general, it is common to struggling with journaling.   My goal for "Journal Starters" is to provide an inspiration place for you to come find journaling ideas or quotes.  Hopefully it will help you to embrace journaling more on your layouts.
Think about it | Take any layout, you start with a photo (or multiple photos). Then add scrapbooking papers and embellishments.  It is common to stop after this, and call your page done.   All in all your page looks great and it documents your memory.  That's enough right?  Maybe.  If there are no words, you are missing having more feeling or emotion on the page.  Now |  Take the same layout, then add a quote.  Just try adding, "Enjoy the Moment".  It just feels different.  And yet, those same words could go on almost ANY page!  It could describe an ordinary day at home, a fun day at the park or a day at Disney World.  You doesn't necessarily have to journal lots of words for it to be consider journaling, it can be a simple phrase or sentiment.
You could use these journal started in two different ways… you could:
#1 | choose to use the prompt like a quote and stop right there, you may not need to journal more or
#2 | choose to use the prompt to inspire you to write something deeper, as a true journal starter.
CHECK OUT PAST JOURNAL STARTERS:
(click on prompt to go to the post)

Happiness is…YOU
WRITE a Letter
Pick a Letter "Ll" to Jump Start Journaling
This Makes Me Smile
Notes From Today
Motivation
How Do I Love You
Once Upon a Time…
Remember When
Adjectives
this perfectly imperfect moment
Dictionary Words
Small Blessings
Good
right here, right now.
A Beautiful Moment
That's my mom…

Halloween Edition
Christmas Memories and Traditions
Most Treasured Moment of 2012