Fall is upon us here in the northern hemisphere, and along with that the whole feeling of fall.
In my "Journal It" prompts, most weeks I will talk about prompts that we can use on alot of our layouts (or everyday type layouts). But what about those seasons and holidays in between? I will try to randomly choose some prompts to help us a little better through the seasonal type of journaling too. For today I am going to focus on Halloween. Let's take a deeper look at how we can find a story behind this fun (and delicious) day. For most of us who celebrate it… we really get into the excitement of it all, don't we?? The kids are bursting at the seams to get dressed in their costumes… and once your out, they practically RUN from door to door saying, "trick or treat!" and "thank you!" Yes everything from the feeling, to the creativity of this year's costume, the time you spend time dressing kiddos or being with them while out trick or just at home passing treats out. I KNOW there is a story.
So, the Journal Prompt for today is:
Behind the Halloween costume. Describe it.
I have to admit that I'm guilty of this… I've forgotten the story 'behind' my kid's costumes. I know that I've done numerous different Halloween layouts with pictures of my kids dressed up or the family out trick or treating… but I've never gone into any more detail. It's always been just… "here's a snapshot"!! Are you guilty of this too?
Let's think about this. How many days or weeks did you plan for the kids costumes? Did you pick it out OR did the kids decide what they'd like to be this year? What was the story BEHIND the costume? HOW did you get the costume together? Did you buy it? Did you make it? Where you running around the house pulling random pieces together? Was there any silly and fun bantering while you were getting dressed? Did the kids act out what they were?
As I was doing my layout and journaling (focusing on journal prompt)…. I remember something that I had totally forgotten 'behind the scenes'. Don't you LOVE it when that happens?? And goodness, it was a really fond memory to. The story was even greater than just the regular costume stuff, it was about how my kiddos uncle randomly got them cowboy boots. No rhyme, no reason, just out of the blue…. and oh, how they loved those boots. So in-spite of my original journaling thoughts, the journal prompt really took me down a different path.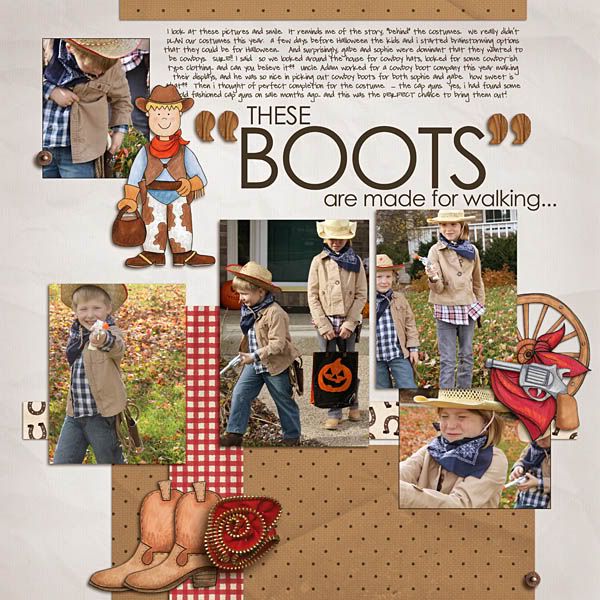 I hope this triggers a fond memory for you!
Hopefully this helps to inspire you a little more while doing those Halloween layouts.
I'd LOVE to see if you decide to play along with me… feel free to link your layout in the comments section.