Journaling isn't THAT bad, is it? I promise, it really isn't.
One fabulous thing about journaling is… it is true storytelling.
And that is what memory keeping is all about. Telling our stories.
I wonder why you can have one little phrase or a couple words string together can make you think of a whole different memory path? Let's try it. Today prompt is a very simple one.
Using the word Remember.(you can string this in a whole series of ways)
remember when…
You could:
1) Add just the phrase to your page. It will still trigger you to 'remember' as you're viewing the photographs! OR
2) Add this phrase on your page, THEN think, what is it I should remember? What is the story?
Think about it just a little more.
As I was scrapping, and looking at my pictures, I immediately got déjà vu of me, as a child. At a time when I was doing the exact same thing that I see my kiddos doing. …and BOOM, the story is created.
Best of all… my kids LOVE when I tell stories of when I was a kid (Seriously, not joking. The ask me, "Mama, what was it like back in the 'olden days'." (meaning when I was a kid) Ummmm…. when did I get so "old"? I'm only 32 for crying out loud. HAHA! So anyhow… I knew that this would be the perfect story to capture with these photos.
So perhaps you will remember a fitting story of something when you were a child or maybe of when your child was younger. Was there something similar that happened to compare to? Or perhaps there is something that has changed (for example: maybe your daughter always played with dolls, and look at her now) Maybe personality, or characteristics, something that you or your child always did?
Let the prompt inspire you to think of a past day.
See where this can take you?
Here is the layout that I did: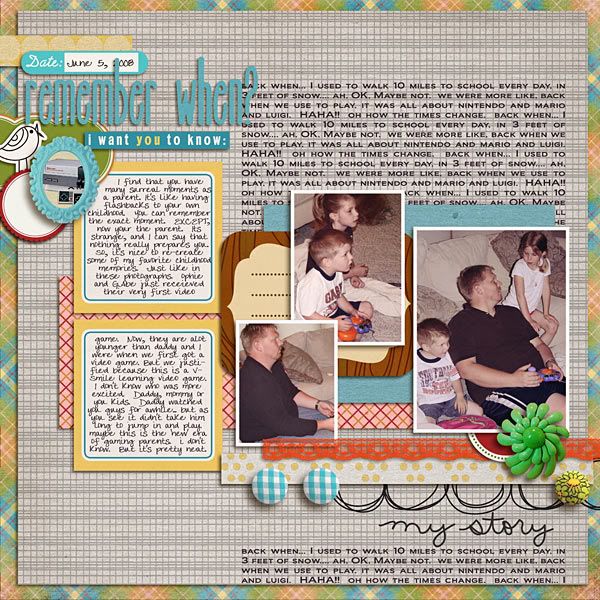 I hope this prompt had helped to inspire you.
I'd LOVE to see if you decide to play along with me…
feel free to link your layout in the comments section.
Stay tuned to next week's Journal Prompt!