written by mary w. (plumdumpling)
Well, the 2012 calendars have been tossed in the recycling bins. Another year, done.
Yet it has me thinking about one thing… perhaps it was becuase of all of the scrapbooking stats for 2012 floating around OR perhaps it was this month's Featured Kit
Treasured Moments
that got me thinking… but I found myself reflecting on one of my sweetest and most treasured of all memories of this past year.
My Most Treasured Moment of 2012
The most treasured moment of this past year for me was…
the moment when I found out that I would be having a little girl.
I remember SO much packed into that moment! Hopes, dreams, fears, anticipation, so much more. So many feelings that just burst from me in tears. Happy tears! Nervous tears! Excited tears! I didn't nearly feel as much trepidation with either of my two boys as I did when I found out that Kara would be part of our family.
That one moment that changed my world forever. And I'll treasure it always.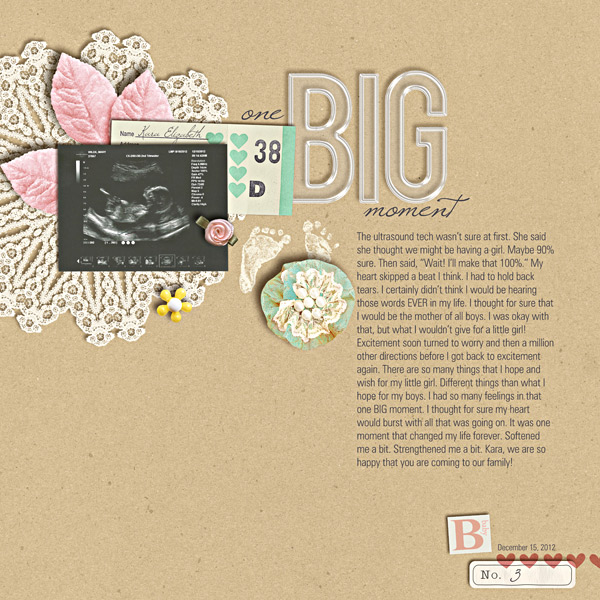 Journal Starter
What about you?? What was some of your most treasured memories this last year?
Did you welcome a new baby into the family? Did you have an afternoon out on a perfect, sunny, summer day? Did you travel somewhere amazing this year? Did you attend a sporting event? Did you graduate from school?
Use this prompt: "My Most Treasure Moment of 2012" to help capture this moment.
Let us know what your most treasured moment was!