Meeting Characters is one of my favorite things to do at the parks! It can make your day when you have and personalized meeting with a character. And, while getting an autograph and picture taken with a character is fun, having a great interaction with a character is even more fun!
On my last trip, my character meets seemed a little bit more unresponsive. This got me thinking… "what can I do to make a more personalized interaction between the character and my family?" I knew I need to talk to a Disney Veteran and Character Pro, Heather(snowdrop), (on my creative team). Heather has met over 215 characters, and has a website dedicated to characters she's met, I Love Characters. Stop by her site to check out all her character meets.
Also be sure to check out some fun tips here about interacting with Princesses & Pixar characters
Character Interaction Tips: Villain Characters
With Halloween around the corner, I thought it would be the perfect time to talk about…. villains!! Of all the characters, I think you can get the best interactions with villains. Some general tips, try wearing or carrying a toy that relates to the villains' rival. Since villains are "mean" they don't have to be as prim & proper as some of the other characters, such as the princesses. So you can really have some fun with them that other characters might not really play along with.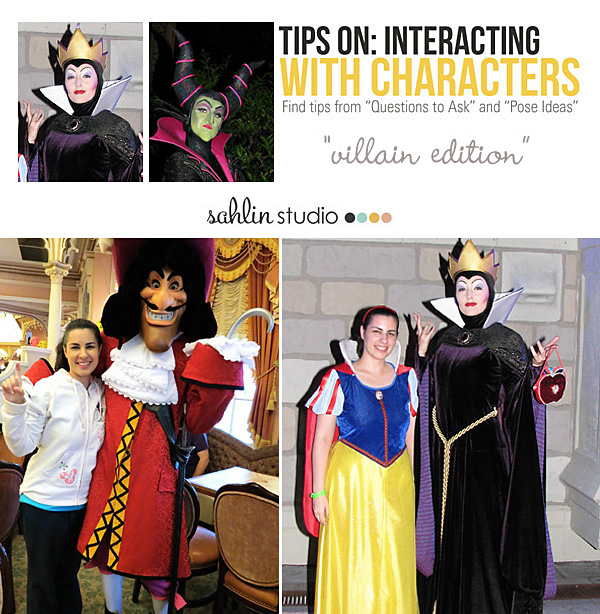 Anastasia.  Drizella, and Lady Tremaine (Cinderella)
-Talk about how pretty the sisters are, obviously the most beautiful & eligible in the kingdom!
-Compliment the sisters on their singing. If you're lucky, maybe they'll even sing a few bars for you!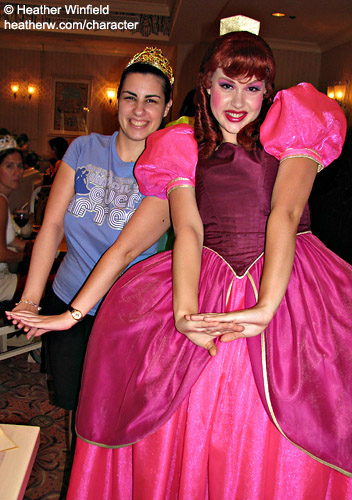 -If there is a guy in your party, have him propose to one of the sisters
-Ask about their cat Lucifer
-Tell them you just met Cinderella and she wouldn't invite you to her ball at the castle
-You can tell how much fun you can have with these three by the great expressions they have in this one picture alone!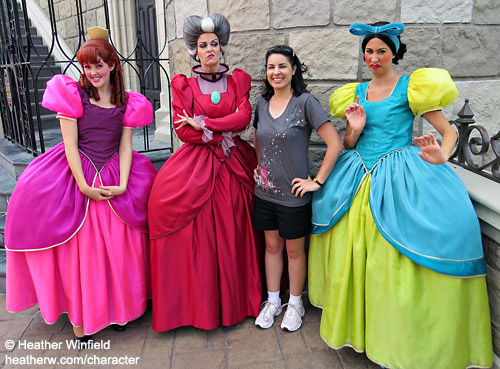 Captain Hook (Peter Pan)
-Tell him you want to join his pirate crew
– Start ticking like a clock, and wait for the reaction.
-Tell him he's a codfish
-If you have something with Tinker Bell's picture, show him to get a fun reaction (this happened recently when someone gave Hook an autograph book that had Tink on the cover.)
PHOTO POSE IDEA: For a fun picture, do a pose where you're both holding up a hook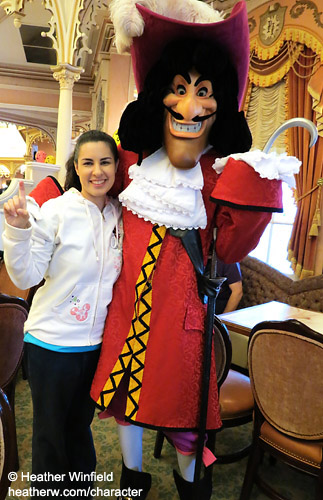 Cruella (101 Dalmations)
-Ask her if she's as sick of the princesses as you are
-Ask her about puppies.
-She loves to vamp it up, so ask her to start posing. She might even give you a mini photo shoot!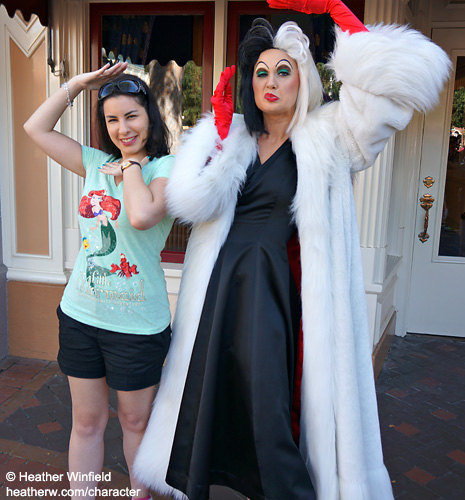 Dr Facilier (Princess & the Frog)
-Ask him about his friends on the other side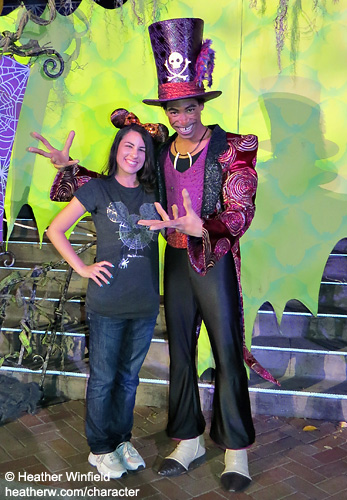 Evil Queen (Snow White)
-Tell her she is the fairest one of all. Or for a different reaction, ask her if she agrees that Snow White is the fairest one of all!
-If you want to take a selfie with her, tell her your phone is a magic mirror
-Bring along some kind of apple! I dressed as Snow White for the Halloween party one year, and had an apple bag. She grabbed it for this fun picture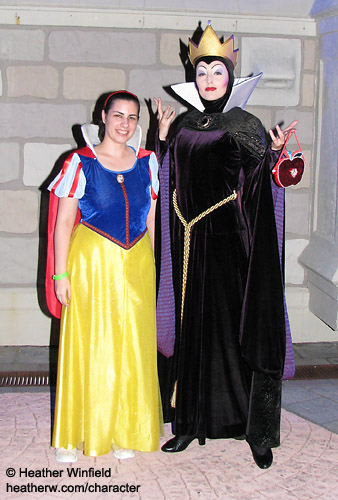 -If the Queen is meeting as the Hag/Witch (she's at Mickey's Not So Scary Halloween Party this year!), bring along an apple for this fun picture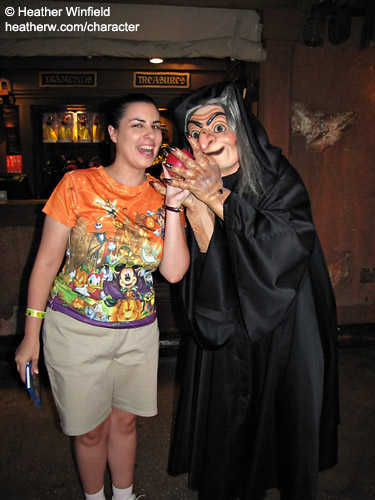 Gaston (Beauty and the Beast)
-Tell him you're eligible and hoping he won't marry Belle
-Tell him you love how he decorated his tavern & ask him about his fountain (if at Disney World)
-Wear sunglasses, he loves to see his own reflection!
-Tell him how excited you are to meet him. He might just say yes, it's an honor to meet him. 😉
-Challenge him in arm wrestling. If the crowds aren't bad, he usually will walk you over to a trash can or other surface to take on this challenge!
PHOTO POSE IDEA: For a fun picture, ask him to show off his muscles. He does have bisceps to spare!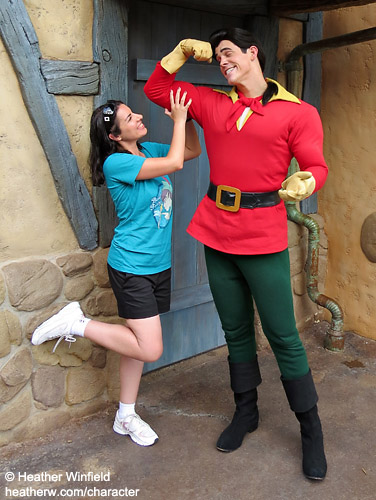 Hades (Hercules)
-Ask him about the underworld
-Ask him why he tried to make Megara into a villain
-Ask him about Pain & Panic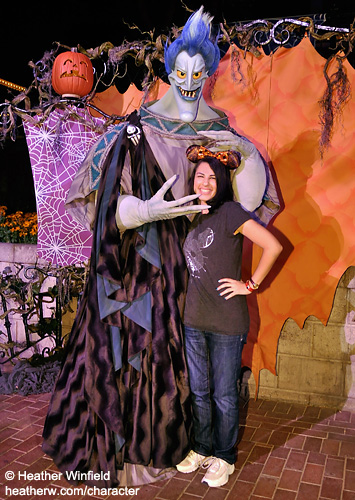 Jafar (Aladdin)
-Ask if you can borrow his scepter
-Tell him the Genie is more powerful than he will ever be
-Ask about Iago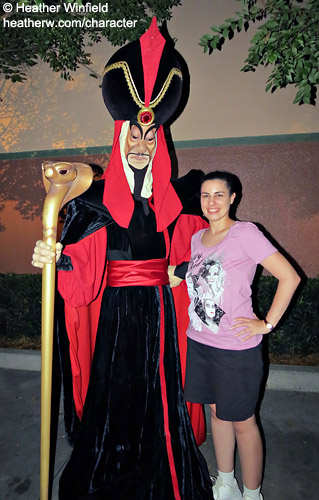 Maleficent (Sleeping Beauty)
-Ask where you can find a spinning wheel
-Tell her she's always invited to your parties
PHOTO POSE IDEA: For a fun picture, take a picture where you're back to back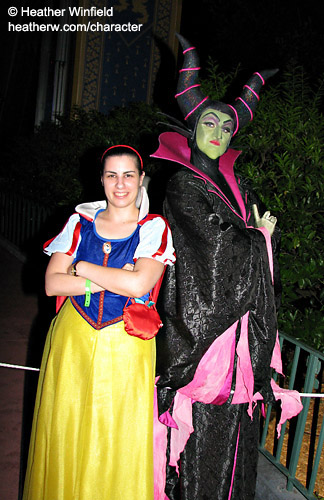 Queen of Hearts (Alice in Wonderland)
-Tell her your favorite roses are always red
-Bring along something to play croquet with. But make sure you let her win!
-Ask if she would like to join you for a tea party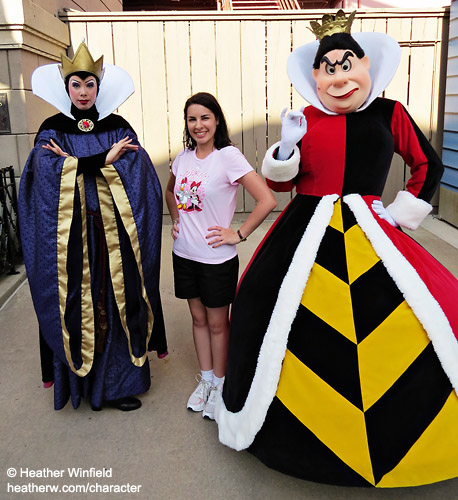 I hope this helps you come up with a few things to talk about next time you meet up with your favorite villain. What about you, do you have any fun experiences to share?? Link up things that you've talked about with your favorite "bag guy".
Looking for a great way to document your Villain encounters?
Check out our Project Mouse: Villain Edition here or Project Mouse: Halloween here.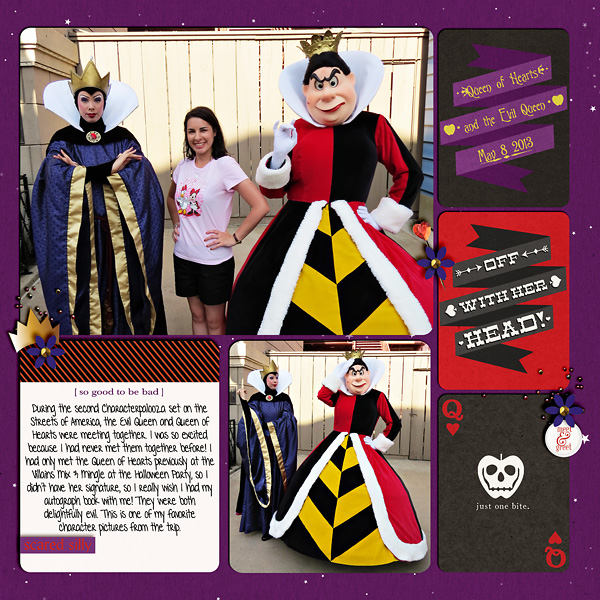 ▲snowdrop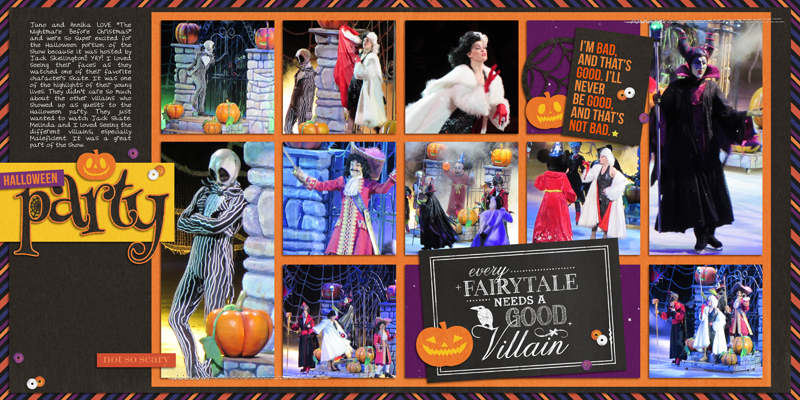 ▲yzerbear19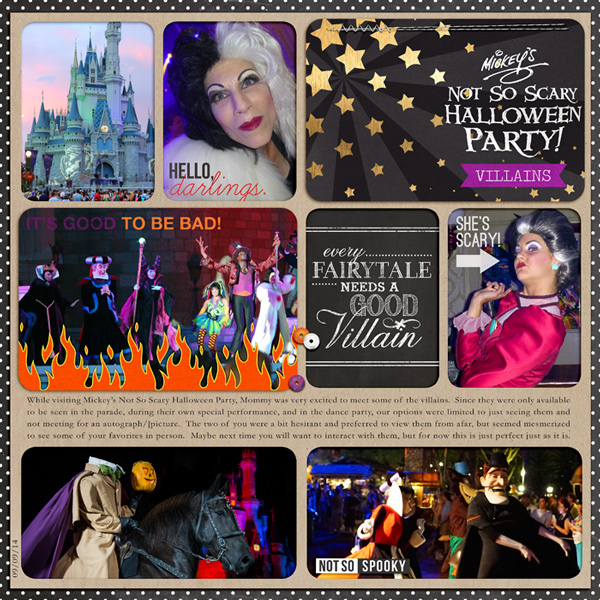 ▲rlma