Meeting Characters is one of my favorite things to do at the parks! It can make your day when you have a wonderful and personalized meeting with a character. And, while getting an autograph and picture taken with a character is fun, having a great interaction with a character is even more fun!

On my last trip, my character meets seemed a little bit more unresponsive. This got me thinking… "what "I" can do to make a more personalized interaction between the character and my family?" I knew I need to talk to a Disney Veteran and Character Pro, Heather(snowdrop), (on my creative team). Heather has met over 173 characters, and has a website dedicated to characters she's met, I Love Characters. I knew she would have some amazing tips and ideas for meeting your next characters.



[pinit]
Characters are always ready to pose for photos and sign autographs, but you could be missing out on a bit of fun. They are always ready to play with guests and may just need a little prodding to do so. So try asking them a few things and you could get a really great and memorable experience.

Here are some ideas of what to say or ask the princesses to kickstart that great interaction:

Meeting Ariel
– Bring along a dinglehopper, see how she reacts.
– Ask about how is Eric doing?
– Talk about all the human treasures she has found.
– If you meet her in mermaid form, ask her if she misses her human legs. We've had some fun interaction talking about this! One time, she said she missed being able to walk to the bakery since bread gets soggy in water.
– Ask about Sebastian, Flounder or Scuttle.

PHOTO POSE IDEA: For a cute picture, ask her to make a fishy face: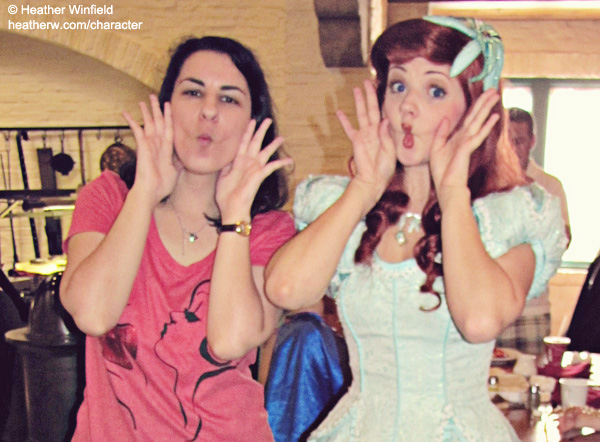 Meeting Aurora
– Ask about her favorite color, see if she would rather be wearing a pink or blue dress. This is even better if you are wearing something pink or blue!
– Ask what it was like to be asleep for so long.
– Ask if she likes to takes naps
– Ask about Flora, Fauna and Merryweather, and what they are up to
– Ask her about Prince Philip
– If you are meeting her at Disney World, ask if she misses her castle at Disneyland! Or ask if she thinks her castle is better than Cinderella's.

PHOTO POSE IDEA: For a cute picture, ask her to do a sleeping pose!
Meeting Belle
– Try asking her what she thinks of either Gaston or the Beast!
– Ask what types of books she likes to read. It would be fun if you brought your favorite book and held it in the picture!
– Ask about her dad and/or his inventions. If you visited the Enchanted Tales with Belle attraction, you can even talk about the inventions you saw there.
– Ask which dress she likes better: her gold one or her blue one.
– Talk about Lumiere, Cogsworth, Chip, or Mrs. Potts.
PHOTO POSE IDEA: It's fun to do a princess type pose for your picture, I was happy to be wearing a skirt when I met her last trip so we could do this pose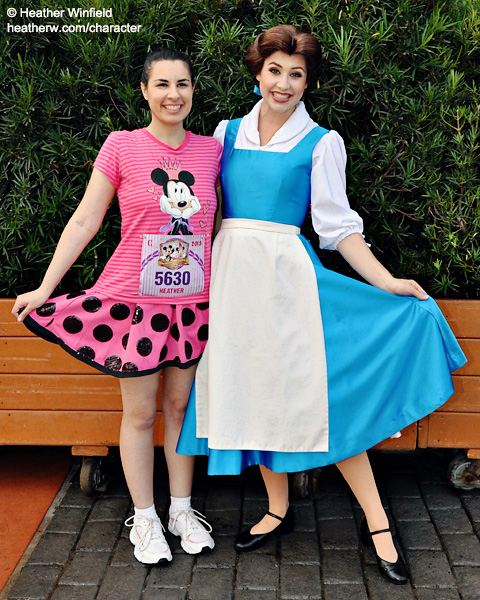 Meeting Cinderella
– Ask to see her shoes! After all, she wouldn't be here without them, right? (On my last trip, we decided to dress up and meet the princesses and other characters. When we met Cinderella, I asked how she was able to walk around all day in her heels because my feet were already killing me!)
– Talk to her about her castle. (I ask if she will let us stay overnight in her castle, and every time she says no. But I'm going to keep trying!)
– Ask about her pumpkin carriage.
– Ask if she has tips on how to find your own fairy godmother.
– Ask if she is happy to be a princess and not living with Lady Tremaine and her step sisters anymore.
PHOTO POSE IDEA: A fun picture would be of everyone showing off their shoes.
Meeting Jasmine
– Ask if she likes flying on the magic carpet. You could even talk about how this compares to the flight you took to get to Disney.
– Ask what how Aladdin is or what he is doing today.
– Ask what it is like to have a pet tiger.
– Ask what her friend The Genie been up to.
– Ask if Jafar is still locked in the Genie lamp.
PHOTO POSE IDEA: Try having everyone cross there arms like Jasmine likes to do.
Meeting Merida
– Ask about her brothers and what trouble they are off causing. (At Disneyland the 3 bears are still at the meet and greet, but they are no longer at Disney World)
– Ask what it is like to live in Scotland.
– Talk about her wild red hair.
– Ask if it was strange to see her mom as a bear.
– Ask for some archery lessons. PHOTO POSE IDEA: For a fun picture, ask to do an archery pose.
Meeting Mulan
– Ask her about Mushu.
– Ask about her time in the military.
– Ask what it was like to meet the Emperor.
– Ask her what she really thinks about the Matchmaker!
PHOTO POSE IDEA: For a fun picture, ask for a warrior pose.
Meeting Pocahontas
– Ask her to show you how to say hello in Powhatan.
– Ask about Meeko and Flit.
– Talk about her arm band.  This works really well if you have a visible tattoo.
Meeting Rapunzel
Of all the princesses, I've probably had some of the most fun interactions with Rapunzel. She's the most spunky princess and likes to play along!
– Talk to her about her hair. Ask how it doesn't get tangled (ha!)
– Tell her that you'll never look at a frying pan the same way again. (We had such a long conversation about this last time, I don't even remember it all!)
– Ask her where Flynn is.
– Ask about Pascal and Maximus.
– Talk about the lanterns.
– Ask her what is was like when she discovered she was the long lost princess.
– Ask her about her drawing or painting. During the Halloween and Christmas parties, Flynn meets with Rapunzel. We were having a conversation about drawing, and when Rapunzel asked me what I liked to draw, I said characters. (Confession, I can't even draw a stick figure, but I was just playing along!) For some reason, Flynn thought I said flamingos. He decided to draw a flamingo on the page opposite his autograph. Then he added a Santa hat to make it Christmasy, then he added a goatee so it would be like him, then he named it a flynmingo!! Neither Rapunzel or I saw what he was doing until he was done, it was hilarious!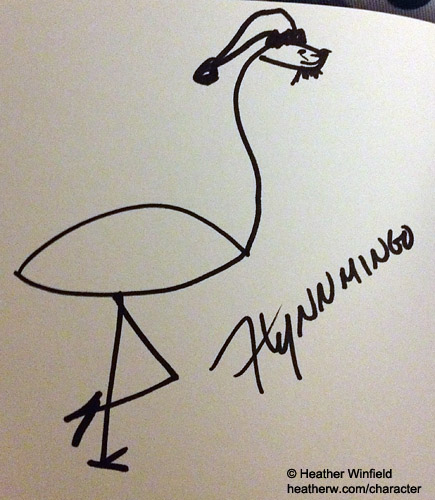 Meeting Snow White
– See if she has a favorite dwarf!
– Ask if she knows where the dwarves are and how are they doing.
– Ask what she thinks of apples.
– Ask her about wishing wells. This works great if you are meeting her at Germany in Epcot or Disneyland, both places she meets by her wishing well.
– Ask where her prince charming is.
– Talk about true love's kiss.
PHOTO POSE IDEA: Here is another cute princess pose you can do: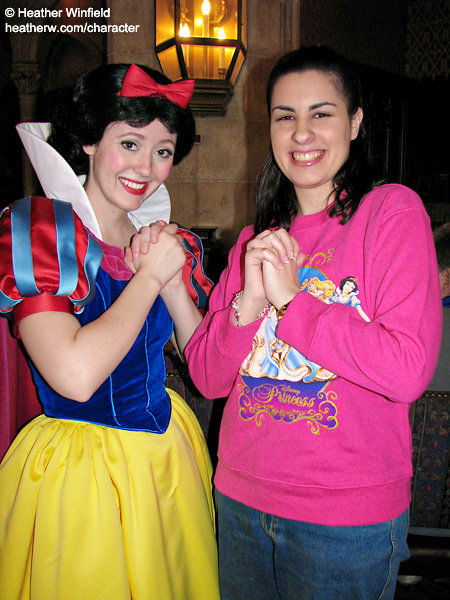 Meeting Tiana
– Ask her who is minding her restaurant.
– Ask her what her favorite thing is to cook.
– Ask what she misses from being a frog.
– Ask her about Naveen and Louie.
– Ask what it is like living New Orleans.
– Talk to her about Jazz music and Mardi Gras.
I hope this helps you come up with a few things to talk about next time you meet up with your favorite princess. What about you, do you have any fun experiences to share?? Link up things that you've talked about with your favorite princesses.


Looking for a great way to document your Princess meetings?
Check out our Project Mouse: Princess Edition post here.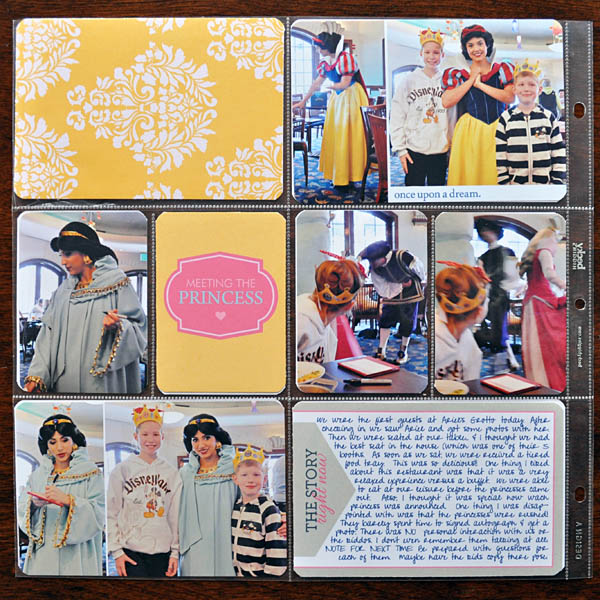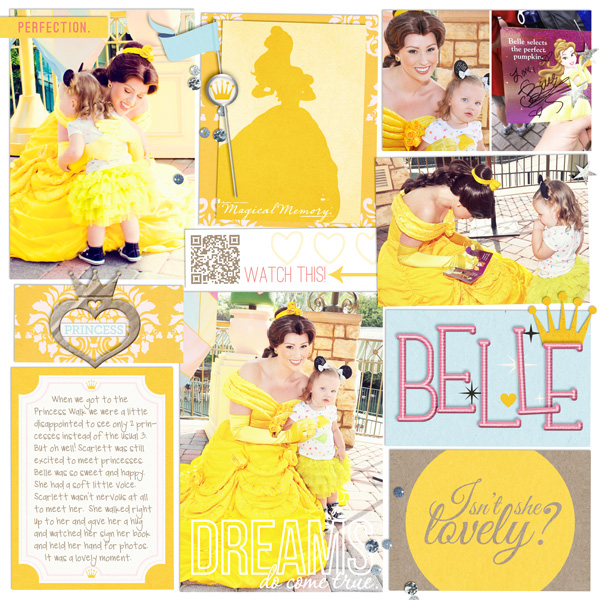 Also, by sure to check out "Character Interaction Tips & Ideas: Pixar Characters"