Meeting Characters is one of my favorite things to do at the parks! It can make your day when you have a wonderful and personalized meeting with a character. And, while getting an autograph and picture taken with a character is fun, having a great interaction with a character is even more fun!
On my last trip, my character meets seemed a little bit more unresponsive. This got me thinking… "what can I do to make a more personalized interaction between the character and my family?" I knew I need to talk to a Disney Veteran and Character Pro, Heather(snowdrop), (on my creative team). Heather has met over 195 characters, and has a website dedicated to characters she's met, I Love Characters. Stop by her site to check out all her character meets.
A few months ago Heather wrote an article, Character Interaction Tips & Ideas: Princesses, with her tips for meeting, talking and interacting with your favorite princess. Check out that post here.
Character Interaction Tips: Pixar Characters
Today, here are some tips for getting some great interaction with characters from the Pixar movies! From Toy Story, the Incredibles, Monsters Inc, Cars, Up & Brave.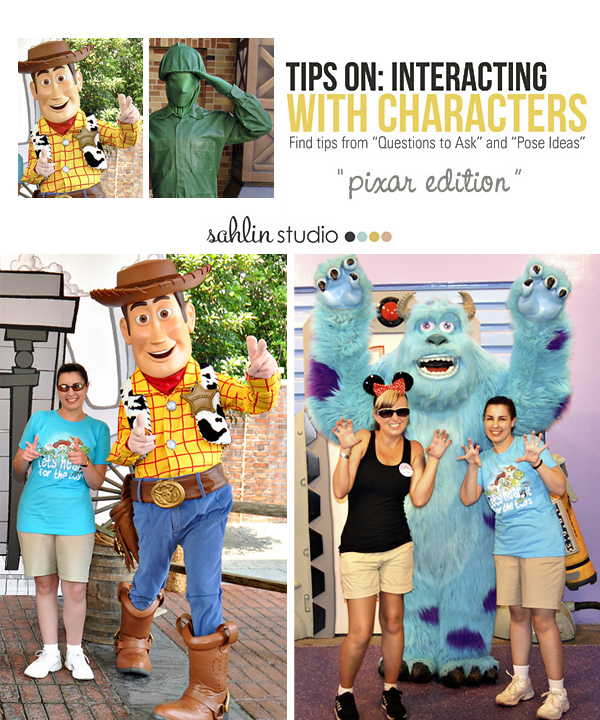 Toy Story
Before writing about each Toy Story character, I should take time to address something that went viral earlier this year. Yelling "Andy is coming!" will NOT get a response. The characters won't fall on the ground. This may have happened once or twice in the past, but it is too hard for the characters to do every time. Once this went viral, people were yelling this, even if they weren't in line for the character. The only thing that might happen is an eye roll from the character attendant and others in line.  There are still a ton of fun things to do with these characters, though!
Meeting Buzz
-Ask how he feels about Jessie
-Ask him for Latin dance lessons. I've danced with Buzz several times!
-Ask about Zurg
-Compare notes on how you both have done on Buzz Lightyear's Space Ranger Spin (or Astro Blasters at Disneyland)
-Tell him he's a toy!
PHOTO POSE IDEA: For a fun picture, ask to do a pose where he's using the laser on his arm OR Buzz usually poses with his hand on his hip, so join in the fun!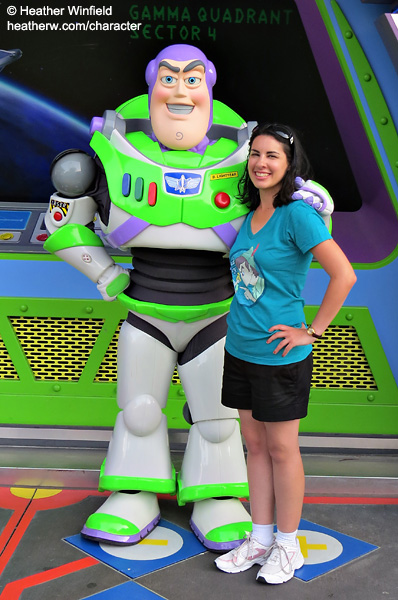 Meeting Woody
-Greet him with "Howdy Partner!"
-Ask  if Andy's name is still written on the bottom of his boot. Don't be surprised if he decides to show you!
-Point out the pull tab on his back
-Ask where Bullseye is or if he still talks to Bo Peep
PHOTO POSE IDEA: For a fun picture, ask to do a shooting pose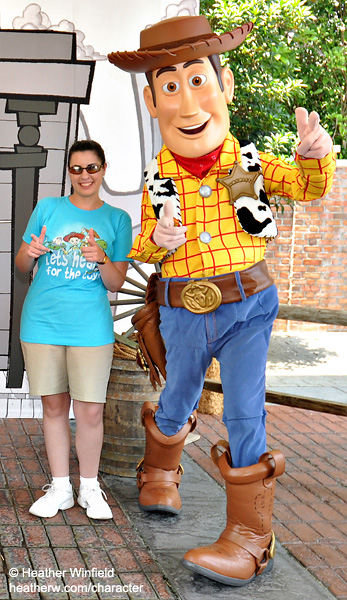 Meeting Jessie
-Ask her about Buzz
-Talk about being a cowgirl
PHOTO POSE IDEA: For a fun picture, ask to do a pose where she's holding onto her hat
A general tip for any character interaction, wear a shirt that relates to the character! I try to do this for character meals, or if I know I will be meeting a certain character that day. The character will usually react to seeing themselves on your clothing! Here's a cute picture with Woody, Jesse, and Bullseye reacting to seeing themselves on my shirt.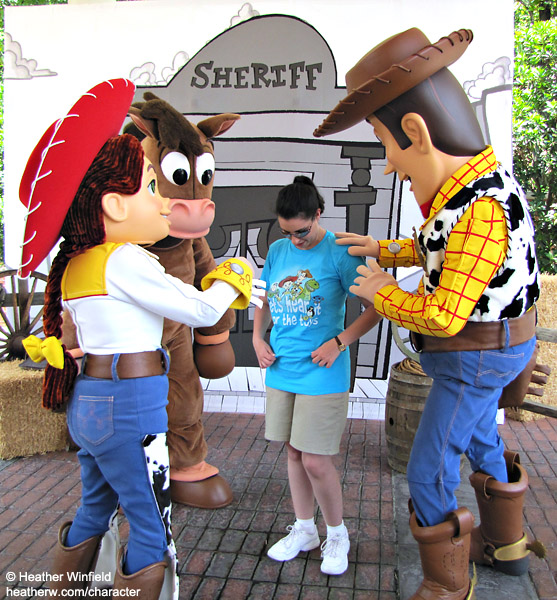 Meeting Green Army Men
-Challenge him to pushups
PHOTO POSE IDEA: For a fun picture, salute!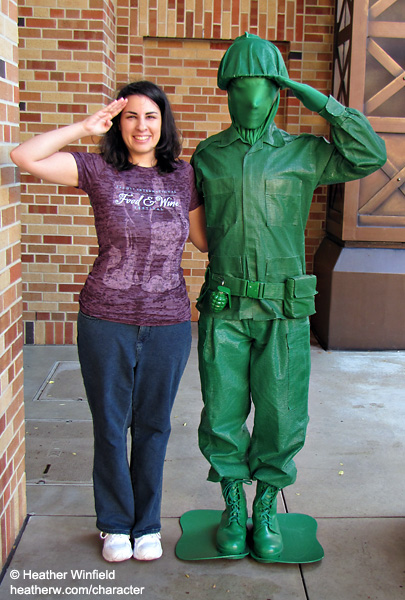 Meeting Lotso
-Tell him you love strawberries
-Lotso is a hugger, so make sure you get a hug!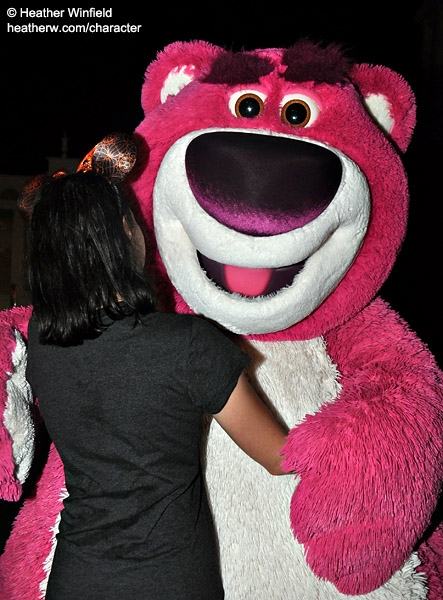 Incredibles
Meeting Mr. Incredible and Mrs. Incredible
-Challenge Mr. Incredible to a arm wrestling match. (This works better at Hollywood Studios at Disney World than at California Adventure because there's a table in the meet and greet area.)
-Ask about Violet, Dash, and Jack Jack
PHOTO POSE IDEA: For a fun photo, show off your muscles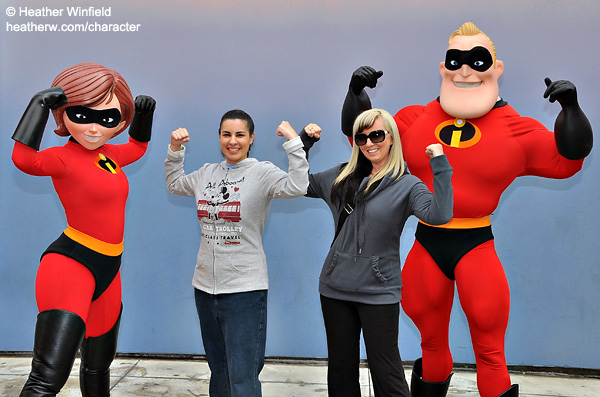 Meeting Frozone
-Tell him how cool it is that he can freeze things!
-Tell him you don't like the cold
-Ask if it was hard to keep up his secret idenity


Monsters Inc
Meeting Mike
-Tell him you're happy he still has his Monsters University hat
-Talk to him about Sulley and relate it to your own best friend!
Meeting Sulley
-Call him "Kitty"
-He gives amazing hugs, so be sure to get a hug!
-Tell him you can help with the laugh power and tell him a joke!
PHOTO POSE IDEA: For a fun picture, growl and be scary like Sulley with your hands
Cars
Meeting Lightning McQueen, Mater, and/or Red
-Shout "Ka Chow" to Lightning McQueen
-Ask if you can "get an autograph", and rub their tires on your autograph book
-For Red (at California Adventure), ask him not to spray you
PHOTO POSE IDEA: For a fun picture, lean your hand or arm on the car (but not too much!)
UP
Meeting Russell
-Do the Wilderness Explorer call, "CAW CAW!"
-Talk about one of the Wilderness Explorer badges he's received. Ask which is his favorite.
-Ask about Carl and Kevin
PHOTO POSE IDEA: For a fun picture, ask to do the Wilderness Explorer sign.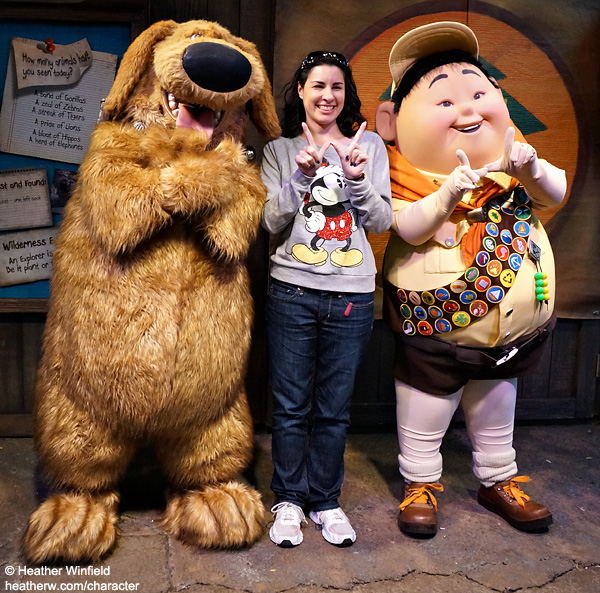 Meeting Dug
-Point and yell squirrel!
-Ask if you can pet him.
-Tell him you also don't like the Cone of Shame


Brave
Meeting Merida
– Ask about her brothers and what trouble they are off causing. (At Disneyland the 3 bears are still at the meet and greet, but they are no longer at Disney World)
– Ask what it is like to live in Scotland.
– Talk about her wild red hair.
– Ask if it was strange to see her mom as a bear.
– Ask for some archery lessons.
PHOTO POSE IDEA: For a fun picture, ask to do an archery pose.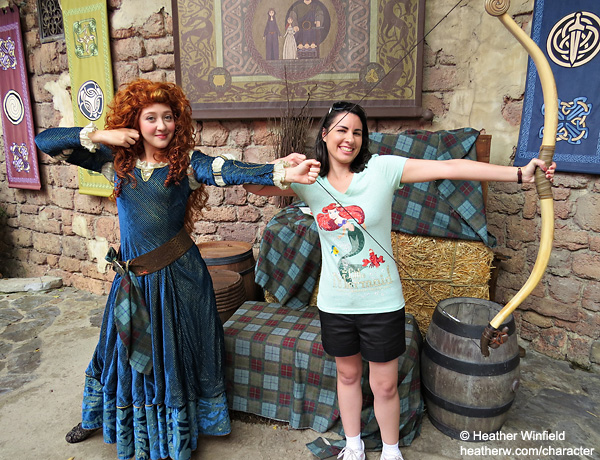 I hope this helps you come up with a few things to talk about next time you meet up with some of your favorite Pixar characters. Do you have any fun experiences to share? Share some things you've talked about in the comments!