For those of you who know me and my scrapbooking style, know I LOVE to scrap with multiple photos on a page. This is something I learned after going through a few of my first finished albums. As I was going through them I realized that my favorite things always ended up being the photographs. Sound familiar? The part I loved the most was either seeing how much my kids have changed, seeing seeing a certain "look" they have on their face and sometimes even finding things in the background, like an old car or furniture piece. So I started scrapping true to what I love… and I'm proud to say that I am 100% multi-photo scrapbooker. If you haven't seen any of my layouts, I invite you to check out my personal layout gallery here.
Since I've started sharing my layouts in the galleries, I've noticed a common theme to the comments that I get. It goes something like this: "Krista, how are you able to scrap with so many photos?" Or "I wish I could be able to scrap with more photos on my page." "Where should I start?" So I decided to tackle these comments… and with inspiration of course!! Today, we are going to focus on scrapbooking pages with 3 (THREE) Photos. I am going to show you some basic "design rules" that most layouts use (that most of you didn't know that you knew). AND, you are going to have SO many options that you can take any of these basic ideas when creating your pages. Feel free to come back to this post any time. If you are going through your photo folders and find three photos to scrapbook, this post will be a great place to come back to again and again.
To start, I always find I start with the same step.
1) Start your layout with putting ALL of the photos you want to include.
(This way you be sure to see how they look together, and you will make it the priority on your page)
2) Come back here to find great inspiration on how you can scrap them.
Scrapbook Page Designs Using 3 Photos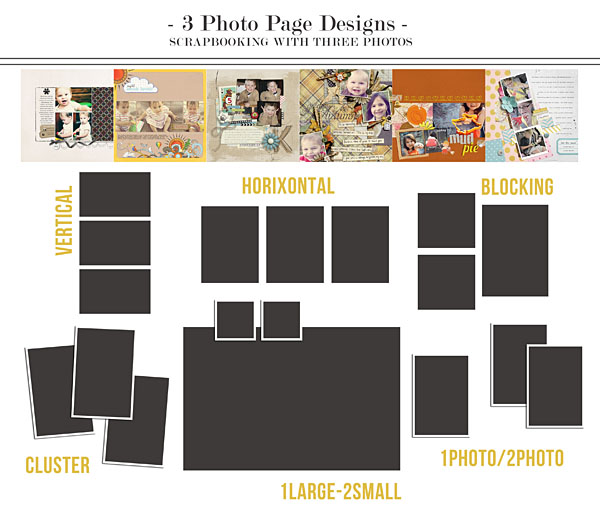 There are many different design 'styles' on how you can arrange your page.
Vertical, Horizontally, Stacked/Cluster, Scattered, OR 1Photo/2Photo Design
Take a look below to find a multitude of examples to show these different styles.
(click on any image to take you to credits)
Design your Scrapbook Layouts Vertically
One easy way to arrange your photos is in a column style, with series of photographs all up in down in a line. You can keep them in a straight linear fashion, create something like a "photo booth strips, or stagger them around a bit for more interest.
Vertical – In a Linear Fashion
Vertical – PhotoBooth Strip Style
Vertical – Staggered & Tilted
Vertical – In a Circular Fashion
Who says the all of your vertical pictures have to be linear? Use circles to create your linear effect.
Design your Scrapbook Layouts Horizontally
This design is similar to the vertical design, but going the other way in a horizontal linear design. It is another easy way to arrange your photos. You can keep them in a straight in a linear row fashion, OR stagger and tilt them a bit some interest.
Design your Scrapbook Layouts in a Blocking Design
This is a fun one!! It requires a use of your rectangle or shape tool. You can 'design' a grid like or blocking pattern, and "clip" your photos to the design. Not know how to do this? See this tutorial here.
Design your Scrapbook Layouts in a Scattered Design
Design your Scrapbook Layouts with a Blended Photo
Design your Scrapbook Layouts with a Cluster / Layered Design
Design your Scrapbook Layouts in a 1Photo/2Photo Design
Need More Help Using 3 Photos?
With the tons of decisions to be made on our pages, sometimes the hardest is this: "Where Do I Put My Photos?" And after so many customers asking about multi-photo layouts, I knew I needed to do something to make it easier. Well, now you can go gangbusters on your ever-growing stack of photos with my Three (3) Photo Templates! An impressive collection of pre-arranged photo clusters, this template pack makes it effortless to create a well-designed page with minimal effort. Just place one on your background paper, clip you photos, embellish, and your done! Flip and rotate them for even more options!
THREE (3) PHOTO Templates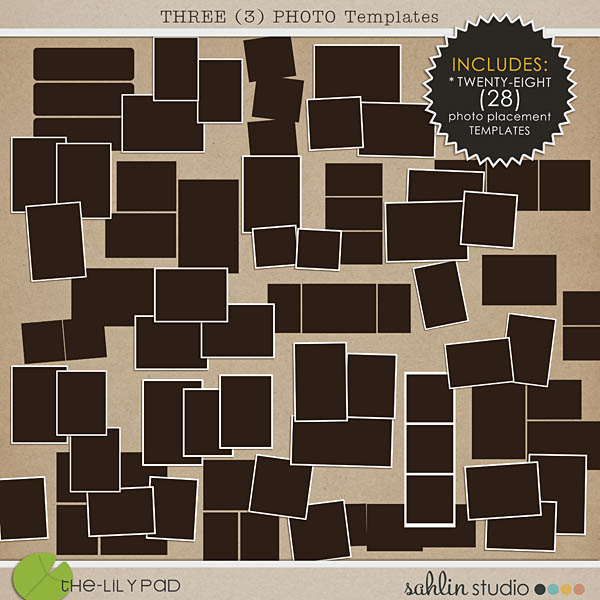 Template pack contains 28 (3) photo clusters in PNG, PSD, & TIFF formats
Stay tuned for further features coming soon…. (4 Photos, 5 or more Photos)