Hello all! I'm Jenna, a new member of the Sahlin Studio Creative Team. My favorite method of documenting is using the Project Life App. I love to learn about tips and tricks to make my documenting on the app better and better. The most recent? Learning how to recolor journal cards IN the Project Life App. Yes you can!! So below I wanted to share how I recently edited a Project Mouse digital card within the Project Life App.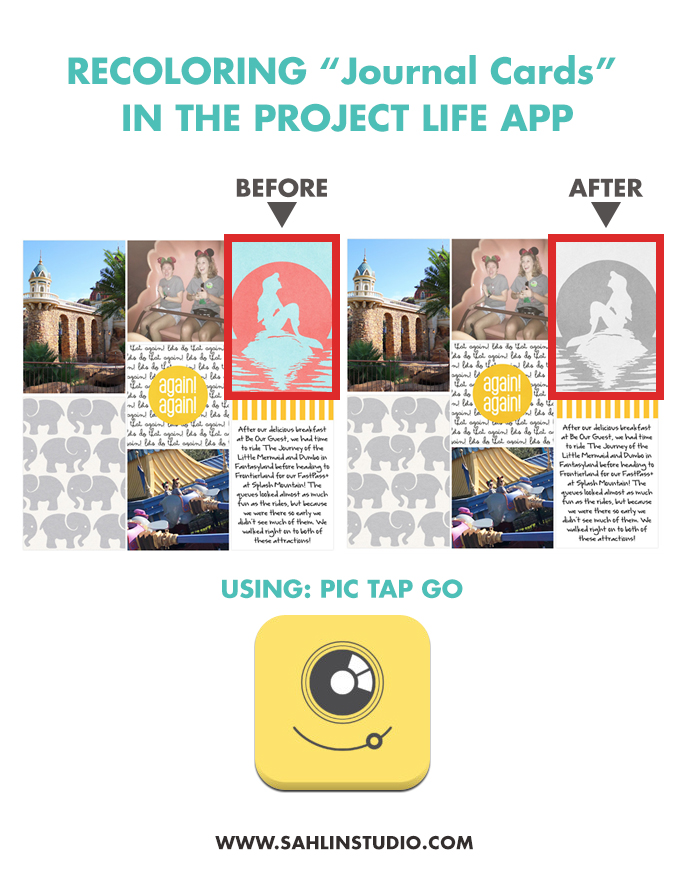 Pic Tap Go
This method uses the "Pic Tap Go" Photo Editing system inside the PL App. The Pic Tap Go app is a separate purchase and can be integrated directly into the PL App. It offers a greater variety of extra editing options. Right now, this feature is only available for iOS users.
Before and After
I previously downloaded and unzipped the Project Mouse: (Fantasyland) and(Rides + Attractions) card packs (along with this amazing freebie from Britt's blog) on my PC and then added them to my Dropbox account. From there, I directly accessed Dropbox from the PL App and created my page. For more information on how to use Project Mouse supplies or any other cards in the PL App, see this post .
The page below will be the right side of a two page layout, but I knew I needed to do two things to make this better coordinate with the rest of the layout:  1) FLIP the Ariel card to face the page and 2) RECOLOR the card to coordinate with the elephants. Create a page in the PL App and then follow along with me using the screenshots and instructions below to flip and recolor any non-PL App card.
BEFORE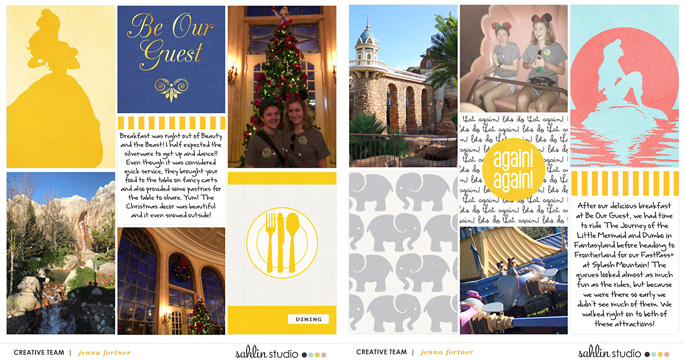 AFTER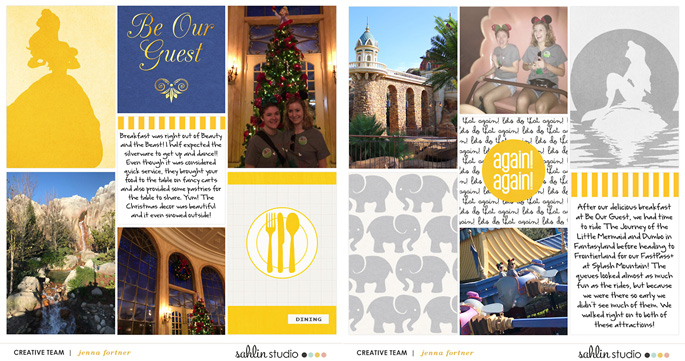 How To Recolor – THE VIDEO
How To Recolor – STEP BY STEP
Do you need some step by step instructions?
Let's start with our BEFORE page in the PL App.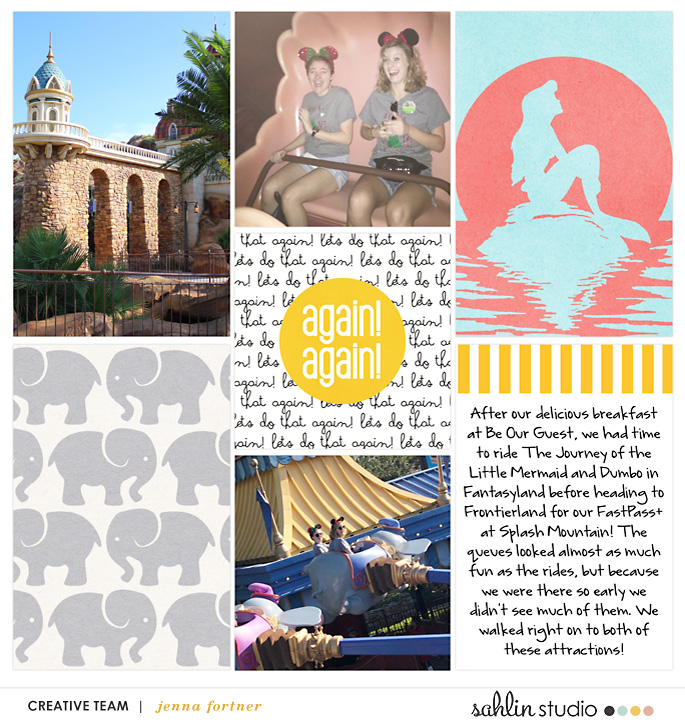 Let's Flip our Photo – The Horizontal Flip
Recoloring a Journal Card – Black and White
Now it's time to recolor the journal card. The options for these are really endless, but for this card I simply would like to make it black and white.
Recoloring a Journal Card – COLOR
To recolor instead of choosing a black and white option, tap All (instead of B&W), and swipe up again. This is really when you start playing. Choose an option and swipe up to see more options. Do this again and again for even more options! Steph Clay from Modern Photos Solutions recently posted a detailed video on her Facebook page showing more about this recoloring process.

Live Video – Steph Clay (Modern Photo Solutions)
Now Ariel coordinates much better and I am happy with the results! Here's the AFTER….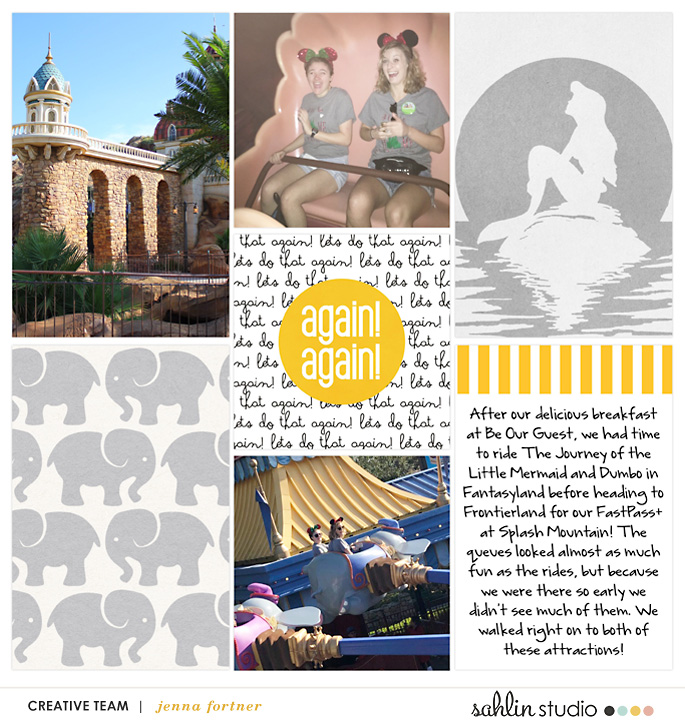 You can make a page and do some major editing all in one app. Okay, two. Sort of! Take some time to play around with all the editing options Pic Tap Go offers!! This is great to be able to make a card more easily coordinate with the other cards and photos on a page.
Here is the full layout with before and after again…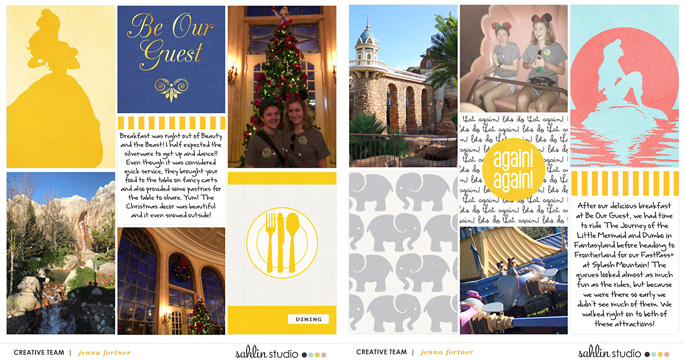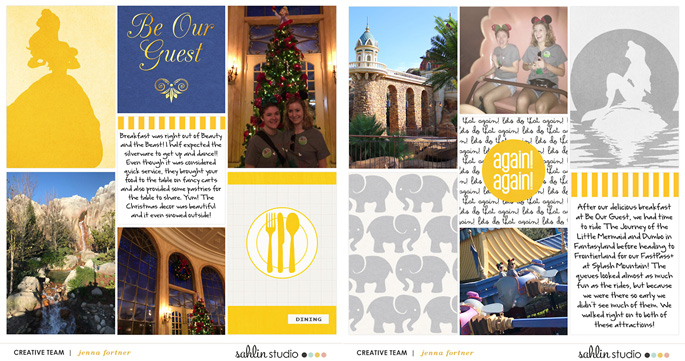 Products used for this layout: Project Mouse (Fantasy) Cards, (Food) Cards, (Rides & Attractions) Brittish Designs Blog Freebies and a journal card from the Project 12 January Edition in the Project Life App.
Give it a try and share your page with us in the Project Mouse Facebook group!
Happy Scrapping, Friends
(Visited 493 time, 1 visit today)