There are alot of you that know and LOVE the Project Life App!!  And in case you didn't know… you can use both the Sahlin Studio digital cards, and the Project Mouse collection inside the Project Life App!  Want to learn more information?  Check out more "How To" below.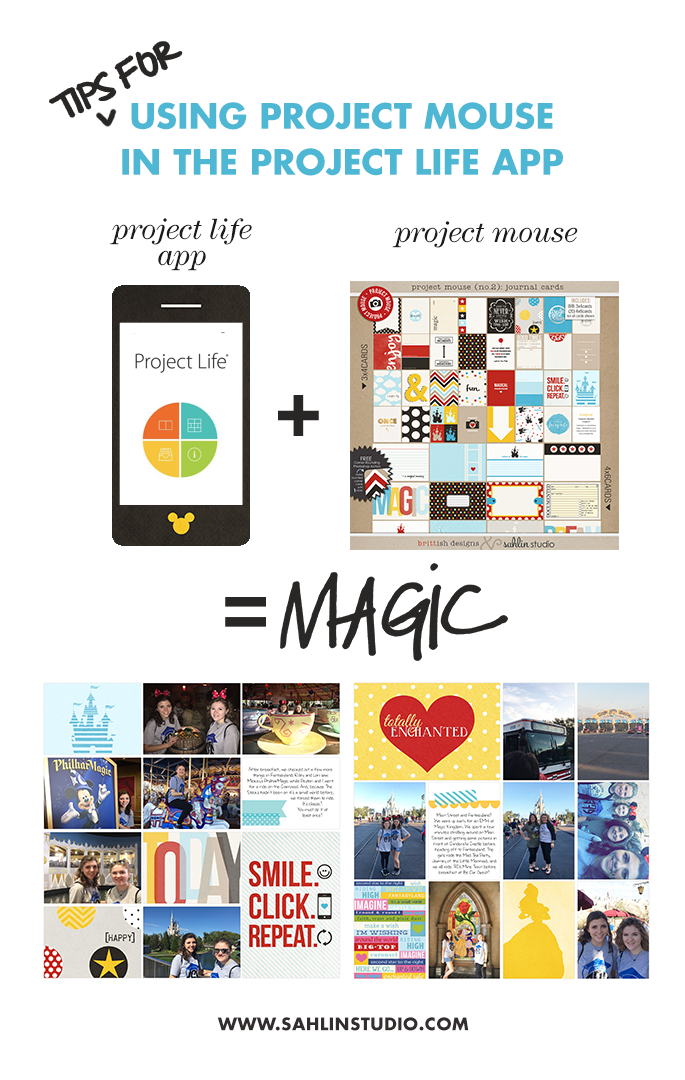 I know many of you have years of photos galore, and you WANT to scrapbook them, and don't think you have the time?! Well, you can do it on your phone!!!! That means in the car pool line, at the doctor's office, even while you're making dinner (just don't let it burn, ok?!) You can even scrapbook your whole life ON YOUR PHONE. Here's how.
Project Life App | The Basics
What Is The Project Life App:  Project Life is a traditional style of simple scrapbooking using a pocket system.  But the Project Life App, came out for scrapbookers on the go. It is basically the same system but you can scrapbook from your phone!!  What are the perks of using an App?  Perks are: you don't have to worry about printing off photos and no need for scissors, tools or adhesive!  PLUS, you can create scrapbook pages in the palm of your hand, any where you go!!
How Do I Use:
1) Download the Project Life App (available for phones and tablets)
2)  Watch this short little video for a quick overall lesson.
Want to Learn How? Have More Questions?
1) Project Life You Tube Page: A lot of the basics can be found right on the Project Life You Tube Page. The You Tube page has loads of tutorials to help you learn what you are looking for. Everything from the Basics of Creating a Page, Printing from the App, Backing Up Your Pages, Photo Overlays, Adding Text to Unique Cards, The Collage Feature, and so many more.
2) Facebook Groups: The are SO many Facebook groups with other fellow App Scrappers that enjoy this hobby. I have learned many things from people in these groups, and have found SO many tutorials here.  Click on the links below, and request to join these groups!!
App Scrappers – Simply Project Life Facebook Group
App Scrappers – Project Life and Beyond Facebook Group
3) Want a How-To Class?  I took the Modern Photo Solutions: Heart of Photo Fabulous Class
Let me tell you, this class is SO good!!  It tells you step-by-step how to do everything, from backing up (and all of the cloud storage options), options to free up phone space, The Project Life App (basic information about building pages, editing images, changing backgrounds, organizing completed pages and printing outside of the app), adding external supplies, how to have the ability to work offline and many different processes and tips for documenting.
Project Life App | Using Digital Journal Cards (Like Project Mouse)
Did you know that you use digital journal cards and Project Mouse cards in the Project Life App?  YES!!!!
How Do I Do This:  In order to use your digital cards inside the Project Life app, you need to have them "stored" in way that can be pulled onto your phone.  Insert the program, Dropbox.  What is Dropbox?  Dropbox is a cloud based document storage platform that syncs between multiple devices (PC computer, phone, laptop, etc).  You can get a FREE Dropbox account.   But as I use Dropbox for everything (storage/backup for photos, kits, etc,)  So I pay for the extra 1TB of storage.
Step 1) Download the Dropbox App (available for iOS and Android phones and tablets); and Download and Install Dropbox on your personal computer (or laptop)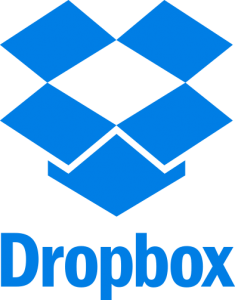 Step 2) Go to your PC, download and unzip your purchased Project Mouse cards or digital journal cards.
(You can download them straight to your device, but it requires a few extra apps and a mobile device with lots of storage space!  I find it much easier to download products to my computer, unzip them and then upload to Dropbox.)
Step 3) Create a folder in your Dropbox (i.e. Project Mouse Products), then copy and paste from your PC desktop, into your Dropbox folder you just created.  It will only take a few minutes to sync up your files to Dropbox's cloud.  Then you are ready to begin!!
Using Your Project Life digital cards in the Project Life App:  From here you can pop your Project Mouse cards straight into the Project Life app the same way you place a photo from your camera roll into the app.  On your mobile device in the app: click the PHOTO button > choose Dropbox > select your Folder > select your Photo > THAT'S IT!!
Project Life App | More More More
Project Life is pretty wonderful, but there are a few limitations.  For those of you looking to do more on your pages, or adding more… here are some tips on adding more functions.
Want Better Photos?
There is something to be said about ANY printed photo being better than none.  This is true.  But when you can take a good photo, and make it GREAT with just a couple clicks… I'm IN!!   Project Life has partnered with the Totally Rad and the app Pic-Tap-Go and put it inside the Project Life App.  It is definitely worth the upgrade for editing photos fast and easy.
More Advancing Journaling:
To journal using a Project Life (in-app) journal card, you click the little "pencil icon" and begin your typing.  Super easy!!  But if you are using an outside digital journal card, this doesn't work quite the same.  Why? It's because the card was imported as a photo. Because of this, the PL program doesn't recognize that it is a journal card to type on.  But no worries!  There are a variety of apps to add your journaling: Over, Letter Glow, Rhonna Designs or Pixel Lab (for Andriod)
Adding Word Art or Digital Elements:
One drawbacks to the Project Life app is that you can not add any word arts or extra embellishments. But fear not!! There are a variety of apps to add your elements to your pages. Similar to the journaling functions, these apps will help you with that. Over, Letter Glow, Rhonna Designs These apps allow you to add text over your images, add element pngs, etc. or Pixel Lab (for Andriod)
Create More Collages:
The Project Life App does have a collage feature; but let be honest, it's pretty basic.  If you want more options for creating colleges inside your 3×4 and 4×6 cards, the best app for this is Pic Stitch.  It has so many collage options and puts a nice white line around all of your photos.
Adding QR Codes:
If you don't know what QR Codes are, you are missing out!! QR Codes are a fun a way to include video on your scrapbook page by adding "phone scan code" to your page.
1) Britt-ish Designs did an AWESOME tutorial on how to create QR codes. You can find it here.
2) Take a Class – Modern Photo Solution Class: App Smashing – QR Codes
So Many Apps!!  How Do I Learn?

Again, the Facebook groups help SO much.  App Scrappers – Project Life and Beyond
I have learn SO many things from people in these groups!! Feel free to join, and ask your questions… there are so many people that can help link you up to whatever you are looking for.
Project Life App | Inspiration
Now that we've learned about scrapping with Project Life AND Project Mouse…
Let's take a look at some great inspiration!
Disney Photo Book by Steph
Check out this amazing Disney Photo Book that Steph created on her phone
Here's a closer look of the whole book:

Project Life + Official Disney + Project Mouse = MAGIC!! 
See how you can mix and match here and here.
A Project Mouse Story: Project Life App (Jenna Fortner)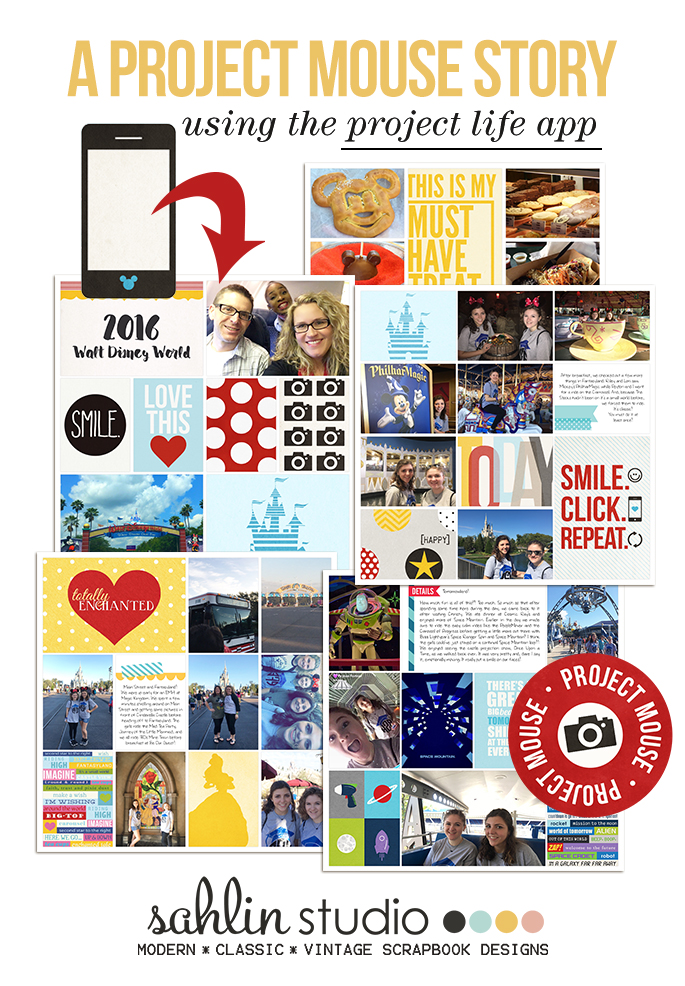 Save
Save