Here in the Sahlin household, we are so looking forward to our upcoming Disneyland trip. We've been researching cool fun facts about Disneyland, watching as many Disney movies as we possible can and keeping count on our Mickey countdown chain. I've wanted to make sure that I documented these moments right along with the moments of our trip.
Video of My Project Mouse Album – PRE-TRIP
This is a first for me… I took video of my personal Project Mouse album. I feel a little dorky making the video. HAHA!! But once I got over it, I thought you'd appreciate seeing what I've been doing! This is just the first of a few more to come, I hope. But it's just a peek at my Pre-Trip pages. I hope you enjoy.

My Supplies
I've gotten a few emails and questions about my documentation process… so I'm planning on sharing my process and pages here on the blog so you can see how my "project mouse" is progressing. I decided this time around I wanted to keep things SIMPLE. While I LOVE being creative, artistic and original… my main goal is to finish this album and I know the best way to do that is to keep things simple.
Here are a few of the basics that I'm using for my Project Mouse album.
My Project Mouse Process
My process for my Project Mouse pages is this. First, I lay out the page digitally in Photoshop. Yup, I am a digital girl at heart… It's just too easy to have instant gratification, PLUS the power of the undo button is just TOO nice! I'm able to lay things out, move things around on the page until I'm certain it is sure that is where I want things. This is nice becuase, it allows me to only print the pictures and cards that I need for the page.
Here is what I start with to do a "digital" mock up of my page. Using Becky Higgins PL Templates at AC Digitals: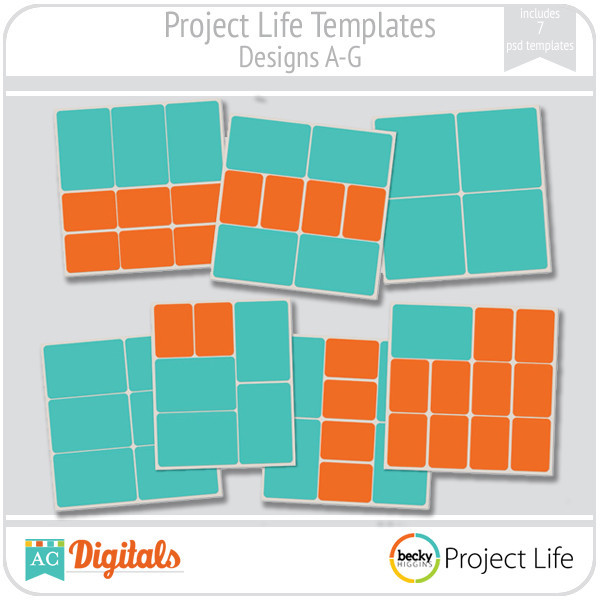 Digital Page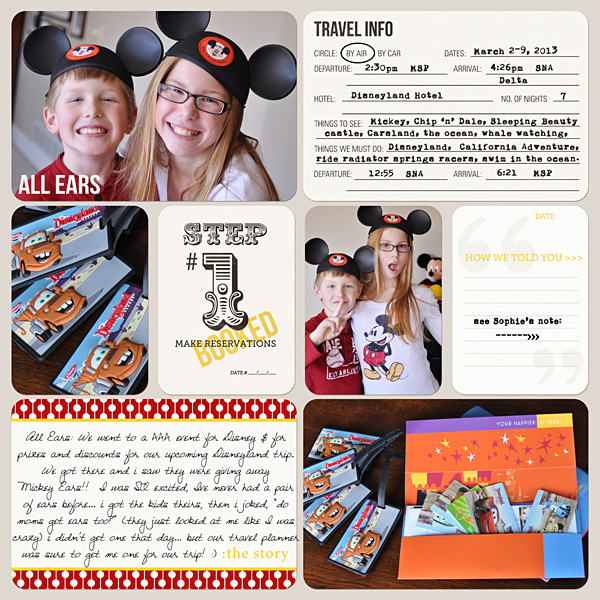 Printed Pieces in a Project Life Pocket Page: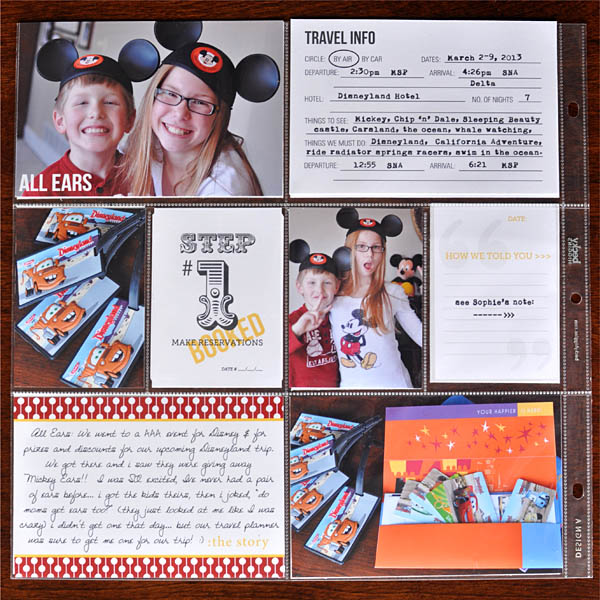 Printing
After I lay out the page, I'm ready to print the pieces. I've had a few questions about printing. How I printed? Where to Print? How to do this if I don't digitally scrapbook? It is so easy… there are printables jpegs that come with all of the Project Mouse downloads, OR take the pngs to any printer (both online or locally). No Photoshop necessary. You can even print on your home computer. I tried multiple different printing methods myself, from local to online companies, and also printing from home. I will do a more in depth post about what I found out… but for speed and ease for most of the layouts I did print some things at home. Just ran it through my printer and cut. That easy. DONE.
Here is a picture of them after I printed at home.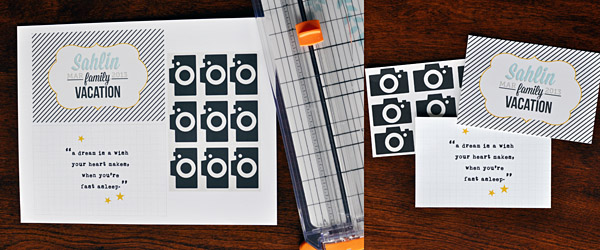 Here is my finished title page.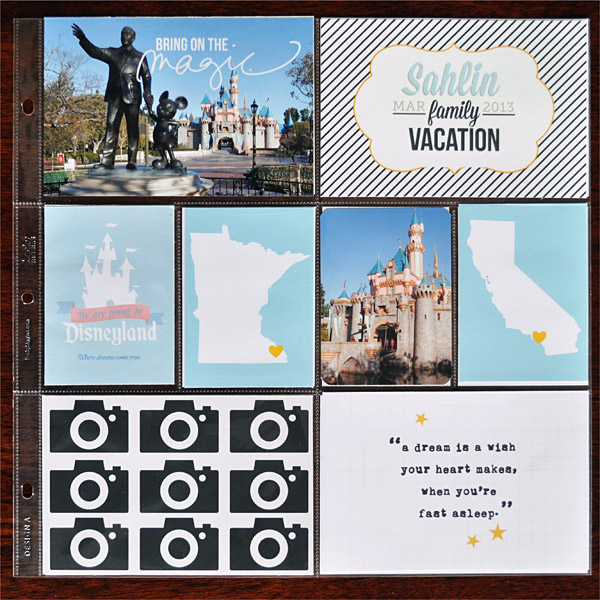 Other Pre-Trip Pages
This is a page showing the things we did to countdown for our trip. The kids sure had an awesome time making these, and get so excited at the end of each day to count the day off.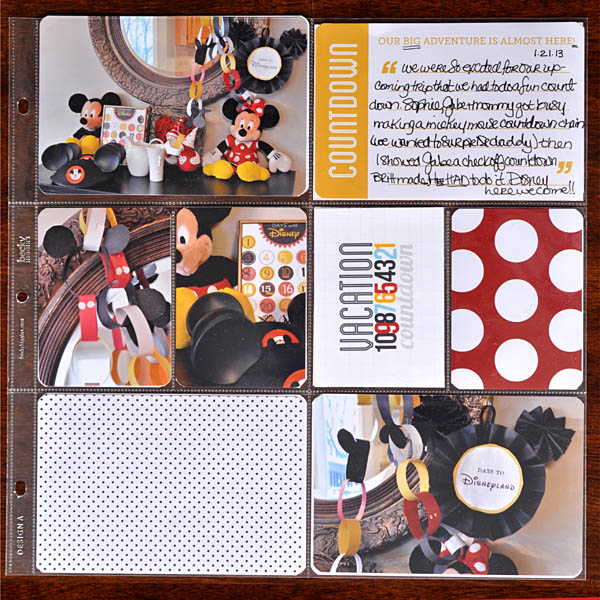 We did Valentine's Day this year DISNEY-STYLE. We got the kids mini "gifts" that were perfect for our trip, like journal books, sweatshirt. I had to include these photos in our album, along with photos of Gabe drawing his Disney characters in his journal (he is OBSESSED with drawing them right now)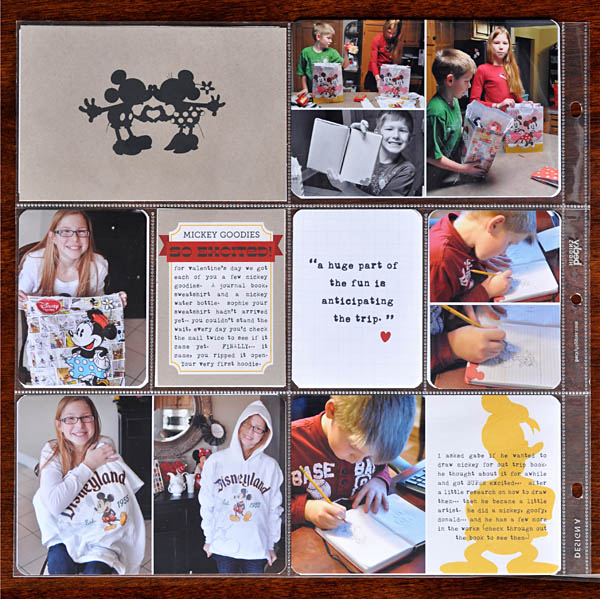 I love booking through AAA. This is the second trip we've booked through them, and I always appreciate the magical "extras" that come with booking a Disney vacation through them. This time, we went to a Disney/AAA event, and they had an actual Disney artist there creating drawing of Disney characters. She spent the entire hour drawing and drawing... and if you booked a trip through AAA you received one of the drawings that she did this day. We were SO lucky to bring Tinkerbell home with us. It is such a beautiful drawing, we framed her and put her in a prime spot in our house.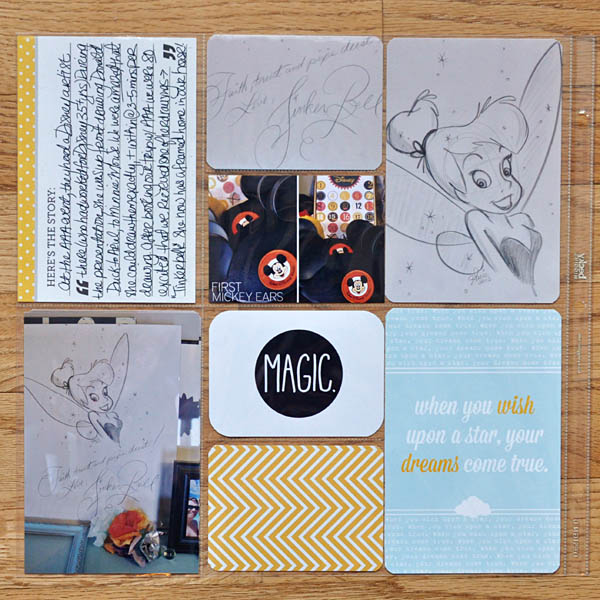 Britt's Digital Project Mouse Journey
I love that Britt and I are each on this project mouse journey. Where I am doing a printable version of Project Mouse, Britt is doing an all "digital" version of project life. It's so much fun to watch her pages come through. Be sure to stop by her blog and read about her Project Mouse journey as well. See her article on her process here: Project Mouse Breakdown AND Digital Pocket Style Tips.