You've just finished a beautiful scrapbook page, and you would like to share it with your friends and family; or in an online gallery. How do you do this? For those of you new to digital scrapbooking communities and/or galleries, you might have not had the need to save your layouts for viewing on the web before. Images that are shared on the web are very different than images saved for printing, because the viewing size is smaller. Plus the fact that a 300dpi 12in x 12in.jpg scrapbooking file is HUGE!! WAY too big to send through an email or for viewing on a monitor. In this tutorial I will guide you step by step, and show you how to save your layout or photos with the best quality for Facebook or your favorite gallery.
[pinit]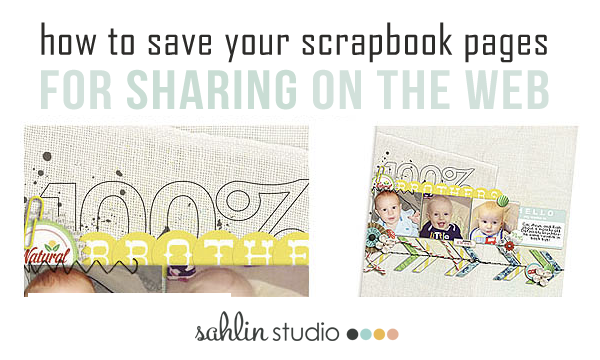 Save many copies.
Normally I save THREE (3) different copies of my files.
1) as a full-size layered PSD file;
2) a full-size JPG for PRINT;
3) a 600px x 600px sized JPG for web-viewing.
To save for option 1 (original layered PSD file) – go to File > Save As and choose the PSD option
To for option 2 (a full size PRINT copy) – go to File > Save As and choose the JPG option.
Be sure you name them different too!!
My naming practice is: layoutname-PSD; layoutname-PRINT; layoutname-WEB
Saving your Digital Scrapbook Layout for Web Viewing
Step One | Flatten the Layout – To flatten go to Layer > Flatten Image.
After this step, you'll see only one layer in your Layers Palette.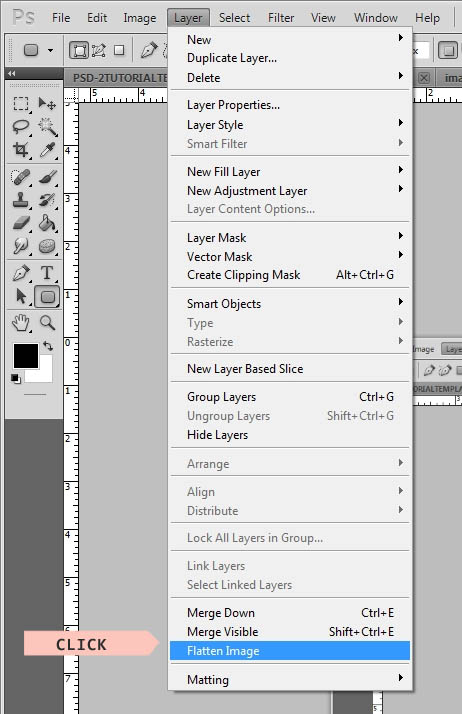 Step Two | Resize the Layout Change the size of your layout to a web-appropriate size.
Click Image > Image Size. This will bring the dialogue box you see below:
Change the settings to 600×600 pixels with a resolution of 72 pixels/inch.
Step Three | Sharpen Your Layout This is the step that takes your layout from "eh" to "WOW" when viewed online. It's a small change, but it helps to crisp and pop the image.
Click Filter > Sharpen > Unsharp Mask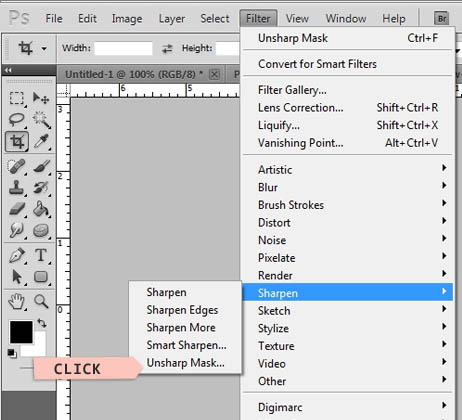 It will open a dialogue box. Adjust Settings | I use these settings: Amount: 150 Radius: 0.3
Start with the settings pictured below, and adjust as needed.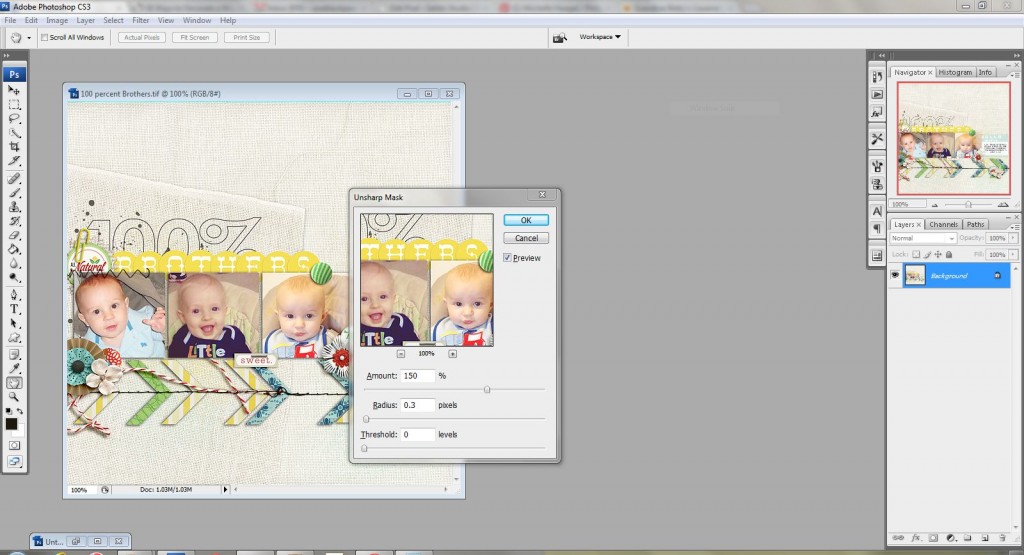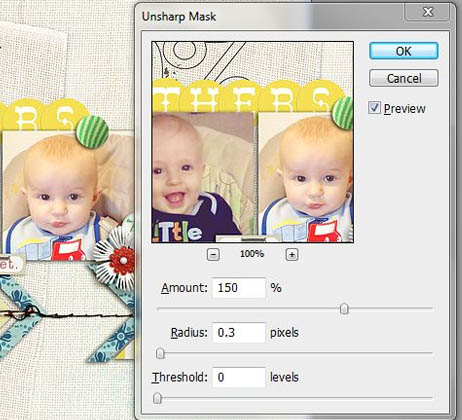 Step Four | Save your Ready-for-Web Version
Click File > Save for Web and Devices. Choose JPEG High from the Preset drop-down; with Quality around 60. Keep an eye on the size (it's in the lower left corner) Try to keep your layout sized around 150K. This is the limit for many digital scrapbooking galleries.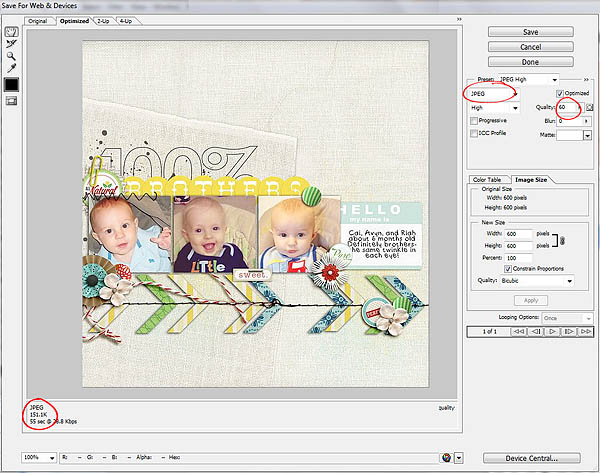 And You Are Done!

Curious to see what difference the unsharp mask makes in the final product?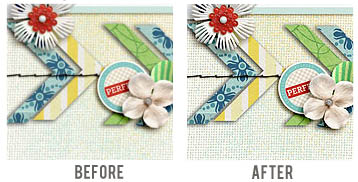 Here is my layout both ways:
This image was simply flattened, resized, and saved with no unsharp mask.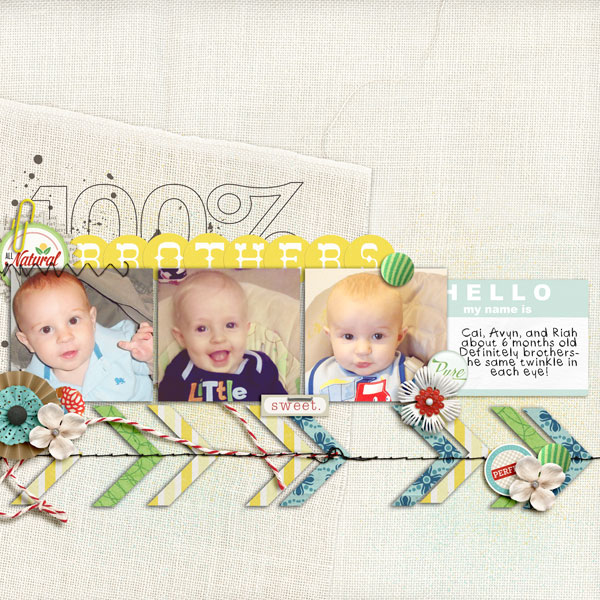 This image follows the above step-by-step process exactly, including an unsharp mask.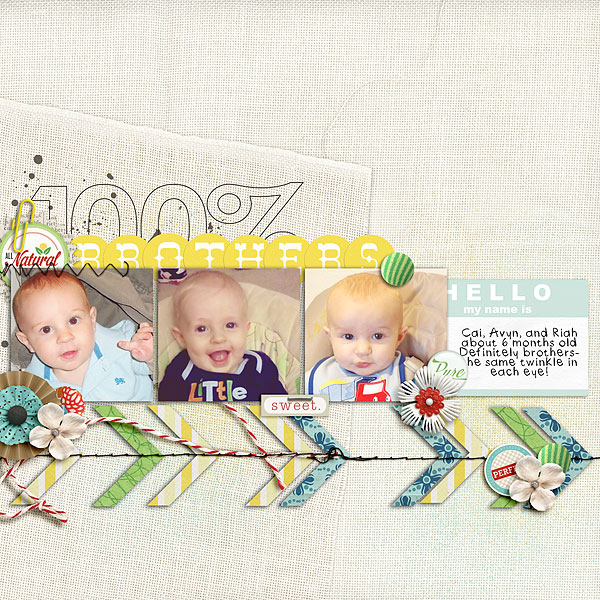 I hope this tutorial helped you get comfortable saving your layouts for the web. Next week, look for another simple step-by-step on exactly how to share your layouts and link your credits in an online gallery.

Now that you know how to save your layout for the web, how about a shortcut? Sahlin Studio's Resizing Action will flatten, resize, and sharpen your layouts for both print and web with one click. If you need help installing the action, we have a tutorial for that! Check out How to Install and Use Actions here.
Print, Web, Sharpen Images Action from Sahlin Studio