We all have a bit of Disney fever around here, especially with the recent releases of Project Mouse! When it comes to magical Disney vacations, I always get a bit giddy. For me, however, the magic begins months before the actual trip. The planning and anticipating is part of the fun and building up that much anticipation can only make for a great vacation! My kids and I like to dream about our next trip (usually as soon as the last one ends!) and reminisce about all the fun we had on the previous one. We discuss what we loved and want to do again, and also what we want to do differently this time around.
So, today I want to talk a little more about the planning aspect of your Disney vacations. The recent Project Mouse release, Leading up to the Magic, has a wide variety of prompt cards that will get you thinking about what to do at the parks and how to plan. But I also wanted to share few more in-depth ideas about the countdown to getting there.

Now, I know everyone is different, but I'm terrible at keeping secrets. So, to plan a Disney vacation without my kids involvement would be very hard for me. I love to plan and scheme along with them about our upcoming trips. But, you might be different. Concocting the most elaborate surprise might be how you like to do things. So, I'll discuss some ways you can surprise your kids, and also some ideas for planning and counting down together.
I recently watched the most adorable video of a mom surprising her little girl with a Disney trip. They were leaving that day and the little girl's reaction was indeed priceless. I know that Mom was so glad to have her video camera rolling. What a precious memory for them! So, first of all, be sure to have that video camera ready for the big reveal!
Announcing Your Vacation
Here are a few ideas you could try for announcing your trip.
1. A letter from a Disney Pal!
There are so many Disney fonts that are available online. Find a couple that seem "magical" and you can type a letter using that font your child will easily recognize as Disney. Here are several font ideas!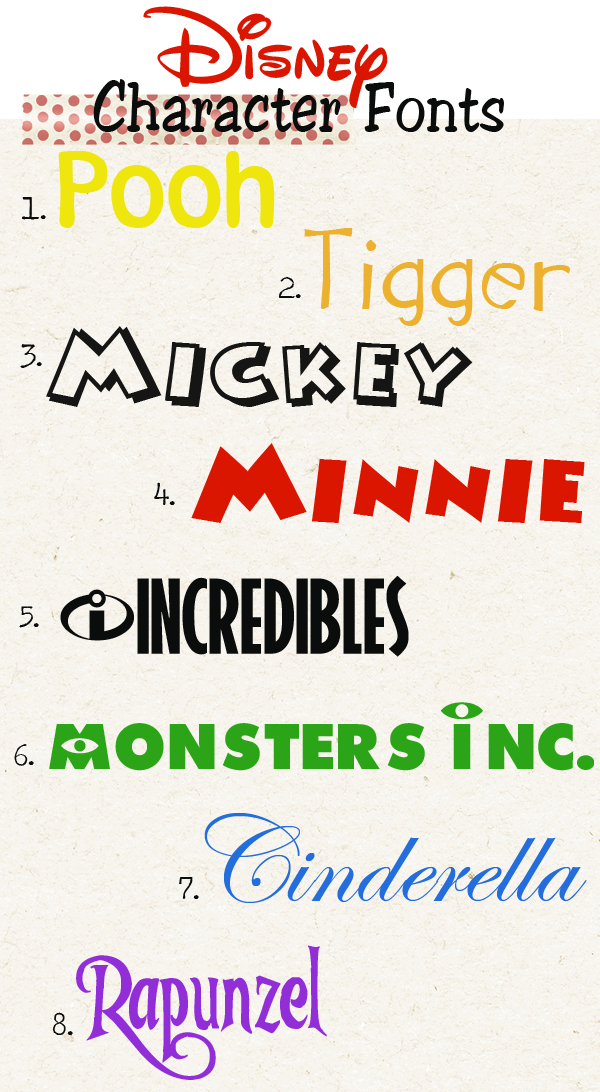 (Simply Click on the font title below and it will take you directly to the free download site)
Waltograph /Disney Print /Pooh / Tigger / Mickey and Minnie
Incredibles /Monsters Inc. /Cinderella / RapunzelTo make the personal letter, print a photo of their favorite character (to find their favorite character online, simply Google "Disney Clip Art" or check out this tutorial on the CApturing Magic blog here. ) on some stationary, and using the appropriate font, type out a personal letter from that character, saying something to the effect of, "I can't wait to meet you when you come to Disney World!" You can include things in the letter about where you will be staying or when you will be arriving. A little tip…make sure it is a character your child can readily meet at the parks or they might be disappointed. Your letter might look something like this: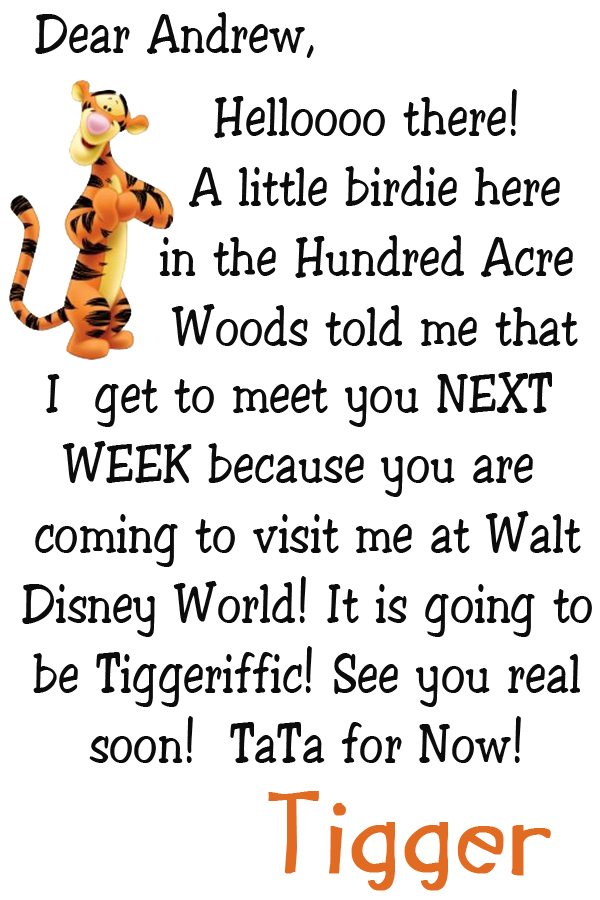 To make it look really authentic – be sure to actually send it through the mail. Buy a Disney postage stamp and put the Walt Disney World Address as the return address. Your kids will be so surprised!
2. Nothing says it better than food!
With enough creativity, anything can have a Disney theme – including breakfast, lunch or dinner.
Make some Mickey shaped pancakes or pizza to festively share the good news!
Making It Mickey Mouse pancakes credits here
And if you want to go REALLY elaborate, check out Dixie Delight's Breakfast surprise. She went all out to create a surprise breakfast announcing their Disney trip. She waited just one week out before sharing the good news with her boys. Look at her creative spread!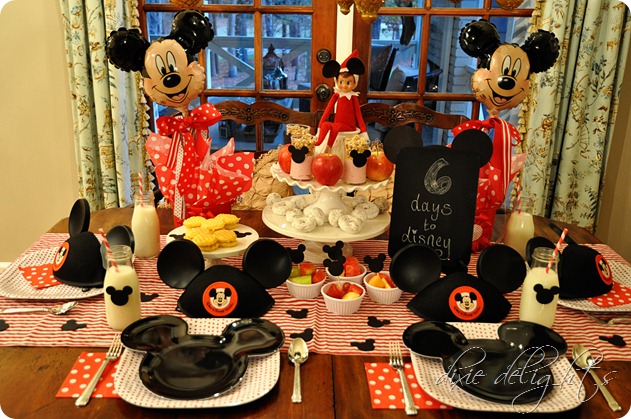 3. Scavenger Hunt
Scavenger hunts are so much fun and would be such a fun way to announce a trip to Disney. There are many ways that you could do this, but here is one simple idea. Create a sentence that somehow announces your trip. It could be very simple, "We Are Going To Disney!" Write each word of your sentence on a separate piece of paper and put them in individual envelopes and number them. On the day you want to surprise your kids, you will hide each of your envelopes/words in a different spot. Then create a list of clues that will lead them to each one. Once they find each word, they can put them together to read their sentence! For a fun twist, number them out of order so they have to unscramble the sentence!
Hopefully these few ideas got your creative juices flowing. The ideas really are endless and Pinterest is a great resource for more ideas on announcing your Disney surprise.
Once your family has heard the good news and everyone is anxious for the trip, the next days (or weeks depending on when you told your kids) will more than likely drag by. The best way to make the time pass quickly is to fill it with some fun Disney activities in anticipation for the big day! Here are some creative ideas!
Disney Vacation Countdowns:
Here are a few ideas you could try for anticipating YOUR trip.
1. Countdown Chain
Paper chains are a great way to count down a Disney trip, especially for little ones that don't really have a concept of time. Michelle from the blog, A Little Tipsy, had a great idea for a paper chain. Not only did she create the cutest paper chain ever, on the inside of each chain, she included a simple activity to do that day. Click the image to take you directly to her blog for a long list of ideas for daily Disney-themed activities!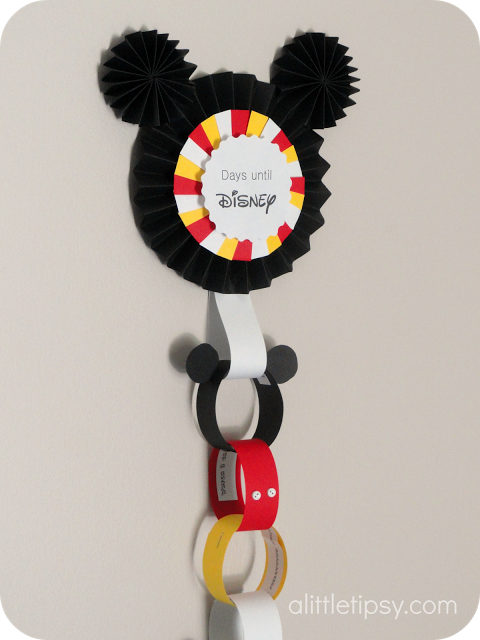 2. Subway Art
Framing Disney Subway Art is another great way to countdown your Disney Trip. Britt-ish Designs blogged about her Countdown Art. She created a 28 day countdown that can be used in several different ways. Click the image to take you to her post. She explains several ways to use it and even offers this FREE printable!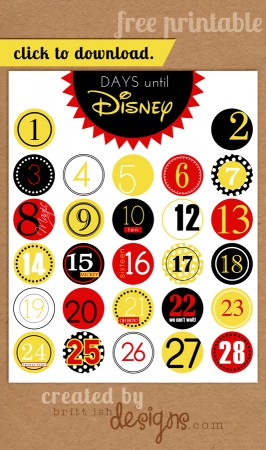 If you are like me and plan your trips weeks and weeks in advance, a paper chain or 28 day countdown isn't quite as practical. You would have paper strips threaded throughout your whole house and huge poster size frames full of numbers! Another idea for counting down with bigger numbers is to create something a little simpler. Confessions of a Projectaholic created this adorable 8×10 subway art for her Disney countdown. Put it behind glass, and you can use a dry erase pen to change the numbers each day. Be sure to click the image to head on over to her blog – she has a free download link for her subway art as well!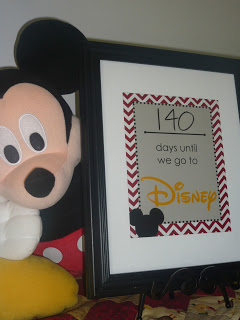 3. Movie or Themed Night
One of the things that we LOVE to do to anticipate our trip is Disney Movie Night. It helps us to get into the "magical" mind set for our trip… and who can't resist a good Disney movie?
You could also take it another step and have a Disney "theme" night. I found these amazing ideas and images on the DISboards, where a DISboard mom (budafam) did theme nights, where each movie night had a theme. She made posters for the event, decorated the room in that theme, had dress-up options for the kids, and fun "themed" snacks and supper to go along with that. How magical is that? You can find more of her post and images here.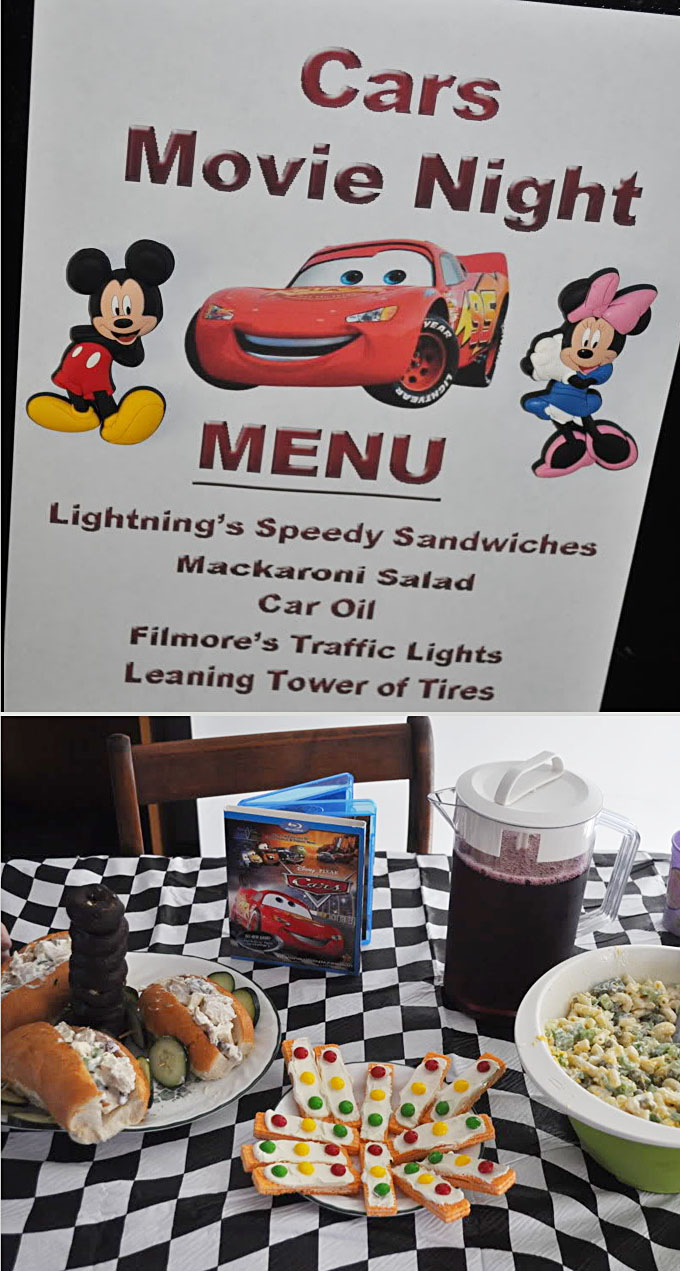 4. Getting Creative
Once you have the basic principle down, you can get creative with a way to countdown your Disney trip. WeGoDisney04, over on the disboards, used her refrigerator as a place to countdown her trip. With the aid of a Cricut machine and a Mickey Paper punch, she created this adorable countdown.
Again, the possibilities are endless! So get your thinking caps on, and create a unique idea all your own, or feel free to use one of these creative ideas to countdown to your next Magical Vacation!