One social media site I've really been enjoying lately is… Instagram. I know, I know, it's been around for YEARS (I even signed up years ago)… but, I never really got into it until recently. So what is it that makes me absolutely LOVE it!! I love it even more than reading Facebook or blogs. And best part is, its just in a small dose. One photo. Quick. Don't have to read blog article after article.  (And, for those of you who have been hiding under a rock all of this time, Instagram is an app for your smart phone that is like Facebook, but based only on "photos".)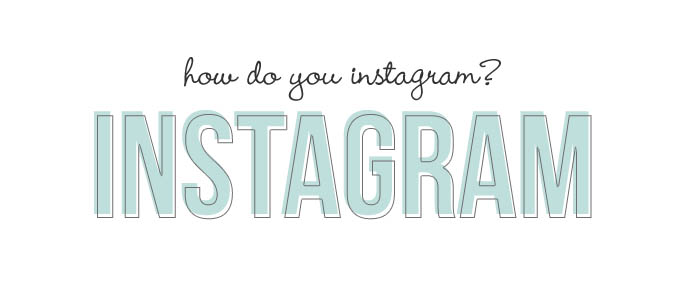 How I Use Instagram
Family / Friends – Keeping Updated
This is awesome tool to stay updated with family and friends. It allows you to see the true now of the moment in picture form. Sometimes posts can be random everyday photos, sometimes its family snapshots, other times something funny the kids have done.
Recipes
This may be my all time FAVORITE reason for using Instagram. HAHA!! I follow a few Instagramers that post pictures of their daily "green smoothie" or "healthy clean dinner recipe" they tried last night. It gives me TONS of ideas to incorporate in my own life. (Hello, Green Smoothie with Pineapple I ate yesterday.)
Hobby Loves
Can I say Project Life much? Ummmm….. yeah. I LOVE following other project lifers, like me, to keep me motivated to get scrapping. Plus a great way to be inpsired to try new things in my personal layouts. I LOVE seeing all of the weekly layouts that come across my feed.
My Instgram – (kristasahlin)
Follow Me – Username: kristasahlin
You can follow my Instagram feed here at: http://instagram.com/kristasahlin
How I Post on Instagram
Why do I post? I use Instagram as a sort of '365 / Picture a Day'. I really try hard to take one picture a day, and…to hold myself accountable, I am sure to post on Instagram.  Another benefit of this is that it acts as a 'calendar'of sorts, which helps when I am going through photos and putting together my project life layouts.  What do I post? A random hodge-podge of everything. HAHA!! I post pictures of the kids, what I'm doing right now, an amazing supper we ate, new products I have in the shop, latest project life pages, you name it!
How do you use Instagram?
Do you post photos of your life going ons? Do you post about your hobbies?
Do you use it to keep up with your favorite blogs site?
Do You Hashtag?
Hashtag-ing is a fun way to do a couple things. #1) Add a funny comment to your post. I love to do this #2) Most Importantly – Hashtagging is for creating a "searchable" link for anything using that hashtag. For example: If you post a layout using Sahlin Studio goodies or for your Project Mouse album use the hashtags #sahlinstudio OR #projectmouse and anyone else who has posted in the past will be linked with that as well.
Post Away Your Layouts Using Sahlin Studio goods
Be sure to Hashtag #sahlinstudio OR #projectmouse
One of the best rewards as a scrapbook kit designer is to see how other people use them in their own memory keeping. I LOVE seeing Sahlin Studio goodies or Project Mouse pieces. So post away!! Do it!! I see everything that uses the hashtags of #sahlinstudio OR #projectmouse