Feel free to follow Theresa Moxley (Larkindesign) on her journey in her Disney Project Life album each week! To look back on all of Theresa's Project Life / Project Mouse layouts, find the posts here.
---
Today's layout features the first of our adventures at Epcot! The day we visited Epcot it was pouring down rain, but as you know even when it rains you still go and have fun. During the heaviest rains we stayed inside the ImageWorks building checking out all the awesome activities there. I used cards from several of the Project Mouse collections to help tell this story, including Project Mouse Classic Bundle, We're Here, Main Street Bundle, and Bundle No. 01 Basics.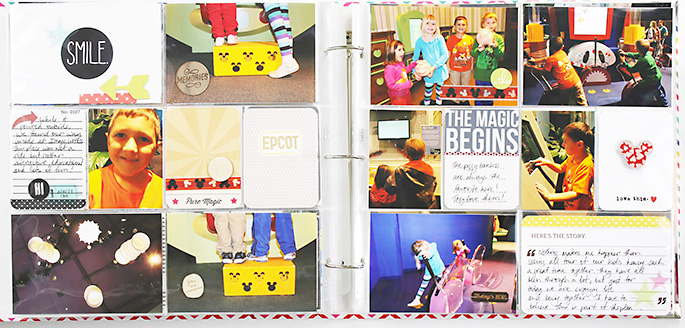 One of the things that struck me most on this day was how small they all were, and their feet perched on the Mickey ear step stools captured my heart. These became the focal point for the left hand side of the layout. Let's look closer.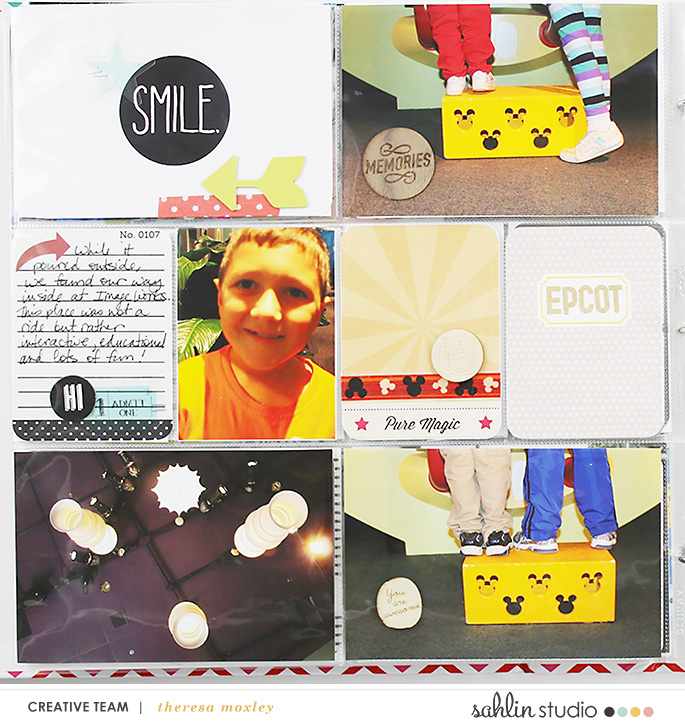 The "Smile" card in the Basics bundle seemed to speak for their whole experience at ImageWorks. They enjoyed all the activities all the way around. I layered just a few embellishments and a tiny strip of washi tape just to add a bit of dimension.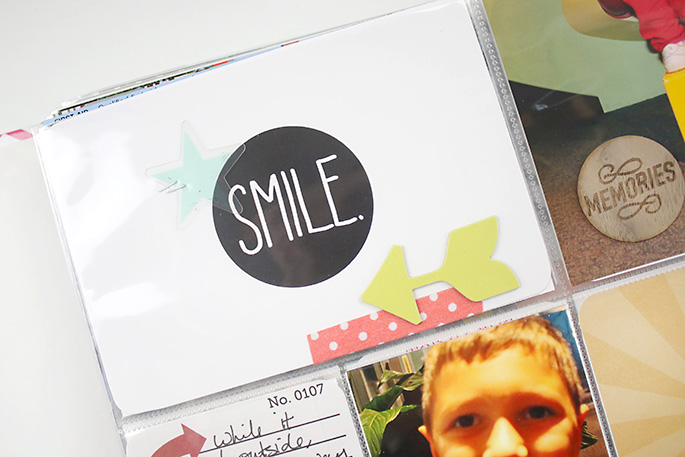 These simple journaling cards provide great spaces for simple journaling across the layout. Remember that a few sentences here and there all count as journaling and they all add up to make the whole story. I love breaking this task up into smaller pieces.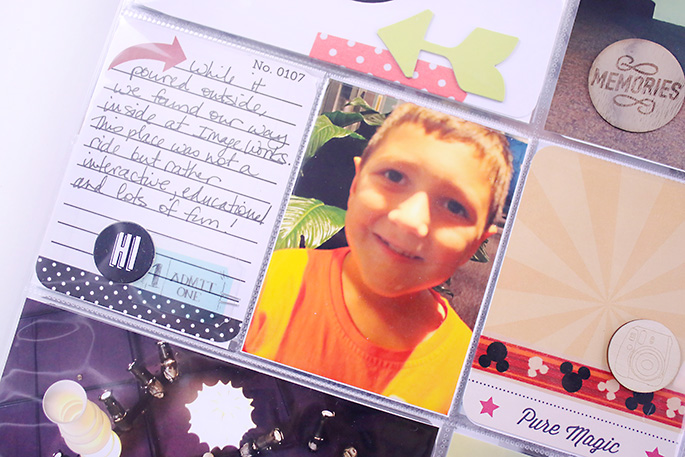 I used the bookplate card to spell out the simplest reminder where we are in the park using some alphabet stickers. Adding washi is a favorite technique that I love to use to add a tiny bit extra to my cards as well!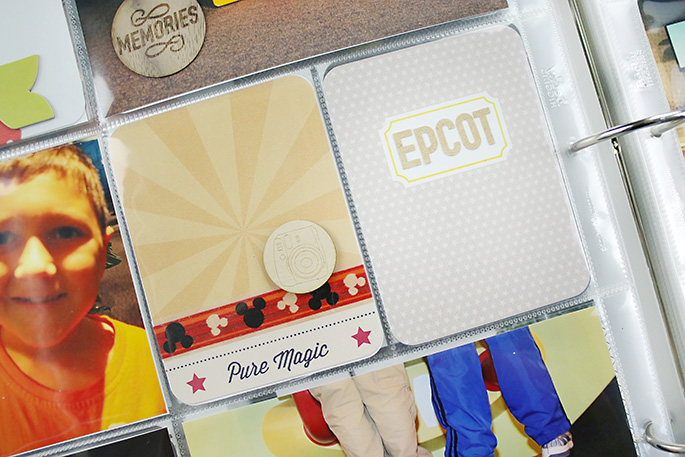 For the right hand side I included photos of the four of them together in the spaces. These shots are always informal, never worried if all are looking at the camera, really just focused on capturing their personalities and their relationships to each other.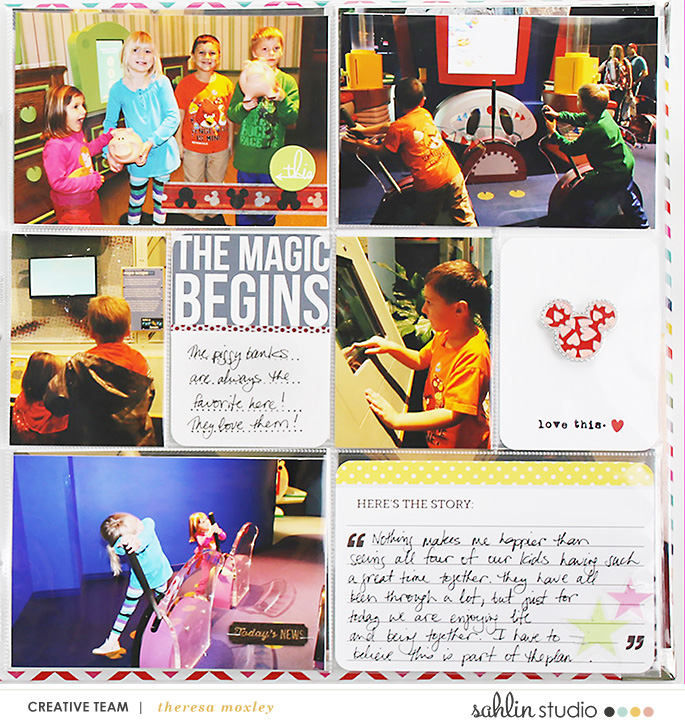 We took lots of fun photos in this place, so deciding which ones to include can be quite a challenge in that case. What makes this layout come together is the repetitive photos of the boys together and the girls together, and then one of all of them, plus a few supporting photos that are favorites. It happened to work out that the best one of the four of them together was also with their favorite activity – the piggy banks. Trust me when I tell you that those smiles turned into a little sadness when they found out they had to give the piggies back!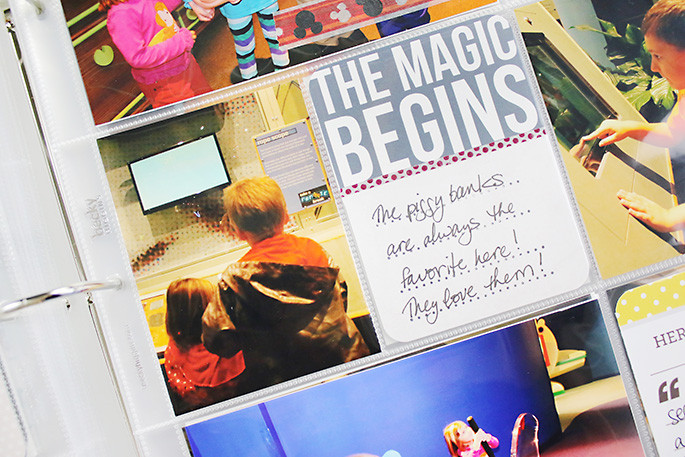 Some of the embellishments I used in this layout were gifted to me by a friend, including this AMAZING pink heart pin! I have to admit that I don't have any Disney pins, but now I know that they are highly collectible and much loved in the Disney community. I debated for quite a while, and then decided to snip the back off using tin snips and attaching it to my card with thick foam tape so I could include it in my album. Perfect!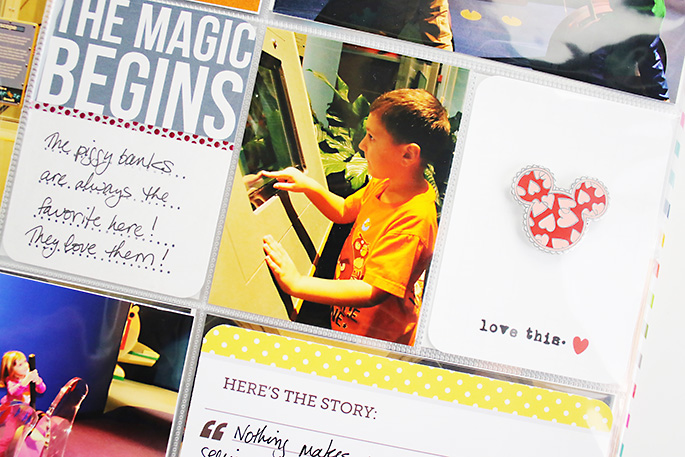 The best journaling always includes a combination of facts and feelings, and this card at the very bottom is the best place to include my feelings about these photos overall. Truly a very special trip for all of us, and truly some amazing memories shared. I am so thankful that they are recorded and documented.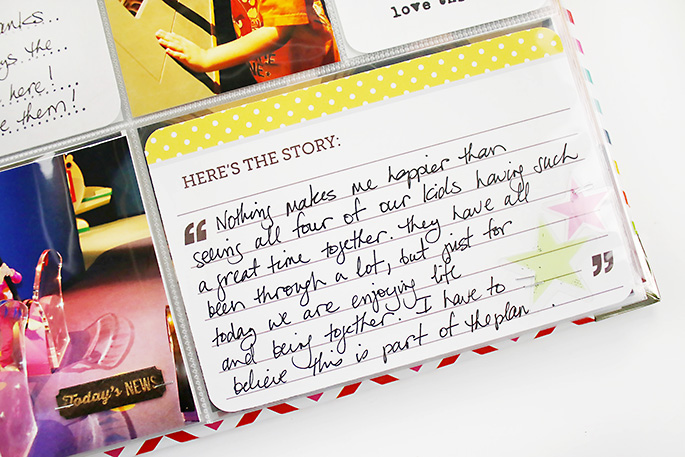 Products Used in this Layout: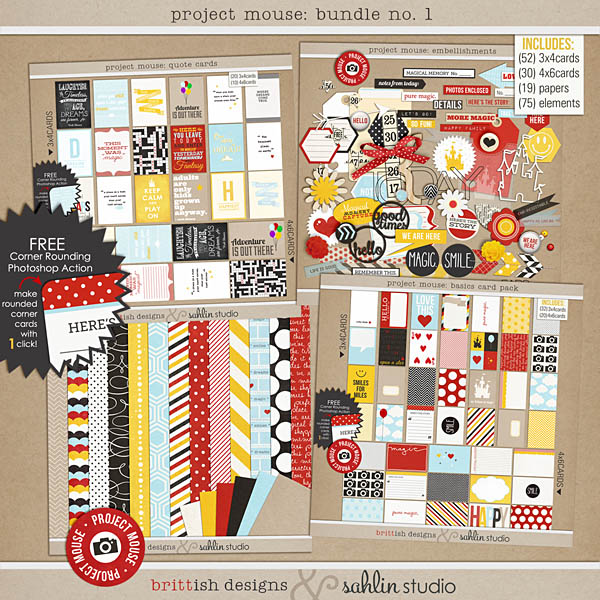 Sahlin Studio:  Project Mouse Classic Bundle, We're Here, Main Street Bundle, and Bundle No. 01 Basics.  Other products include: Elle's Studio alphabet stickers; Heidi Swapp washi tape and chipboard; Gossamer Blue embellishments; Disney pin.
This layout previously appeared on Theresa's personal blog, Larkindesign. Also a process video can be seen here.
Save
Hi, I'm Theresa of Larkindesign from Kernersville, NC where I live with my four kids, one awesome husband, two cats, a dog, and a bunny. And occasionally our cat brings us pet salamanders. When I am not calming chaos I am in my studio, playing with photos and colors and embellishments. This scrapbooking thing is my passion and I love inspiring others to feel the same way!