Feel free to follow Theresa Moxley (Larkindesign) on her journey in her Disney Project Life album each week! To look back on all of Theresa's Project Life / Project Mouse layouts, find the posts here.
---
Hi, Theresa here with another fun layout from our Disney Project Life album! Today we are continuing our adventures through Epcot! Today's layout includes photos from Nemo & Friends, and also highlights the shopping we did. To help document these stories I have used cards from the Project Mouse Classic Bundle, Basic Bundle No. 01, Daily Documenting, Planning, and Main Street Bundle kits. Here is a look at the overall layout.
Full Page Spread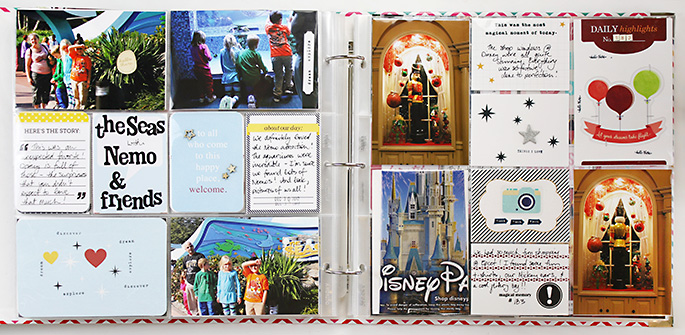 We spent quite a bit of time inside the aquariums at the Nemo & Friends building. This photo of the kids staring into the fish tank is one of my absolute favorites from this entire trip. Because of the blues in the photos, I chose blue journal cards and then supported those blue cards with yellows and a tiny bit of red in the Project Mouse collections!
Left Hand Side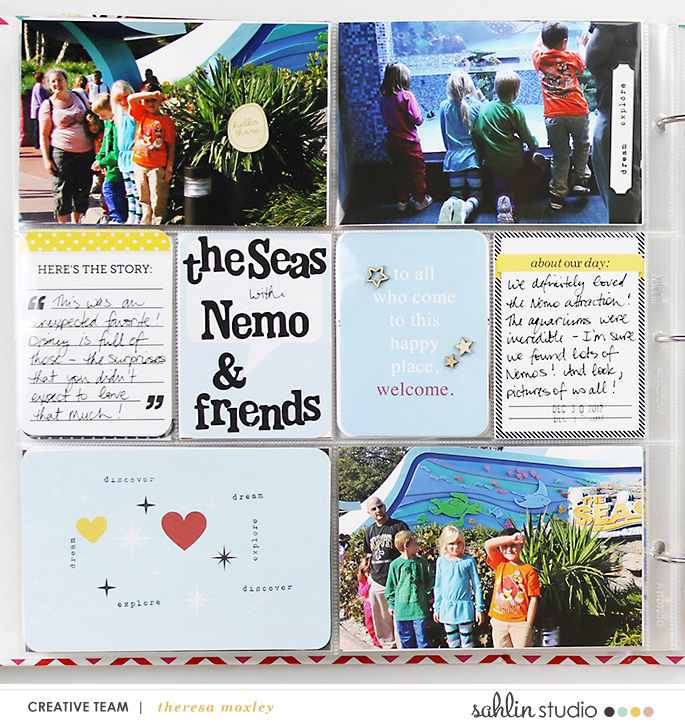 I created a title card using the talk bubble card from the Basic collection and some alphabet stickers from Doodlebug.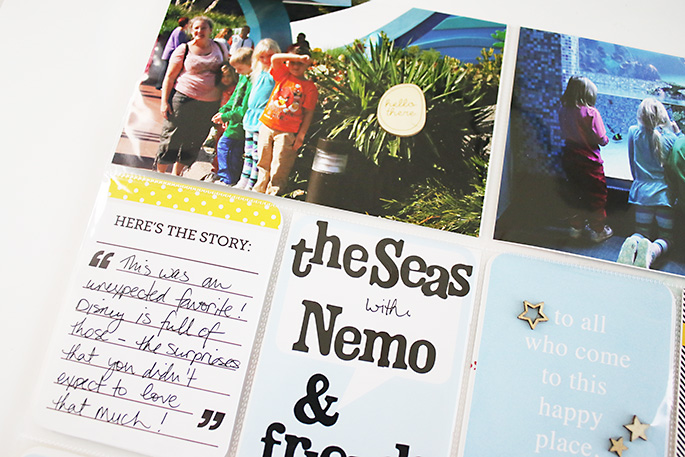 The sparkle hearts card is from the Basic collection as well, and I added a few stamped words using the Shimelle Starshine stamp set. So very simple, and easy way to fill pockets!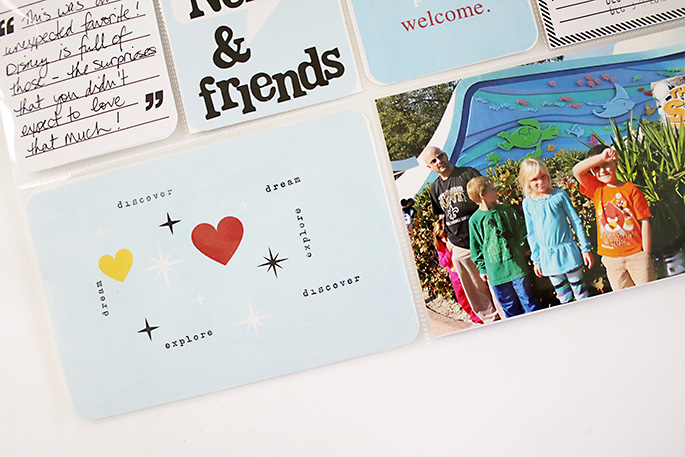 Journal Card Idea #1: For texture add some stamped words to your journal cards!
Right Hand Side
For the right hand side I wanted to mention a little about the shopping we did at Epcot. I absolutely loved all the storefronts and the shop windows! I also included one of our shopping bags, folded up and placed in one of the pockets. Don't forget to include your ephemera from your trip!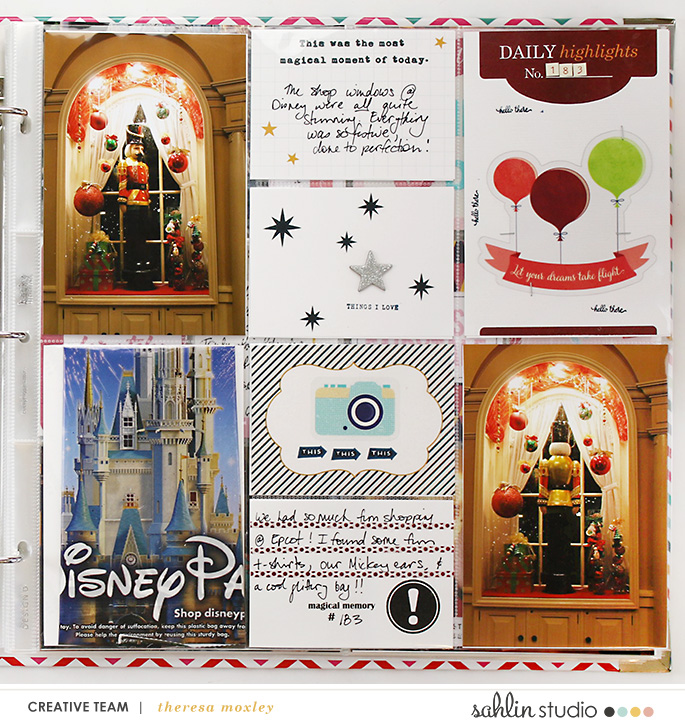 I loved using the journal cards from Project Mouse that included star icons on them! We were at Epcot the very week after Christmas, and nothing says Christmas more to me than stars. For my journal cards I have a balanced amount of journaling and fillers, words plus embellishments.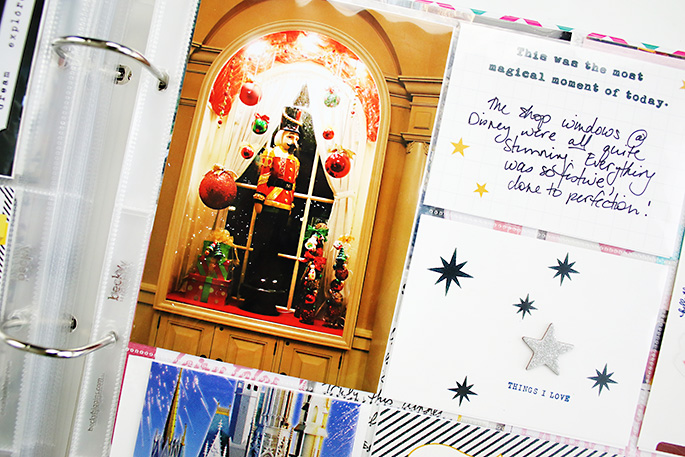 I loved the Daily Highlights card from the Daily Documenting kit because it included the deeper red color from my photos of the toy soldier in the window. The balloons also tie in those colors; they are a transparent piece from the Shimelle Starshine ephemera pack.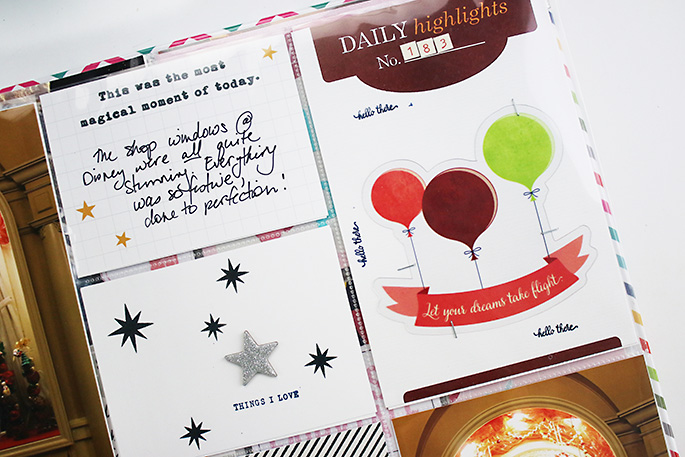 The camera sticker is from Shimelle Starshine and is layered very simply onto the notes journal card from the Planning kit.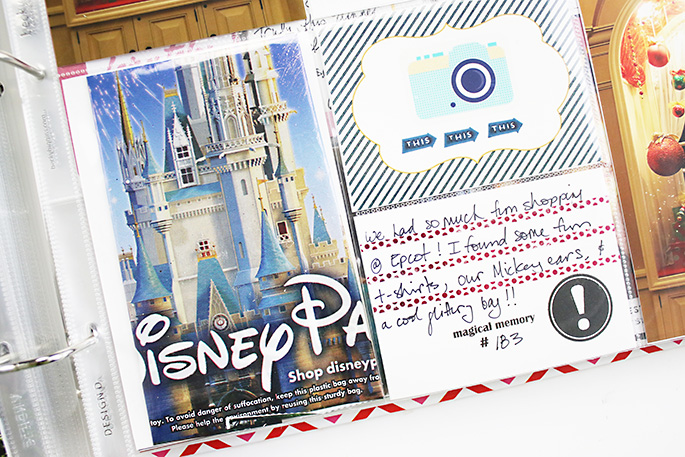 Journaling Tip#1:  A favorite trick of mine is to use washi tape for your lines. It's a great way to help make straight lines and to add another punch of color!
Products Used in this Layout: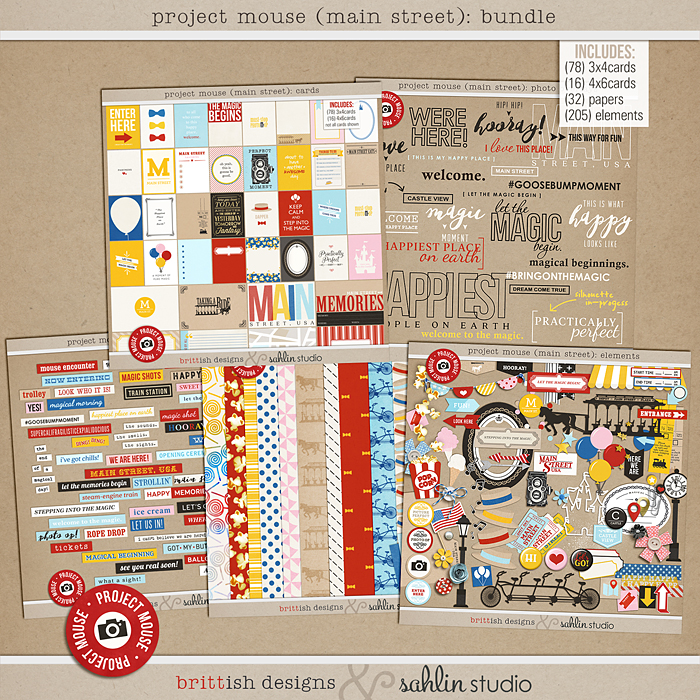 Sahlin Studio: Project Mouse Classic Bundle; Basics Bundle No. 01; Daily Documenting; Planning; Main Street Bundle. Other products include: Gossamer Blue (wood veneer stars and circle); Shimelle Starshine (ephemera and stamp set); Ali Edwards (silver glitter star); Teresa Collins (label); Doodlebug (alphabet stickers); miscellaneous (washi tape).
This layout previously appeared on Theresa's personal blog Larkindesign, here and here. Also process videos can be seen here and here.
Save
Save
Save
Hi, I'm Theresa of Larkindesign from Kernersville, NC where I live with my four kids, one awesome husband, two cats, a dog, and a bunny. And occasionally our cat brings us pet salamanders. When I am not calming chaos I am in my studio, playing with photos and colors and embellishments. This scrapbooking thing is my passion and I love inspiring others to feel the same way!