Feel free to follow  Theresa Moxley (Larkindesign) on her journey in her Disney Project Life album each week! To look back on all of Theresa's Project Life / Project Mouse layouts, find my other posts here. Here is a look at the full layout.
---
Hi everyone, it's Theresa here to share another layout from my 2012 Disney album!  My layout today is a two page spread which includes photos taken in the entrance at Mickey's PhilharMagic, and the map introducing the newest part of Magic Kingdom (at that time!), Fantasyland.  Let's look at the full layout.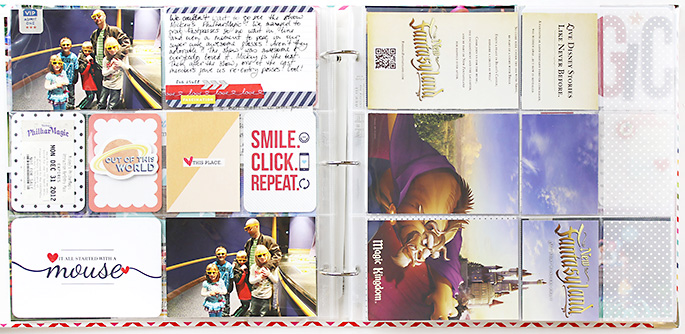 Left Hand Side
I have to admit how difficult it is in the parks to actually capture photos of anyone standing still, and even these two photos tell a story about an opportunity to grab a quick snapshot and if you look closely you will notice my husband trying to wrangle Addison in the middle there. We were all really excited to see this show and it never disappoints.  I used  the Project Mouse Classic Bundle and Bundle No. 2 collections to help me tell this story.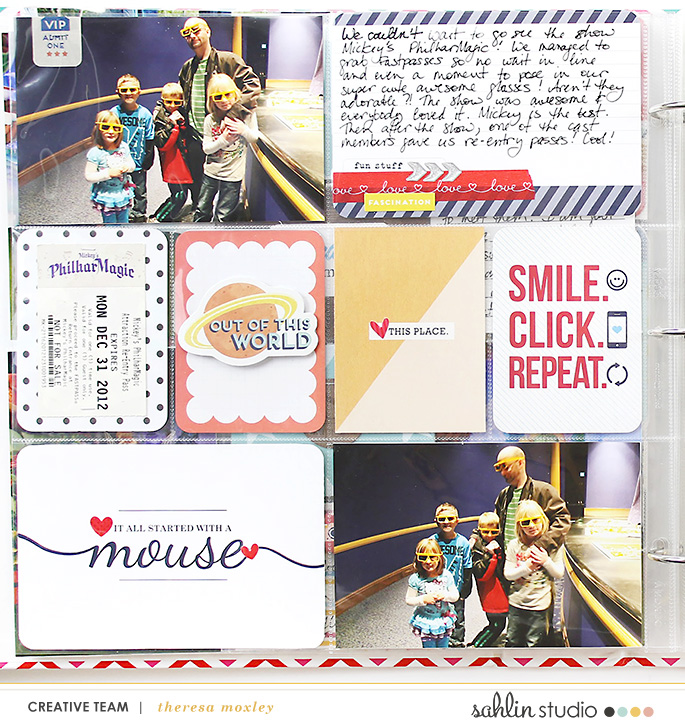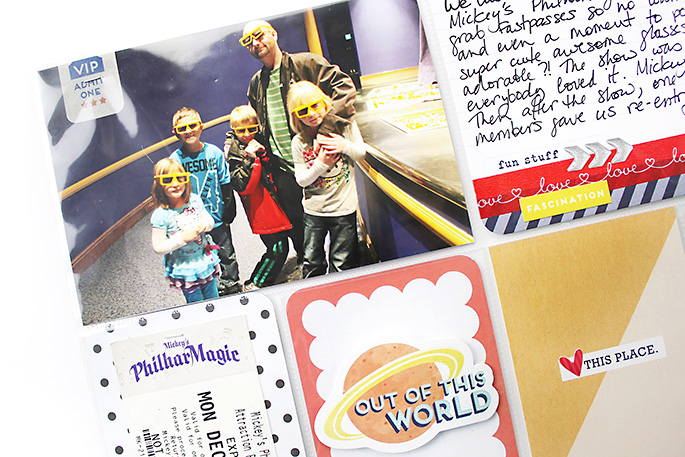 My journaling card is from the Classic collection pack and I wrote about how we loved the show and the fun glasses and the story of how we got re-entry passes as we were walking out. I saved one of those passes and included it in one of the 3×4 pockets below.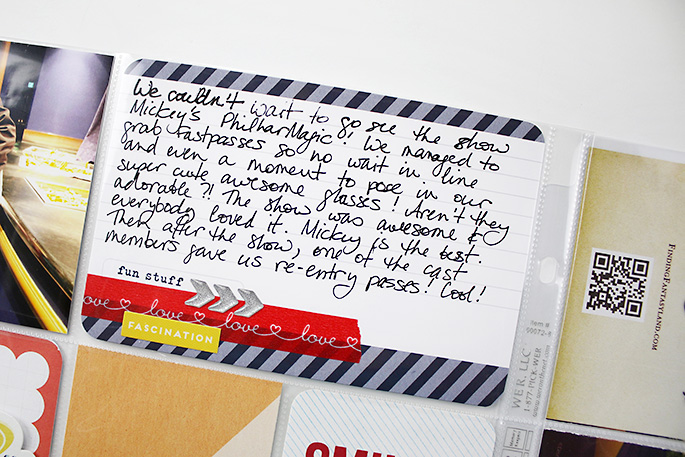 Story Idea #1: Let your Journal Cards help you to tell the story!!
One of the things I love most about using Project Mouse for this album is how the journal cards help to tell more of the story.  I don't have to try to remember it all. My journaling tells the personal part about what we did and how we felt, and the cards express some of the underlying sentiments.  Some of the work is already done, so when you sit down to write your journaling it's not so overwhelming.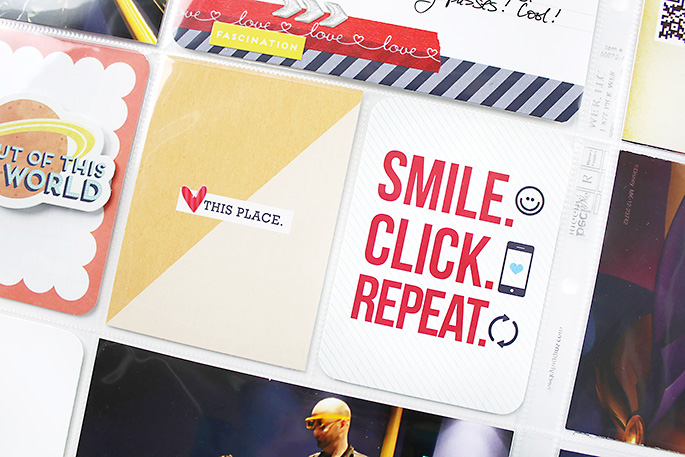 This title card also helps to tell more of the meaning of this day and of this layout. This one may be my very favorite card in the entire Project Mouse collection just because it so very simply and clearly tells what Disney means to all of us.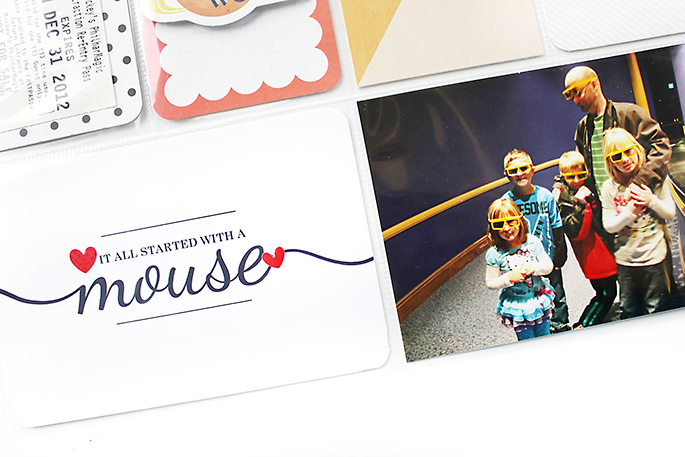 Right Hand Side
Including maps from the park has been an important goal to me in creating this album, and this one is especially meaningful because it outlines how new Fantasyland was in 2012. One day we will go back and we will be able to compare what was different back then. Every Disney album is a time capsule of how the parks looked at that moment in time. In order for this map to fit into the pocket, I took a Becky Higgins Design A page protector and cut down the map to fit in the pockets. Then I used my Fuse tool to seal the top and bottom 4×6 pockets. I then used a Doodlebug polka dot vellum to fill the remaining three pockets.
Story Idea #2: Use Maps to help tell the story!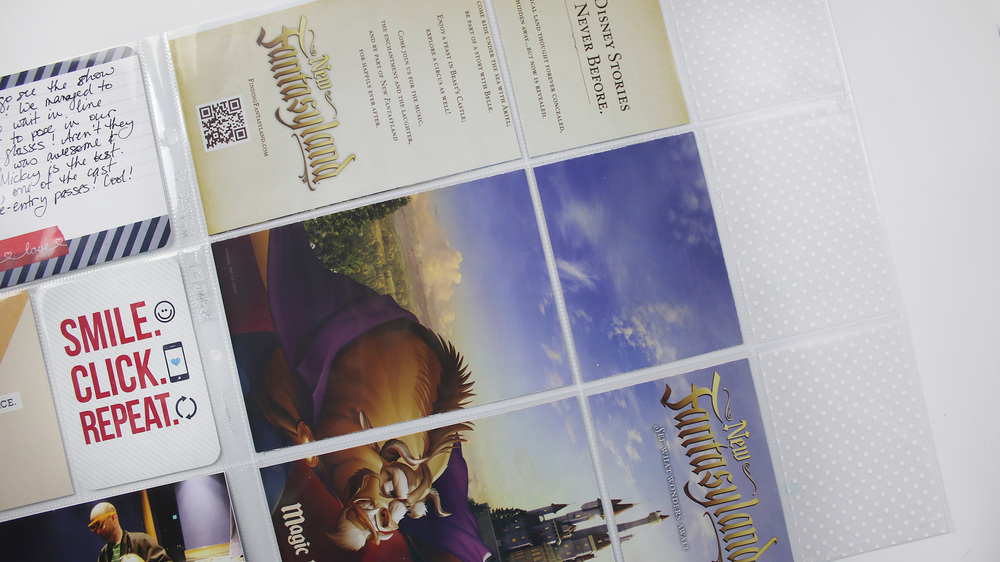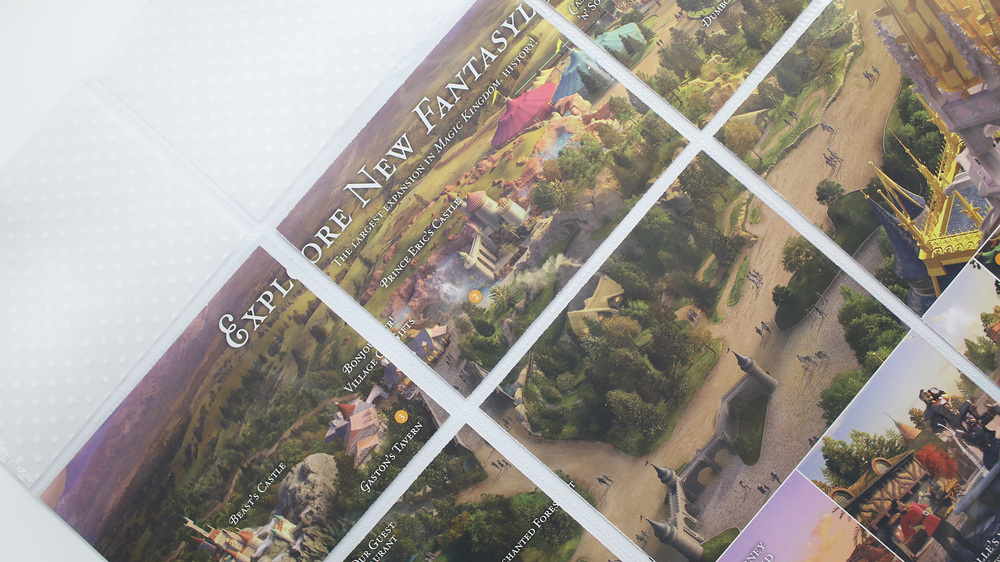 This layout was previously blogged on Larkindesign's blog here.
Feel free to watch my process video on YouTube here or below.

Thank you so much for following along in my 2012 Disney album! See you again soon!
Products used in this layout:
Sahlin Studio: Project Mouse Project Mouse Classic Bundle and Project Mouse Bundle No. 2 Other Products used in this Layout: Project Mouse: Classic Bundle and Bundle No. 2; Doodlebug: Sprinkles while polka dot vellum, Sprinkles enamel heart dots and silver arrows, heart washi tape; Shimelle Starshine: ephemera and cardstock stickers.
Hi, I'm Theresa of Larkindesign from Kernersville, NC where I live with my four kids, one awesome husband, two cats, a dog, and a bunny. And occasionally our cat brings us pet salamanders. When I am not calming chaos I am in my studio, playing with photos and colors and embellishments. This scrapbooking thing is my passion and I love inspiring others to feel the same way!