If you are anything like me, there is just no way you can keep up with the "regular" method of Project Life scrapping, which is completing weekly spreads with photos and highlights of the week. It is great for people who can manage it, but I am just not that organized. Plus, I scrap my nieces and nephew, so I am dependent on photos from my brother and  sister-in-law. That means I can go 2 weeks with only 1 photo and then get a ton of pics at once, such as from an event or occasion, like birthdays, vacations, and the first day of school.
Because of this, I scrap pages in a different format. Sometimes I scrap an assortment of photos from the month in 1 or 2 pages. This is perfect for all those random cell phone photos we have, or just photos throughout the month that won't make a coheisive page on their own. Other times I create 1 or 2 pages from just one day/event. That doesn't mean it has to be something huge all the time, like Christmas or birthdays. When I am visiting with the kids I take a ton of photos, which means I can create pages of just everyday things that we do.
That is what I did with these pages, Happiness Is Handmade (front) and Create (back):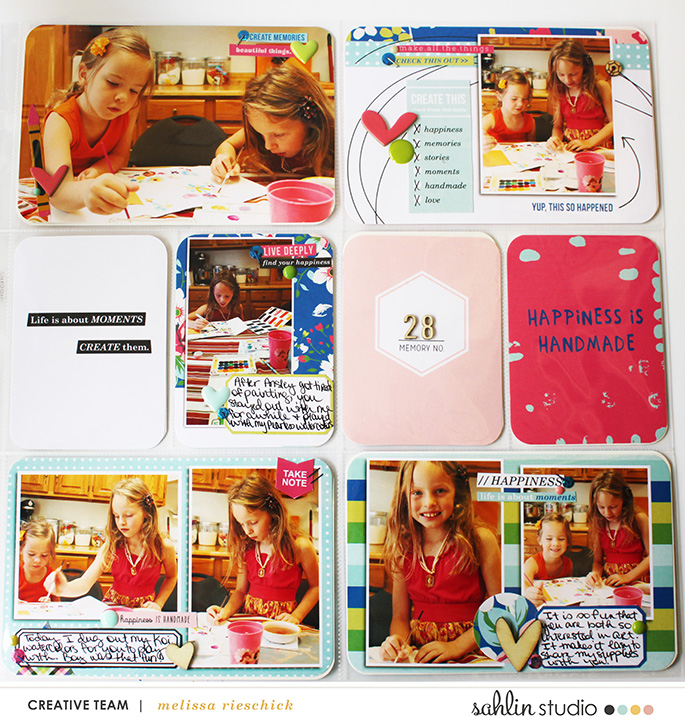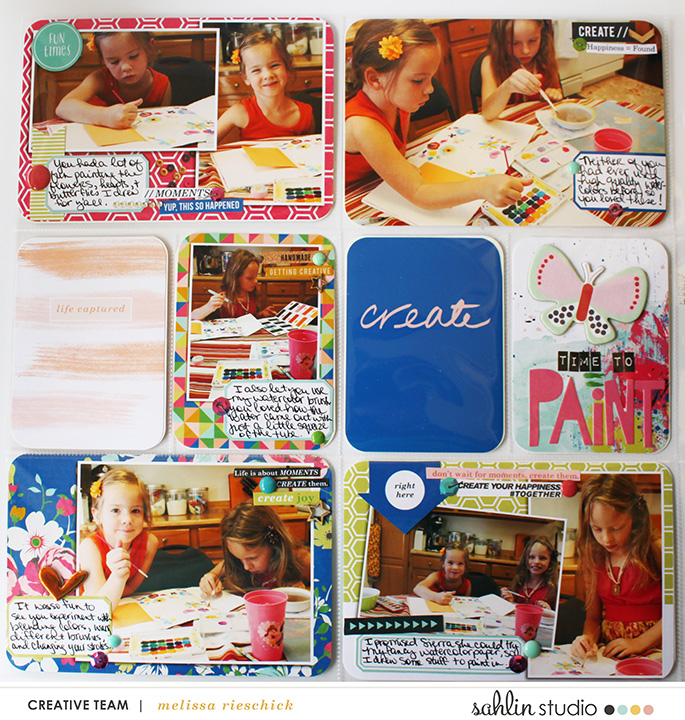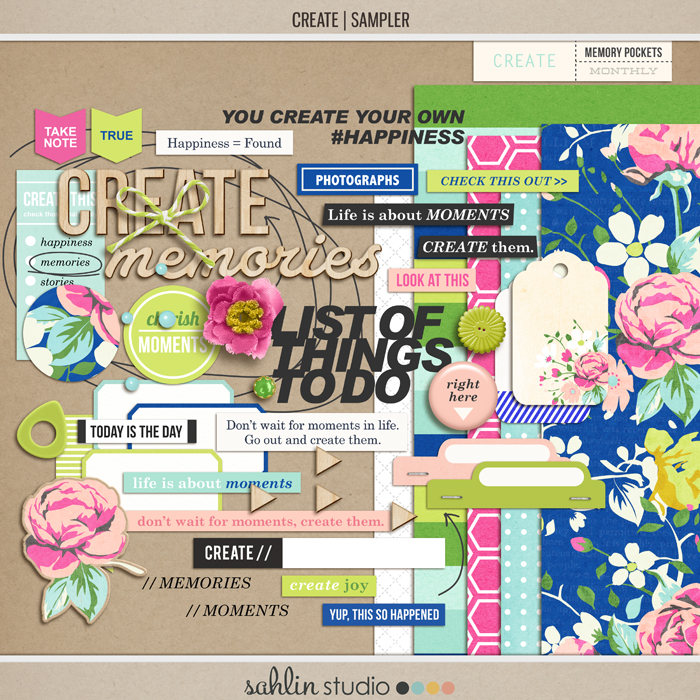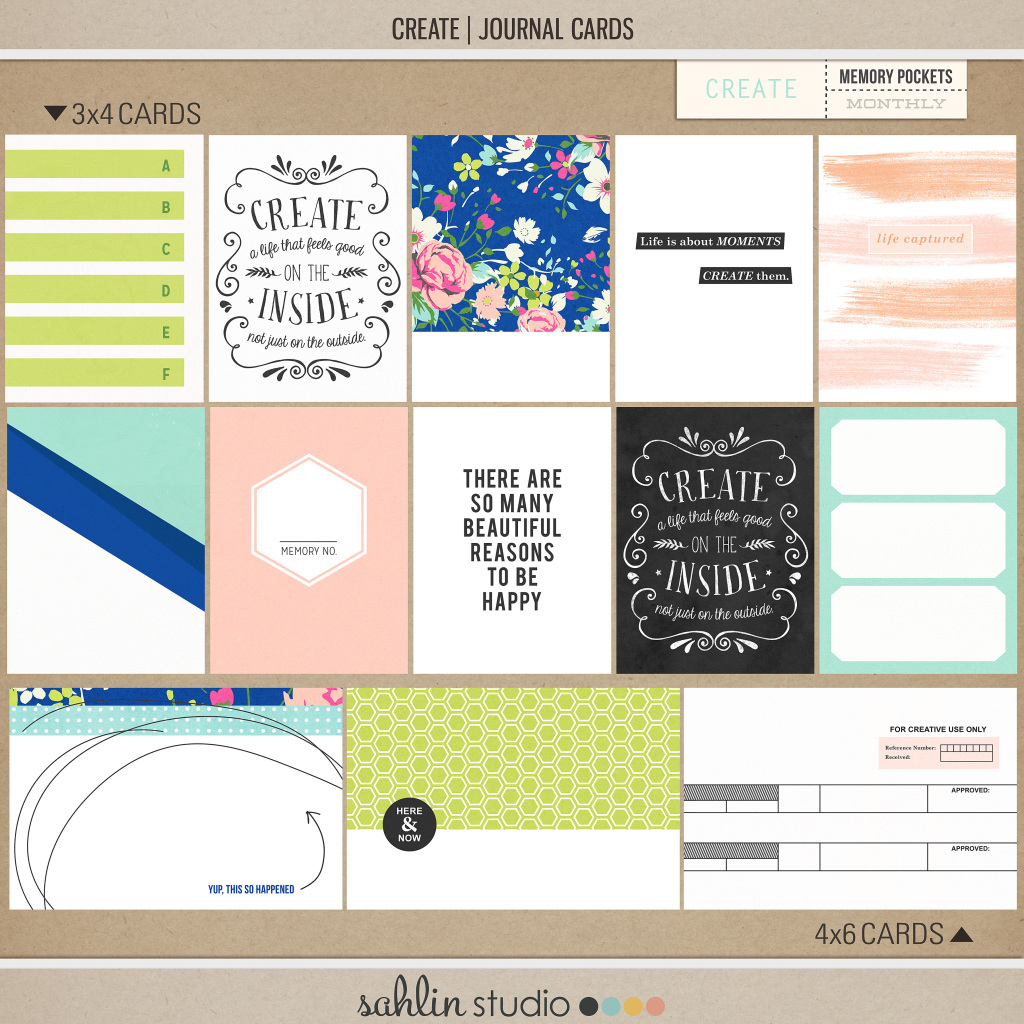 Credits:
Memory Pockets Monthly: Create
Create Sampler by Sahlin Studio
Create Journal Cards by Sahlin Studio
(plus some miscellaneous word art from other MPM kits and add-ons)
I recently visited when my nephew was born, which means I took a lot of photos! The girls had a lot of fun playing with my Koi watercolors, they found them in my bag and wanted to use them. I decided why not, they need to be used and I rarely paint anymore. I am so glad I let them play. They loved it and I got this adorable layout spread as a result. Plus, I got to scrap all the cuteness and not just one or two pics. Sure, I could convey what happened with one photo. But I like to see a lot of the photos and relive the day. I think the girls like it too.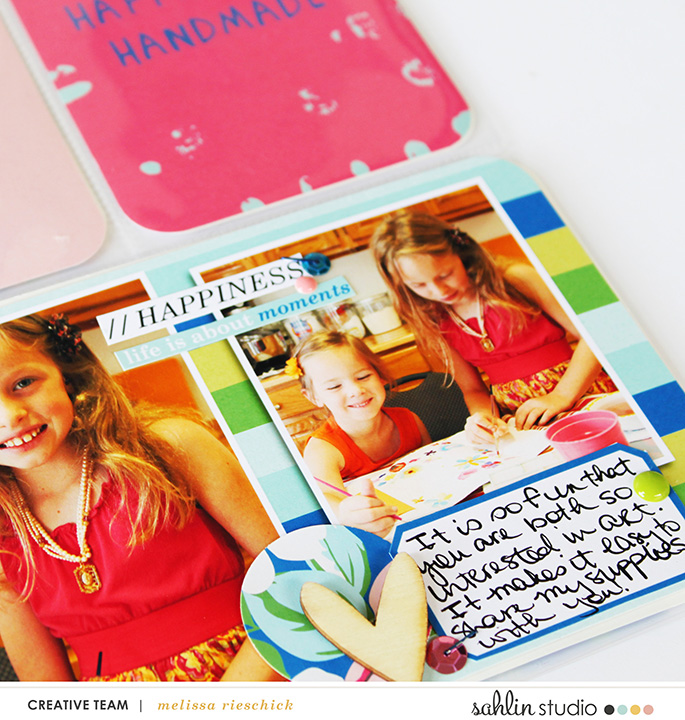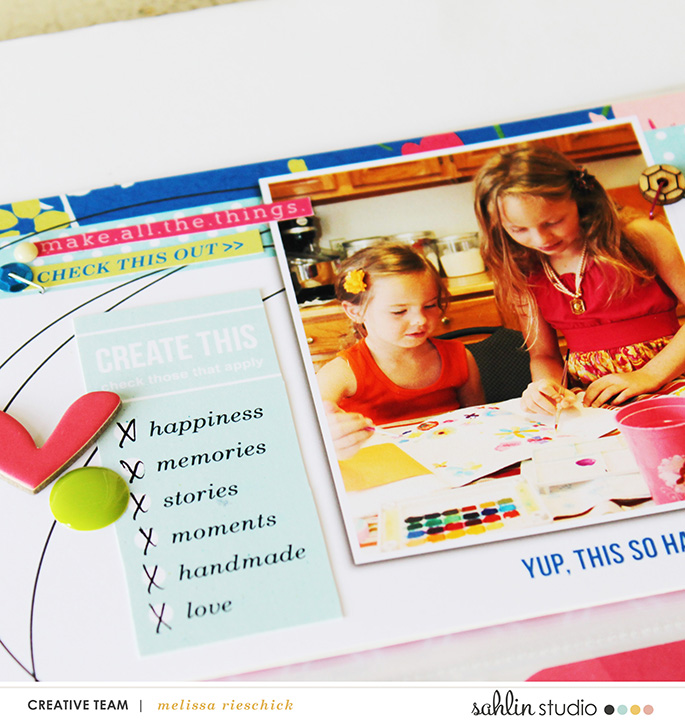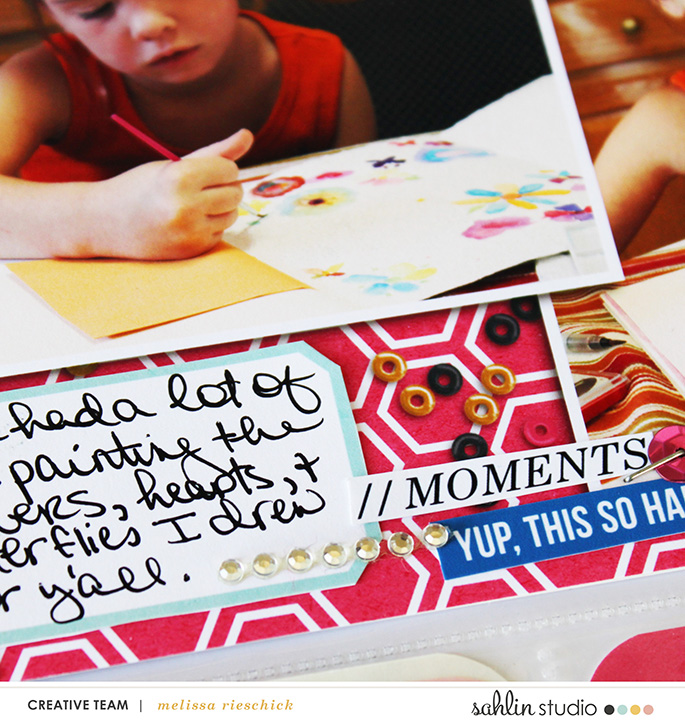 Even though I don't scrap in a weekly/monthly format, I do still plan pages. When I do bulk photo editing I make a list of pages to scrap, planning what page protector to use (I primarily use Design A from Becky Higgins), what subject/event I am covering, and the dates. This helps me make sure I get all the pics scrapped and into albums for my sister-in-law. And as a result, I am nearly caught up!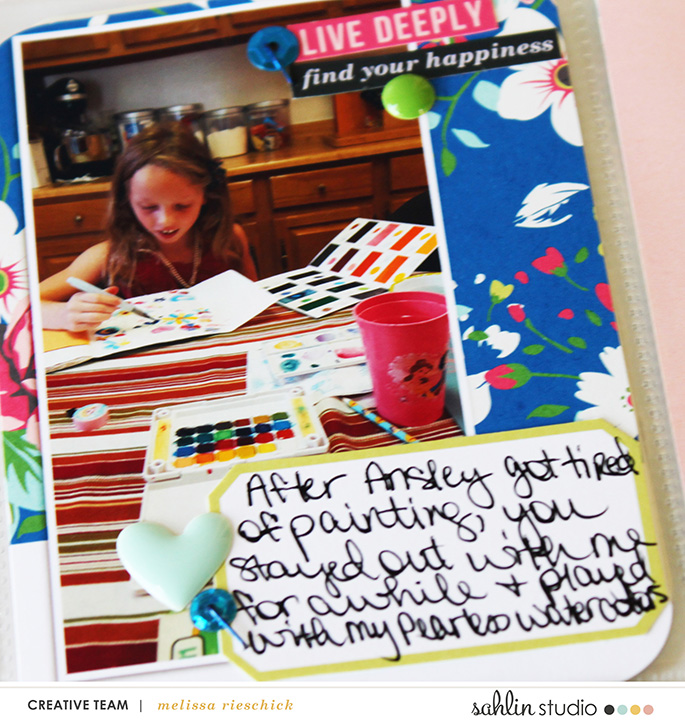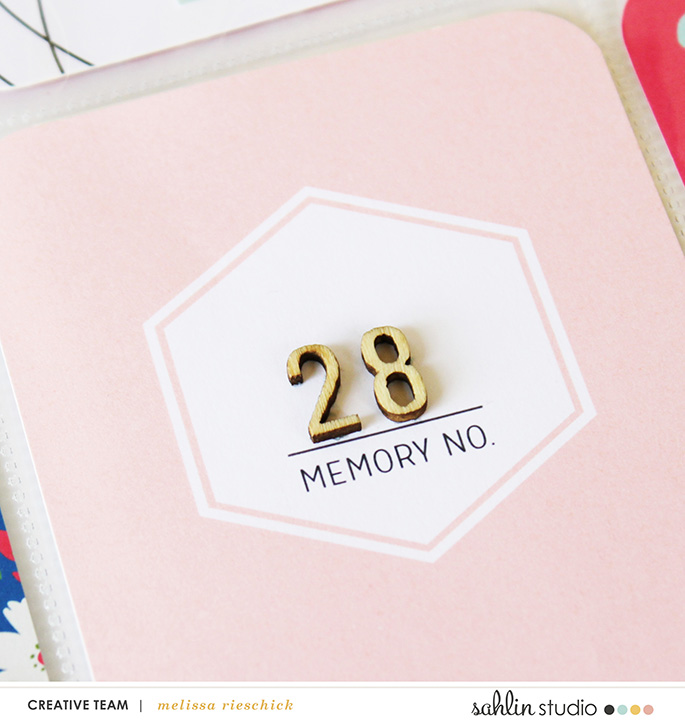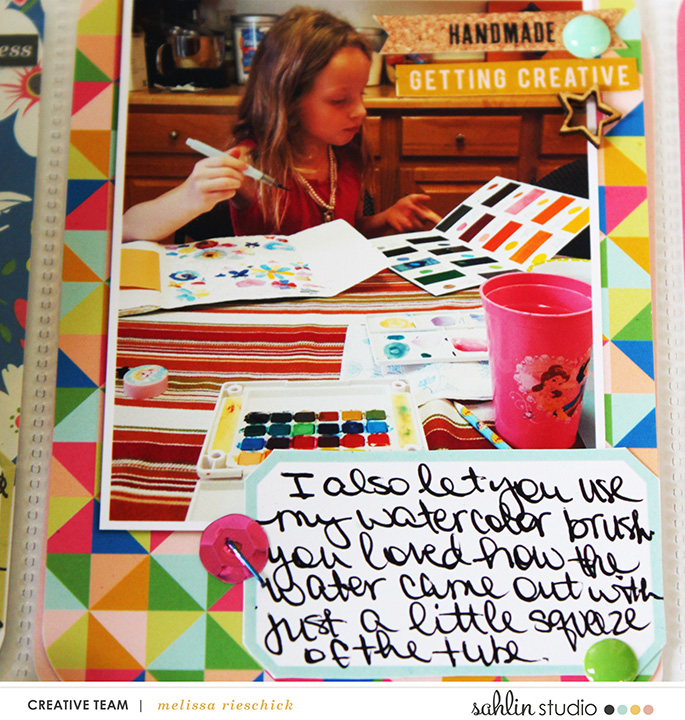 I am up to April 2015 (these pics are from July, hey we all skip ahead, right?) I am so happy with all the PL pages I have scrapped. If you love the look of pocket pages but haven't been able to make it work for you, give my system a try. You won't be sorry!
I live on the Texas Gulf Coast with my boyfriend of 10 years, our chihuahua Zoe, and our cat Morgan. I work full time and when I am not working I like to watch shows on Netflix and scrap. I also love to read and read a book in about 2 or 3 days since I only read a couple hours in the evening. My passion in scrapping is Project Life pages, in particular hybrid Project Life.