One of the hardest things to decide about your Disney vacation is whether you should stay "on property" or "off property". It's not an easy decision. Over the years, I've stayed in hotels in every category, including a few off property hotels as well. In today's post, I'm going to look at the difference between staying on or off property; AND go through several different items you should consider before setting up your next reservations. This is the first big decision you have to make!
Convenience: The location of the hotels (in proximity to the parks) is a huge benefit to staying at a Disney property. They offer some of the closest resorts that will get you to your destination in no time. Disney Transportation is one of the best things about staying at a Disney property. You can travel by bus, boat, monorail, or walk to the parks. This is especially nice if you have few people that want to stay at a park, when others would like to go back to the resort. You won't be stuck trying to find a way of how you will get back to your resort. Driving by Car I do know that some do prefer having a car and not have to depend or deal with Disney transportation (there are times when you can wait up to 20 minutes for a bus, and it might be crowded and you have to stand.) If you are staying on a Disney property you won't have to pay to park; but, if you stay off property, you will have to pay to park. It costs $14 to park for the day at one of the parks, so don't forget to factor that into your cost.
Layout: Private Bus by Snowdrop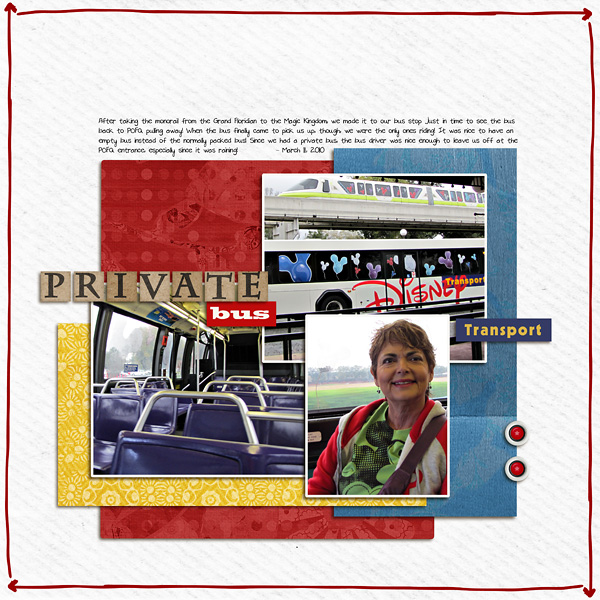 Notes from Heather: I love Disney transportation… it is so convenient for times when I want to stay at a park, but my mom wants to go back to the resort, she can do so, and I won't be stuck trying to find a ride back to the resort!
Layout: disney transport by sahlink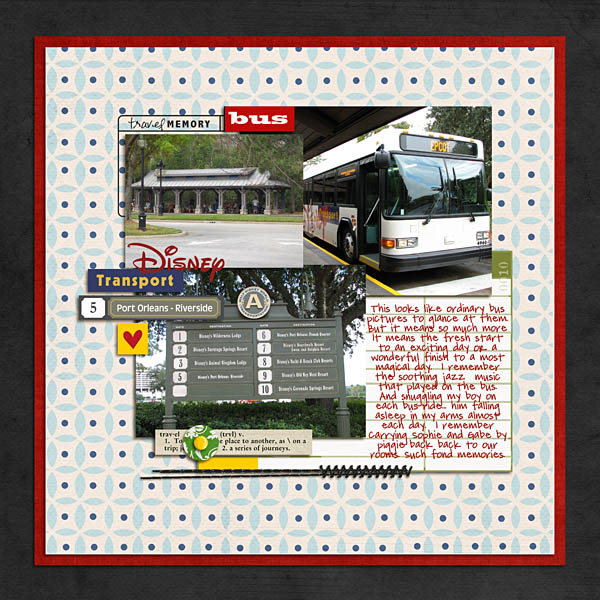 Notes from Krista: I second, loving Disney transportation. There is something nice about not worrying about road maps or where we are going. Some of my favorite moments were riding on the bus late at night, with my son snuggling in my lap.
Extra Magic Hours (EMH): Another benefit to staying stay on property is the Extra Magic Hours. Extra Magic Hours or EMH is where a selected theme park runs extended hours. On certain days you can get into a park 1 hour before the park officially opens, called Morning EMH. On other days you can stay several hours after the park officially closes, which is Night EMH. I particularly love Night Extra Magic Hours because the park can get pretty empty at times and have shorter lines. On the other hand, usually on the day of an EMH, I notice that park will be the most crowded. When visitors see it's an EMH day, they decide to visit that park, even if they end up sleeping in and missing morning EMH. When I plan my park days, I generally stay away from EMH parks, unless I am there at rope drop, or hopping over for the night0time EMH.
Layout: After Dark by Snowdrop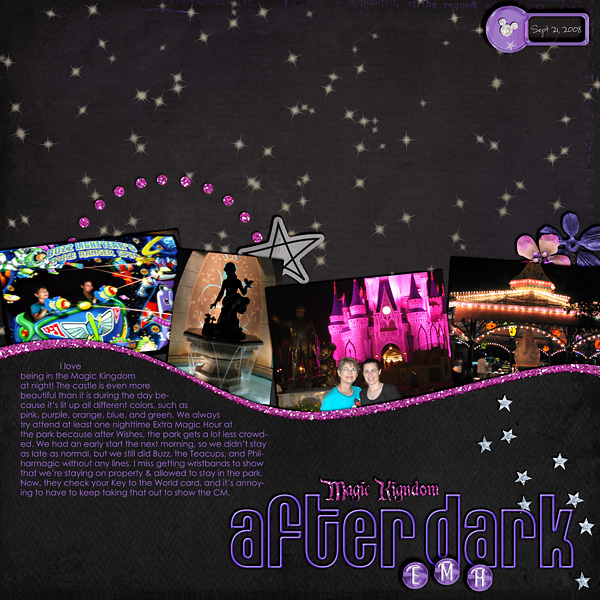 Notes from Heather: I particularly love Night Extra Magic Hours because the park can get pretty empty at times. This is a great way to see the park.
Magical Express: If you are staying at a Disney Resort no need to worry about how you are getting from the airport to your resort. You will be taken by a Magical Express bus to your resort, and picked up from the resort when it's time to go home. You can also get your luggage taken right to your room at the resort, so you don't have to worry about waiting for your luggage to show up on the baggage carousel, and lugging all your stuff! And when it's time to leave, depending on your airline (most of the major airlines are now on the list), you can drop your luggage off in the hotel lobby, and they will check you in to your flight, and take your luggage to the airport for you. No standing in those long lines at the airport to check in! Did I mention there is no extra cost for Magical Express? And I dare you not to tear up at the video they show on the bus, both going to Disney, and going back to the airport (I'm already sad to leave Disney, but that video always does me in!) One downside of Magical Express is that you usually have to wait for the Magical Express bus as it stops at other resorts, it will take you a bit longer than if you just drove yourself. Your luggage may not arrive at your resort for several hours, so I recommend keeping what you need that first day in your carryon bag. These are 2 reasons some don't like taking Magical Express. I find the convenience of not having to deal with my luggage or how I'm getting back and forth to the airport well worth it, but everyone has different priorities. As with everything, you have to decide what will work best for you and your family.
Layout: magical express by snowdrop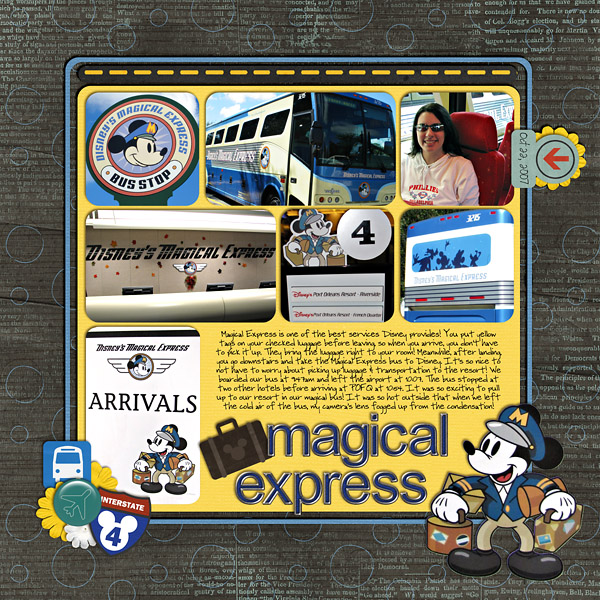 Notes from Krista: Disney begins to WOW you right from the start. We were so impressed from the moment we stepped off the airplane. You follow a 'red carpet' to get to your bus, and right from the start we encountered magical moments with their cast members.
Layout: welcome by sahlink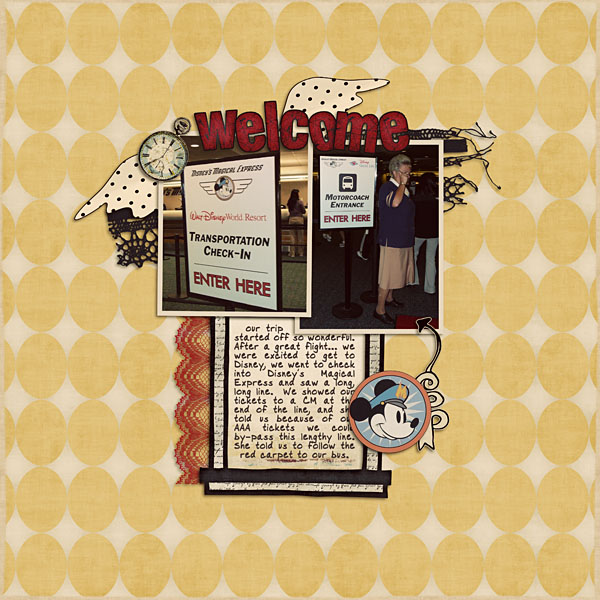 Purchases: If you stay on property, you receive a Key to the World card . Think of this as your hassle free card. To begin you can put a credit card on your Key to the World card (which your room key) so you don't have to worry about how to pay while at the park. You can even put charging privileges on only certain cards, so your kids can't make a bunch of charges on your card. From experience, make sure you sign the back your card right away, and double check when you check in to the resort that charging privileges were put on that card. Another bonus? Anything you buy at a park or at Downtown Disney can be sent back to your resort! You don't have to carry around all your purchases ALL day! I can't even think of any negatives for this perk!
Disney bubble: Everyone is different, but when I go to Disney, I LOVE to feel the Disney magic all the time. When you stay off property, you have to leave that Disney bubble at some point. I've liked the hotels I've stayed that were off property, but they didn't have that Disney feel that you will find at every Disney resort. There were so many magical moments that I found happened at my Disney hotels that enhanced our trip so much… from a cast member saying "Hi, Mickey" to the Mickey doll my daughter was carrying, to another cast member giving my son a Mickey straw, becuase he found out it was his first time to Disney, to the theme hotel music… all of these little things added to the "magic" that is Disney to help create those memories.
Usually, the biggest reason to stay off property is cost. Even with discounts on property, you can usually find a cheaper room off property. But when you are going through costs, be sure to check if it's really that much cheaper to stay off property. Don't forget to add in car rental (unless you are driving from home, of course!), gas prices, and parking fees on property (and some hotels off property charge you to park, too.)
I hope you liked this article. Next time, I will give you an idea of what you can expect at resorts off property and on property in each category.