Whether you are planning a cross-country trip, a day-trip to a nearby town or that once in a lifetime vacation, you'll want to make sure that you capture those vacation memories to share with family and friends.  Our memories are so much more than just photos in an album, and by including memorabilia (as well as journaling), you can create a well-rounded view of your trip.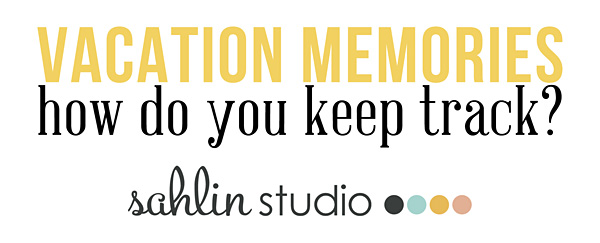 Vacations are supposed to be a fun and relaxing time, but more often than not it turns into high stress busy days that pass so quickly that before you know it your vacation is over.   When you get home you often find yourself asking others "Do you remember this?" or "I wish I would have gotten…"   We spend all this time planning out our trips and vacations but we often overlook the process of documenting these important times in our lives.  Taking a moment to plan how we document the trip will reduce the stress we'll feel not only during the trip but once we are ready to put the album together as well.  When planning the next trip, here are some tips to consider for documenting it.
Capturing Vacation Details
First, having a planner or journal with at least a calendar and rough draft of your itinerary will give you a one-glance look at your trip.  As well, the calendar is perfect for memory joggers – brief notes to jog your memory at a later date.  Joggers are factual information which answers who, what, when, where, why and how.
Passporter
If you're looking for something new, make sure to check out the Passporter Planner and Pocket Pages.  This planner was created with Disney themed trips in mind, but could easily work for any trip.   What is it? The Planner comes either spiral bound or in a simulated-leather vinyl binder.  Each version comes with park/trip informational pages as well as sturdy yellow envelope pages with pre-printed front and back trip recording worksheets.  The yellow pocket pages can be purchased separately as well (these are perfect for storing your collected memorabilia in).
I used the PassPorter's Pass Pockets on our last trip, and it was the most amazing item I found to EASILY help document our trip. It included pockets or pouch envelopes to store your daily ephemera and receipts. Plus, it had basic questions about your day, from what you did, where you ate, etc. It was something I could easily and quickly do at the end of each day. It took me about 5 minutes to complete. It was such a great resource when I got home to document about the details.
Here is an example of a PassPocket:

If technology is your thing, make sure to check out the latest apps available for planning and document your trip.  I don't know of a ton, but here are a few to get your search started.
Likewise, don't forget most smart phones and tablets come with built in calendars and memo sections.  These could work just as well for your documenting needs.
Furthermore, make sure to bring along your trip planning material.  Having this information at your fingertips will help with following each day's plan as well as having options in case you need to change the plan while you travel.
Journaling
Next, include a journal in your documenting plan.  With a journal, you can record emotion like mood and experiences as well as sensory descriptions (hear, see, smell, taste and touch) instead of just factual information.  Also, daily recording of your activities either during downtime (waiting on meals, during a break, while driving) or at the end of the day is important.  Those little moments tend to slip our minds the longer we wait to record it.
Journal Book
A journal could be as simple as a notebook/composition book, a fancy journal from a book store or a section from a Day Planner.  You could also incorporate the planner into the journal by making the first few pages the calendar and rough itinerary.  What is important is that you are encourage and excited to write in it.  Consider having a variety of colored pens for your journal to make it more exciting and eye appealing.
Project Life
Project Lifer's consider bringing some blank or pre-designed cards to journal on either during downtime or at the end of the day.   You could also include a few essentials like a date stamp and some labels to use as you journal directly onto the cards.  Also, blank cards are perfect for handing out to family and friends during downtime or end of the day with crayons/colored pencils/pens to get their point of view.
Project Mouse Cards
Along the same route as project life, bringing project mouse cards along can help to document your trip at the end of the day. In Project Mouse "Daily Documenting" there are journal cards that could record all the day-to-day memories of your Disney vacation. PACKED FULL of journal prompts and ideas, interviews, and question forms. You and your kiddos could happily fill out journaling cards at the end of each day. To check out more Project Mouse items for your trip, your can find them here.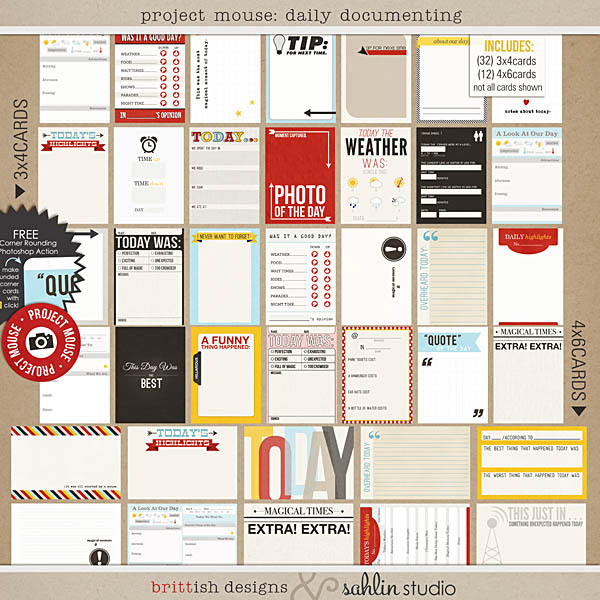 Using Technology
Want something more technology friendly?  All the apps mentioned above have a journal section included in them.  Likewise, you could use your smart phone or other device to record video or voice journaling.  This method would be great with children to capture their emotion and excitement.  As an added bonus, video journaling can be included in your album by uploading your video to the internet and creating a QR Code.  For more information on this check out Britt-ish Design's Blog posting "Using QR Codes in Memory Keeping".
Similarly, you could make a photo journal by including more candid shots as well as posed and scenic to help capture the emotion and excitement.  Make sure to record what and when you photographed something for easy look up when you are putting your album together.
Memorabilia & Storage
Lastly, consider collecting and storing memorabilia from your trip.  By including such things as brochures, maps, postcards, ticket stubs, menus/place mats, bumper stickers or whatever catches your eye, you will add so much to your album.  If you're not big on collecting memorabilia or just not sure how to start here are a few tips that will help you.  As you visit different locations, remember to at least keep one thing from each place.  Encourage family and friends to do the same.  Make sure to stop at welcome centers as well as visit the brochure area of your hotel to pick up informational brochures of the places you are planning or would like to visit.  Pick up more than one of each brochure so you can have one to cut up and still have a whole one for the album.
Check out this awesome Smash Album filled with memorabilia from their trip to Disney.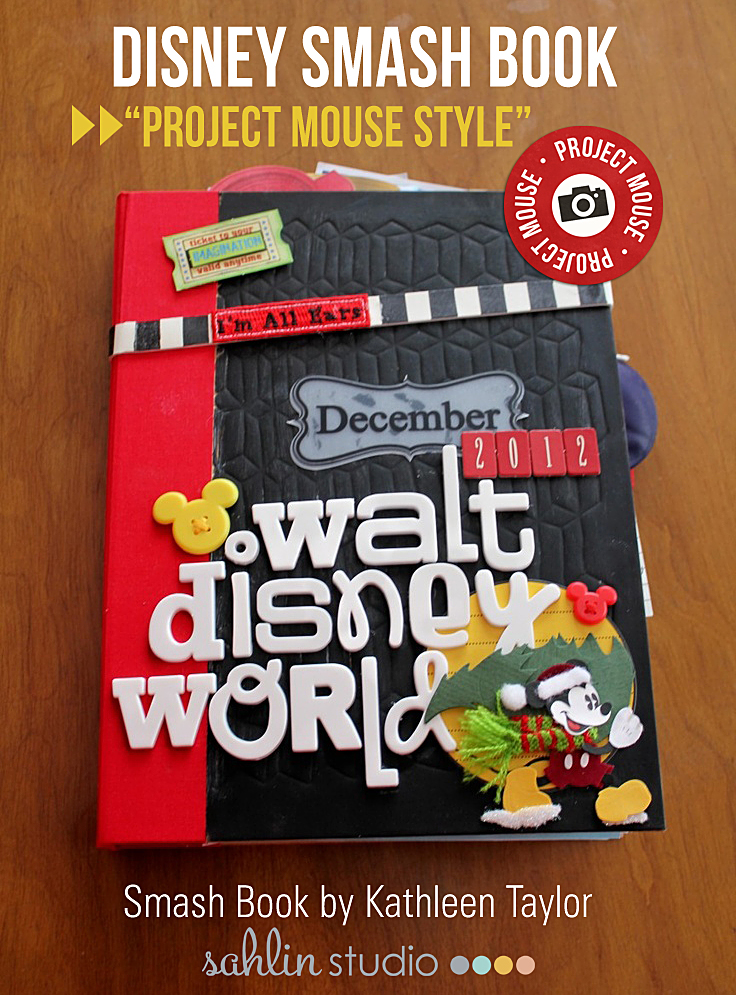 Now that you have all these bits and pieces of your trip, you'll need to consider how to store your memorabilia while on your trip.   Whether you are traveling with limited space or not, there are several ways you can plan to store your memorabilia.  If you are bringing a Day Planner or PassPorter with folders/pockets these are perfect for keeping all these collectables in.  You can also bring along plastic baggies or medium to large sized envelopes to keep your memorabilia sorted in; or if you have the room, consider bringing an expand-a-file.  The whole point is to have a "place" to put all the memorabilia in as you travel.
Project Lifers' can use the special envelope pages Becky Higgins so thoughtfully created in three different sizes: Big Envelope Pages, Small Envelope Pages and Tall Envelope Pages.  Just take the envelope page with you and stash your memorabilia inside.  When you return home, you can insert the envelope page into your album.  All your goodies will be right there with your album until you are ready to get creative.
By applying some of these helpful tips when planning your next trip, hopefully you will find yourself a little more relaxed during the high-stress busy days.  Most importantly just remember to have fun with your vacation memories.