Today we are going to talk about – Defogging Your Photos.
Last week we learned how to "How to Lighten & Brighten Photos". We will be using the same photo from the previous post. So you can see as we go through the full photo editing process. Here is our original photo, along with the photo after Step 1: Lighten and Brightening.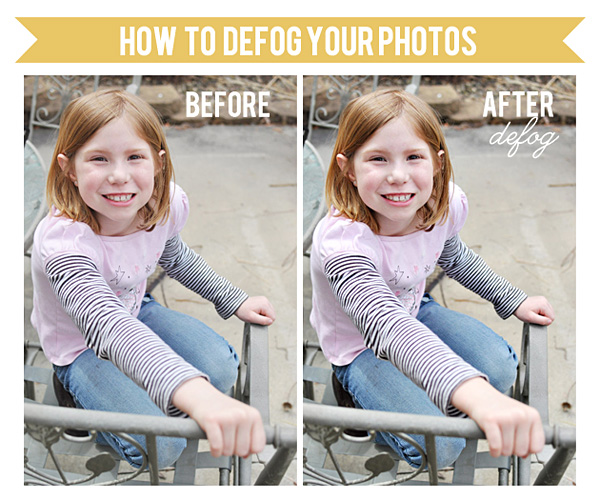 You might not even notice, but all digital images have a slight 'haze' or "fog" over them. Give this tutorial a try and you could be surprised at the amazing difference it will make in the clarity of your picture. Defogging is the process of removing the gray haze in your digital photos, making them a little clearer. This should be one of the first steps in your photo editing process, and it's surprisingly very easy it is to do. My photo editing is done in CS5, but these similar steps can be taken in Photoshop Elements.
To start, apply the "Unsharp Mask" Filter.
Step One: Apply the "Unsharp Mask" Filter
1. Filter>Sharpen>Unsharp Mask
1. For PSE Users: Enhance (rather than Filter)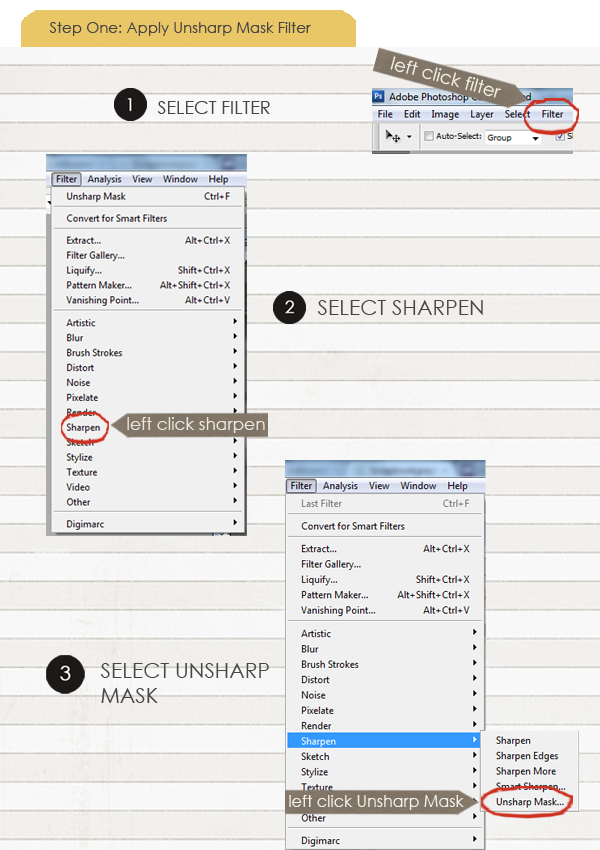 Once you have selected the Unsharp Mask filter, a box will open up with some setting choices.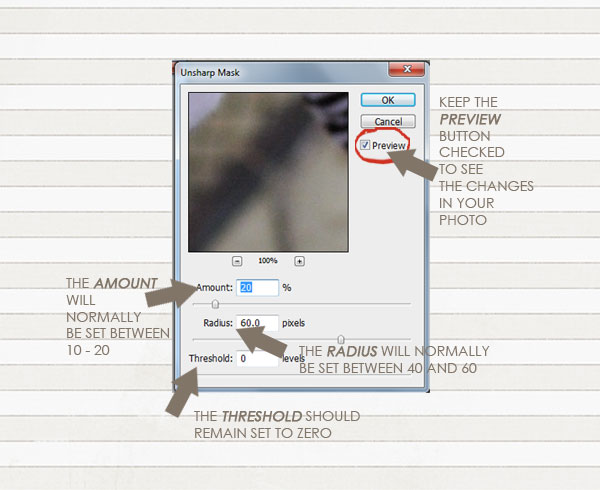 There are three adjustments that can be made. I personally use: 10 / 50 / 0.
Amount: 10
Radius: 50
Thresold: 0
Common Defog settings are 20 / 60 / 0 and 10/50/0. But I find the 20 / 60 / 0 setting WAY too strong – especially since we will be doing other things to the photograph later (such as color pop and sharpening). You don't want you photo to look too extreme… which is why I personally use: 10, 50, 0. It crispens the photo just a bit, and gets rid of the fog. But try tinkering with the settings. Always play and tweak your photo until it looks just right to you. You'll just want to stay within these levels: 10-20, radius: 40-60, threshold 0. My advice would be to use the least amount you need. Toggle back and forth between your defogged and undefogged photo to see your results!!
This technique is very subtle… but the results are amazing!
Check out some closeup views of Before and After DEFOGGING: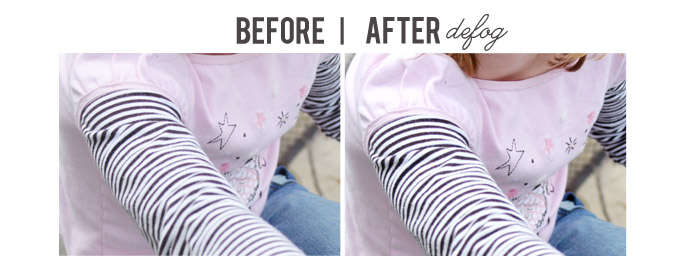 See how it crisps the lines on the sleeve and the stars on her shirt. The settings I used for my photo were 10-50-0. The difference is subtle, but as I mentioned before I don't want to make it too harsh.
(HOVER OVER TO SEE THE SUBTLE CHANGES – BEFORE / AFTER)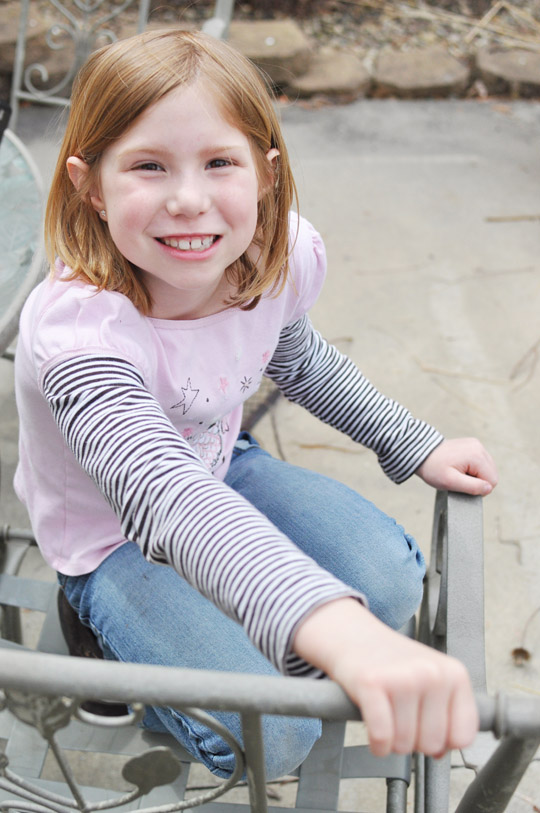 If you can't see the HOVER images above, see here: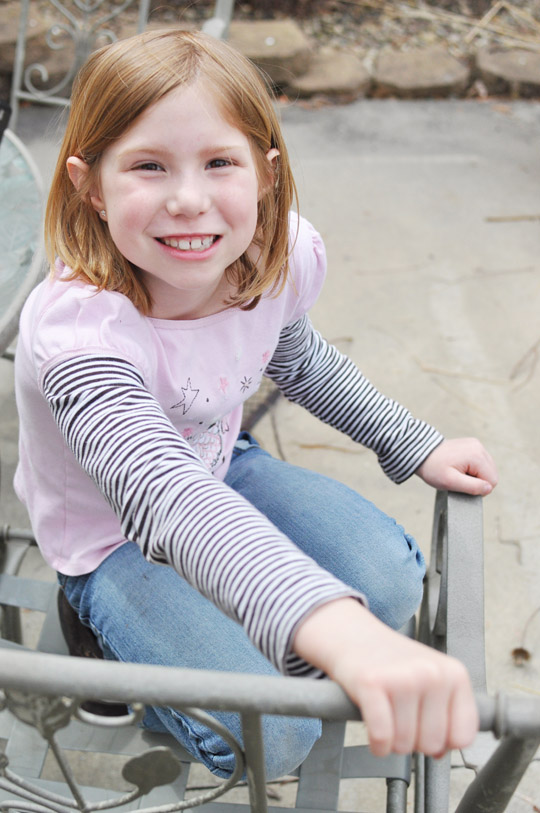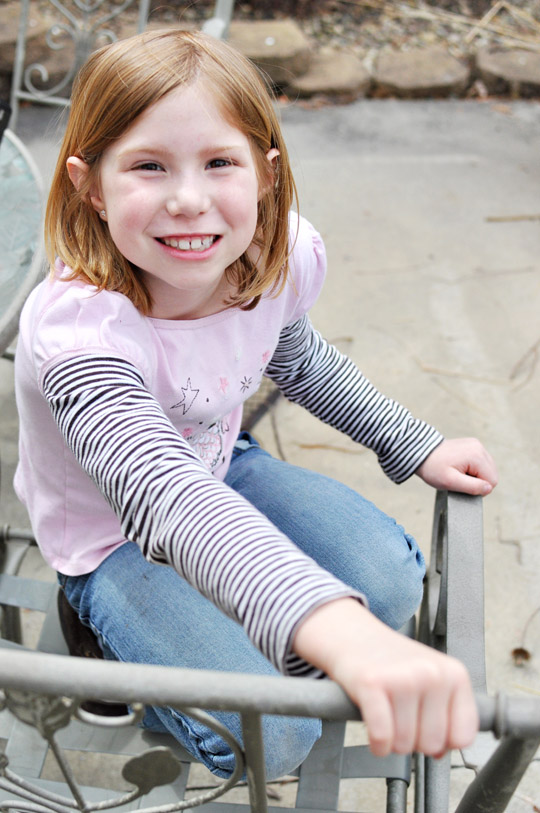 I hope this has been a help to you!