Have you ever wondered how you can easily line up all of your photos? Or how to evenly space them apart? I will show you easy techniques on how to use the align and distribute tools in Photoshop to do some pretty cool things. Don't let the big words
in the title of this tutorial scare you away. I think this information will be a major learning moment for some of you and it is so simple! I promise you will be using these for everything, to get a perfect grid block for clipping papers OR evenly space elements.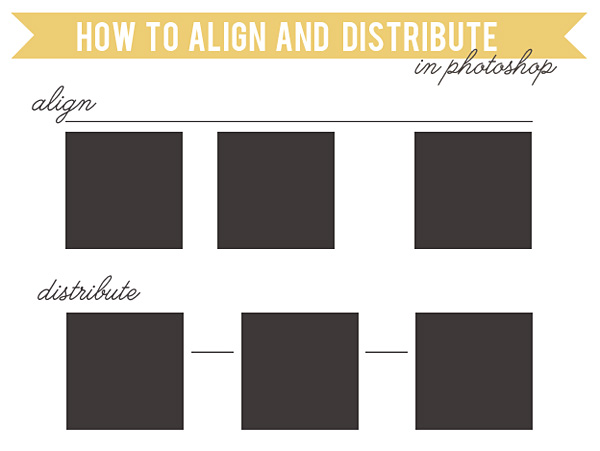 Today we are discussing the Align and Distribute Tools in Photoshop!
Whether you are using the align tool, or the distribute tool, each tool has a different result.
Align Tool
The align tool will line up your elements or shapes.
You can choose whether it will line up the top, bottom, left, right or center.
Distribute Tool
The distribute tool will put an equal distance between your elements.
It will evenly distance them out from left to right, or from top to bottom.

Below, I will give you an idea of what both of these tools look like and what they do.
For this tutorial I am going to create some square shapes for our example.
For a Grid Look – Start with Square Shapes
Step One: Start by Creating Shapes
1. Using our previous tutorial on making shapes, create three boxes that are of equal shape.
(The simplest way to do this is to create one shape and duplicate the layer two times.)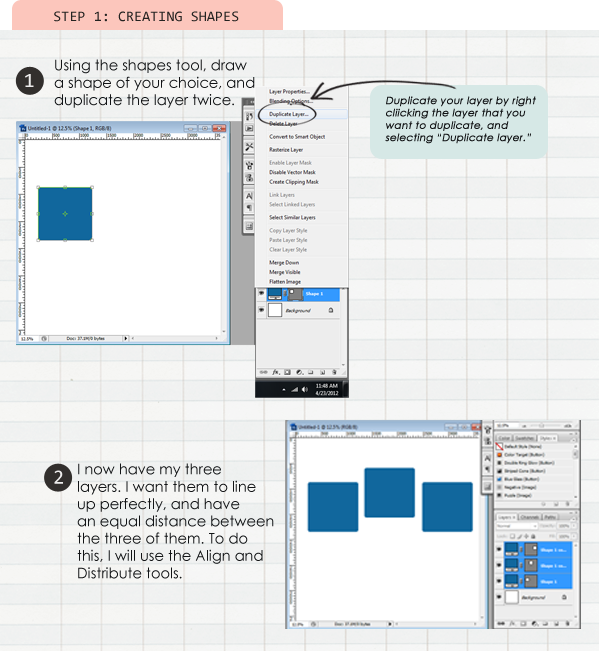 After you have your shapes or elements, we are ready to begin Aligning and Distributing the Space.
Where do you look for the the Align and Distribute Tools? Here is a screen shot of where to find them.
For PSE users, click on the small down arrow to the right of 'Align' or 'Distribute' to see the menu items.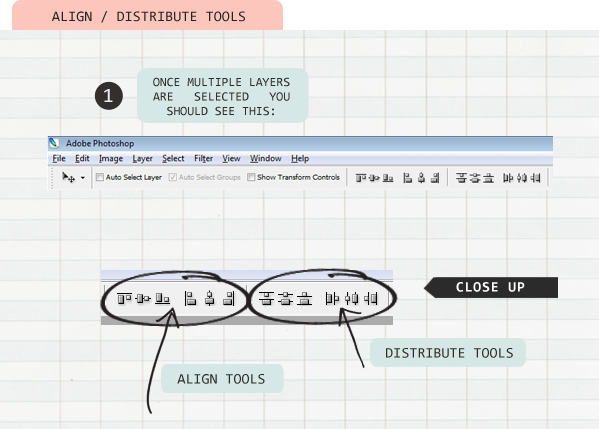 Using Your Align Tool
Step 2: Align Your Shapes or Elements
1. Select all the layers you will be aligning, but holding down your CTRL button and selecting each layer.
2. Make sure your move tool is selected so the align and distribute tools will be visible.
3. Select the appropriate align tool, to line up the edges of your elements
– either Horizontal or Vertical, then chose Left, Right or Center Align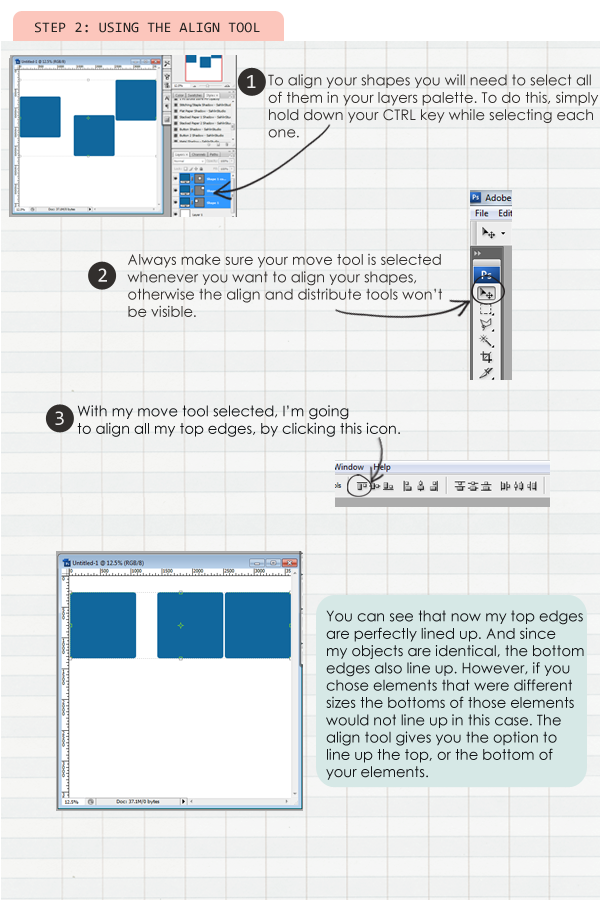 Using Your Distribute Tool
Step 3: Distribute Your Shapes or Elements
1. Make sure the elements you want to distribute are still selected in your layers palette.
2. Choose the appropriate distribute tool – Horizontal or Vertical, then Left, Right or Center Distribute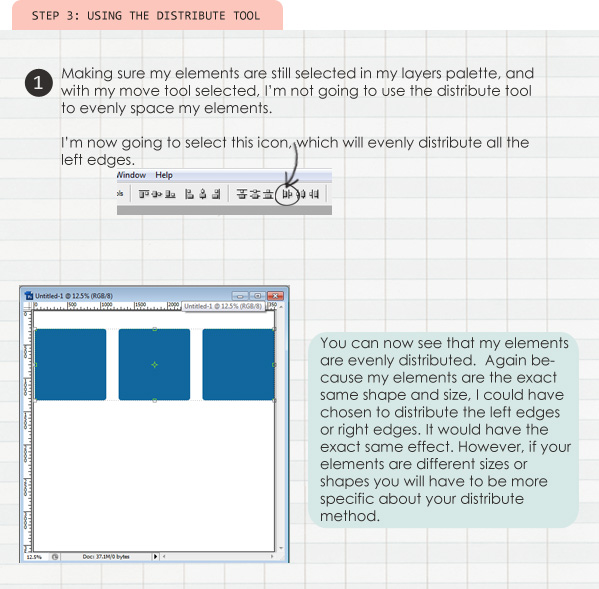 EXAMPLE
Would you like to see how the Align and Distribute tools can be applied to a scrapbooking layout?
Here I used squares to create a grid, and it was easily centered and distributed evenly. For a tutorial on how to "clip" papers or photos to a shape look here.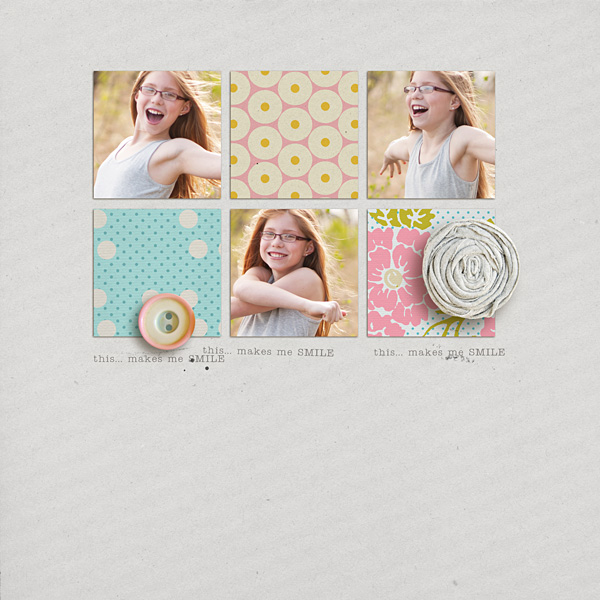 Now onto some examples on how to use it for items other than a square box.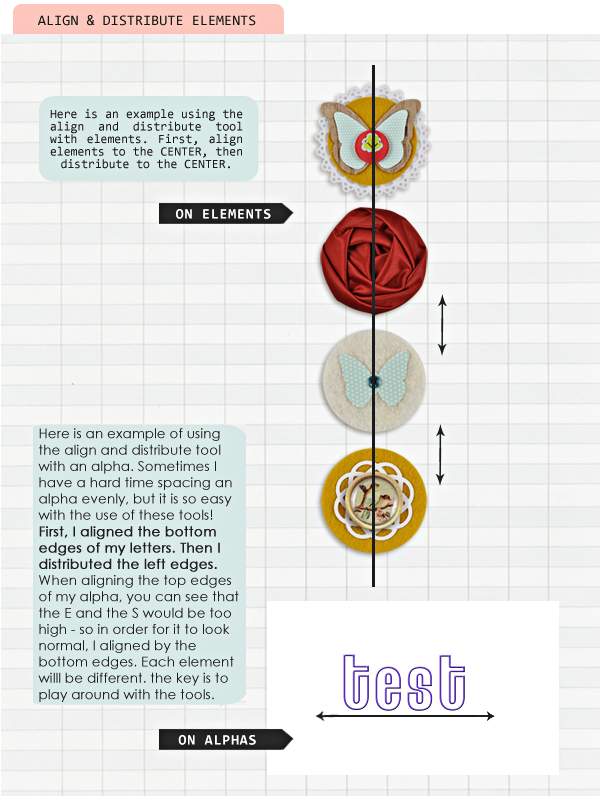 Here is an example of a layout using these tools for the elements on a scrapbook layout.
Fun on the Beach Layout by kwiener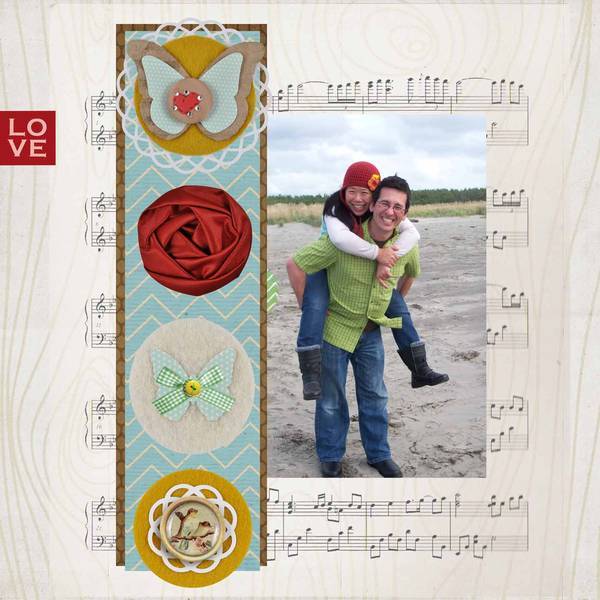 The align and distribute tool are wonderful tools – and so much quicker than "eye-balling" your elements when trying to line them up. I hope this has been a help to you!