Journal It: Scrapbooking Christmas Memories and Traditions
Christmas is one of the best times of the year. It means more time for: family, holiday baking, crafting, seeing friends, festivities, food, and the excitement of the season. Yet it always seems like the holiday flies by. Before you know it, it's February and the wonderful memories begin to fade. Scrapbooking is a wonderful way to preserve these memories for seasons to come…and along with a chance to document some of your holiday traditions as well.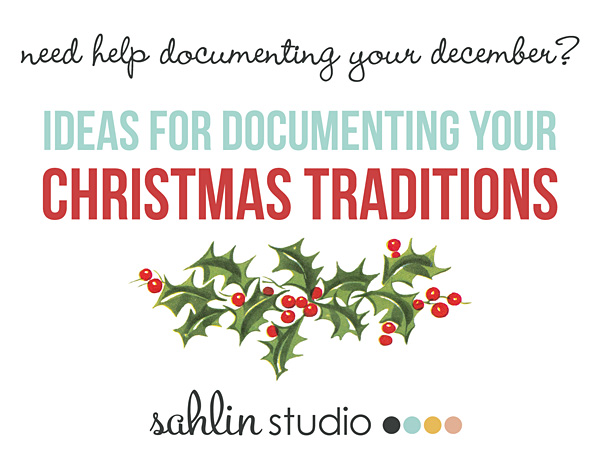 Let's focus on this and think about some your own personal traditions. How we can find a story behind our traditions? Ask yourself: "What is it that our family does every year at Christmas time?" No tradition is too small. It can even be something as simple as watching holiday movies throughout the season, or a more unqiue tradition: like a Christmas dinner of Chinese food. Every family has their own family traditions. Just be sure that you are capturing these special traditions with journaling and photos.
Let's take a look at a few holiday tradition ideas:
Cutting Down / Getting the Tree
– When do you do this? Is it a particular day each year?
– Where did you get the tree? Do you get it from a tree farm? A tree lot?
– Who picked out the tree?
– What was the weather like that day?
(Photo Ideas: of the tree before, during, and after-when it's in your home)
Trimming of the Tree
– When do you do this? Is it a particular day each year?
– Who does it the trimming? Does the whole family? Is it one person in particular?
– Is there anything special or a personal memory attached to any of your ornaments? [/color
(Photo Ideas: of the tree in various stages of being decorated, individuals hanging their favorite ornament, putting on the star or angel, don't forget to pose in front of the tree when it is lit and decorated)
Decorating the House / Decking the Halls
– Do you have a special nativity set?
– Winter town collection?
– How about outdoors, do you light up outside?
– Is there something special or a personal memories attached to any of your ornaments?
(Photo Ideas: your boxes of Christmas decorations, your foyer, staircase, dining room, living room or any other room you've spruced up for the holidays. Don't forget outdoor if you have lights and displays too)
Letters to Santa / Christmas Lists
– Who writes them (child or you)?
– Do they look through catalogs?
(Memorabilia Ideas: make a copy of the letter before you mail them; you can incorporate that into your scrapbook. Also, if Santa leaves the note behind,remember to save that as well)
Christmas Eve
– What do you traditionally do?
– Do you have a special dinner?
– Do you attend church services?
– Do you drive around looking at lights?
(Picture ideas: the family dinner,everyone dressed in their "Sunday best" for services, stockings hung'by the chimney with care', the cookies and note left for Santa and his reindeer.)
Christmas morning
– What do you traditionally do?
– Do you have a special breakfast or lunch?
– Do you attend church services?
– Do you drive around looking at lights?
(Picture ideas: the kids flying down the stairs, the family meal, everyone dressed in their "Sunday best" for services, stockings hung 'by the chimney with care', the cookies and note left for Santa and his reindeer.)
The Tradition of Opening Gifts / Presents
– when do you open your gifts? Christmas Eve? Christmas morning?
– What is the story behind which day you open. Is that what you did as a child?
– What was your child/significant other/your favorite gift
– Make a List: It's so easy to forget what it was that was gifted and those gift which were received
(Picture ideas: stacked presents, kids ripping of the packaging, the disaster afterward)
(Memorabilia Ideas: Make a List – It's so easy to forget what it was that was gifted and those gift which were received)
Christmas Card or Newlsetter
– Include a copy of your Christmas card
– Scan in copies of the special cards you receive through-out the holiday
– If you write an annual newsletter with your Christmas card be sure to include it
Other Christmas traditions:
– Sitting on Santa's Lap (Where did you go? Is it the same each year? What did the kids ask for?
– Driving around to look at Holiday lighting
– Baking cookies (maybe include the family recipe)
– Caroling (include words for a favorite Christmas Carol)
– Group Photos (grandparents with the grandchildren, multiple generation, all the children, the family)
– Hosting a party with friends
– Doing your Holiday Shopping
– Holiday Plays, Concert or Programs
Need a little more inspiration? Here a a couple Christmas word art prompts for you to use:


[pinit]
Christmas Traditions Word Art FREEBIE by Sahlin Studio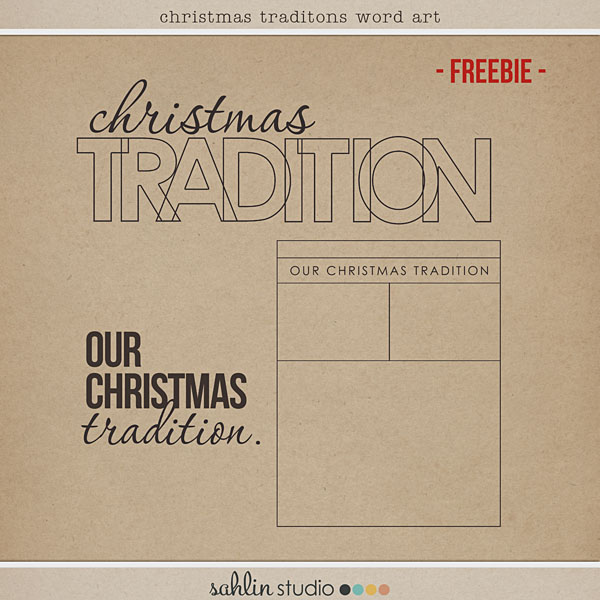 Save