If you're a Disney fan, you probably have 2 modes: being at Disney, or planning a future Disney trip. Planning the trip can be a little daunting, especially if you are going for the first time. But with some online resources, you can have almost as much fun planning the trip as taking the trip!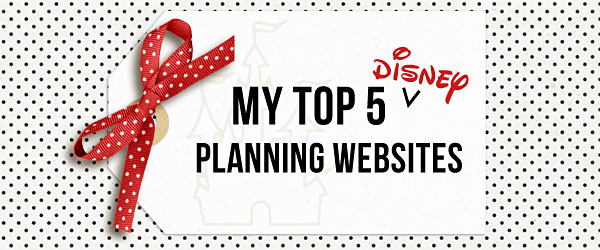 Top 5 Disney Planning Websites
Here are 5 of the top sites that will help you plan your ultimate Disney vacation.
The DIS: Just about every Disney fan has visited the DIS at some point while planning a trip. You can find park hours and information on every attraction, including whether your favorite ride will be down in refurb. They also have a great podcast that will give you the latest news and help you plan, or just give you that Disney fix every week. And on the DISboards, you can ask any question you can imagine, and someone will have an answer!
AllEars: Another site that every Disney fan has visited, you can find just about anything you want to know about Disney here. Constantly updated menus, including prices, for every restaurant on property. Blogs with the latest news from the parks. Information and pictures from every resort on property, so you can compare and decide where to stay. They also have a great weekly newsletter with tips, stories, and news!
TouringPlans: When you get to Disney, you don't want to waste time standing in lines. Whether your party is just adults that wants to do thrill rides, kids that just want to ride Dumbo, or somewhere in between, you will find every kind of touring plan you can imagine to help eliminate waiting as much as possible. This site is definitely a must if you want to plan you're your day. They also have an app, Lines, which has the wait time and fastpass information while you are in the parks.
EasyWDW: You want to plan your trip so that you are in the least crowded park each day as possible. Here you will find a crowd calendar that gives the most recommended to least recommend park for each day. Just as important, there's also a detailed explanation why a park is or isn't recommended, so you can determine if skipping that park that day is the right thing for you. There's also lots of detailed walking tours, with pictures, of many places on property, as well as reviews of just about anything you can think of at Disney.
Disney Food Blog: Planning your meals is a huge part of any Disney trip. Disney World opens their Advanced Dining Reservations (ADRs) 180 days out. Some sit down restaurants book up quickly, and you will need to make your ADRs as soon as possible. At Disneyland, preplanning meals isn't as big of a deal, and they open ADRs at 60 days out. The Disney Food Blog (DFB) is the best resource you will find for food at Disney. Here you will find information on every restaurant, counter service, and even snack carts on Disney property. Considering doing the Disney dining plan? The DFB breaks it down so you can decide if the dining plan is right for you. The DFB covers food news from both coasts, and is constantly adding new and updated restaurant and food reviews. And there's always LOTS of pictures. This is a site you'll want to check out daily, even if you aren't planning a Disney trip!
Five (5) Planning TIPS:
Do your research! If you've ever heard someone come back from Disney and complain about the lines or missing out, they probably didn't do any research. You don't have to plan every little detail (though that's ok too!) But plan which days you'll go to which park, have a rough plan of where you want to eat, check the park schedules in advance. Even a little planning goes a long way!
Try to go when kids are still in school. This is obviously hard if you have kids, or if you are a teacher, but any times schools are out, the parks are more crowded. Disney is rarely empty anymore, but if you are trying to find good time to go crowd wise, go when school is still in session.
Watch ride videos on youtube: If you aren't sure if your child (or you!) will be scared of a ride or show, check out a video of the ride, and see if they can handle it. Be sure to research the ride height requirements, too, so your child won't be disappointed when they get to the parks, and find out they aren't tall enough to ride.
Don't stress! It's easy to constantly check the weather for your trip a week out, and worry when you see rain. Or an attraction breaks down while you're in line, and you don't get to ride it this trip. Like life, things happen. Instead of worrying and thinking about what negative things can happen during the trip, focus on the fact that you are AT Disney! A rainy day at Disney beats a sunny day at home every time! A related tip: bring rain gear. Most of the year, it will rain in Florida at some point during the day. Usually it will be quick, but don't be that person that gets drenched because you didn't realize it would rain!
Don't try to do it all in one trip. Even a Disney vet won't be able to say they've done and seen EVERYTHING at Disney. Take your time and have fun!