Seeing all of the weekly Project Life pages in the scrapbook galleries is really inspirational. It gives a little insight into the everyday lives of others all around us. One of the things that really speaks to me on documenting is when "current facts" are captured. Documenting the details of the RIGHT NOW, what you're watching, listening, eating, celebrating, etc. It is just such a brilliant idea getting a snapshot of your life, at this moment. I thought the blog would be a wonderful place to capture and store my current life details about "life around here".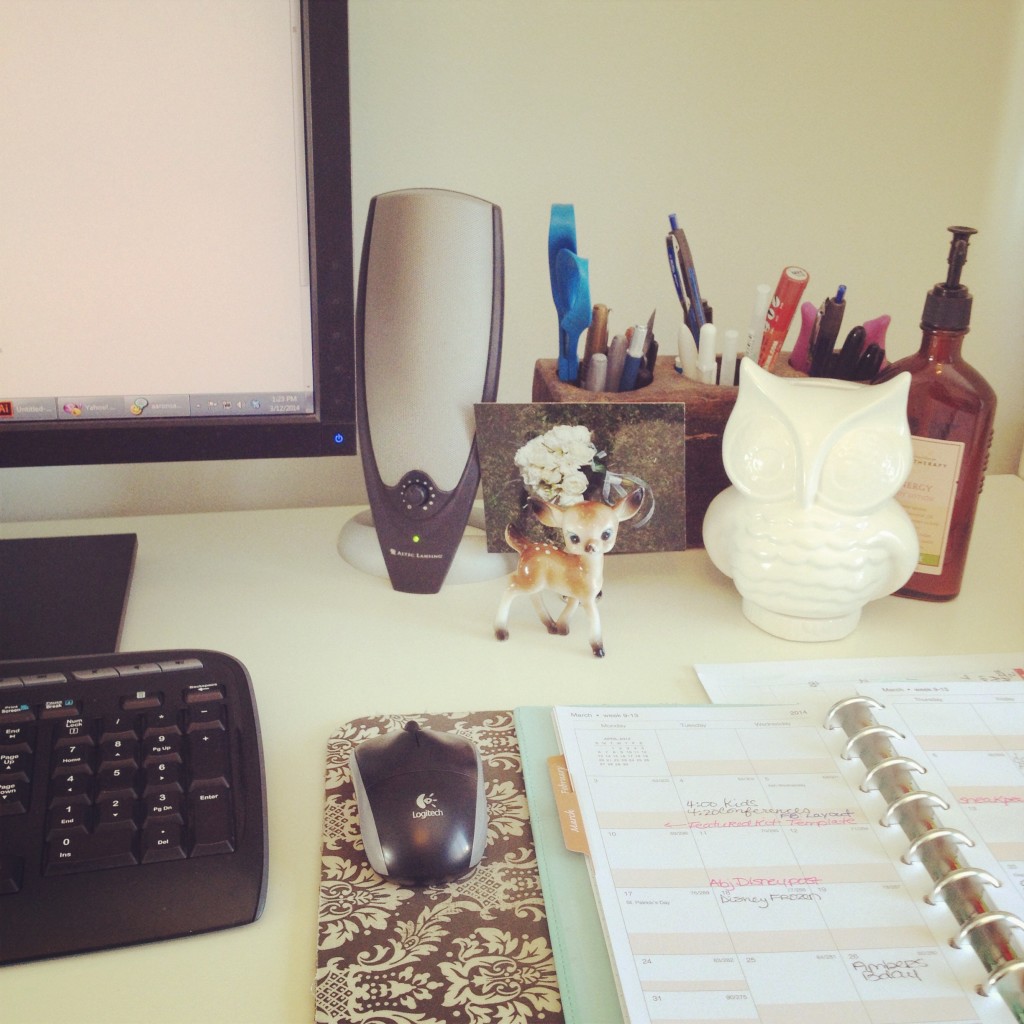 RIGHT NOW
ON MY DESK |  my little deer from Keren of Free Pretty Things for You and LOVING it!
She (yes, I've decided it's a she) still has a place of honor on my desk.
ON MY CALENDAR | March 18th – Purchase the Disney's Frozen on DVD
READING | the book, " Heaven is For Real" by Todd Burpo as a family. Most evenings I read out loud to the family, and we've really been enjoying it.  My mom got us the book for Christmas, and it's been really amazing so far.  I can feel my spiritual battery fill up each time I bring it out to read.  It really makes me even more excited to meet Jesus in my heavenly home.
WATCHING | "Reign" on the CW. While I watch many different shows, this show has me captivated. One of my favorite genres is period films. (I'd blame it on Pride and Prejudice. I can't help myself.)
LISTENING | to Helen Jane Long, she is a beloved favorite.  When I'm working, I usually go for something softer to help me focus and concentrate.  If you haven't heard of her, she is TOTALLY worth a listen.
EATING | My favorite food of the day is my daily Prefect Fit Peanut Butter & Banana Shake.
IN THE DVD PLAYER | Katniss kicking butt in The Hunger Games: Catching Fire
SOPHIA | my little big girl's 12'th Birthday (coming up in a few weeks). It's an milestone birthday for her, because LONG ago I told her when she is 12 she can wear makeup. (Her friends at school have been wearing it for a couple years now.) It just came all too fast. So "Cover Girl" look out, I'll be hitting you up at Target soon!!
GABE | is sporting a new look, "glasses".  I was afraid that it would make him loose his "baby-ish" look, but it hasn't!!  He looks like a cute little Mr Peabody now. (pic of Mr. Peabody | pic of Gabe)
HOME PROJECT | Painting all of our main floor oak doors white. This is something I've wanted for sooo long! White doors and trim does wonders to open up a room and make it look more modern. But it's still tough to paint over solid oak 6 panel doors (even though I can't stand the "oak" color.)
FEELING | really tired of cold and snow. As a self-professed hermit, I mean work at home mom, I don't get out too much. But with this cold and so much snow, for so long…. ugg… I'm really starting to feel the winter blues.
LOVING | the heck out of Instagram right now. I signed up years ago, but never got into it. It's my goal in 2014 to take more photos, so I'm really loving it. Feel free follow me.
WORKING ON | more of scheduling out blocks of times to get things accomplished, and working from a true "to-do" list.  So far, so good with staying focused during the day.