Hello Everyone!  Jen here with a super easy way to add a new technique to your layouts!  I love the "All About This" Digital Stamps and Memory Pockets Monthly Add-On Foundation because they are just so versatile!  I'm completely drawn to the neutrals.  They will go with ANY layout you want to scrap.  No need to edit colors, just slip them in and poof they match your photos!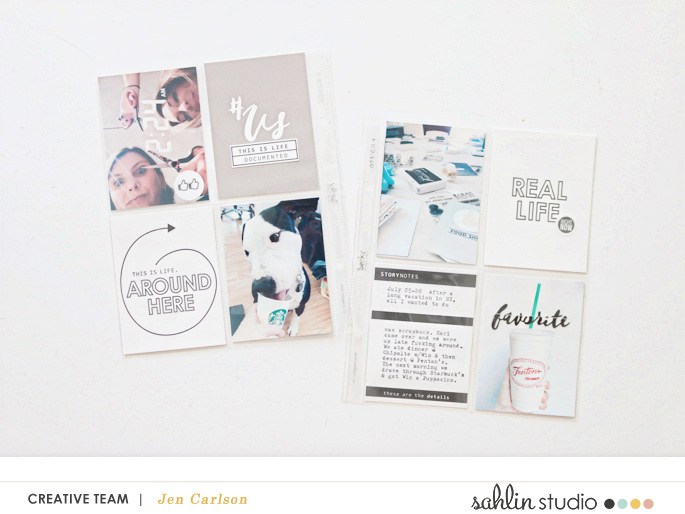 I wanted to use the digital stamps in a fun way that would also add dimension.  When you think digital STAMPS, you immediately think FLAT.  But you don't have to be limited by this!  I created a cut file with the stamp "favorite" and used my Silhouette machine to cut it out of black card stock.  I often use my sewing machine to add that extra touch to layouts and this seemed like a great way to attach my new cut word to my photo.  Of course, you don't need to use your sewing machine.  You could hand stitch a cut out, staple it, use adhesive, paperclip it, etc.  This is a great way to add a little variety to your layouts and at the same time, provide additional options for using digital stamps!
TIP #1: Add Dimension – Print a digital element or stamp and use as a cut out."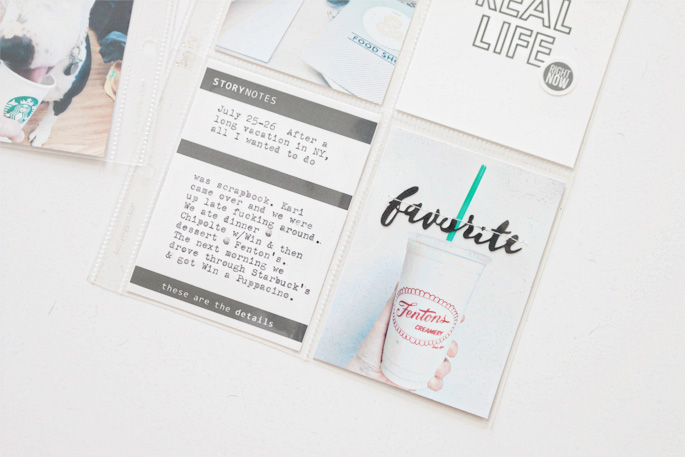 Just because you've printed out a journal card doesn't mean you have to leave it as is. In fact, I almost always dress mine up! Often you have some "white" space on a card and there's a little room to add an embellishment, a stamp, some vellum, or in this case, a digital stamp printed out. I am usually overzealous and immediately print out my journal cards as-is for the first go around. Didn't add the digital stamp to the card in Photoshop? No problem, just print it out and bonus, it adds a little dimension!
TIP #2: Try different methods of journaling, from handwritting, typewriter, printer.
Do you stress about journaling?  It doesn't have to be perfect!  Again, same situation…I'd already printed out my cards as-is and needed to add journaling.  There's a few options:  on this particular layout I fed the card through my typewriter.  You can also handwrite your journaling OR feed it through your printer again after you've sized up the area.  You don't have to worry about adding text in Photoshop to the card and printing it out all as one.  If you're like me, pages often come together as you start moving paper around 😉  I'm a terrible planner!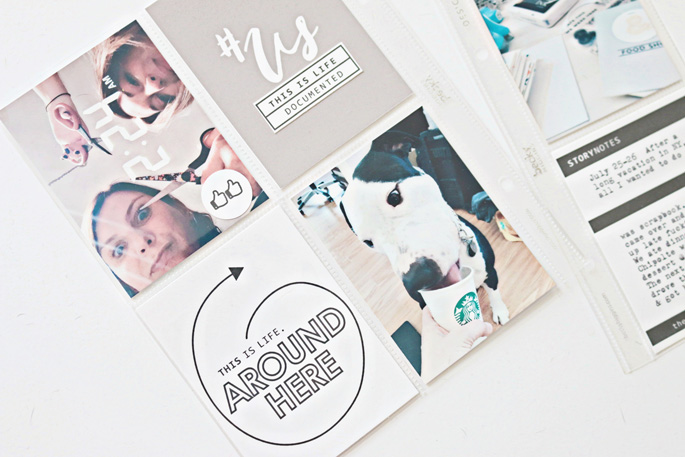 Hope this gave you some great ideas to apply to your next layout!  Thank you for stopping by!
I started scrapbooking in 2000 as a result of a family trip to Europe. I create traditional 12×12 layouts and am a sucker for a good sketch. Last year I started Project Life and have been hooked on pocket pages ever since. I grew up in St. Louis, MO, but moved out to Northern California 10 years ago, where I work as a Process Engineer at a bio-pharmaceutical plant. I enjoy baking, cooking, brunching, exploring the coast, and loving on my boyfriend (Derek) and 3 fur kids (Beer, Gracie, and Winston)