The one thing we all have in common is our passion for memory keeping.  With today's daily hustle and bustle finding time to scrapbook our lives is getting harder and harder.  Some scrapbookers are choosing to preserve their memories, photographs and stories using a new take on basic scrapping techniques.
What is Pocket Scrapbooking?

Pocket scrapbooking is the process of using clear plastic page protectors divided up in a variety of size pockets designed to slip-in photographs, journaling, or memorabilia.
Pocket scrapbooking is taking the paper scrapping world by storm.  With the ease of assembly and the ability to add their own personal touches, many are finding this style of scrapping just the right ticket for them.  This pocket scrapbooking isn't only great for everyday life, but perfect for holiday, vacation, childhood and even baby albums.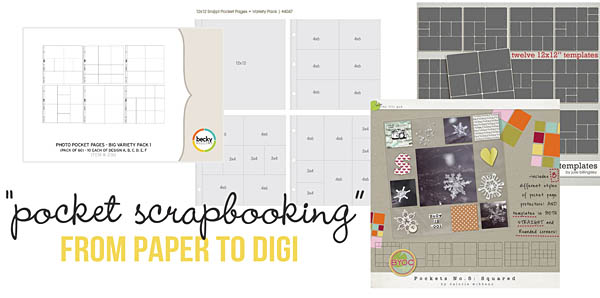 Here are a couple examples of pocket scrapping in use:

Project Life by Becky Higgins
Pocket scrapbooking has really become main stream due to the Project Life System of scrapbooking created by Becky Higgins.  Project Life is a back to basic approach to scrapbooking with it's collection of ready made sayings and journaling cards (core kits) perfect for just slipping into the the predesigned pocket pages along with photographs and memorabilia.  Here are the pocket pages available in the Project Life System.
New to the Project Life System are this little albums made of 6×4 and 3×4 pocket pages…

SN@P Studio by Simple Stories
Simple Stories has recently come out with their SN@P Studio collection.  This collection offers pocket pages in both 12×12 size and 6×8 size designs.  They work the same way as Project life with their collection of ready made cards to slip in along with photographs and memorabilia.  Here are the pocket pages available in the SN@P collection of products.
What about Digital when it comes to Pocket Scrapbooking?
As with any good paper scrapbooking idea, it isn't long before it pops up in the digital community.  It seems that since the beginning of this year pocket scrapbooking has really caught fire.  It appears that just about every digital store as at least one designer creating pocket style templates.   Here are a few digital pocket layouts in use:
Digital Pocket Page Scrapbooking Templates
Check out these templates available on the digital shelves:

/>

Digital Pocket Page 4×6 Photo Templates FREE by Paislee Press
Digital 4×6 Photo Templates
Digital Plastic Pockets
Do you like the look of the plastic protector?  Here are a few layout with the plastic protector look:

Digital Plastic Pocket FREEBIES
Looking to add more protector style pocket page templates to your stash… Here are a couple of freebies if you want to give pocket scrapbooking a try? 
On Traci Reed's Design Blog you can find  her "Document Life Sampler – FREE.

Also, make sure to "Like" Valorie Wibbens' Facebook page to snag her Instagram inspired pockets!

More Digital Pocket Scrapbooking Products
Hope this has given you lots of inspiration for your upcoming pages!
Don't forget to come back and link us up to your trendy new layouts!