Theresa Moxley here with the next layout in my Disney album.  Feel free to follow along on my journey each week! To look back on my Project Life / Project Mouse layouts, find my other posts here.
---
Today we are continuing our trip through Tomorrowland in my Disney album! For my layout today we get to meet Buzz Lightyear, who is always a favorite in our house.
Choosing Photos and Journal Cards
For this layout I chose photos from both the People Mover and Space Rangers rides, and then I chose my journaling cards. All of these cards are from the Project Mouse: Tomorrow collection, with the exception of the "This Is What Happy Looks Like" card from the Project Mouse: We're Here collection. They were all printed at home using the print files included with your purchase of the kit!
Here is a look at the layout I created: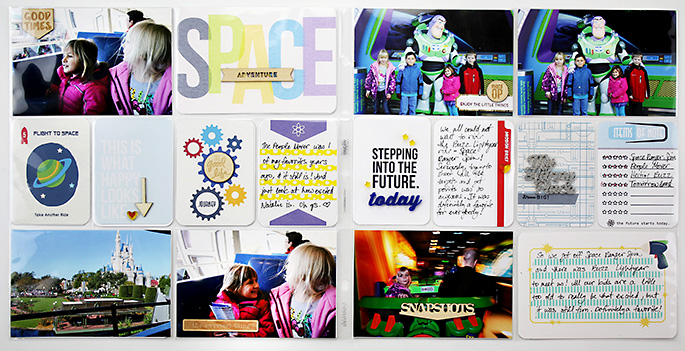 Left Hand Side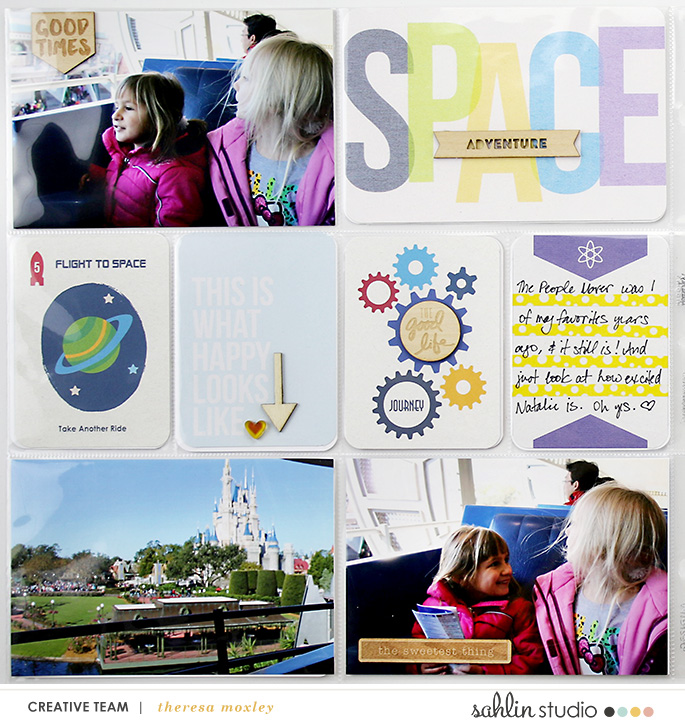 The SPACE card was the perfect choice for this layout! I only added a simple wood piece to embellish. The photos here were taken while we were on the People Mover.  Fun fact:  This attraction happens to be one of my personal (very non-exciting!) favorites at the whole park. And clearly, Natalie is fully enchanted here as well, by the excitement on her face!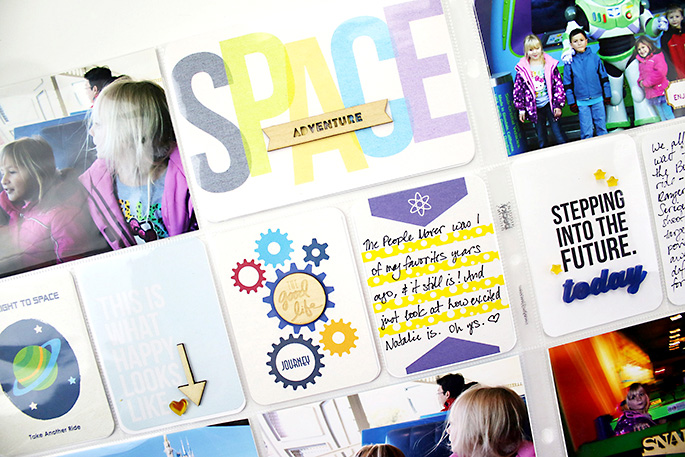 The purple journal card was where I chose to write my journaling.  I added a thin washi tape to use as lines. I love how the yellows tie this layout altogether with the purple and blue.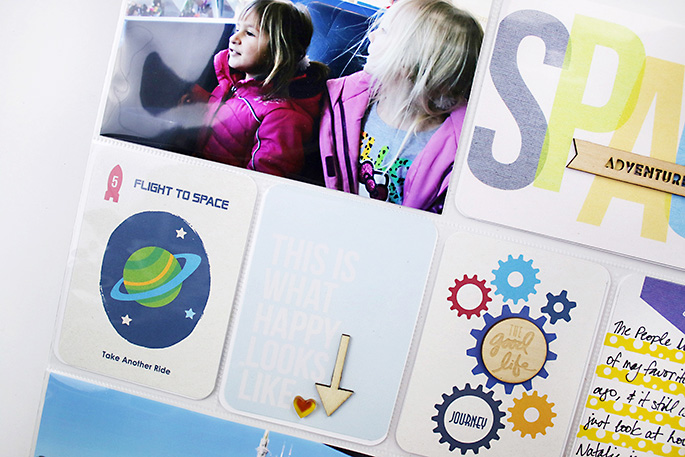 This is a very colorful layout, from the photos with lots happening and the lovely colors in the Tomorrow collection, so I kept embellishments to a minimum. Wood veneer accents are perfect to add contrast and a bit of dimension that I love.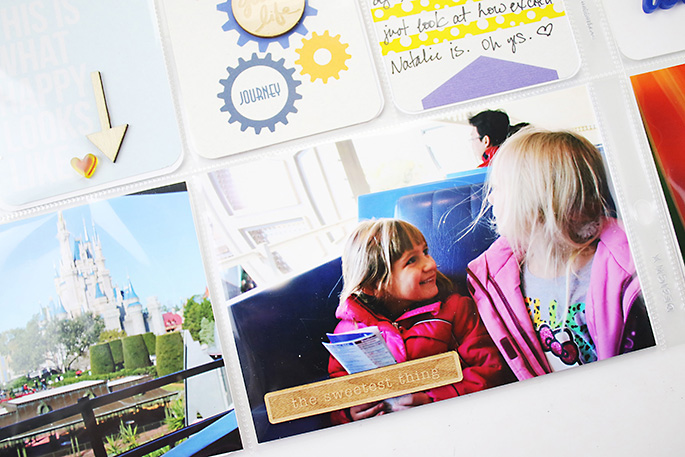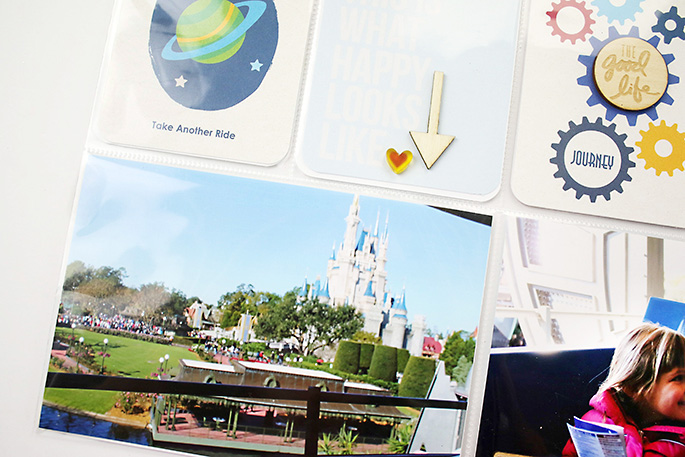 Right Hand Side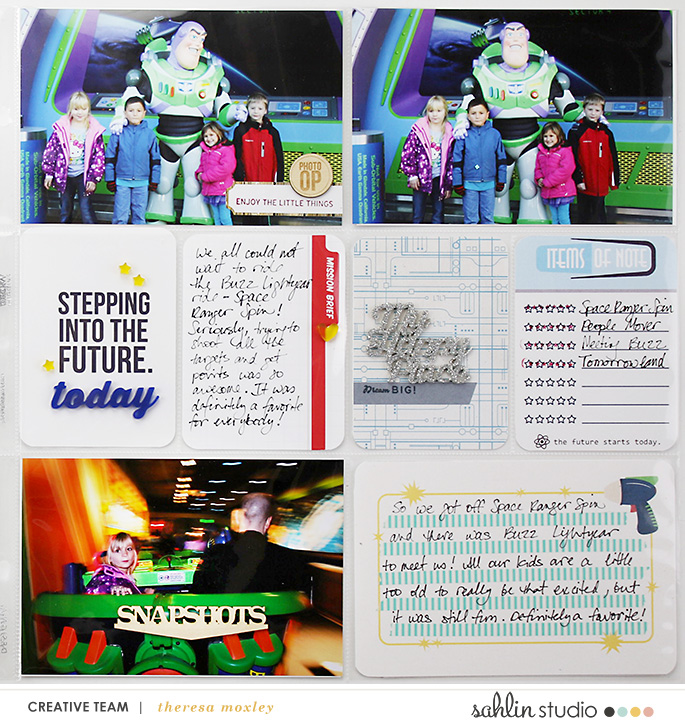 Let's take a look at the right hand side too! We all love the Space Rangers ride, and it was especially fun to meet Buzz as we were leaving. I will admit, our children are getting a little old to want their pictures taken with the characters, so Natalie is really the only one thrilled to pose. Too funny! Again I felt like these photos are bright and busy, so I chose journal cards that offer lots of white space to contrast. This is a great way to balance heavier photos so the layout does not feel too dark.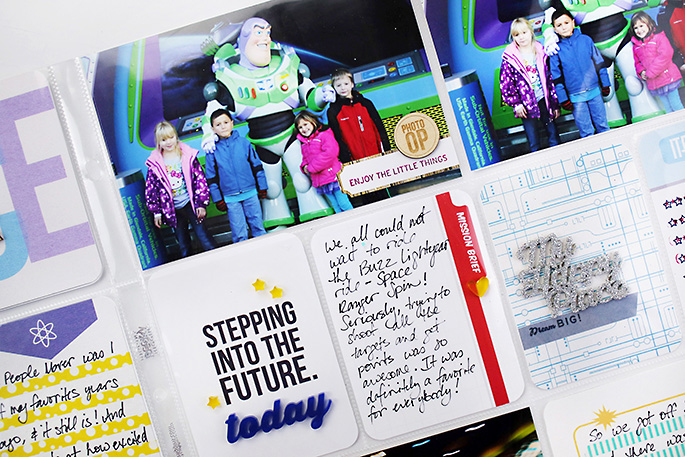 I added some different embellishments on this side of the layout, and I am so happy with how well the Tomorrow cards layer! I had some fun acrylic stars, hearts, and the TODAY word in my stash to continue the yellow across the page.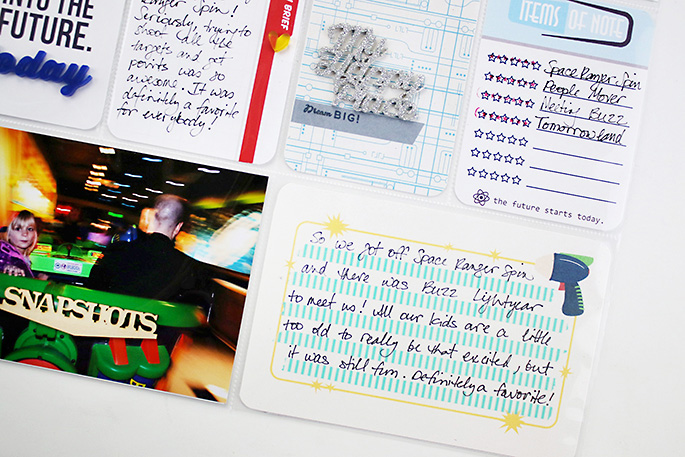 There was also a little bit of space for some glitter: the blueprint card is a favorite of mine, and this was definitely a great spot to use the glitter word phrase! Also note how I used the Items of Note card to list the rides we rode in this part of the park, and then I stamped stars to rate them. Of course they all received all the stars!
JOURNALING TIP: Try using washi tape for your journaling.  Add thin washi tape lines, and write on the top side of the line.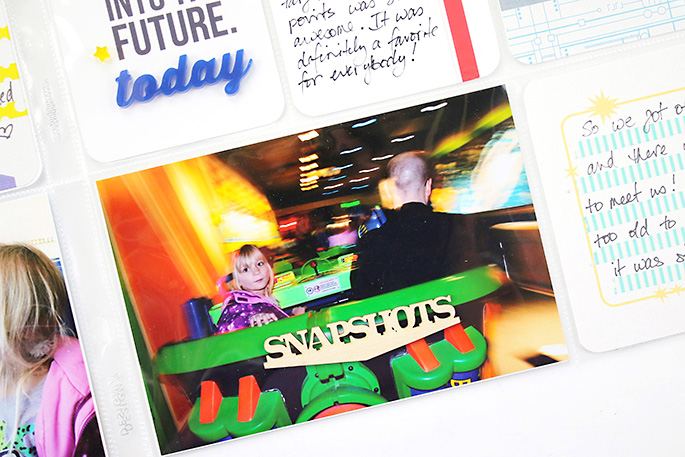 I loved including this photo from inside the actual ride. I will not deny that taking snapshots inside these rides creates a photographic challenge, and there are lots of technical difficulties in this photo. But put those imperfect photos in your albums regardless!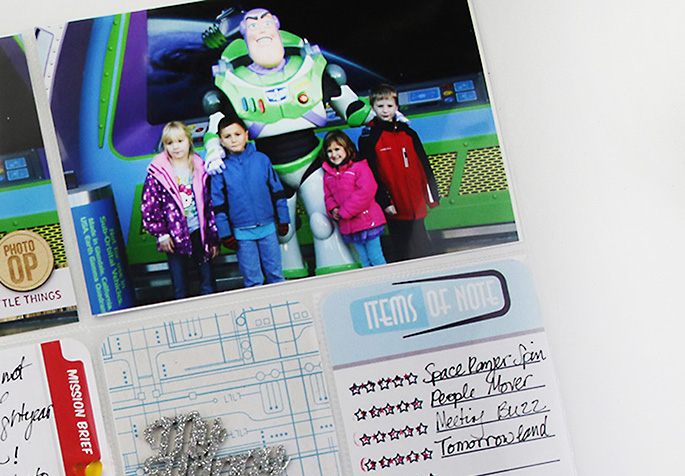 Product Credits: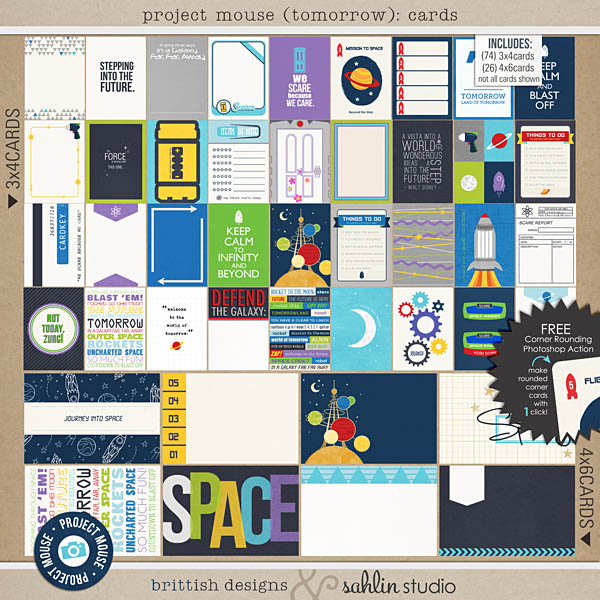 Project Mouse: Tomorrow (Journal Cards)
Sahlin Studio: Project Mouse Tomorrow and We're Here collections; Other products: Gossamer Blue wood veneer embellishments, acrylic words, stars and hearts, glitter word phrase; Hobby Lobby washi tape.
**This blog was previously published on Theresa's personal blog, which can be viewed here: Disney Layout 05. There is also a process video which can be viewed here: Larkindesign on YouTube.
Thanks so much for following along on this journey! See you again soon!
Save
Save
Save
Save
Hi, I'm Theresa of Larkindesign from Kernersville, NC where I live with my four kids, one awesome husband, two cats, a dog, and a bunny. And occasionally our cat brings us pet salamanders. When I am not calming chaos I am in my studio, playing with photos and colors and embellishments. This scrapbooking thing is my passion and I love inspiring others to feel the same way!