Feel free to follow Theresa Moxley (Larkindesign) on her journey in her Disney Project Life album each week! To look back on all of Theresa's Project Life / Project Mouse layouts, find the posts here.
---
Hello, Theresa here with another fun layout from my Disney Project Life album! We have been walking through this album week by week and for today's layout we are visiting Fantasyland, and specifically Under the Sea Journey of the Little Mermaid. To help me tell this story I have chosen the Project Mouse Classic Bundle and the We're Here collection. This is the completed layout: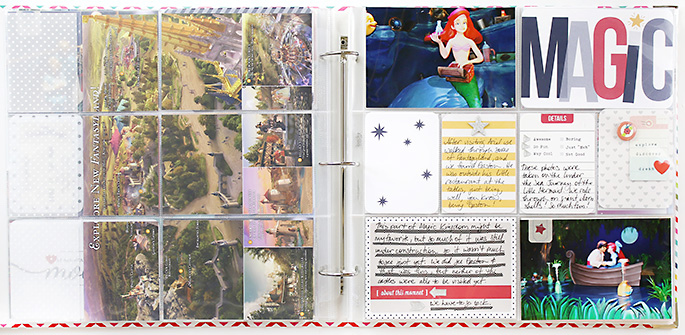 The left hand side of the layout is the back of the Fantasyland map, so today we will focus on the right hand side.
Right Hand Side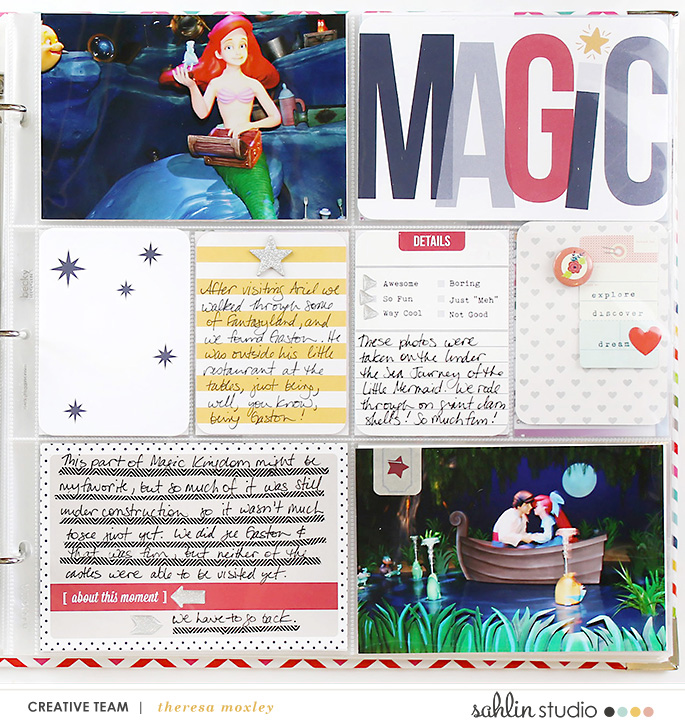 I had the opportunity to grab a few snapshots while we were on the Under the Sea ride, so these became the focus for this layout. To help me tell the story of this part of the park, I relied on the Project Mouse Classic collection for amazing journal cards. The Magic card can really go with any layout, don't you agree?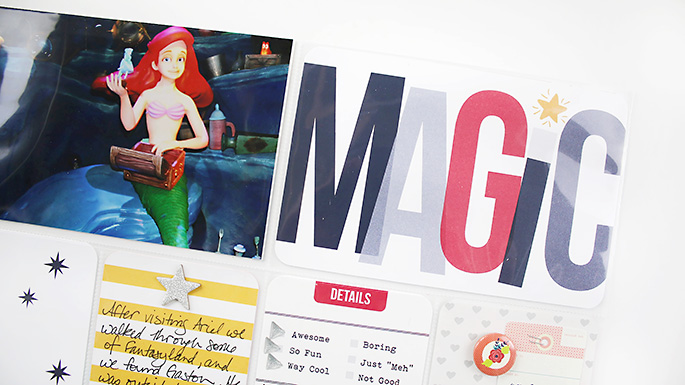 For me personally, The Little Mermaid and Beauty and the Beast were the very first Disney princess themed movies I connected with. So these are favorites of mine, and I absolutely loved this area of the park! We rode the Under the Sea ride, which I wrote a little summary of on the Details card.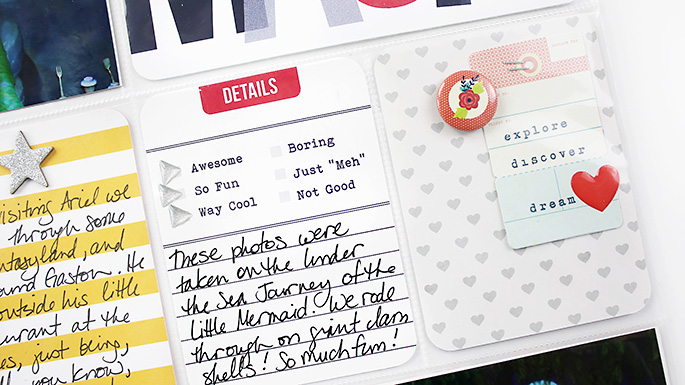 At this particular time, Fantasyland was still largely under construction (this was the last week of 2012). The castles were not completed, and Under the Sea and Barnstormer were really the only rides, and Gaston's restaurant was open. I did not really take many photos, but it was important to me to document this tiny piece of Disney history. I did journal about seeing Gaston outside the restaurant, harassing the guests in his usual way.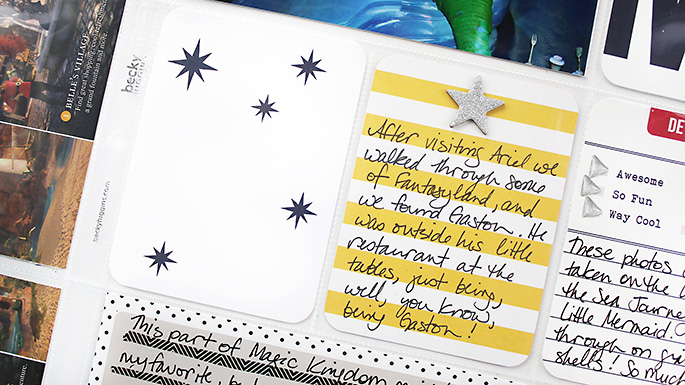 More about the construction here, and my last sentiment: We have to go back. I would love to go back now and see Fantasyland with the castles! This is our last layout from our day at Magic Kingdom and I love the call to return.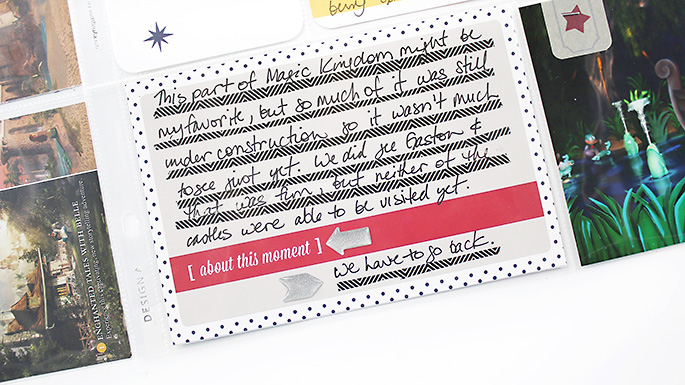 This layout was previously blogged on Larkindesign's blog here.
Feel free to watch my process video on YouTube here or below.
Thank you so much for joining me today! See you next time, as we travel on to Epcot!
~Theresa
Products used in this layout:
Sahlin Studio: Project Mouse Project Mouse Classic Bundle and Project Mouse Bundle No. 2  Other products used in this layout: Doodlebug: enamel hearts and arrows; Ali Edwards: glitter star; Becky Higgins: Project Life Midnight and Honey Core Kits; Shimelle Starshine: ephemera, flair, and stockers; miscellaneous: washi tape.
Save
Save
Hi, I'm Theresa of Larkindesign from Kernersville, NC where I live with my four kids, one awesome husband, two cats, a dog, and a bunny. And occasionally our cat brings us pet salamanders. When I am not calming chaos I am in my studio, playing with photos and colors and embellishments. This scrapbooking thing is my passion and I love inspiring others to feel the same way!