Feel free to follow Theresa Moxley (Larkindesign) on her journey in her Disney Project Life album each week! To look back on all of Theresa's Project Life / Project Mouse layouts, find the posts here.
---
Hi guys, it's Theresa here and I am so excited to share today's layout with you! If you are a fan of Beauty and the Beast then grab a cup of something good to drink and settle in. It is no secret that Beauty and the Beast is my favorite of all the Disney movies, and the show at Hollywood Studios absolutely captured my heart. I stressed and obsessed for days over how I was going to scrap such an amazing show, but of course Project Mouse Bundle No. 05 Princess Edition was perfect, let's take a look!
Full Page Spread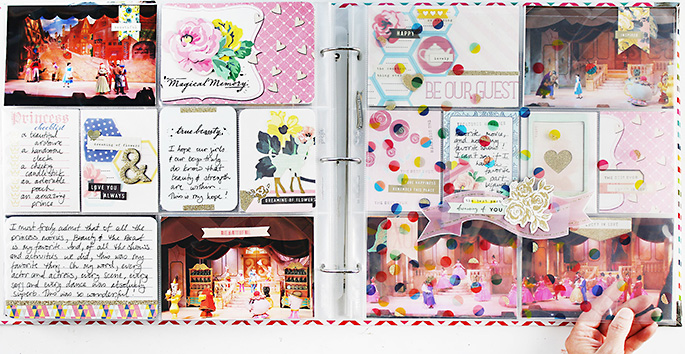 I took so many photos throughout the show and must admit it was very hard to choose which ones to include in the layout! In the end I made sure I had included my favorite characters and a few of the most important scenes. I also included this transparency between the two pages, just because.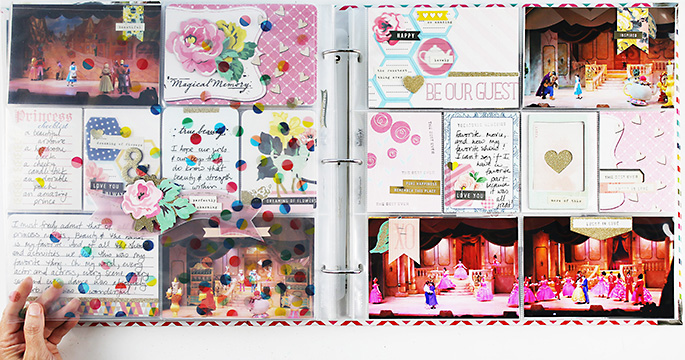 Here is a closer look at each side of the layout.
Left Hand Side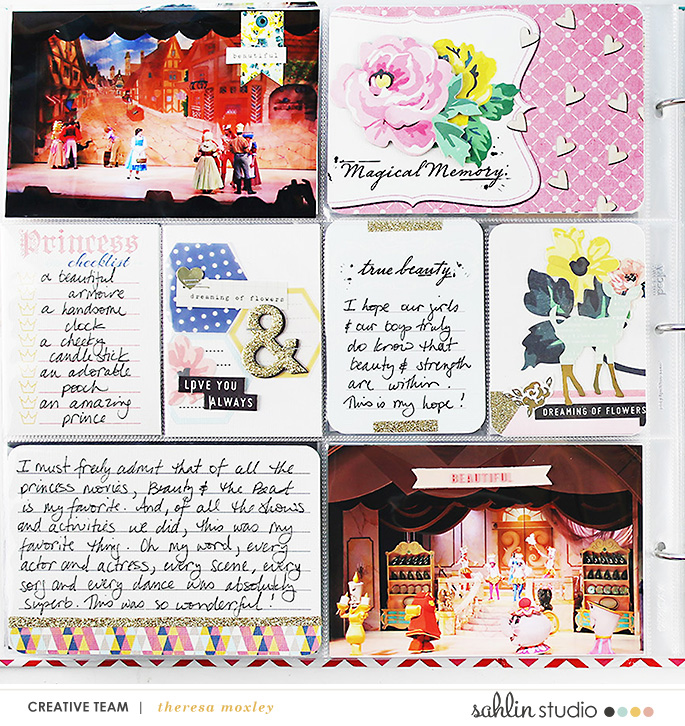 For this layout I decided to create my own journal cards using the papers and elements in the Princess collection. For this card I began with Paper 4 and then I layered the label and wood hearts over top. The word art in this collection is exquisite, so I also added a simple title here. The florals are die cuts from the Maggie Holmes Bloom collection and were adhered after printing.
For the light blue card here I used one of the solid papers in the collection and added the word art to the top. I created the lines myself in Photoshop for a simple, clean spot to journal.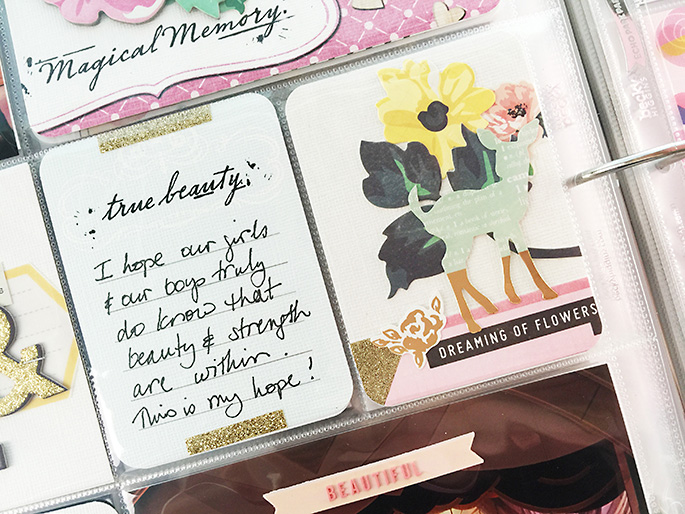 A checklist is a great way to highlight your favorite elements in the photos or event you are documenting. On the Princess checklist card I wrote all the characters that make Beauty and the Beast the charming story it is! I was also incredibly inspired by the hexagons that appear in the Princess collection! I printed them onto vellum and then clustered them to create home bases for tiny embellishments. How fun!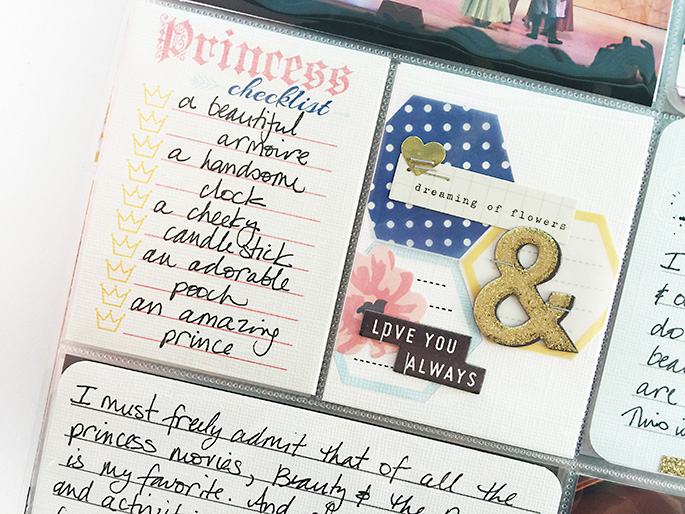 In the Princess collection, the triangle pattern is actually a full journal card. It is one of my favorites in the collection, but I knew I needed more journaling space to include all my thoughts. So I layered it onto a white canvas and added a few lines before printing it out. I added the glitter tape as a really simple but fun embellishment!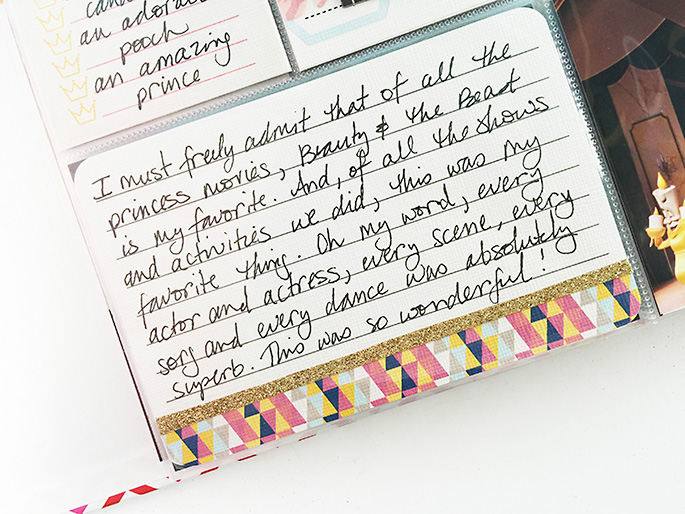 Let me share with you what I did with the transparency. The Princess collection has some beautiful banners with just the tiniest touch of gold glitter, which I have repeated across the layout. I enlarged the banner, printed it on vellum, and adhered it in the center of this transparency. I then layered word stickers and a chipboard floral on top of the banner. On the back I have added similar elements to hide the backs.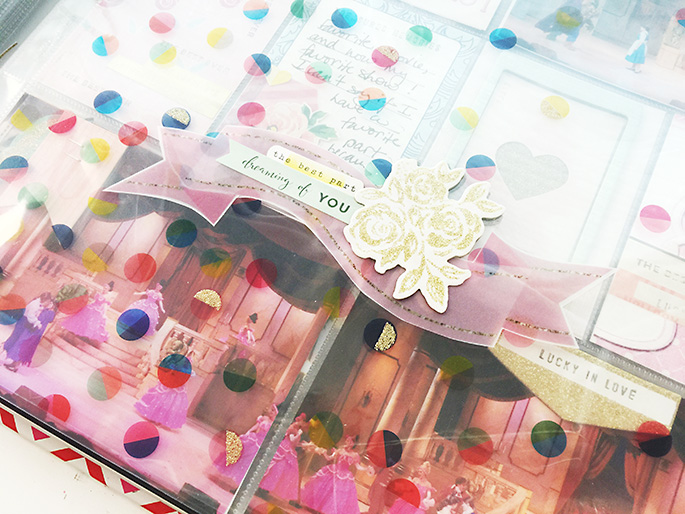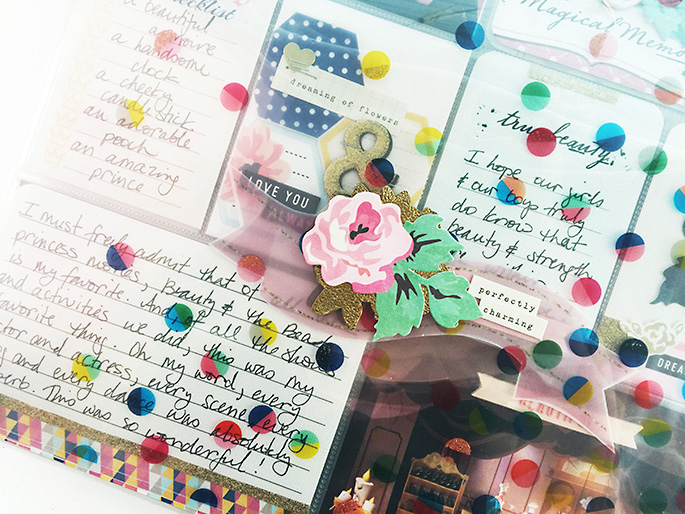 Right Hand Side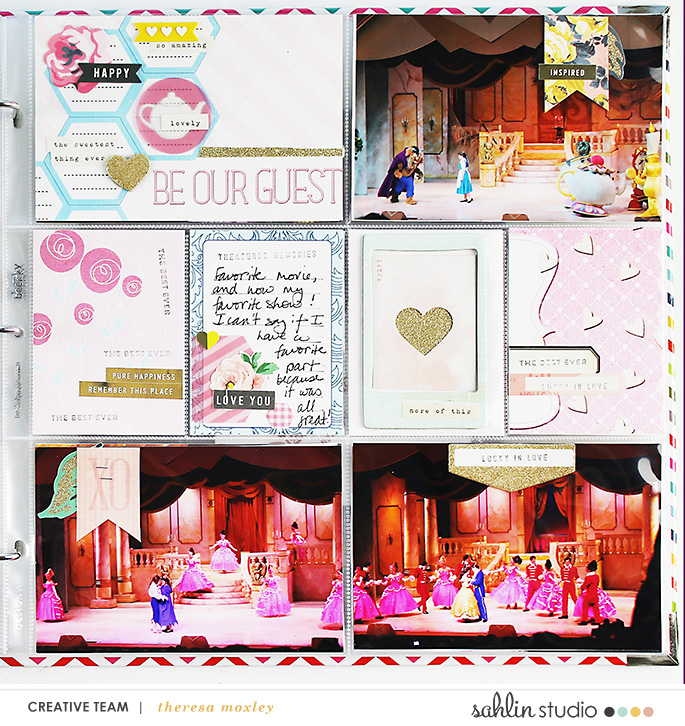 Again I used the hexagons as home bases for little tiny embellishments and word stickers that convey how I felt about the entire experience. Notice also the little teapot! The Princess collection also includes this fantastic alphabet, which I used to spell out my title before printing. The glitter tape was added before I slid it into the pocket!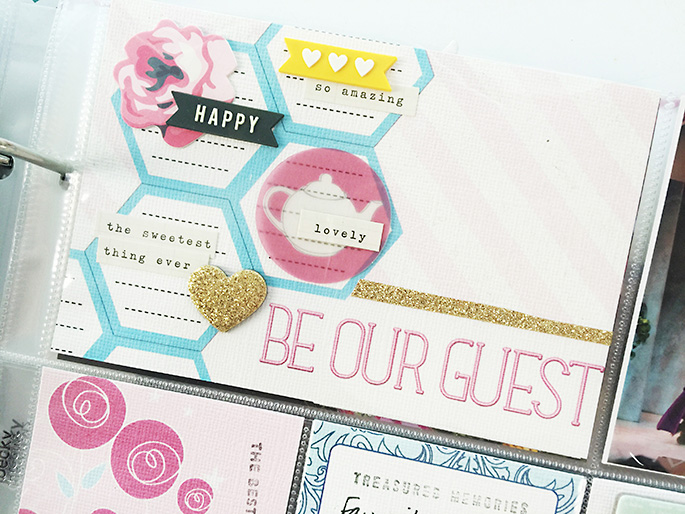 I did use a few of the journal cards included in the collection, and they are gorgeous. Of course the cards are perfect as they are, but for us hybrid scrapbookers adding a few embellishments is always fun! The stamps I used were the Maggie Holmes roller stamp, and the journaling lines were added using the Becky Higgins Project Life roller stamp.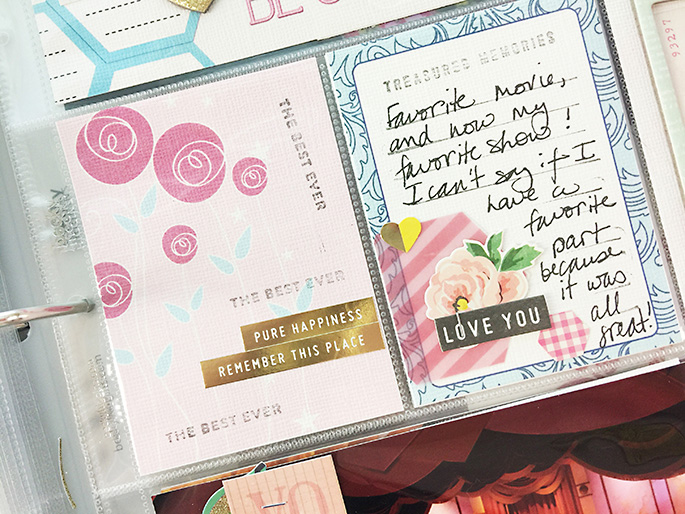 One final card that I made myself because I wanted to repeat this label one more time on the layout. Just a few tiny label stickers and this layout is completed. What a magical adventure and a magical layout!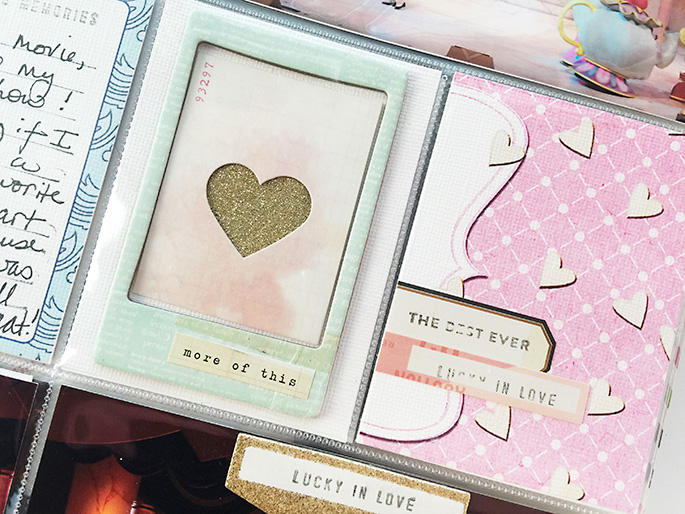 Products Used in this Layout: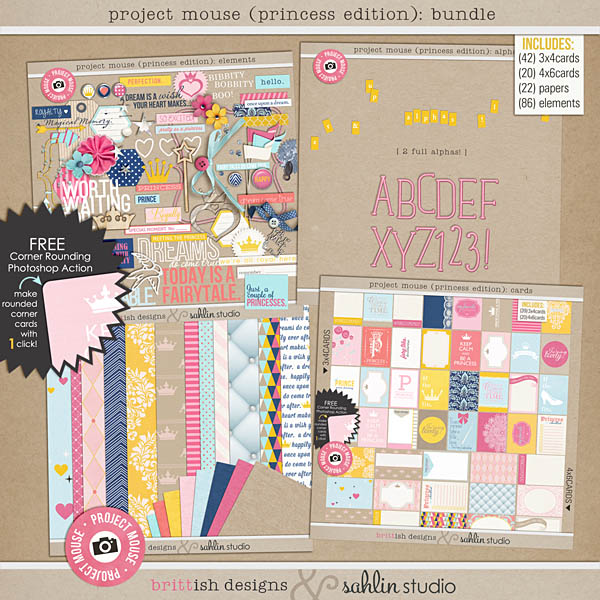 Additional products used in this layout: Project Mouse Bundle No. 05 Princess Collection. Maggie Holmes for Crate Paper (stickers, word phrases, transparency, chipboard, glitter stickers, and roller phrase stamp); Becky Higgins Project Life (roller phrase and lines stamp); Heidi Swapp (glitter tape).
This layout appeared previously on Theresa's personal blog, Larkindesign, and can be seen here. There is also a process video which can be viewed on YouTube here.
Save
Save
Hi, I'm Theresa of Larkindesign from Kernersville, NC where I live with my four kids, one awesome husband, two cats, a dog, and a bunny. And occasionally our cat brings us pet salamanders. When I am not calming chaos I am in my studio, playing with photos and colors and embellishments. This scrapbooking thing is my passion and I love inspiring others to feel the same way!