Welcome to another edition of "A Project Mouse Story", this time with a Sahlin Studio Creative Team member, Kathleen Summers.  A Project Mouse Story is where we feature some of YOUR finished magical vacation stories and how you documented these magical memories using Project Mouse.  Check out this story from Kathleen.
Documenting | Kathleen's Project Mouse Story
Hi, I'm Kathleen, a happily married wife and mother to four living in northern California with a passion for Disneyland! My husband and I spent part of our honeymoon there and we started taking family trips with our kids in 2003. We've already been there in 2017 for a post-Christmas/New Year's trip and our family had such a great time! But I wanted to share a photo book I finished of a "Girls Trip" where I took my two daughters for the Christmas season last year.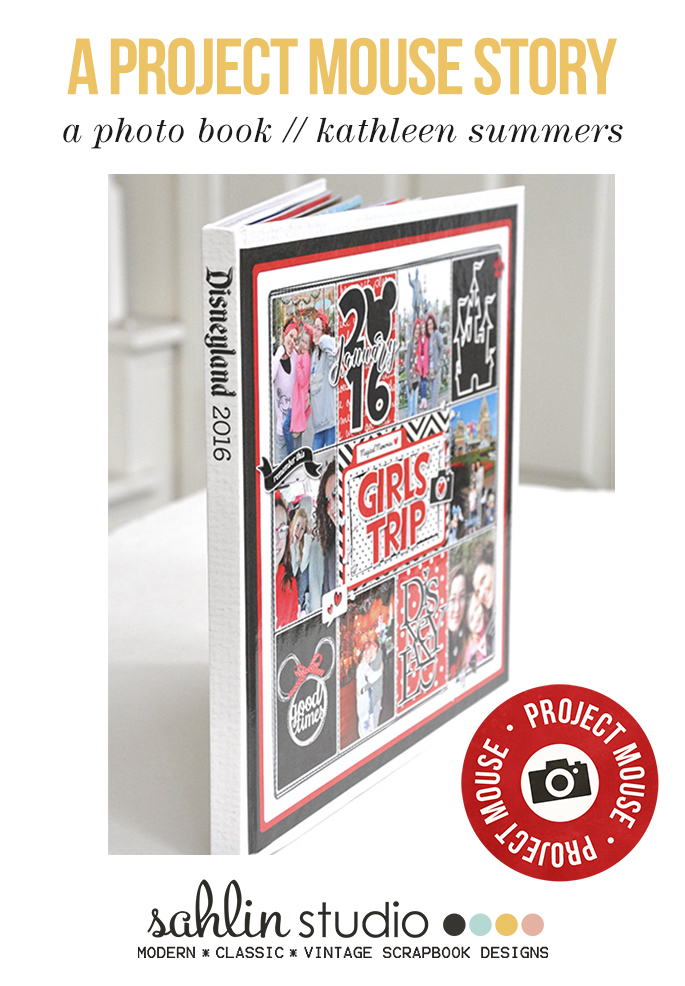 When we got back from that vacation, I wanted to create a photo book of the trip immediately! And after successfully creating a family album using the pocket style of scrapping and experiencing how fast and easy it is to scrapbook that way, I knew it was the right style for this album too. When I found Project Mouse I was so excited to find the perfect supplies for scrapbooking Disney trips!
How did you create this book?
Software & Templates: I use Photoshop Elements 13 and pocket-style templates to create my album pages. I like PSE because it's sophisticated enough for photo editing and simple enough to put digital scrapbook pages together quickly. Especially when you're starting with templates! I highly recommend this strategy for quick and easy digital scrapbooking.
Products: Project Mouse! The bundles are so great for making coordinated pages that are easy to put together.
Favorites: I don't know how to pick my Project Mouse favorites when there are so many awesome Project Mouse bundles to choose from! I really enjoyed scrapping this trip by "land" and Project Mouse has so many wonderful goodies to make amazing pages this way. I have to say, I just love my book because of this. The Project Mouse goodies really help "take you there" when you're looking at the pages!
Where did you print?
MyPicTales:  I usually use Shutterfly for printing my books, and I do highly recommend them. (Make sure you pay extra for the "flat" cover finish. It looks really good and doesn't show the scuffs over time like the shiny cover does. I also really recommend the 10×10 size. The 8×8 size is too small and the 12×12 size is too big.)  However, for this photo book, my pages went over the maximum number of 110 pages allowed in a Shutterfly book, so I went with MyPicTales. While I liked the online interface better for creating the book at MyPicTales, overall I like Shutterfly books better and will go back to them for the next book (and I will make sure my number of pages stays within the number allowed)!
Cost: $101.33 (I used a 40% off code)
Book Type:   10×10 Hardcover Book with 130 ages
Shipping Time: Per the website, photo book orders from MyPicTales should ship withing 4-7 business days. Mine didn't, and when I asked about it, they sent me an apology with a coupon for 50% off my next order.
Quality Review: I really do like the quality of the MyPicTales book. It's very similar to Shutterfly. The pages are nice and thick and the binding is sturdy. But MyPicTales doesn't have the "flat" finish option for the cover and I'm really missing that!
Here's an idea of how the book looks as you flip through the pages:
Here are some of my favorite pages in their digital form: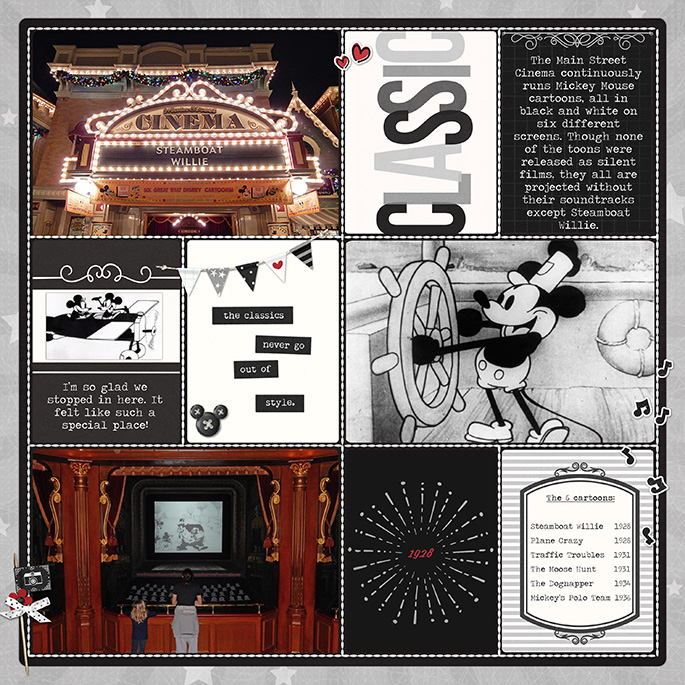 Main Street Cinema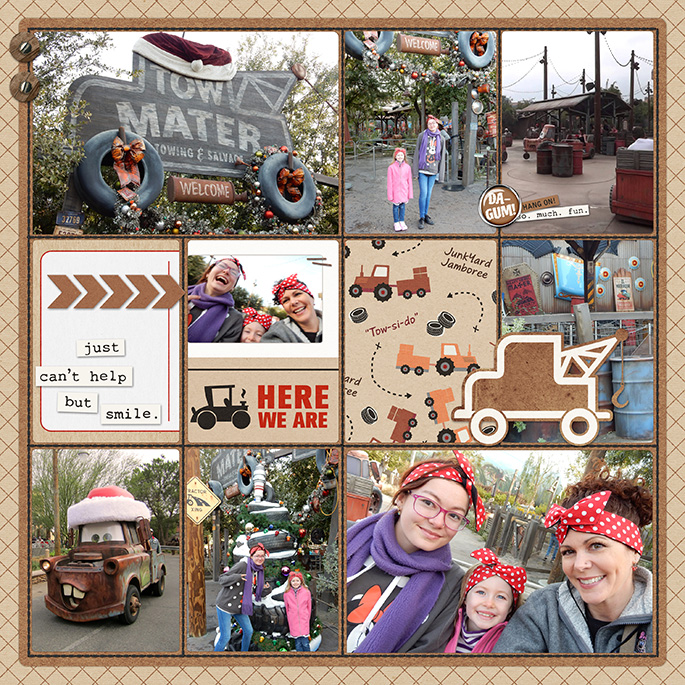 Mater's Junkyard Jamboree
Disney scrapping tip: You can include memorabilia in your photo books too! Just take photos of your memorabilia and include it in your scrapbook pages! Here I've included some paper fast passes. I've been hearing about Disneyland going digital with their fast pass system in the near future, so I want to makes sure I include these bits of "Disneyana" before they are no longer! I took photos of the park maps and included those in my book too. For more Disney scrapping inspiration, you can view my Disney scrapping Pinterest board here.
Since we got back from our last trip this week, I've already been itching to start scrapbooking it and I will do the pocket style using Project Mouse again. I know that trip album will be awesome too! It's obvious Krista and Britt are lovers of Disney and it really shows in their Project Mouse collections.