Welcome to another edition of "A Project Mouse Story", this time with our newest Sahlin Studio Creative Team member, Courtney Stevens.  A Project Mouse Story is where we feature some of YOUR finished magical vacation stories and how you documented these magical memories using Project Mouse.  Check out this story from Courtney.
Documenting | Courtney's Project Mouse Story
Hello! My name is Courtney Stevens and I have a love for family, scrapbooking, photography, dogs and….DISNEY! My hubby and I were married in Disney World in November of 2007. This is also when my daughter, I and my hubby became a family. Prior to our Disney wedding, we took our first family trip to Disney World in October of 2006. I had been to Disney World as a kid but 2006 was when my love for Disney started. Since then we have been on several trips to Disney World and a few Disney cruises.
Our latest cruise was in January 2015, this will be the first cruise I have ever documented. It's sort of sad that I have not our previous cruises yet, but I am feeling hopeful! A BIG thank you is due to Krista and Britt and their Project Mouse collections.  They seriously make scrapbooking my Disney memories so EASY!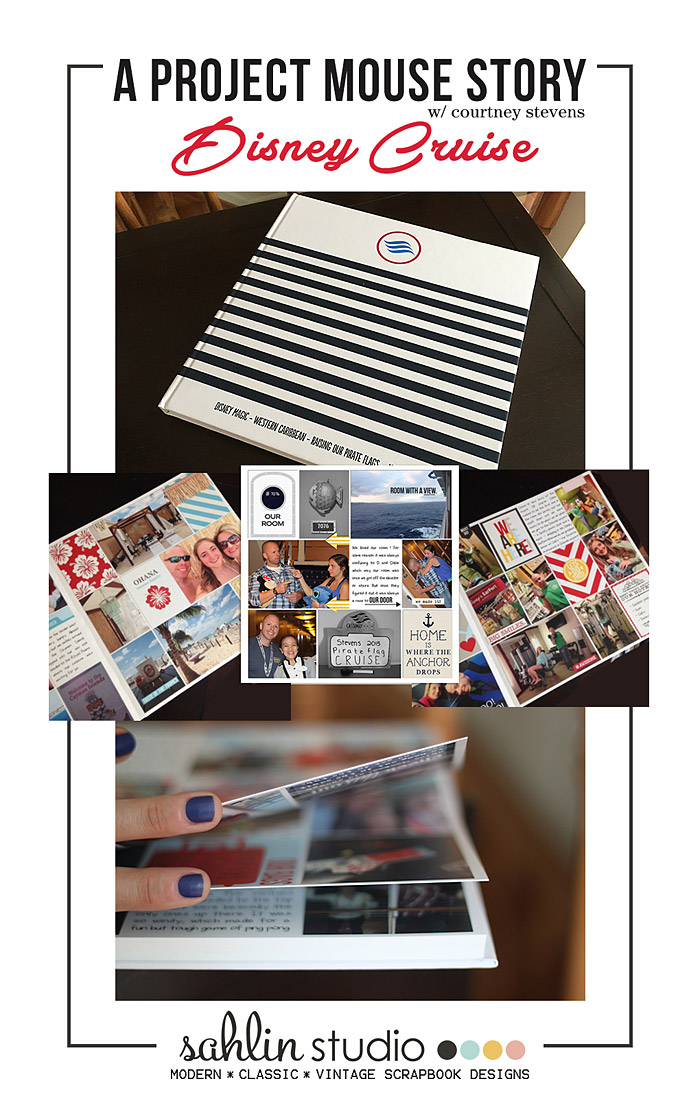 How did you create this book?
Software & Templates: I used Photoshop CS6 and MYIP Basic Templates by Britt-ish Designs. I work as a web developer and use Photoshop daily. The pocket templates were of course a perfect fit for the Project Mouse kits.
Products: Project Mouse! To be more specific the bundles I used were At Sea, Adventure and At Night. I also used cards and word bits from several other Project Mouse kits.
Favorites: Everything! Okay…there is one kit that started it all…let me explain. I remember seeing Krista's blog post about the Project Mouse: At Sea collab with Britt-ish Designs. My jaw dropped when this was released. At that time I was sorta out of the scrapbooking mode – life, etc. was happening. But there was something about that kit that sparked some motivation. I had seen pocket style scrapbooking but I had never tried it. So along with the spark from the At Sea kit and the motivation from my hubby, daughter, and my sister (my biggest scrapbooking fan) this Disney Cruise book was created!
Where did you print?
I store my photos on snapfish.com so I chose to print with them.
Cost: $70 (I used a 60% off coupon)
Book Type:  12×12 Premium Layflat Hardcover Book  – 54 Pages
Shipping Time: 10 days from order date
Quality Review: I have ordered several photobooks from Snapfish but this was my first Premium and Layflat book. I am super impressed by the quality! The pages are thick. I sorta relate the thickness of the pages to a toddler book which will be great for handling over the years. I also love how the pages lay flat – a nice bonus when showing the book to others. See below for some close ups!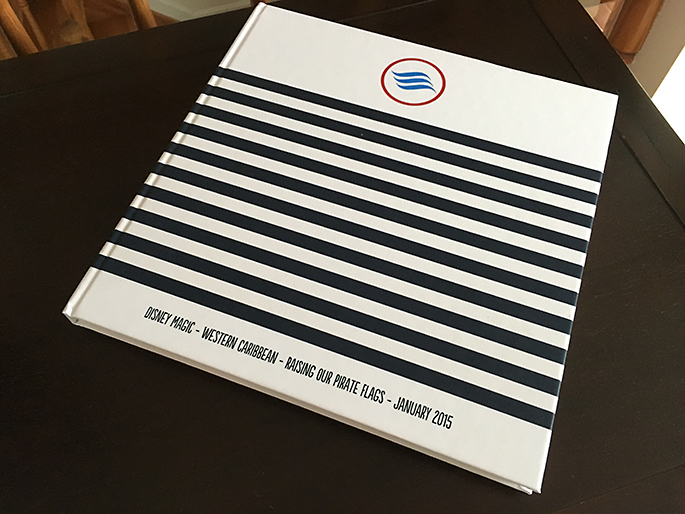 Cover Artwork: I used a paper and embellishment from the Project Mouse: At Sea kit to create a simple and clean front cover!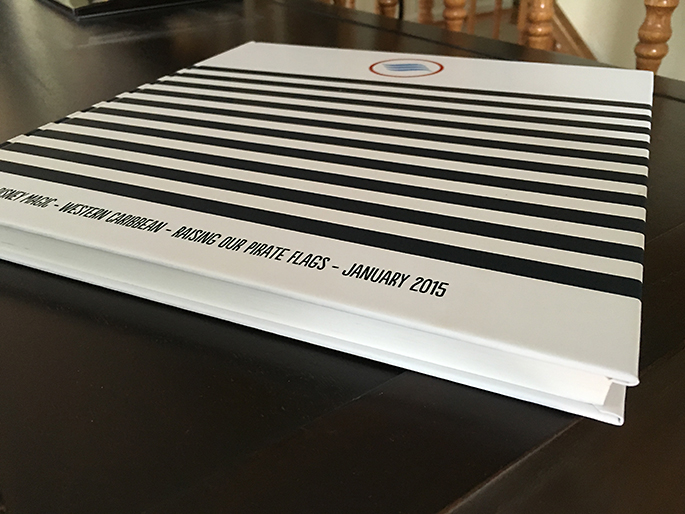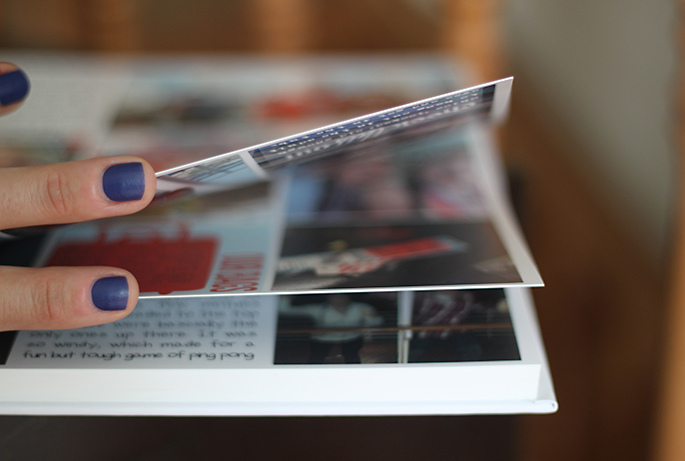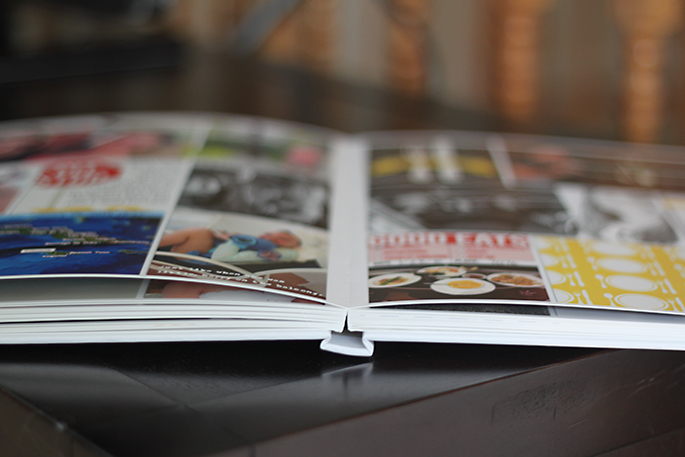 Inside the Book: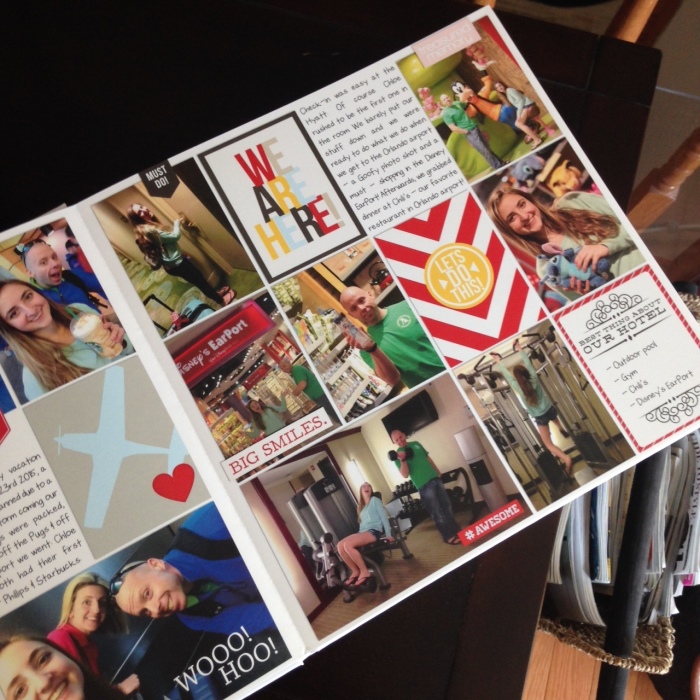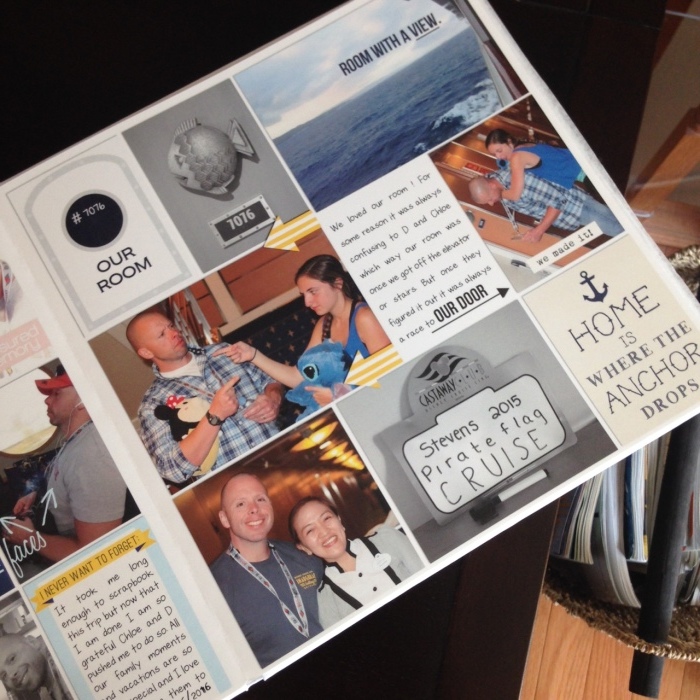 A Few of My Favorite Pages (Digital)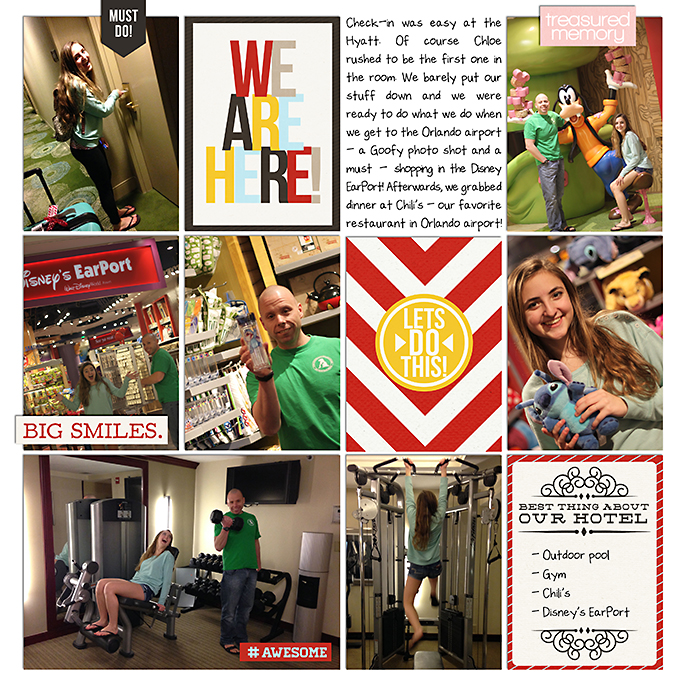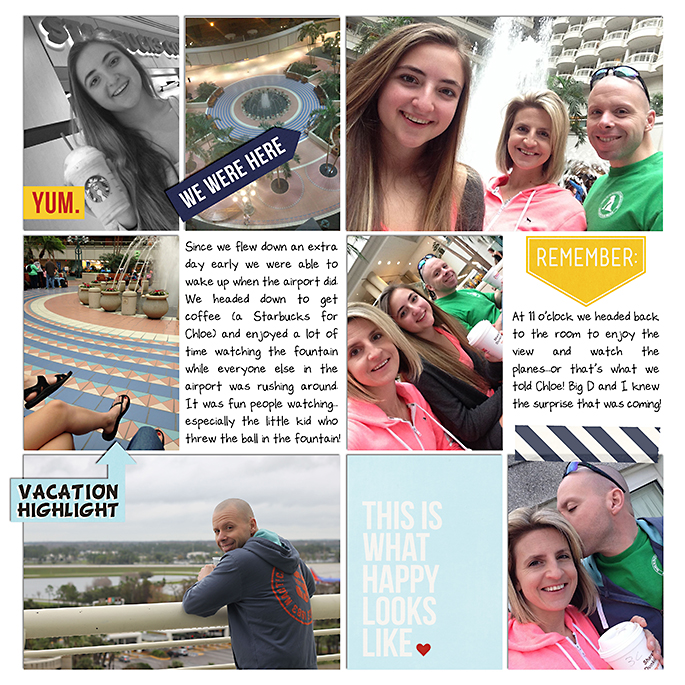 Vacation Tip: Fly down a night (or two) early and stay in the airport just so you make sure you don't miss your cruise! We were lucky because we able to switch our flight to fly down two days early before bad weather hit MD!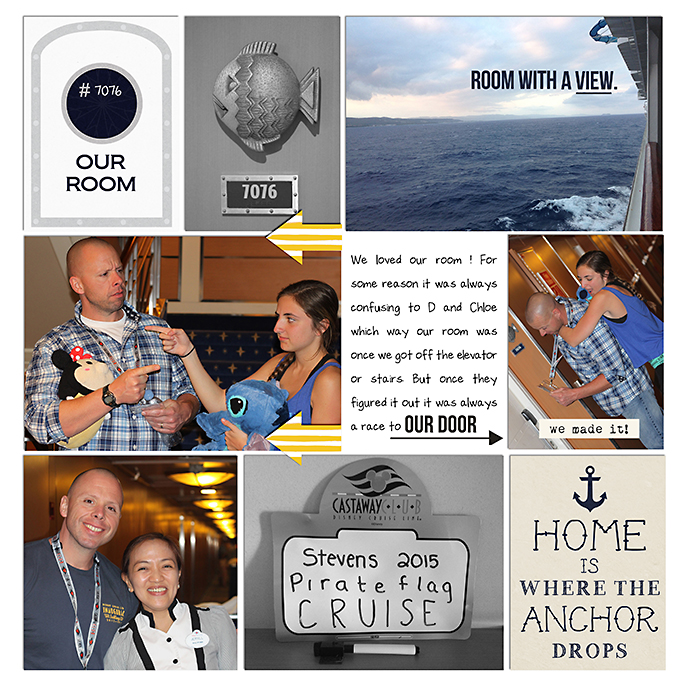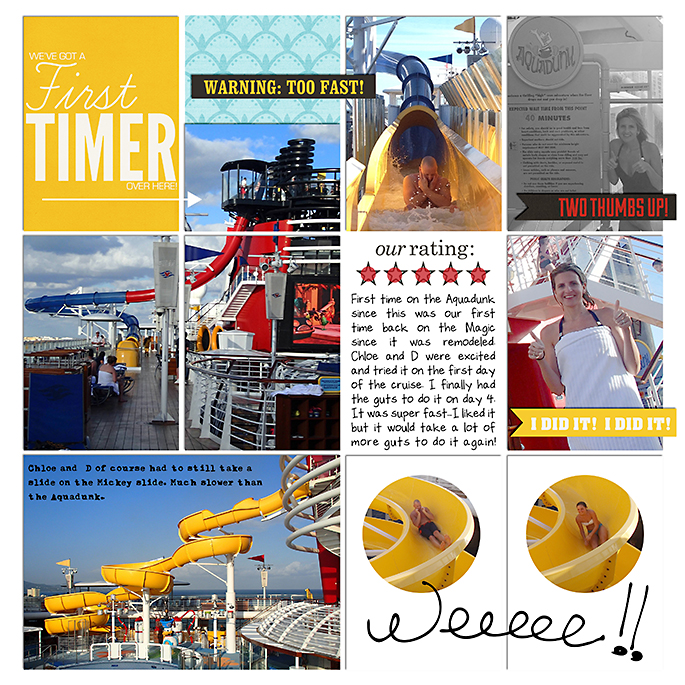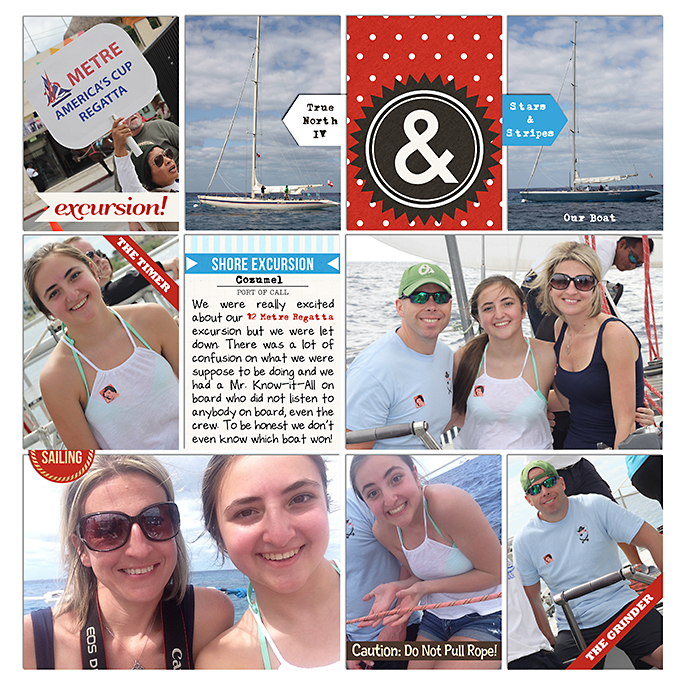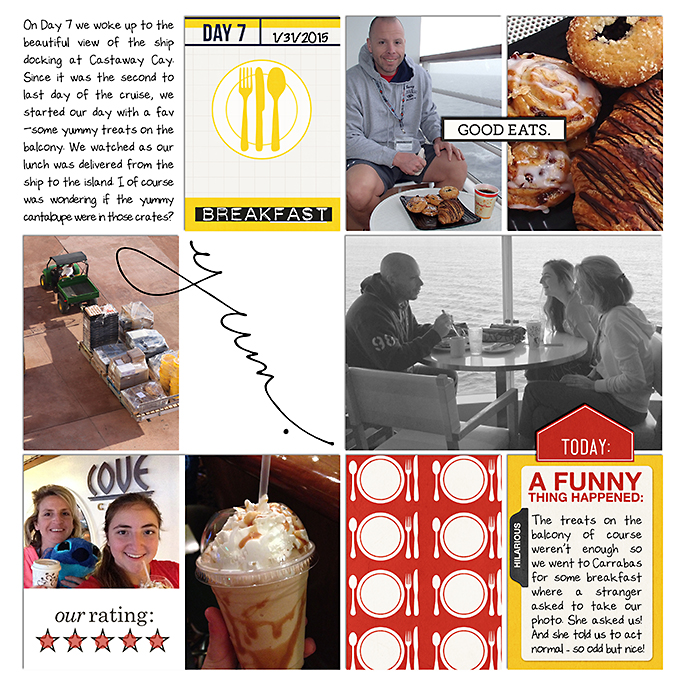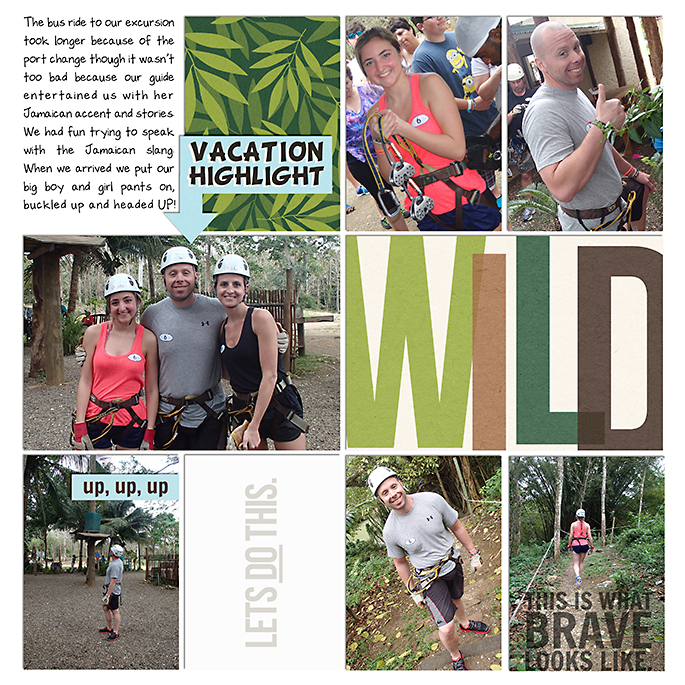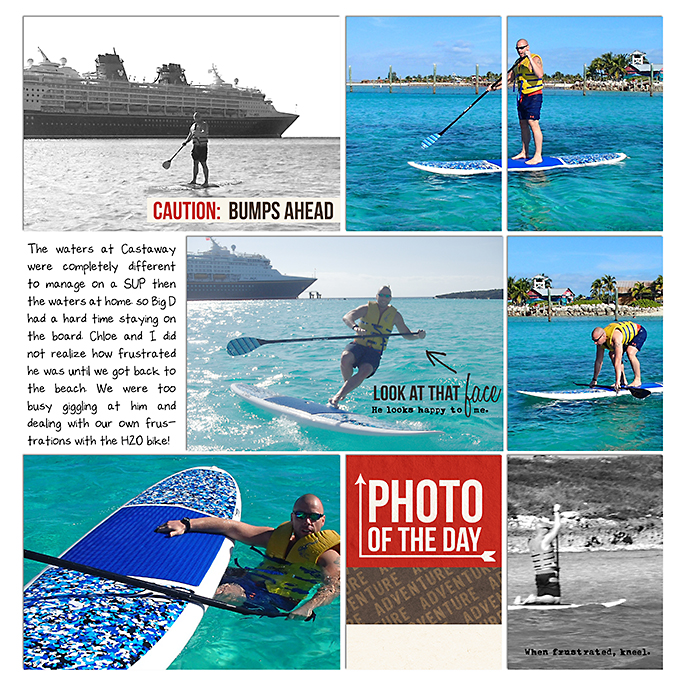 What I love most about pocket style scrapbooking is that it takes out a lot of the thinking of how to place my photos and lets me focus more on the story I want to tell. A lot of my pages are simple – a card, word bit or two and my story is documented.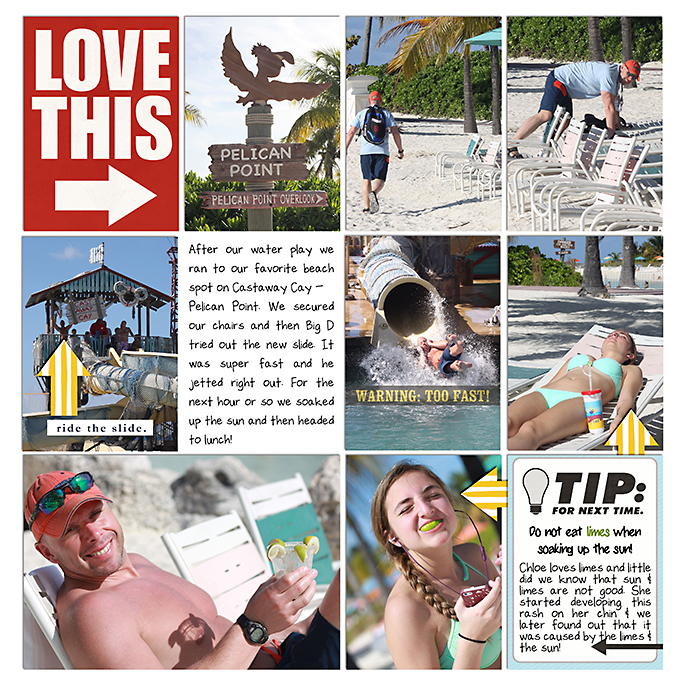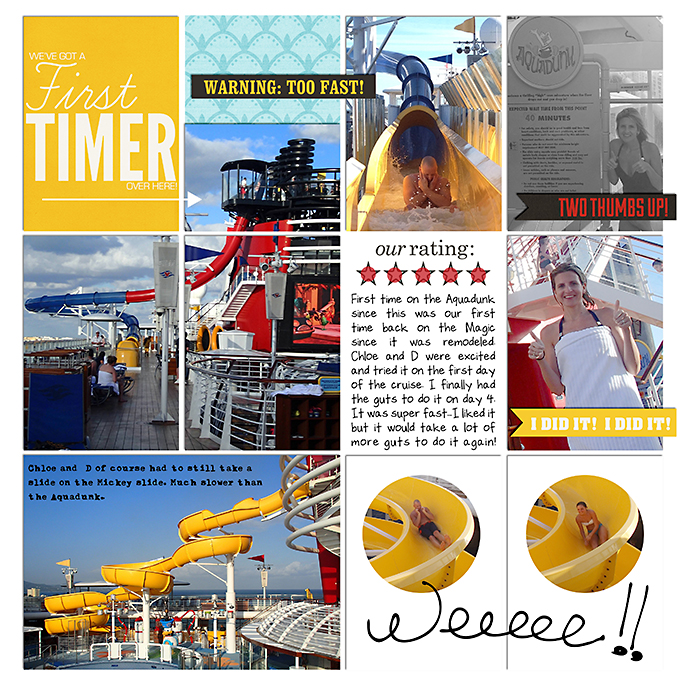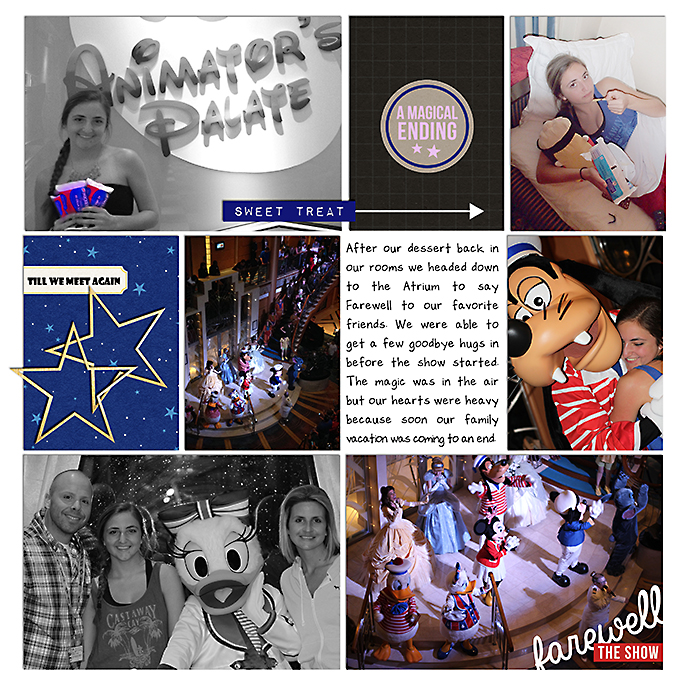 Scrapbook Tip: We didn't have the best camera this trip so a lot of the photos were not the best quality. To help with this I turned several of the photos in this scrapbook into black and white and/or lightened them. You can also try playing around in Photoshop with leaving only a portion of the photo covered like the top left photo in the page above.
---
I can't stress enough how the Project Mouse kits made making this book easy. As a true Disney fan I can say that these gals think of everything needed to document a Disney trip. I am so excited to see what holds in the future of Project Mouse (and my Disney vacations)!
To see all of my pages view my Project Mouse: Disney Cruise Pinterest board.
Save
Scrapbooking for 16 plus years. Family is everything. Disney is our second home. And our pugs rule our world!