As my stories have moved to revolve more around my pregnancy and preparations for our new baby, I've found myself using lots of pastel colours in my layouts (especially baby blues and pinks!). Whilst skimming through my digital kits this week, looking for inspiration for yet more pregnancy pages, I stumbled again upon the Project Mouse "Beginnings" Bundle. With it's soft colours and dreamy feel, it seemed like the perfect fit! Pastel colours? Check! White, grey and gold to complement my photos? Check! A little sparkle? Check! I first used the kit to document my trip to Disneyland Paris back in December and had fallen in love with it then. But could I use a Project Mouse kit to document a non-Disney story? Absolutely!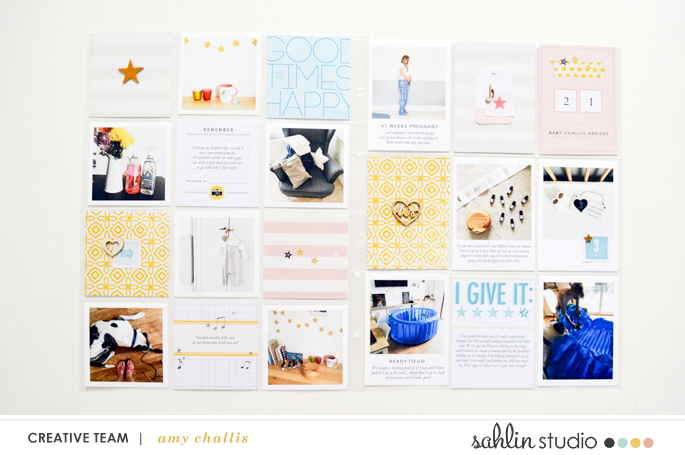 Choosing my journal cards was easy as the kit had (in fact, all Project Mouse kits have) so many cards that are not Disney related. I had no idea! I picked out a dozen or so of my favourites and then whittled them down as I wanted to keep things simple. Of course, you could always cut the patterned papers to size as well.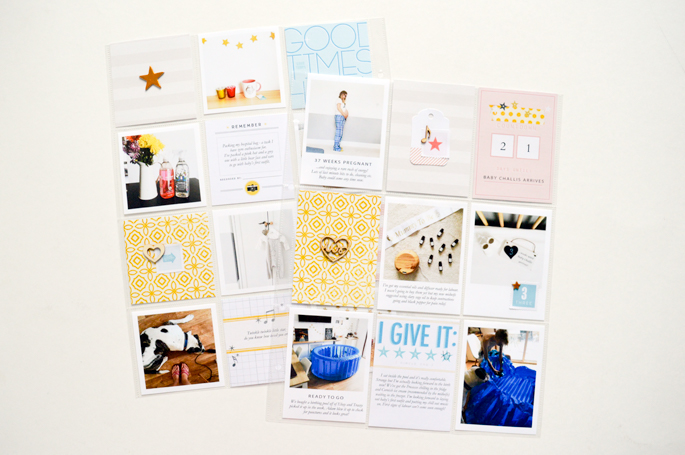 There were a couple of cards that didn't fit in with my theme, so I made a few simple changes.
I really wanted to use the count down card to record how many days left until my due date, so I covered the word 'vacation' with a piece of washi from the Project Mouse "Beginnings" Elements. I also dragged a few star sequins on top, just because! I seem to have stars on the brain at the minute – it's both the theme of the nursery and my baby shower.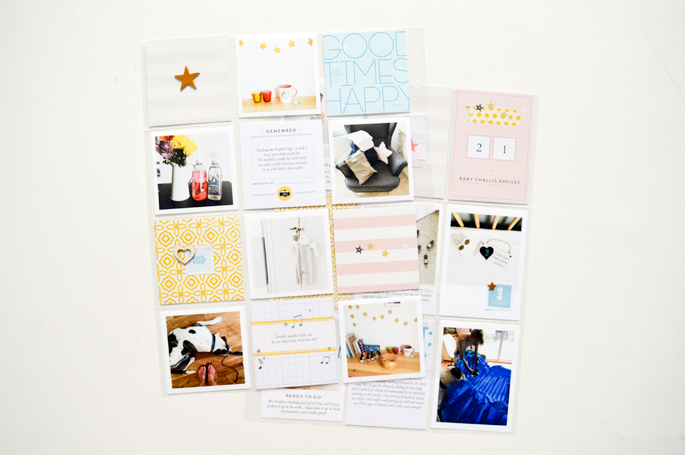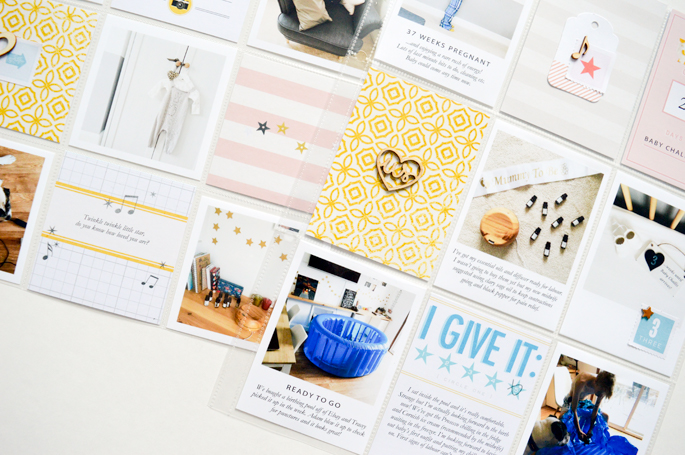 For most of the 3×3 cards, I simply printed them off as 3×4 and cut them down with my trimmer. I chose to cut the word 'Magic' off the top of the 'Magic, Good, Times, Happy' card as it fit the least with my stories.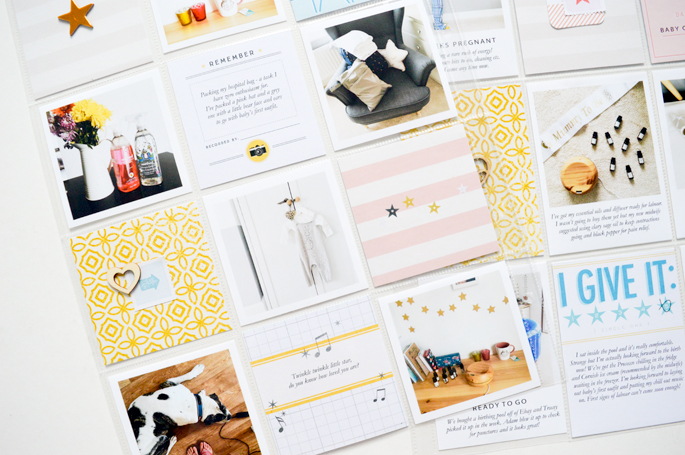 I had a problem with the 'Remember' card initially. I thought I would either end up chopping off the 'Remember' at the top or the camera at the bottom. So… I did a little cheat! On my computer, I cut out the middle section (where the journaling would go) and pushed the bottom and top pieces together to make a 3×3 card. I love how it turned out!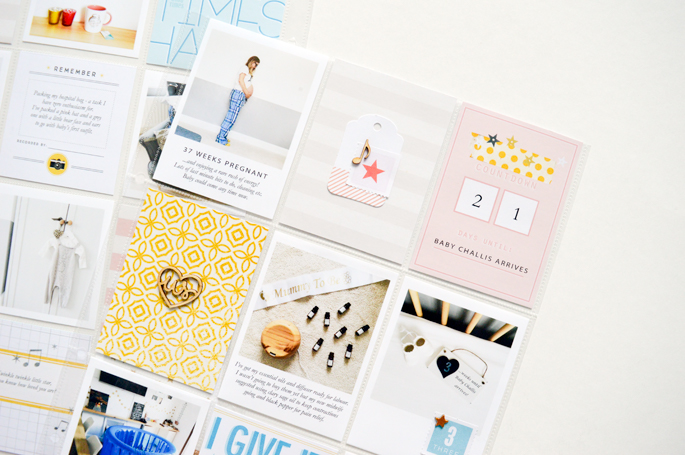 The 'I give it' card with a rating out of five was spot on for writing about our birthing pool. I gave the birthing pool we bought a 5/5 as it was so easy to blow up and super comfortable to sit in! I also used the musical notes card to record a little quote from some artwork we have for the nursery, from the song Twinkle Little Star. So sweet!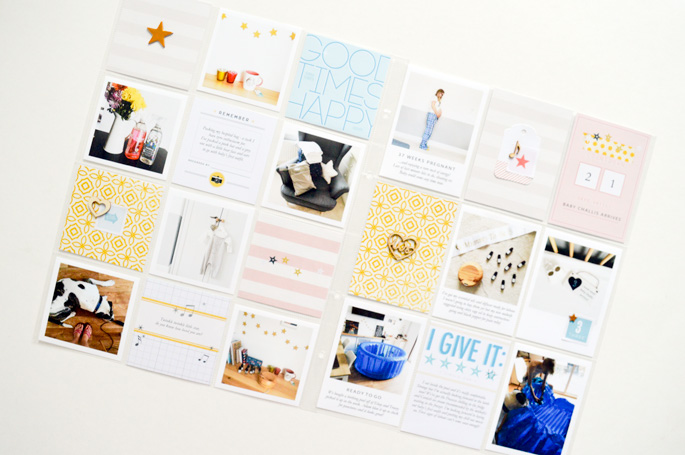 I finished off my pages with a few small embellishments to bring everything together. Two beautiful pages (if I do say so myself!) and not a pair of Mickey ears in sight!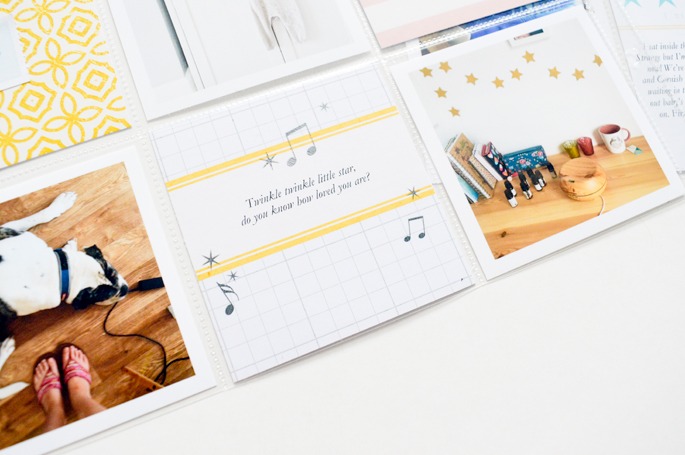 Save
Save
Save
Save
Save
Save
Amy Challis is a scrapper who lives just outside of London with her husband and their dog, Baxter. She's a lover of pretty paper, pocket pages and all things crafty. She enjoys documenting the everyday whilst drinking copious amounts of coffee.