There is nothing better at the end of the day of working, cooking, cleaning & playing with kiddies is to have a little "me" time.   When I get a chance, I LOVE to read blogs!!  I grab a hot cup of tea and snuggle down on the couch with my iPad and scroll through some of my favorite blogs.  From DIY / Home Improvement blogs: like Young House Love, I Heart Oganizing, to Cooking blogs like: Skinny Taste, to inspirational scrapbooking blogs like: Simple As That, the LilyPad Blog, etc.
The old school way was to bookmark your favorite websites OR Google for favorite website.  But with technology today…. welcome the most brilliant RSS feed Blog Reader!  I know these aren't NEW by any means.  But I was reading through mine the other day and thought I would share how cool these are!!  The easiest way to explain what an RSS Reader is this:  you have ONE website where you're able to subscribe to all the websites you love, and it composes all of the posts published on those sites together and allows you to read them all in the one place.  So if you're short on time, or just want the convenience, a blog reader is a fantastic tool!  Plus you can read them on your mobile phones or tablets as well.


There are many many different blog readers out there, and I'm by no means am an expert at any of them… HAHA!!  but I know that Feedly and Bloglovin are two of the biggest RSS Readers around right now.  I'm curious though.  Do you use a blog reader?  Yes?  No?  What reader do you use?  Click here to take a short little survey.
Feedly
Visual: Feedly is a modern take on RSS feed that looks more like a magazine.  A fun feature is that you can pick a preferred "view" for each folder — "title", magazine", "cards".
Organization: One thing I like is that you can divide up into different folders. This is perfect for organizing the "types of blogs" you read, so you can separate your scrapbooking feeds from your food blog feeds. To do this: You can organize your current website feeds by clicking on "Organize" in the top-left corner. For here just drag-and-drop to move feeds to different folders. You can also rename your folders & create new folders here.
Search: To add any new blog feeds, you use the search function. You can search by using keywords, or by adding the website url into the search box. The search will give the relevant results, and I have always found the popular blogs I was looking for as the top result presented. It's a very fast and efficient way to add new feeds and find new content. Although their search index is quite big, I could not find some of the lesser known blogs. But adding them via the feed url was easy.
Extra Features: Feedly has lots of extra features, like: keyboard shortcuts, tagging, and a "save for later" options. Feedly also provides sharing options, like the sending articles to Evernote or an internal "Saved" folder
Availability on Other Devices: Feedly has many mobile apps available for iOS (iPhone, iPad) and Android. I have used the iOS apps, and they are very well developed, sleek, and easy to use. There are no crashes, and the content is easy to read. While the magazine view on the desktop is useless, it is really functional on the iPad. Each article is presented in a clear way, and you can swipe between older and newer posts.
View from PC Desktop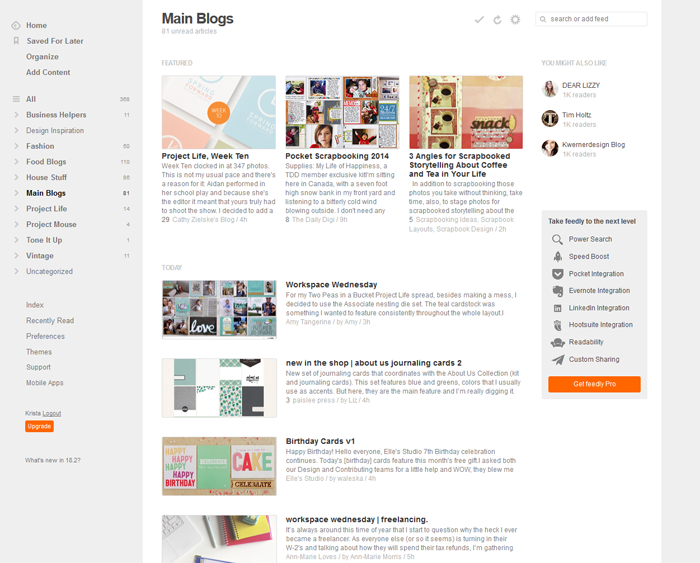 View from iPad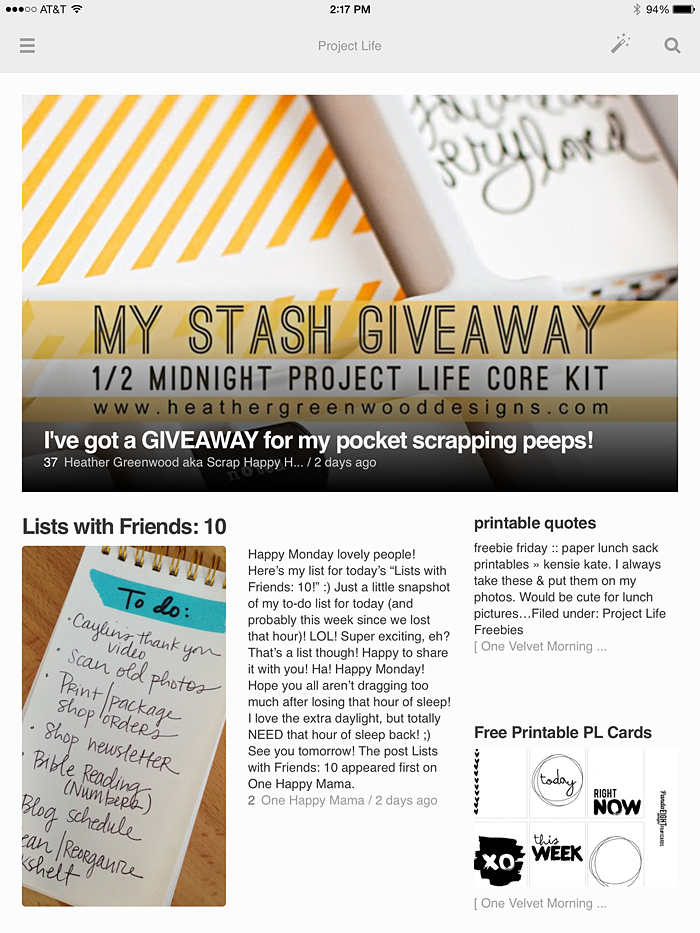 Blog Lovin
Visual:  The view on Blog Lovin' is a little simpler.  It is a basic news feed where you scroll down and view one or a couple at a time.  It focuses more on each content section, rather than the reading through a feed quickly.  Once you chose an article to read, you click and it automatically takes you to the website (versus reading in the blog reader).  This is good for the fact that you are reading the most current version of the post.
Organization: Just like in Feedly, you can organize your blog feeds in Blog Lovin' into different folders.  Again, it can help you to separate the "types of blogs" you read.  To do this on a desktop: Click on your image on the top-right corner.  Then click on "Edit Blogs You Follow".   There is also an option to make a feed "private", so if you don't want a particular feed from being displayed on your Bloglovin' profile you can choose this option.
Search:  This search is not as powerful as Feedly's – many blogs that were easily found using Feedly's search produced no results in Bloglovin'. You can find the most popular blogs and blogs that have been claimed on Bloglovin', but for the less popular blogs, the search produces no results. But, like Feedly, I was able to add these blogs by using the url of the blog feed as a search query.  The search also seems to take a long time to complete, sometimes taking 6-10 seconds.
Availability on Other Devices: The website is the main way to access Bloglovin', since its function is to be a social network of curated content. Nevertheless, there are apps available for iOS (iPhone, iPad) and Android (via The Verge).
View from PC Desktop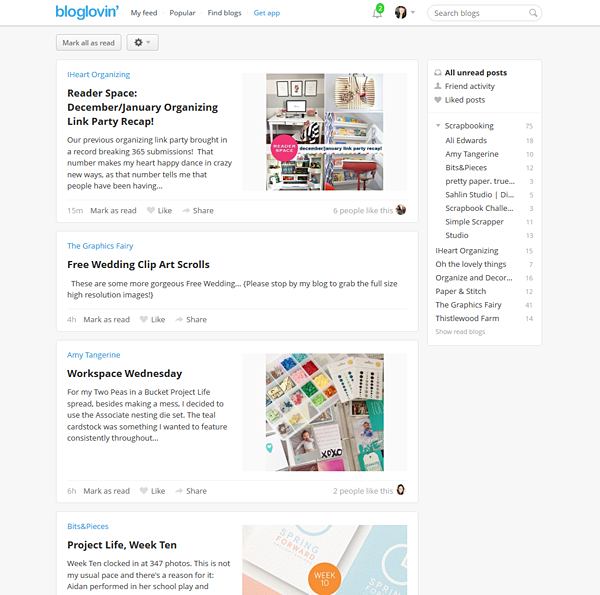 Conclusion
Feedly :  If you want a more flexible reader, with more features and view styles, then Feedly is for you.   Also, I personally think it's easier to customize your feed via Feedly.  I like Feedly's drag and drop feature.
Bloglovin':  If you want a very simple reader, with no bells & whistles, then Bloglovin' is for you.  Although, one perk of Blog Lovin' is that when you go to read a post Bloglovin will actually take you to the ACTUAL post on the website (vs. Feedly using the RSS feed).  This way you can see the blog post as it was written, and see any changes the blog owner made after it was published.
If you don't use Blog RSS Reader right now, I think you should try one!!  See what you think – I love them and am hooked!!  It saves so much time, and I love that I am able to keep up to date with blogs that I enjoy reading.  Feel free to follow me on your preferred Blog Reader.  Either click on http://feeds.feedburner.com/sahlinstudio or add me to your favorite blog reader application.