Welcome to a new feature on the Sahlin Studio: highlighting some of the CT members that bring you their beautiful Sahlin Studio filled pages week after week. I'm sure you know our first guest, Brenda Smith, aka: 3littleks or kale&kiara. She has been creating for the Sahlin Studio team since 2009, and brings her beautiful photography and white-space-creating skills to the canvas when she creates. We hope you enjoy getting to know her a little better!
Featured Sahlin Studio Creative Team Member: Brenda Smith

Name: Brenda Smith: (aka: 3littleks in the gallery)
Gallery: http://www.the-lilypad.com/gallery/showgallery.php?ppuser=1218
How did you get into digital scrapping?
Like most people, I found that paper scrapping with a little one was too expensive and messy.
I decided to try to find an alternative. Starting out with some freebies got me hooked.
How did you first hear about or see Sahlin Studio's products?
It was when she was at ScrapMatters. I fell in love with Krista'a products, as well as her sweetness.
How long have you been creating for her?
Oh goodness, I don't even remember. It's been years.
PC or Mac?
I am PC for now but have heard great things about Mac.
I am considering giving them a shot next time I upgrade!
Let's take a peek of where you get down to business. What does your work space look like?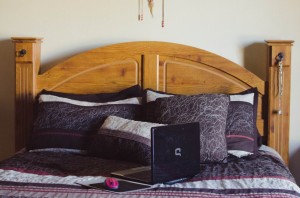 What's your favorite Sahlin Studio product?
My most recent favorite of Krista's is definitely Autumn Frost:
It is the perfect combination of my favorite time of year and the best colors.

A few of Brenda's Layouts using Autumn Frost:

What's the one thing about digital scrapping that you wish you knew how to do better?
There's soooo much I want to know. With digital scrapping I would love to get better shadows. I play with them a lot but am never quite satisfied.
What's the best compliment you've ever received about your scrapping or photography? Why did it mean so much to you?
The biggest scrapbooking compliment was having a feature in Somerset Digital Studio a few years ago. I feel amazing every time someone says they love a photo I have taken of their family. To have been able to capture a memory for them is the ultimate thrill for me. To me, receiving a compliment on either of those means that my hard work has paid off. Such a wonderful feeling.
Which do you love best: digital scrapping or photography? Or is that like asking which is your favorite child?
Yup, that's kinda hard. They seem to go perfectly hand in hand anymore. I think if I really had to make a one or the other decision, I would have to say Photography. Only because without it, I would not have scrapping.
What's your favorite kind of photograph to take? What's your favorite kind of page to make?
I love photos with sun flare and lifestyle shots of my kids playing and doing what they do everyday.
What are three other Sahlin Studio products you can't live without?

SPEED ROUND TIME
Vanilla or chocolate? Vanilla if we are talking ice cream or coffee creamer. Fake chocolate taste is just downright disgusting.
Day or night? Hmmm, probably day. Especially if there are clouds/rain.
Fruit or veggies? Veggies. Steamed or drowned in ranch or cheese, though. Broccoli is my fave.
Flying or driving? Both! I grew up at a missionary flight training center and got to fly a lot. Of course, driving appeals to my wanderlust. I took a 1800 mile trip this summer with my 3 kids and we had a blast.
Batman or Spiderman? Neither, I believe true superheroes are the ones in your real life who save the day by being the wonderful people they are. My son loves Spiderman, though.
Coats or sweaters? I adore sweaters! I wish I could wear them all year round.
What are three goals you have for 2013?
1) Following through with Project Life
2) enjoying paper scrapping as much as digital scrapping
3) Keeping my real life organized.
Here are a few of our favorite layouts from Brenda.
Feel free to pop by her gallery and leave her some love!