Many of you are in the middle of documenting your own magical vacations.  So I know how nice it is to find inspiration to help you to feel motivated and find inspiration to continue on your own Project Mouse documenting journey.   One of my newest creative team members, Theresa Moxley (Larkindesign), will be sharing portions of her Project Mouse book as she creates her Disney Project Mouse album!! I am so excited for you all to see her Project Mouse journey. Theresa's documenting style is mainly creating a hybrid Project Life or pocket scrapbooked styled album.   Follow along in the upcoming weeks to see her album unfold!
Documenting | The Surprise
Hi everyone, it's Theresa Moxley here! I am so excited to be able to share with you my Disney Album that I have created using Sahlin Studio Project Mouse. I am so in love with all the amazing cards and elements from the Project Mouse collections, and I hope you enjoy seeing these being used in my album. Today I am going to share with you a very first layout in the album, where we share the exciting news with our kiddos that we were leaving for Disney the very next day!

The Finished Layout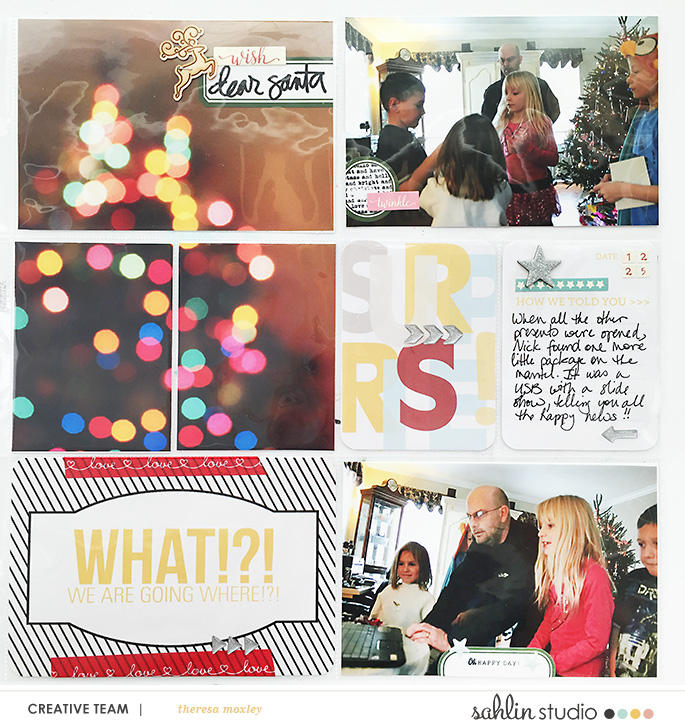 Documenting Process
My first step in the album process was to select my photos and filler cards to support the story I wanted to tell. Project Mouse offers so many awesome options for telling your Disney stories, and it is incredibly easy to use those cards! I simply purchased the collection I wanted (in this case it was the Reveal kit!) and printed the cards on my home printer. The kits come with printables on 8.5 x 11 sheets, and I printed these on Staples brand cardstock on an Epson Workforce printer. Easy peasy! Then all I did was place photos in the album, and my Project Mouse journal cards in the open spaces. This is how today's layout began: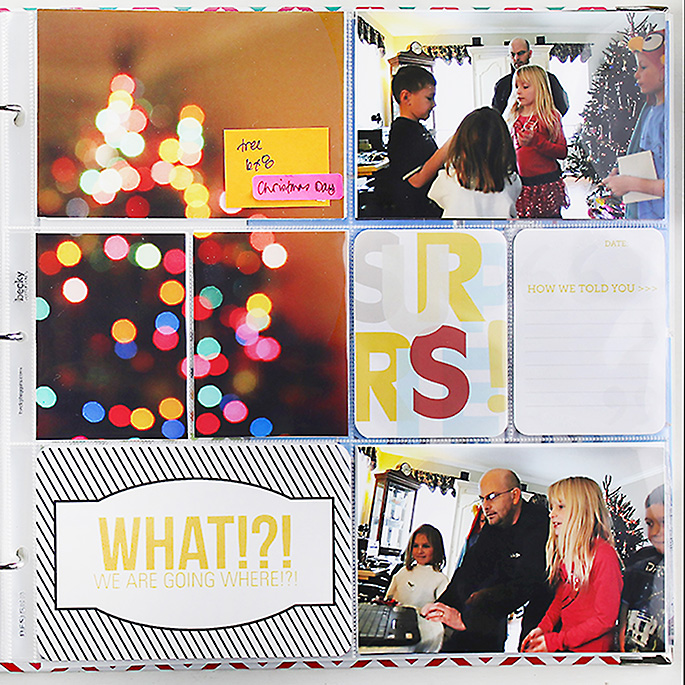 We were leaving for our trip the day after Christmas, so we decided to share the good news with the kids on Christmas Day. I included a photo of our Christmas lights in bokeh, just because it's pretty.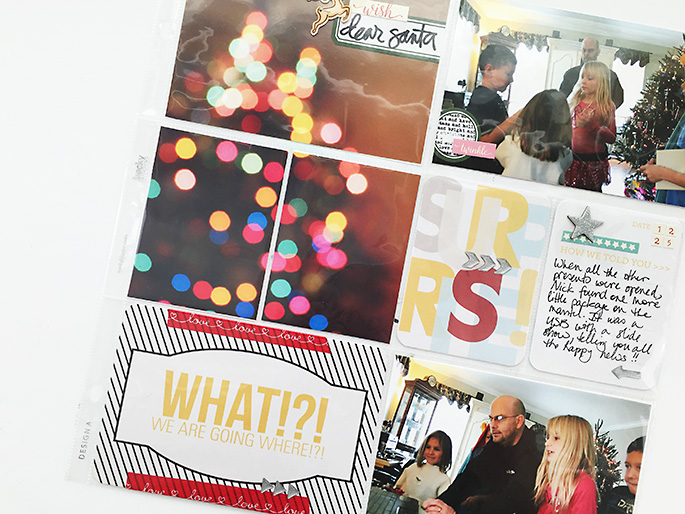 I had two 4×6 photos and that left me with two 3×4 pockets and one 4×6 pocket, so the perfect spots for some journaling cards from the Project Mouse Reveal collection!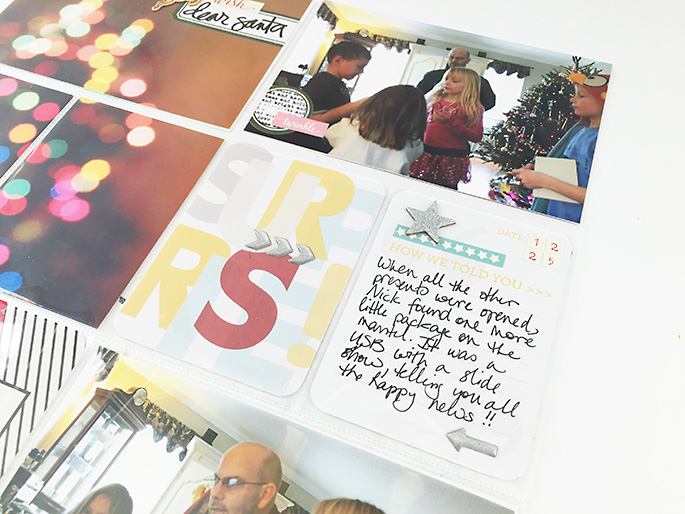 Now I am a dimension kind of girl, so I love adding little bits and bobs on top of my photos and cards. I pulled out some of my Christmas stash for this layout. How fun!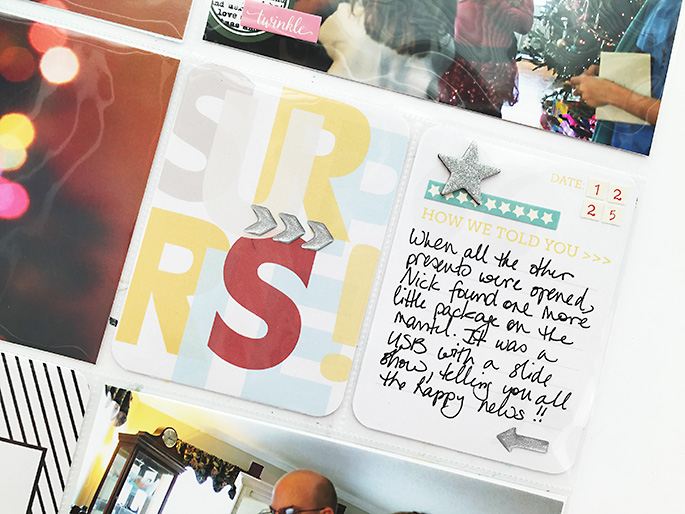 Now this What!?! card is actually a 3×4 card but I resized it in Photoshop to 4×6. This is a great option when you find the perfect one, and of course they are all sized to allow you to do that. A little washi and some bling, and this layout is completed.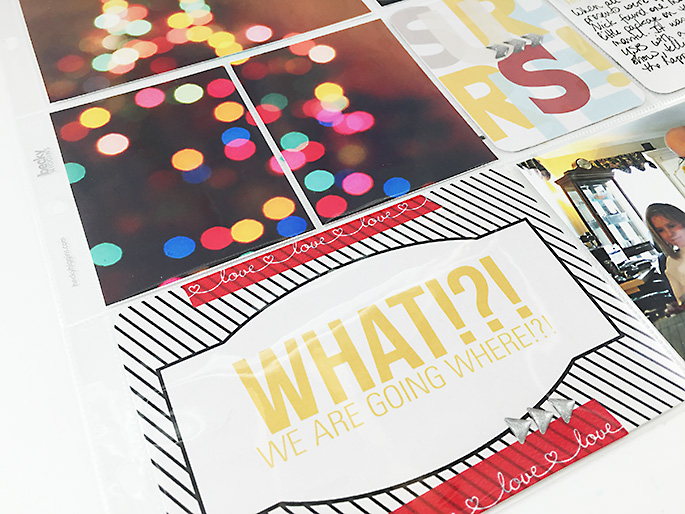 Stay tuned, we will be showing you more pages from my hybrid Disney album over the next few weeks! I hope you love them all and most importantly, I hope it inspires you to make pages you love!
See you back here soon!
~Theresa Moxley
Products Used: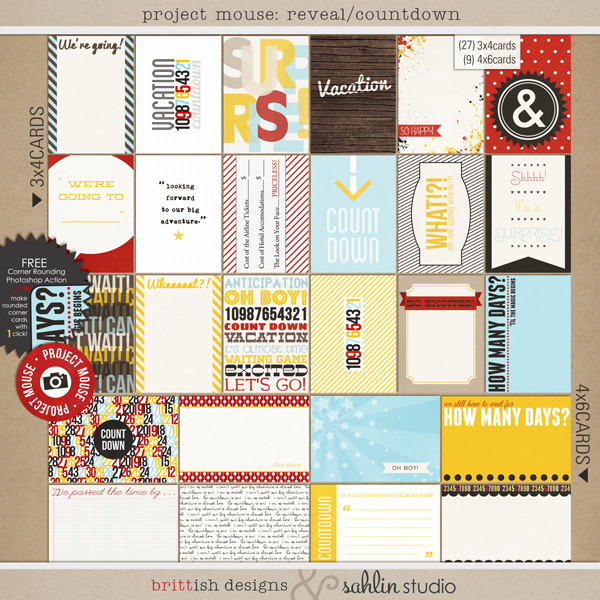 Sahlin Studio: Project Mouse: Reveal/Countdown kit
Sahlin Studio: Project Mouse: Reveal/Countdown kit: FIND HERE; Other Products Used:  Doodlebug: washi tape, silver arrow puffy stickers;  Ali Edwards: glitter star, dear santa stamp, circle stamp, green labels; One Little Bird: wood veneer reindeer, word strip stickers, turquoise star stickers, number stickers.
** This layout previously appeared on Theresa's personal blog, Larkindesign, and can be viewed here: Disney Layout No. 01 | Christmas Day  There is also a process video which can be viewed here: larkindesign on YouTube)
Hi, I'm Theresa of Larkindesign from Kernersville, NC where I live with my four kids, one awesome husband, two cats, a dog, and a bunny. And occasionally our cat brings us pet salamanders. When I am not calming chaos I am in my studio, playing with photos and colors and embellishments. This scrapbooking thing is my passion and I love inspiring others to feel the same way!