I am SO excited to announce that I'm having a "Sahlin Studio Creative Team" Call.
I haven't done a permanent creative team call in a l o n g time (since 2009)…
so if you are interested, NOW is the time to apply!!  Be sure to send your application in!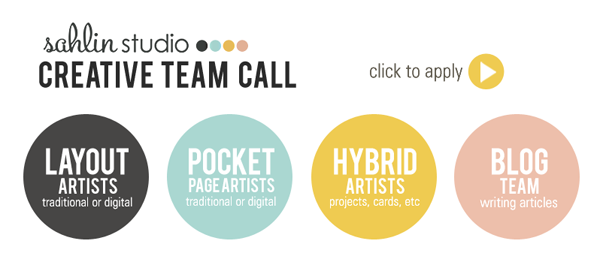 To apply: CLICK HERE and Fill Out This Form.
LOOKING FOR:
I am looking for a few great team members who want to create with my designs, post them around in galleries and social media, spread the word about my designs and help me with marketing my products. I am looking for a variety of individuals, so it doesn't matter if you are a digital scrapper or a paper "hybrid" scrapper… if you have a clean, minimal style or an eclectic, art journal style… OR whether you do traditional pages, projects or pocket project life styled pages… I WANT YOU!!

* Layout Artists (Digital & Traditional)
* Pocket Scrapbooking "Project Life" Artists
* Hybrid/Project Artists * Blog & Admin Team
SIMPLE REQUIREMENTS:
– Create at least 4 layouts a month; Upload to at least 4 online galleries;
– Enable and promote Sahlin Studio Designs on Facebook, Pinterest, Blog, Scrapbook Community

WHAT DO YOU GET?? Free access to my entire store! You're welcome to pick up anything, as long as you complete layout/projects with them and post them around!

DEADLINE:
Please submit your application no later than April 26th.
A final decision will be made by May 3rd.