I am excited to introduce the 2015-2016 Sahlin Studio Creative Team! The team is a diverse mix of digital, hybrid and pocket page artists… and they are SO super talented. Some are returning for another year and some are brand new to Sahlin Studio.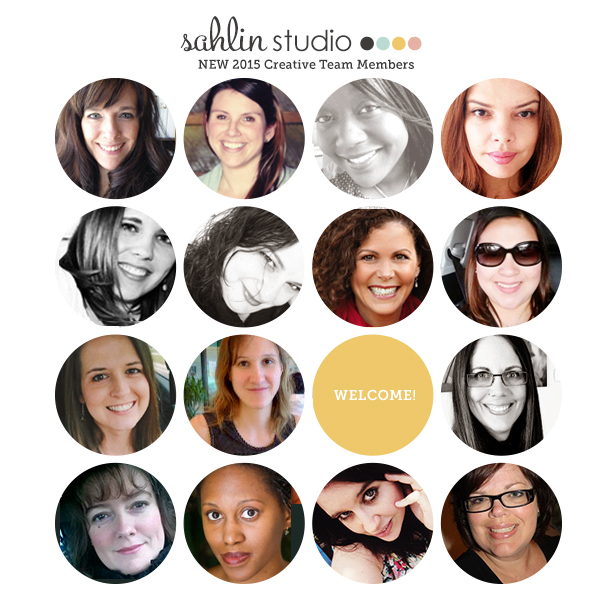 NEW 2015 Creative Team Members
Beth Gugol, Dunia Acauan, Fonnetta Sweeney, Jaclyn Clayton, Jen Carlson, Jessica Upton, Kathleen Summers, Lynnette Wilkins, Melanie Hoogvliet, Melissa Rieschick, Michaela Kessel, Tanya Alley, Tiffany Tillman Emanuel, Teresa Carlucci, Wendy Morris-Saponaro
Current Creative Team Members:
Abish Allen , Amber Ries, Brenda Smith, Brittney Leavitt, Candy Moe, Cindy Schneider, Cristina C., Dana Attlan , Denise Beatty, Donna Espiritu, Elisa Hubbard, Erica Webster , Heather Winfield, Heather Prins, Ica Jovita, Ivelina Cholakova, Kari Smith, Kathleen Vallejo, Katherine Bley, Krista Pearl, Maribel Rivas, Margelz Laksi, Melissa Dilloway, Michelle Huegel, Mikiko (Miki) Nenn , Rachel Alles, Raquel Sarai Sabido, Susanne Liedtke, Tori Anderson,
Sahlin Studio Admin Team:
Breon Randon, Jen Little, Kaye Dimataga, Mary Wilde, Natasha Akers, Stephanie Chavers
To say that I'm looking forward to sharing their projects with you in the year ahead is a HUGE understatement!! I can't wait for you to see what they have in store for you! It is going to be an amazing year with these ladies! You can find out more details about this year's team – including links to their blogs and social media channels – on the Creative Team page.