Hi everyone! It's Theresa here and today I want to share with you a really awesome way to create your own hybrid embellishments using digital elements! I am sharing a layout from my Bermuda honeymoon project using the Project Mouse Paradise collection, which includes the most amazing digital elements. Here is a look at the layout we will create today.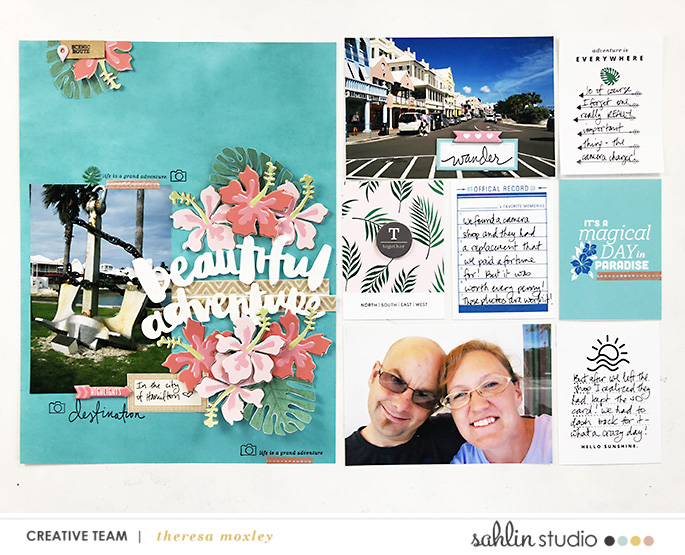 This is a hybrid layout that I have created using the digital elements and journal cards in the Paradise kit. Hybrid is my favorite way to scrapbook: it allows me the ease of digital products that I can print at home, AND the texture and dimension of physical products!
Video of Layout Process
If you'd like to see my process, you can watch the video here:

Let's Take a Look at the Details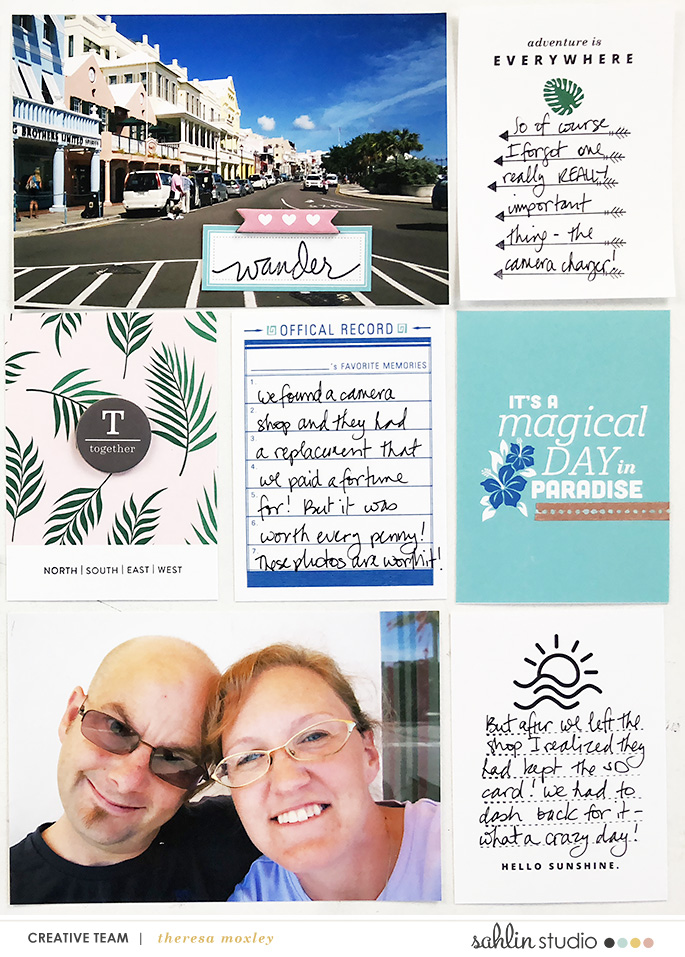 For the right hand side, I am using a 9×12 pocket page. This album is a combination of pocket pages and full page layouts. I have printed the journal cards at home, I just use my Canon Pixma and print on Staples brand matte photo paper. The Paradise cards are gorgeous and it makes me so happy to see them printed out!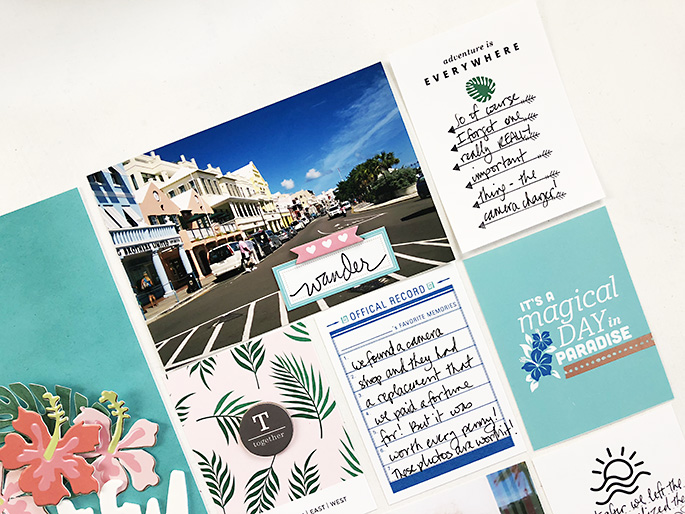 Tip #101 – Include Your Personal Handwriting – Another wonderful benefit of printing your digital cards is that then you can write on them and include your own handwriting on your layouts. Our handwriting is such a beautiful part of us and absolutely should be part of our layouts. This is a great way to make sure that happens.
For this layout I chose two cards that tie in the beautiful colors of the layout: the turquoise, pink, and red. These are my favorite colors in the whole world, and this kit shows them off beautifully.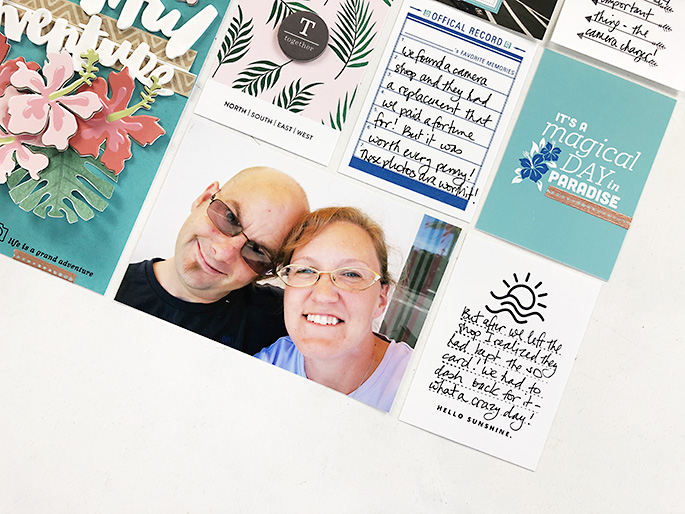 No layout is complete without telling a good story, and our story for this layout is somewhat of a heart-stopper. When we flew to Bermuda it didn't take long for me to realize I had left my camera charger at home! What a dreadful mistake to make! So we traveled into the city of Hamilton and found a camera shop that just happened to have a replacement charger. It cost a fortune, but in times like these it is well worth it. So we purchased the charger and then were heading off to the ferry. I snapped a few photos and realized something else was wrong – suddenly our SD card was not in the camera! So we rushed back to the camera shop and sure enough, they had it. They had removed it when trying to determine which charger we would need and neglected to put it back. I think my heart still stands still thinking about how our photos could have been lost!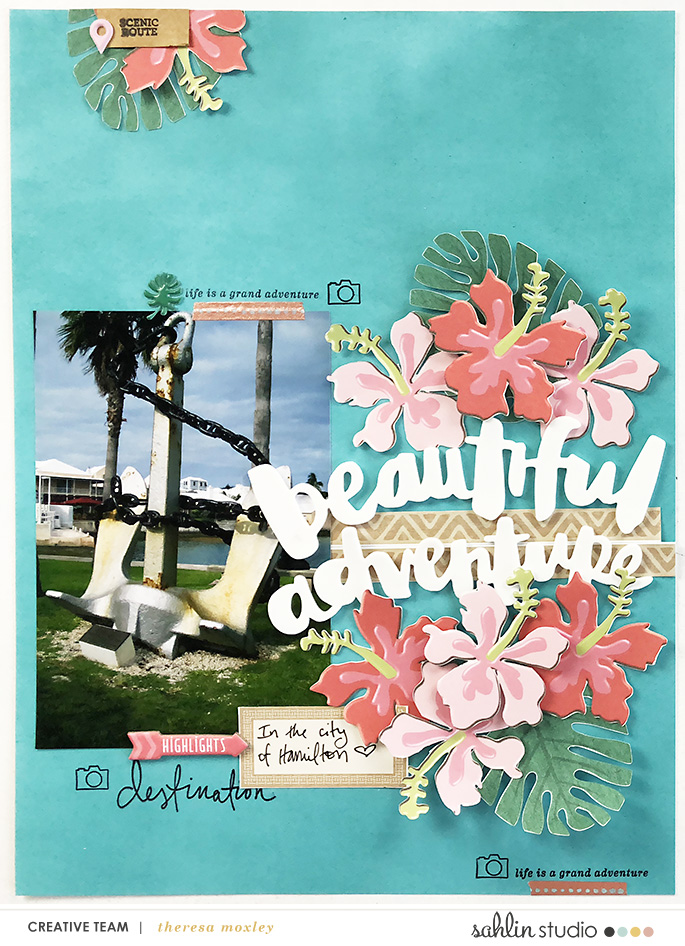 The beauty of this layout is on the full page, the left side, and the amazing clusters of hibiscus that are included in the Paradise Elements kit. Pardon me while I gush for a few moments!!!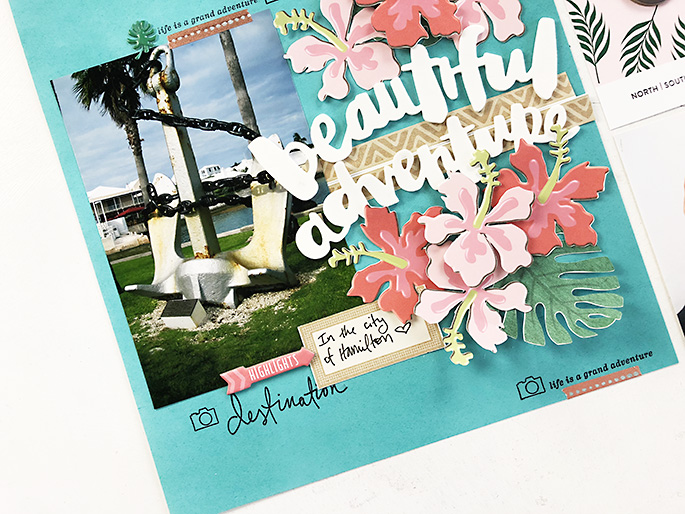 Tip #102 – Create Your Own Hybrid Embellishments!!
I pulled the floral elements into my Silhouette software and printed them on my Canon, and then I cut them using the Silhouette. I cannot believe the depth and dimension these beautiful flowers give! It is as if they come to life. I planned this side of the layout using the turquoise background paper, and the flowers pop right against it!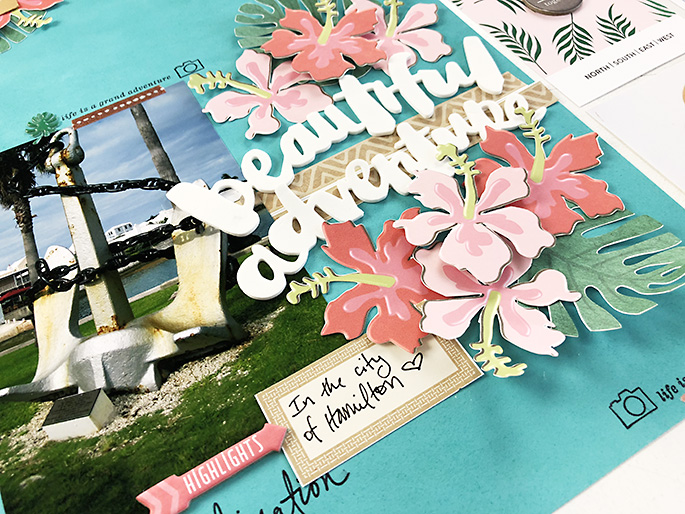 I created two clusters with the flowers, one on top of the title and the other below the title. Some of the flowers are raised with pop dots, and I also curled some of the ends. I also added just a tiny label, and the chipboard arrow points your eye right to that direction on the page.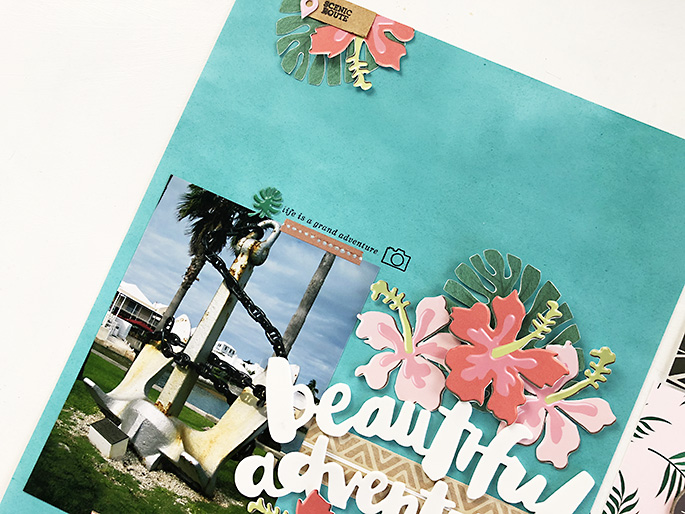 I also added just a tiny flower and leaf at the top of the page, and a few stamped sentiments as well, just to add a bit to the background. What a fun layout to create and I am so happy to share it with you!
Products used in this layout: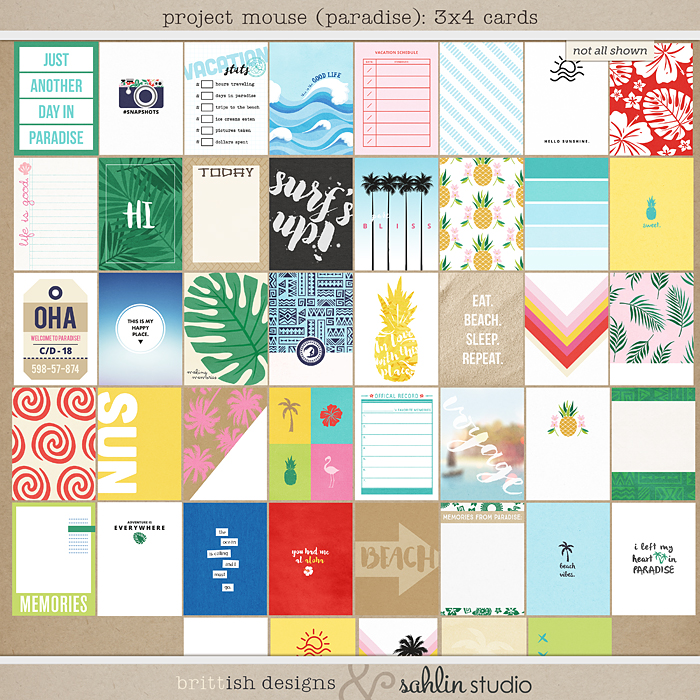 Project Mouse Paradise Journal Cards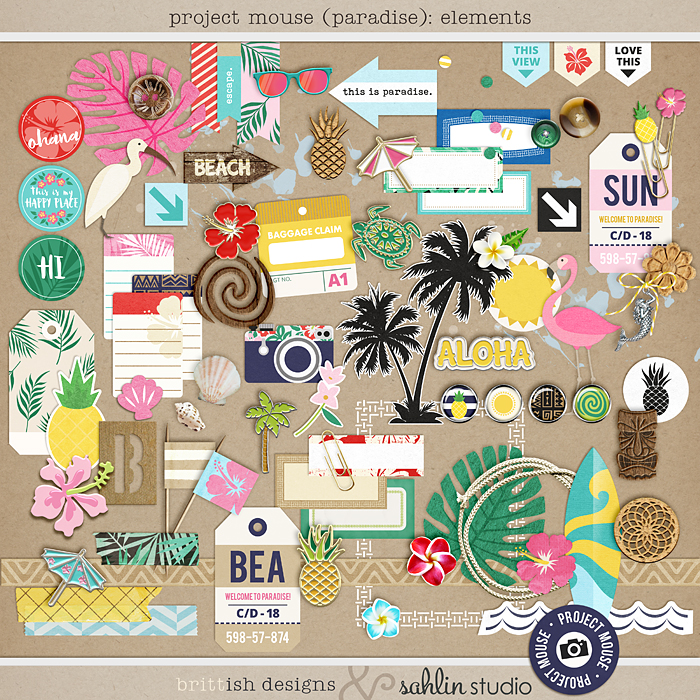 Project Mouse Paradise Elements Kit
Other products used in this layout include:
Sahlin Studio Project Mouse Paradise Journal Cards; Paradise Digital Elements.
Physical products include:
One Little Bird for Studio Calico (Destination stamp set); Crate Paper Oasis (puffy stickers) and Here & There (washi tape); Gossamer Blue (chipboard pieces); One Canoe Two (arrow roller stamp); Becky Higgins Project Life (dotted line roller stamp); and Amy Tangerine (foam title stickers).
Hi, I'm Theresa of Larkindesign from Kernersville, NC where I live with my four kids, one awesome husband, two cats, a dog, and a bunny. And occasionally our cat brings us pet salamanders. When I am not calming chaos I am in my studio, playing with photos and colors and embellishments. This scrapbooking thing is my passion and I love inspiring others to feel the same way!