Now call me a big kid, but I can't think of any place I'd rather be than Disneyland. Just the thought of mouse ears, parades and firework displays over fairy tale castles puts the biggest smile on my face! When a couple of my friends suggested that my husband and I join them on a trip to Disneyland Paris last December, I'm pretty sure you can imagine what my answer was (Yes! Yes! 1000 times, yes! Let's book it NOW!).
Whilst our stay feels like a lifetime ago now, I'm enjoying reliving our Disney adventure as I start to print and scrap our pictures in my Project Life album. These are days that I want to remember forever and thankfully the Project Mouse 'Classic' and Project Mouse 'Ice' bundles had me covered as I started the mammoth task of documenting our holiday.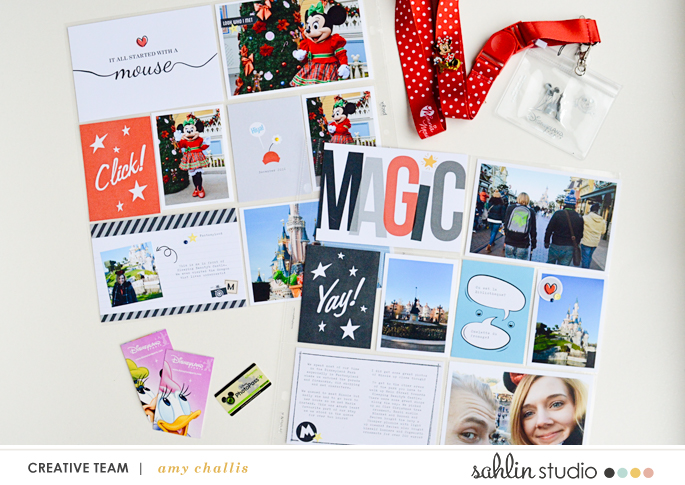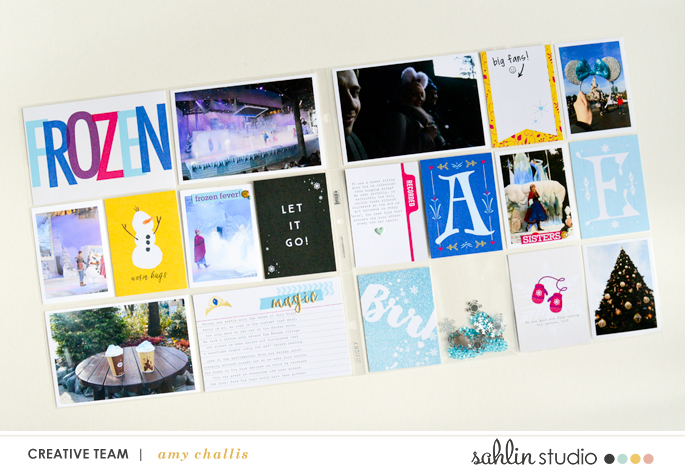 I started out by choosing a selection of photographs from my trip and cropping them to 3×4 and 4×6 size, leaving a small white boarder around the edge. After printing and cutting, I grouped my photos by topic – I couldn't remember which photographs I took each day so it was easier to sort them by theme and location rather than try to document chronologically. Once my photos were organised, I started to look at which Project Mouse editions would best suit my photographs and help me tell my stories. The 'Classic' bundle was a great match for the pictures I'd taken in Fantasyland, especially those of Minnie Mouse!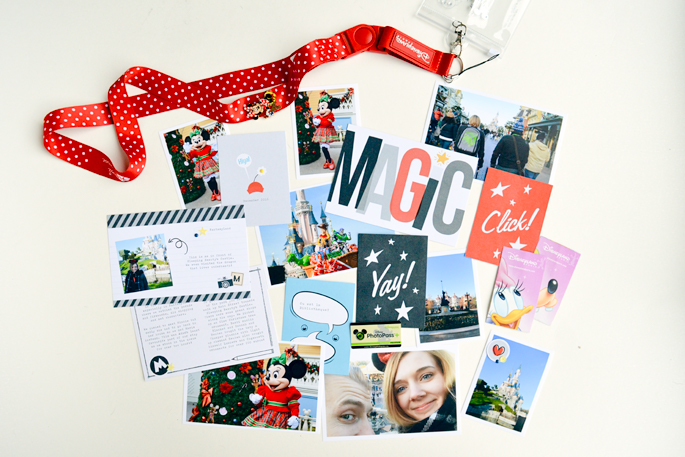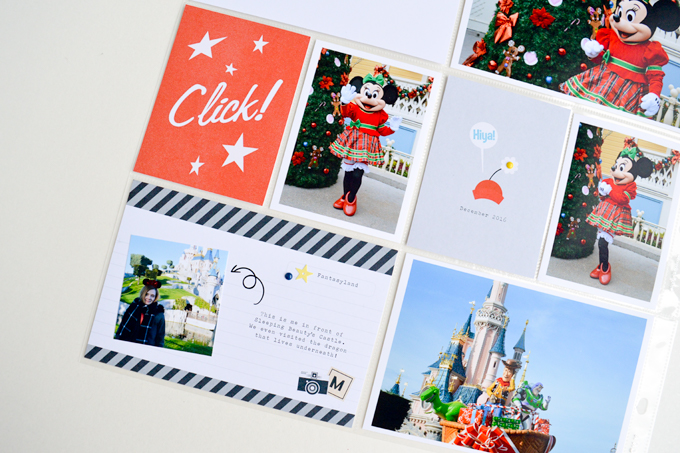 Before printing the 'Classic' Cards, I added my text in a typewriter font and some of the 'Classic' Elements to embellish the cards. Putting the embellishments onto the cards prior to printing saved me a lot of time as it meant that I didn't need to use my Silhouette to cut the elements out (although if you're got a steady hand, you could cut them with a pair of scissors). Once I'd trimmed everything to size, I started to rearrange my photographs and cards so that I had a good balance of photographs/cards/colours/text etc across the pages.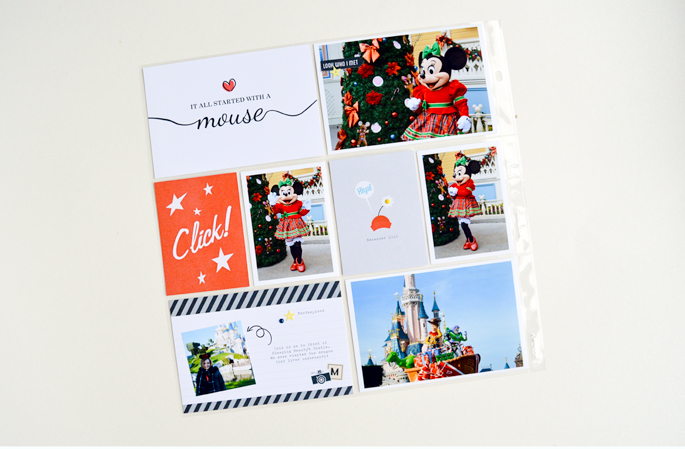 Seeing Minnie Mouse was a real highlight as she's my favourite character! Sadly we didn't get to meet her (she had to go back inside her house,) but it was great watching her interact with excited fans, young and old. Don't you just love her winter outfit, too?!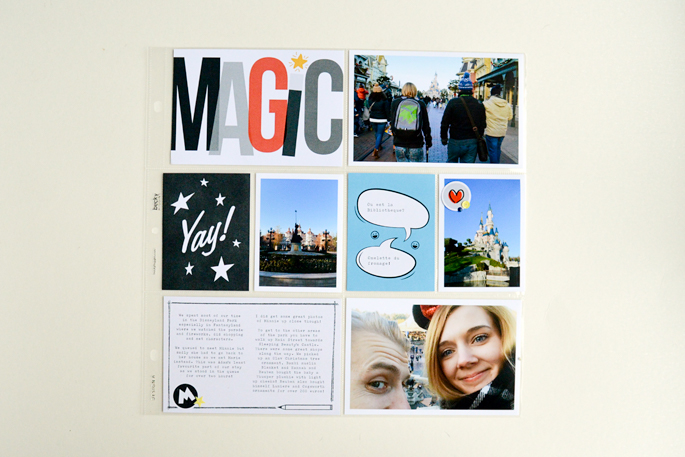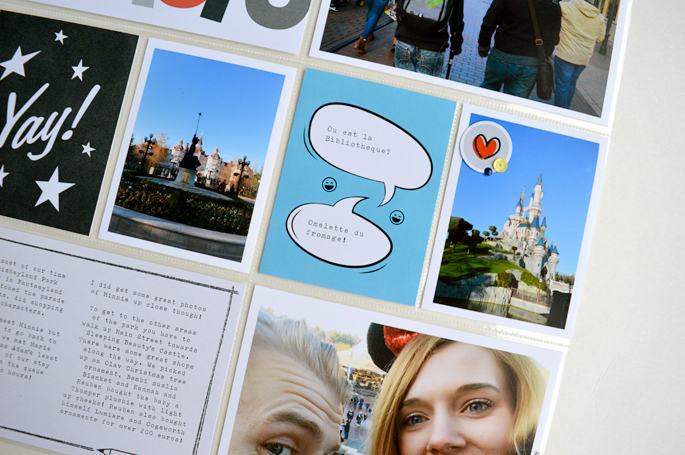 Keeping the layout clean and simple, I finished the two page spread with some sequins and enamel dots. I used my 1 inch round punch to cut out a love heart from the 'Classic' Elements and a smiley face stamp to decorate the speech bubble card. That was all for my first two pages!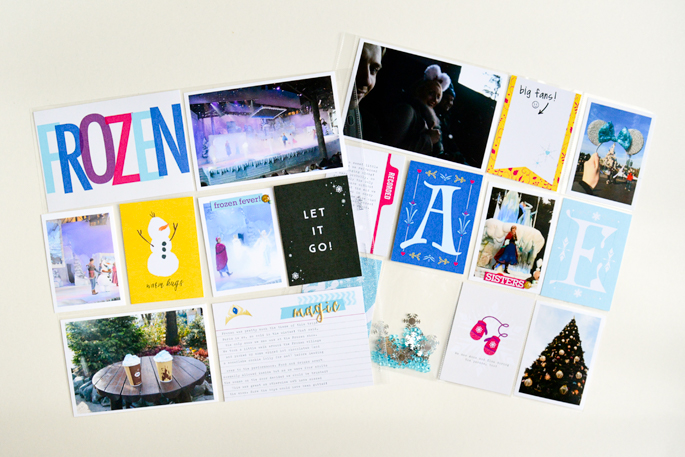 Another memorable part of our trip was the day that we watched the Frozen sing along show. There were no meet and greets with Anna or Elsa, so the only way to see your favourite Frozen characters was on stage or during the parade. We loved watching the performance which included 'real' soapy snow! Frozen was pretty much the theme of our whole Disneyland trip, in fact. Have you ever been to Paris is December? It's absolutely freezing!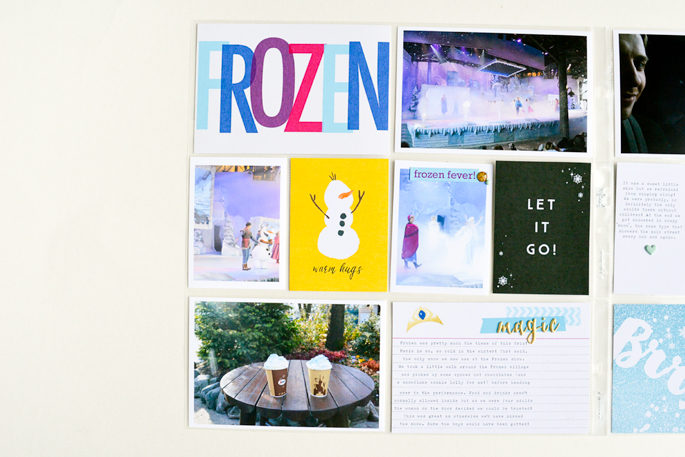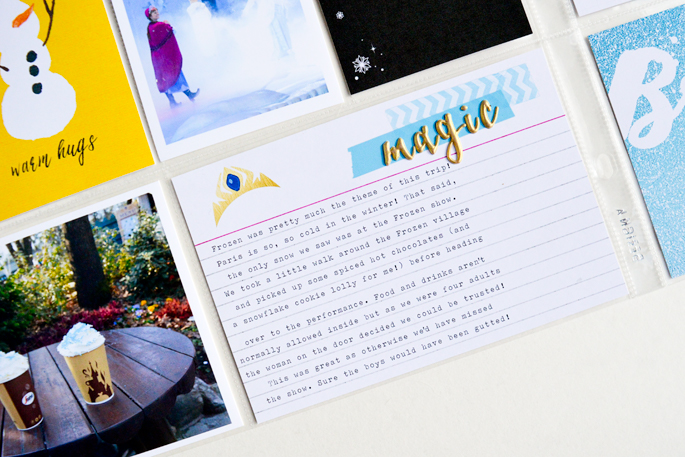 The Project Mouse 'Ice' Cards and Elements were perfect for documenting our Frozen fun! This layout came together much like the first one: I added text and embellishments onto the cards before printing, then cut the cards to size and arranged them with the photographs. Next I cut out some phrases from the 'Ice' Elements and used enamel dots  and gold alphas for some extra sparkle! At the end I had a spare pocket, so I filled it with sequin snowflakes and tiny blue gems to create a confetti shaker pocket. My favourite cards out of the 'Ice' edition have to be the 'A' for Anna and the 'E' for Elsa, the patterns are so pretty! I love how all of the colours on the cards match the princess and queen's dresses. The Olav card is pretty cute, too! A close second!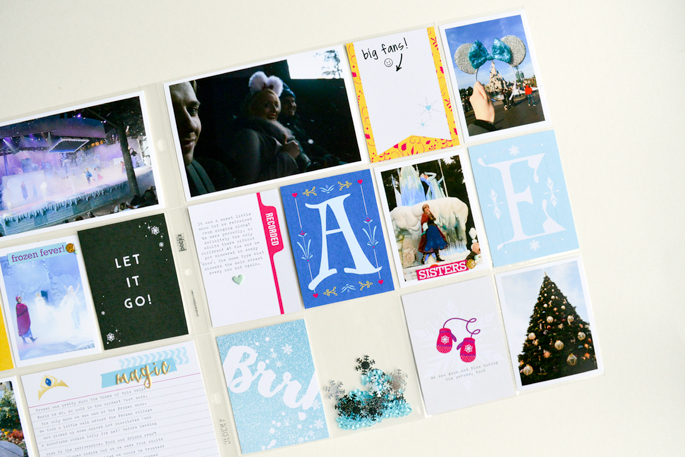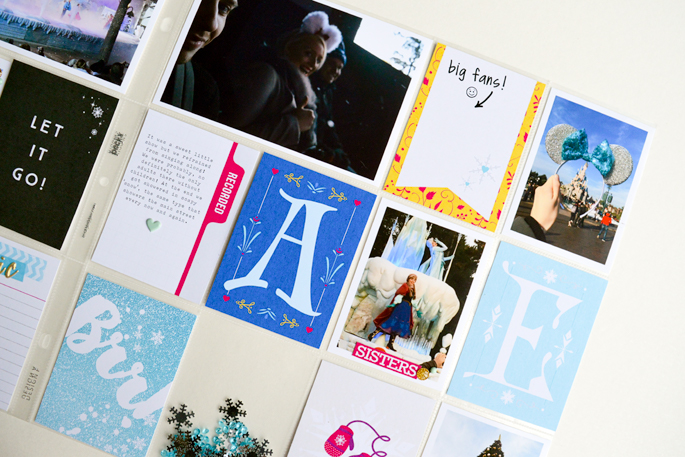 Thanks for stopping by! I hope this has inspired you to start documenting your own Disney adventures – I can't wait to share more of my Paris trip with you, too! Au revoir, for now!
Save
Save
Amy Challis is a scrapper who lives just outside of London with her husband and their dog, Baxter. She's a lover of pretty paper, pocket pages and all things crafty. She enjoys documenting the everyday whilst drinking copious amounts of coffee.