Feel free to follow Theresa Moxley (Larkindesign) on her journey in her Disney Project Life album! To look back on all of Theresa's Project Life / Project Mouse layouts, find the posts here.
---
Hello friends and welcome back! I am so excited to have more Disney Album pages to share with you guys! Going to Disney is such an amazing experience every time, and as much as I love the vacation itself, coming home and creating gorgeous pages is the icing on the cake!
We had some favorite stories with planning our adventure, so I began my album with a page all about prepping and planning. To help me document these stories, I relied heavily on the Project Mouse Bundle No. 02 Leading Up To The Magic. This bundle of goodness provides so many cool ways to include the planning we do for these trips!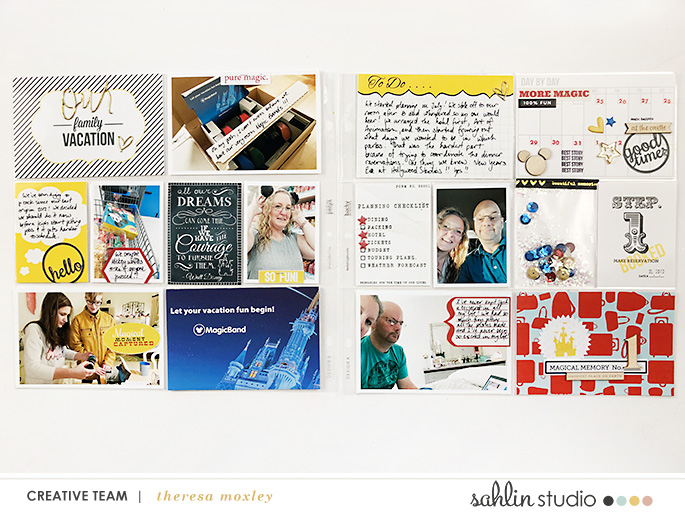 My format for this album is hybrid pocket pages, in the style of Project Life. I love this way of documenting when I know there will be lots of photos, and I especially love that it allows me to hold all of the Project Mouse goodies in my hands. I also love the dimensional feel of these pages, and how I can add embellishments, sequins, and ephemera from our trip! Let me show you details of each page.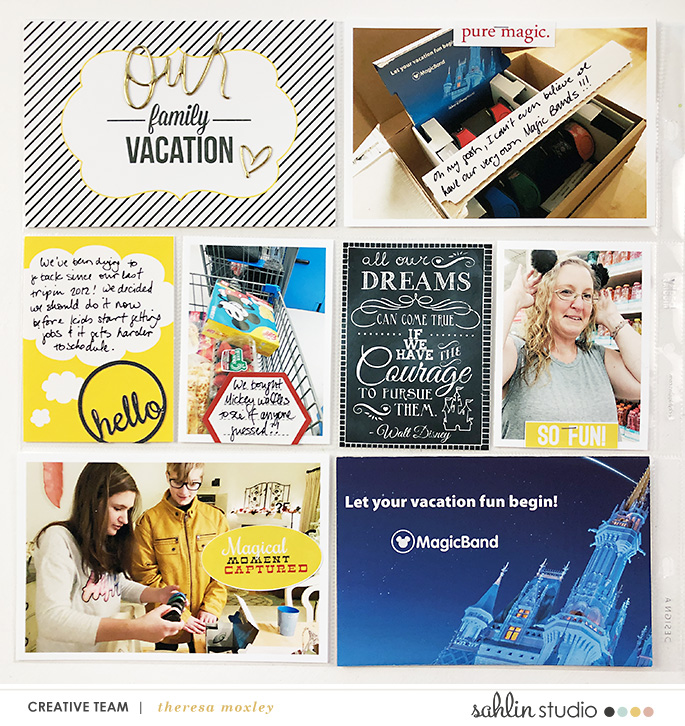 Of course, all the Project Mouse journal cards are so perfect just the way they are, and they are also designed to give you space to write and embellish as you like. For my title card, I added the puffy stickers to personalize this page. This page sets the tone for the entire album – who the people are, what we are doing, how big of a deal this is – so gold is in order. These puffy stickers are from Heidi Swapp.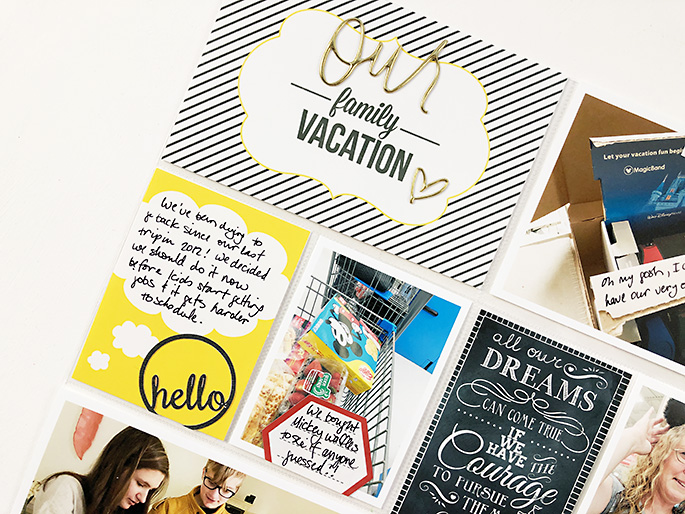 One of my favorite stories was how we gave several hints about our trip, just to see if anyone could guess. The Mickey waffles were a fun surprise – and no one guessed anything at all! I really liked the yellow speech bubble card, and I tied it into the rest of the layout with the circle hello. That is one of the digital elements in the Project Mouse: Elements kit, and I have printed and cut it using my Silhouette. Perfect!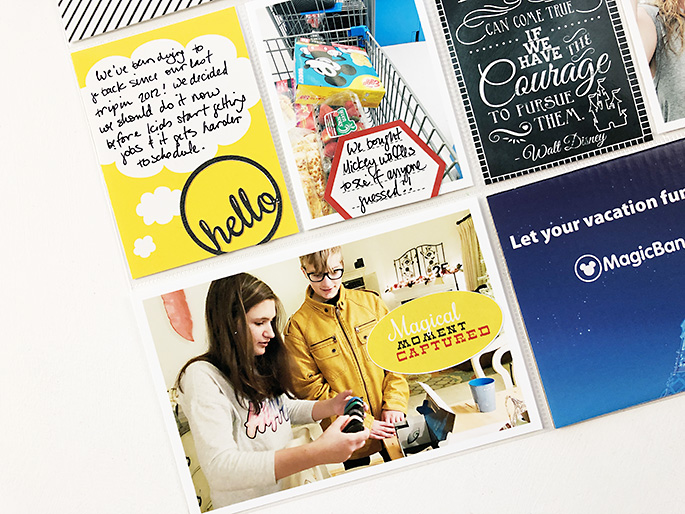 Our girls were so excited to open the package with our Magic Bands in them! Each person was able to select what kind of Band they wanted, and the excitement of opening that box was incredible! The box itself was too big to keep but I cut out the box top and slid it into one of the pockets. If you're like me and you like to keep everything, this is the way to do it!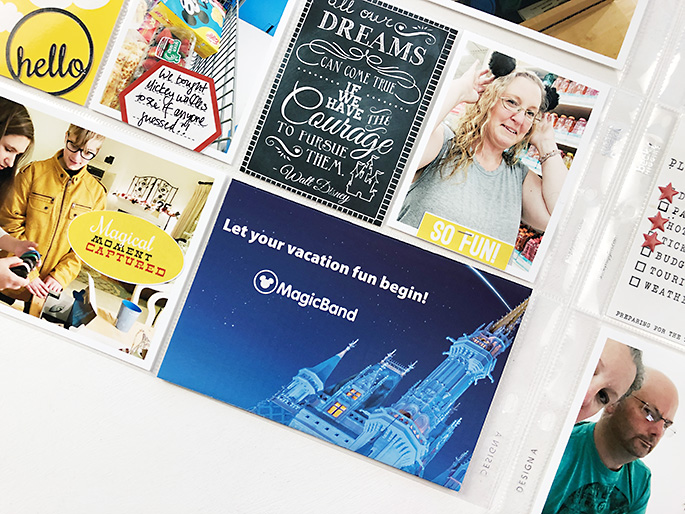 You know how they say if you keep thinking about something, you see it everywhere? Well Disney is the same. We saw Disney everywhere we went. I think the Mickey ears I was trying on were at a craft store, and even though I didn't purchase them, it was still fun to snap a photo and feel that anticipation again! I also loved including the word art from Walt Disney. So pretty.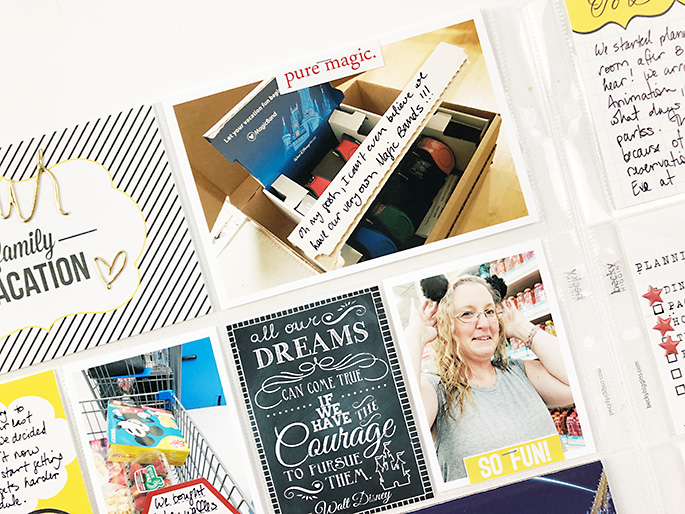 The top photo is our box with all the Magic Bands. I added a word strip to the top of the photo, and I used the diagonal line from the box top to add my journaling. On to the right side!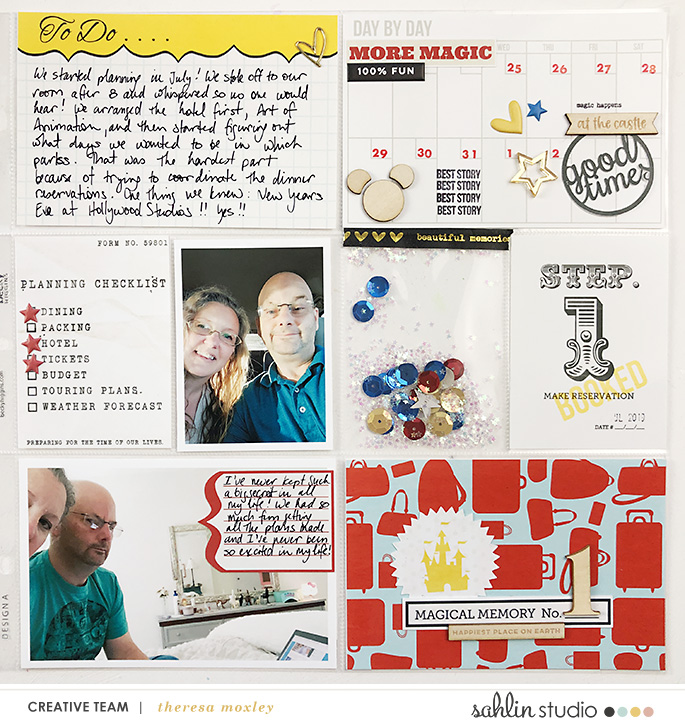 I had a bit more fun on this side, with the journal cards and the embellishments. Remember that everything on the page helps to tell the story and conveys the feelings you want to bring into your page. I began this side with a quick journal card to document how we approached the planning this time. I also added just a tiny gold puffy heart to the card.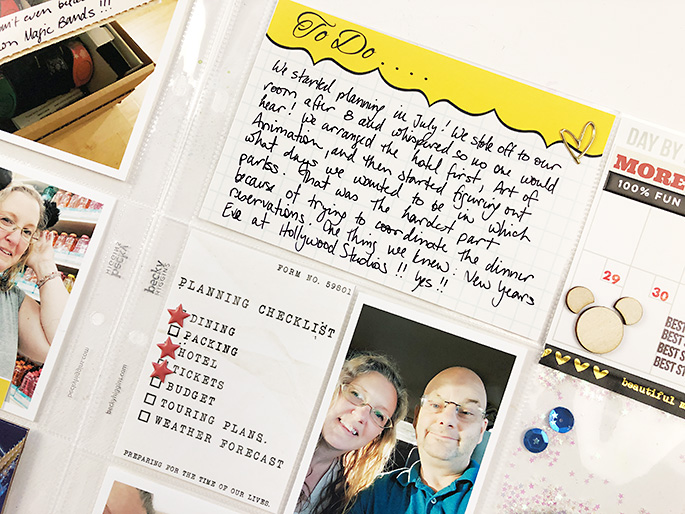 I am not much a list maker in my albums, but I do love using list journal cards as interactive cards! Here I included the Planning Checklist card, and added puffy stars to the things we were working through. The red hearts are from Elle's Studio.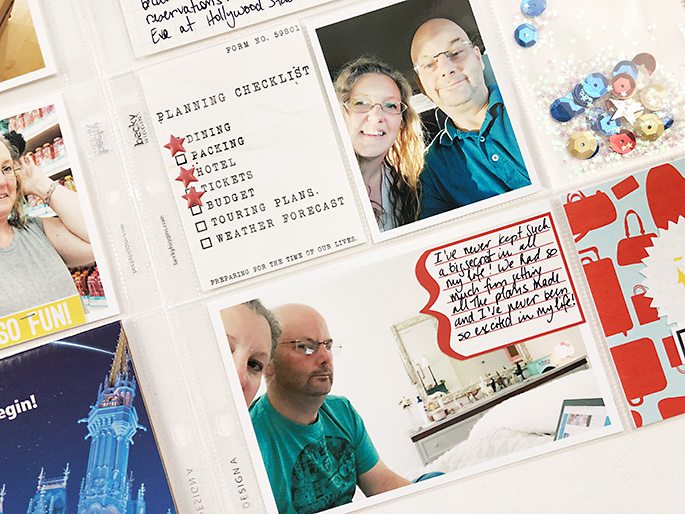 Mmy husband and I spent many evenings sneaking into our bedroom and whispering to get these details ironed out! That was so much fun and we treasure those moments so much. I added the bracket journaling spot to bring attention to this favorite photo.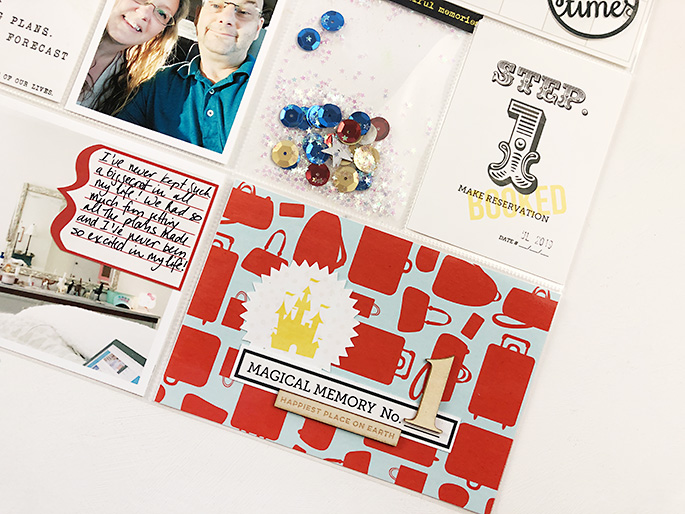 The suitcases on this card make me so incredibly happy. They are adorable and make a great filler card. I am making a point in this album to actually number our experiences, just for fun, so I added the Magical Memory word strip and a wooden number one. The castle starburst is a fantastic pop of yellow as well! Wood embellishments are from Elle's Studio.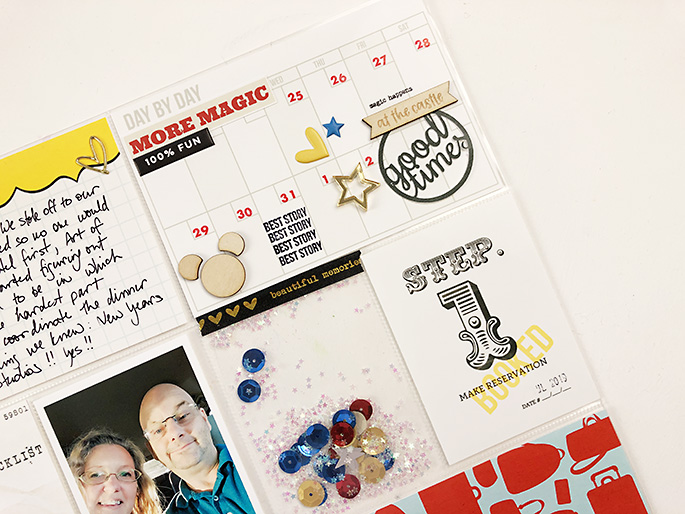 There are so many details here and I love them all. The layout needed a sequin pocket as a way of marking the celebration and excitement! The sequins are from my stash, but I know that the tiny white stars are Marth Stewart, and the silver stars are Paislee Press from a December Daily release several years ago. The calendar card was the most fun part of this layout! I stamped the numbers of the days we were planning to be gone – December 25-January 2, 2020 – and then added stamps and embellishments to highlight those days. The wooden Mickey, puffy star and heart, and the acrylic heart are Elle's Studio. The Best Story stamp is from Ali Edwards.
The Disney magic is so incredible, it just covers everything even before you leave on your trip! Thank you so much for traveling with us today, I hope you are inspired to document your magical trips as well. See you again soon!
Products Used: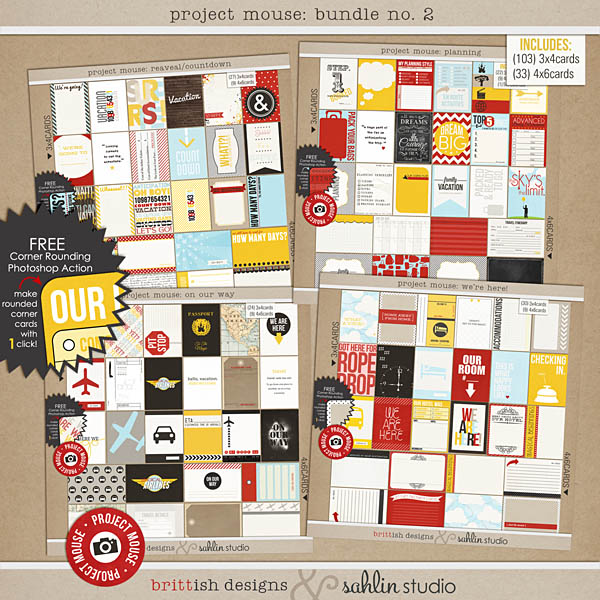 Project Mouse No. 2: Leading Up To The Magic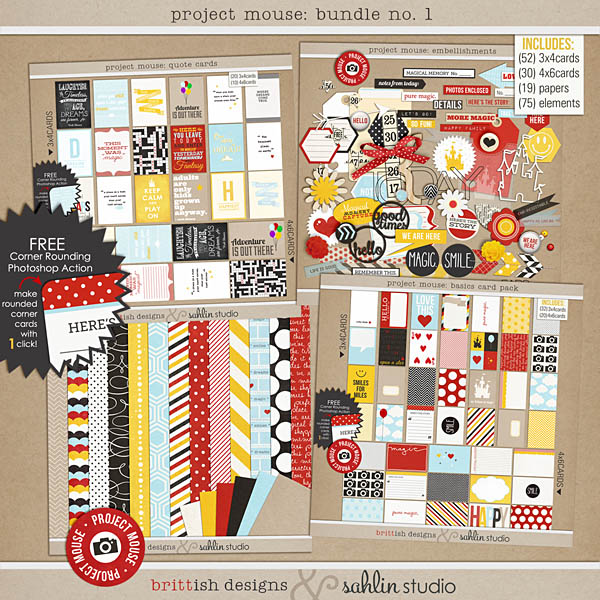 Project Mouse: BUNDLE No. 1 Basics by Britt-ish Designs and Sahlin Studio
Other products used in this layout: Gold puffy stickers: Heidi Swapp; Wooden embellishments, acrylic stars, puffy stars and hearts: Elle's Studio; Best Story stamp: Ali Edwards; sequins: Martha Stewart and Paislee Press; other sequins: miscellaneous.
This layout previously appeared on the Larkindesign blog, along with a full process video here:

Hi, I'm Theresa of Larkindesign from Kernersville, NC where I live with my four kids, one awesome husband, two cats, a dog, and a bunny. And occasionally our cat brings us pet salamanders. When I am not calming chaos I am in my studio, playing with photos and colors and embellishments. This scrapbooking thing is my passion and I love inspiring others to feel the same way!