Feel free to follow  Theresa Moxley (Larkindesign) on her journey in her Disney Project Life album each week! To look back on all of Theresa's Project Life / Project Mouse layouts, find my other posts here. Here is a look at the full layout.
---
Today I am sharing my next layout in my Disney Project Life album, Meeting Tinkerbell!!  Getting to meet Tinkerbell and Periwinkle was definitely a highlight of our trip!  Take a look at the full layout.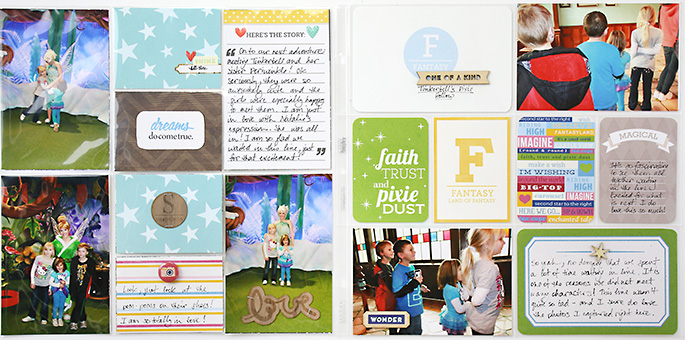 Choosing Photos and Journal Cards
As with all of my Disney layouts, I placed my photos in the pockets first and then determined which pockets needed filler and journal cards. The journal cards I used came from the Project Mouse: Fantasy collection (with exception of the "Here's the Story" card, from the Project Mouse: Basic collection.  All of the collections have print files, so it's so easy to print at home on your color printer.  (But I normally select the cards I want, then placed them on a blank canvas in Photoshop).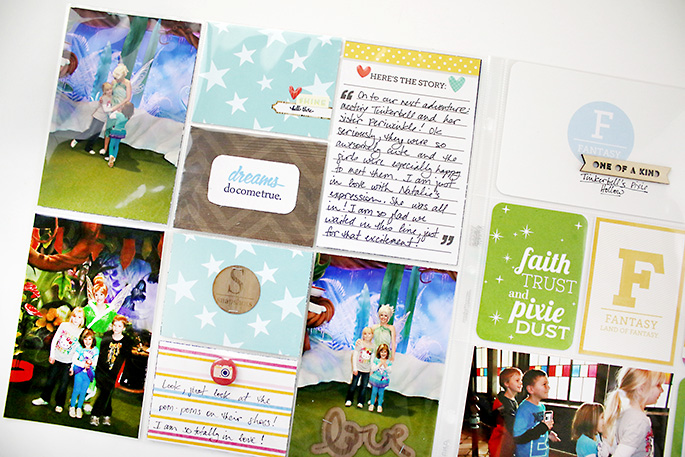 PAGE DESIGN TIP: Know when to "Go with the Flow" with page design challenges
One of the challenges I had in creating this whole album was having many vertical photos, as well as horizontal photos.  In the spread before this one, I had a lot of vertical photos, so therefore I had to make vertical photos work on the left hand side of this spread.  In order to make my photos work, it meant I had to create the layout out of chronological order (I have us seeing Tink, before waiting in line to see Tink!).  But I know our album will forgive us. Let go of the idea that everything has to be in perfect order, or that everything has to be perfect.  Enjoy the process and enjoy using your photos and products to create layouts you love!
Left Hand Side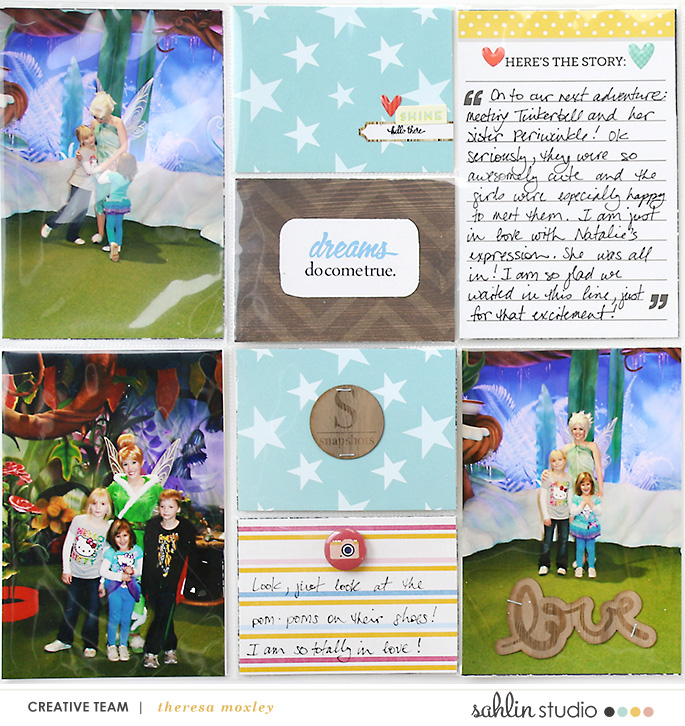 Getting to meet Tinkerbell and Periwinkle was a highlight of our trip! I loved every aspect of the Pixie Hollow – the pretty interiors and stained glass windows, the backdrops, and of course the fairies themselves are amazing! I am so happy to be able to include these photos in our album, and the Project Mouse Fantasy collection helps tell this story beautifully.
This striped card at the bottom of this layout is technically a 3×4 vertical card.  I altered it a bit in Photoshop to make it horizontal, quickly and easily, by copying the stripe and carrying it across the new canvas. Don't be afraid to make the Project Mouse cards what you need them to be!
Also, notice how in my journaling I captured something that caught my eye when we visited with Tinkerbell, the pom-poms on their shoes. I think I died from cuteness when I saw those! I also think it is important not only to write about the things that capture our children's imaginations, but also what captures us, as story-tellers. Our children will look at that card years from now and smile, knowing that little fact about me. We count too.
Right Hand Side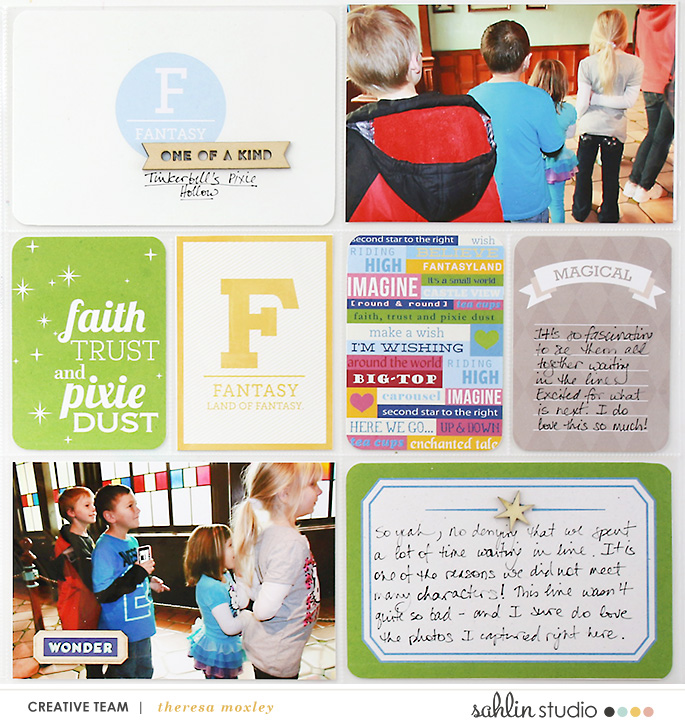 I left the center row of cards completely as they are on this side. Only a simple word strip layered onto a wood frame is layered onto the photo is all that is needed. Notice how I anchored this layout with the color green which is prominent in the photos, and I chose Project Mouse cards that also had lots of green in them. The green carries across the page and unifies the design.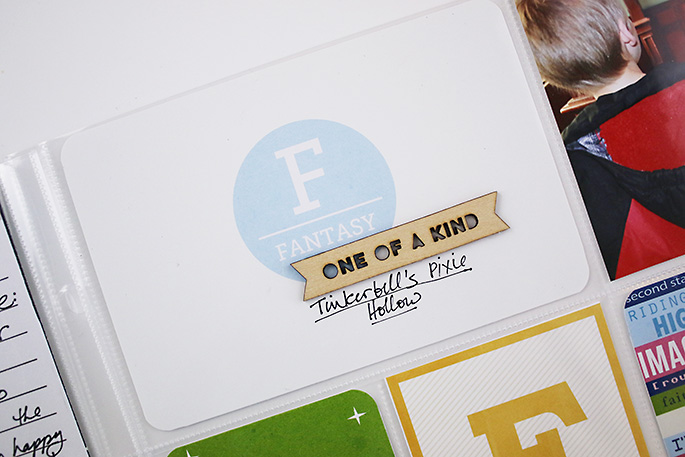 There was no way I was going to leave this Fantasy title card out of this layout. The card is perfect just by itself, and I decided to add a simple wooden banner and the location of where we were.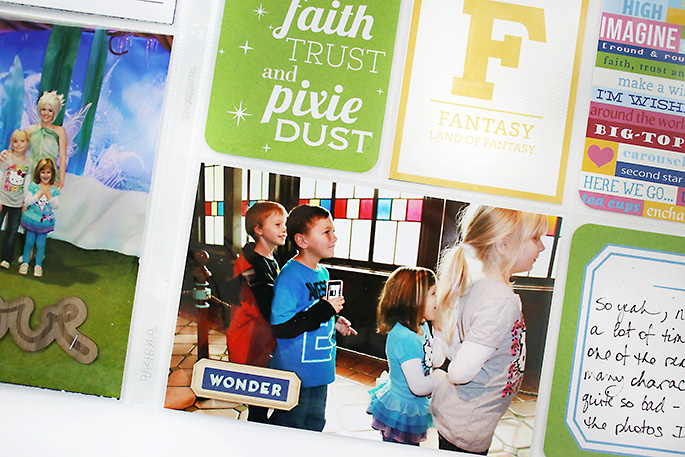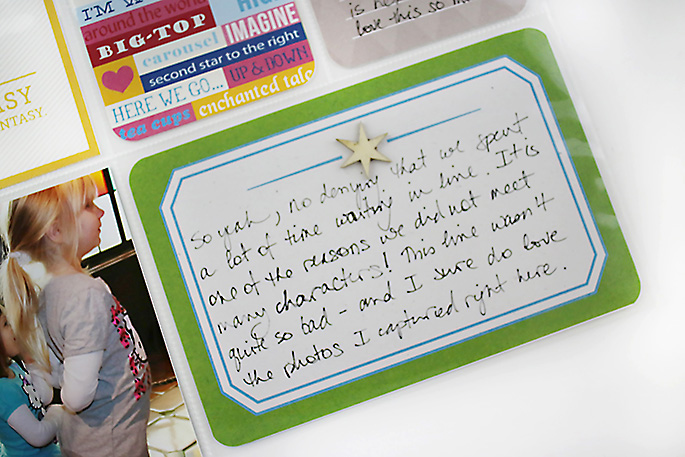 Like most people, waiting in line can be challenging with four kiddos (not all of whom particularly wish to wait in that line, I might add!) At Disney you do spend a lot of time waiting in line!  But it is totally worth it, every single minute, and I think the waiting is an excellent part of the Disney experience that we should try to capture and include in our Disney albums. Tinkerbell's Hollow is a great example of how Disney tries to help parents with the wait times, because there were lots of things to see and even an interactive screen to watch and keep them dancing in the line.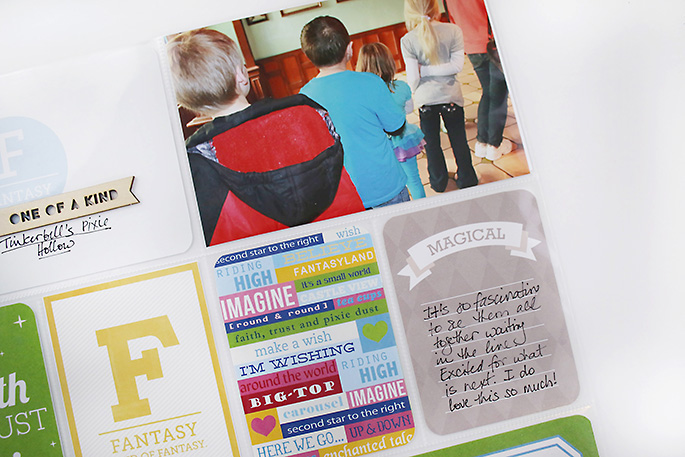 Then the multi-colored word card ties in all the colors together in such a fun, happy way. The grey card is a neutral place and also grey shows up in Emberlynn's shirt. All of these decisions bring the layout together in a cohesive way!
Products Used:
Project Mouse: (Fantasy) Journal Cards
Other Products used in this layout: Sahlin Studio – Project Mouse: (Fantasy) Journal Cards; Project Mouse Bundle No. 1 Basics; Gossamer Blue – wooden embellishments; Shimelle – Starshine word strip stickers and flair button; Doodlebug Designs enamel hearts; Teresa Collins-  wood grain label sticker; Webster's Pages star and wood patterned papers.
**This layout previously appeared on Theresa's personal blog and can be viewed here: Larkindesign, and also on YouTube here: Larkindesign on YouTube.
Save
Save
Save
Hi, I'm Theresa of Larkindesign from Kernersville, NC where I live with my four kids, one awesome husband, two cats, a dog, and a bunny. And occasionally our cat brings us pet salamanders. When I am not calming chaos I am in my studio, playing with photos and colors and embellishments. This scrapbooking thing is my passion and I love inspiring others to feel the same way!