Theresa Moxley here with the next layout in my Disney album.  Feel free to follow along on my journey each week! To look back on my Project Life / Project Mouse layouts, find my other posts here.
---
Today we are moving into Magic Kingdom, and discovering Tomorrowland.  When we entered the park we spent some time around the Castle, and then we made our way into to Tomorrowland.  So my layout represents this, the left hand side is our walk around the castle, and the right hand side is us entering Tomorrowland.  Take a look at how I documented this part of our day!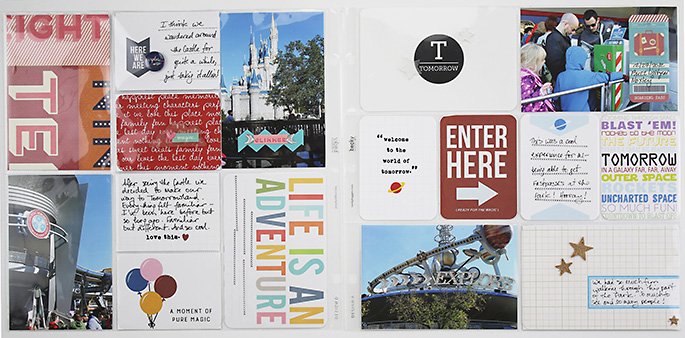 Choosing Photos and Journal Cards
I had one more photo of the gorgeous Castle to include, and then several fun photos around Tomorrowland that I wanted to include on this layout.  Once I had my photos chosen, it was time for the journal cards.  I choose cards from the Main Street, Tomorrow, and Basic Project Mouse collections to fill in my pockets.  Many of the cards I had already printed out on my home printer as soon as I had purchased them, so it was easy just to thumb through my collection and find ones I liked. Typically I print at home on my Epson printed on matte photo paper from Staples.
Left Hand Side – Magic Kingdom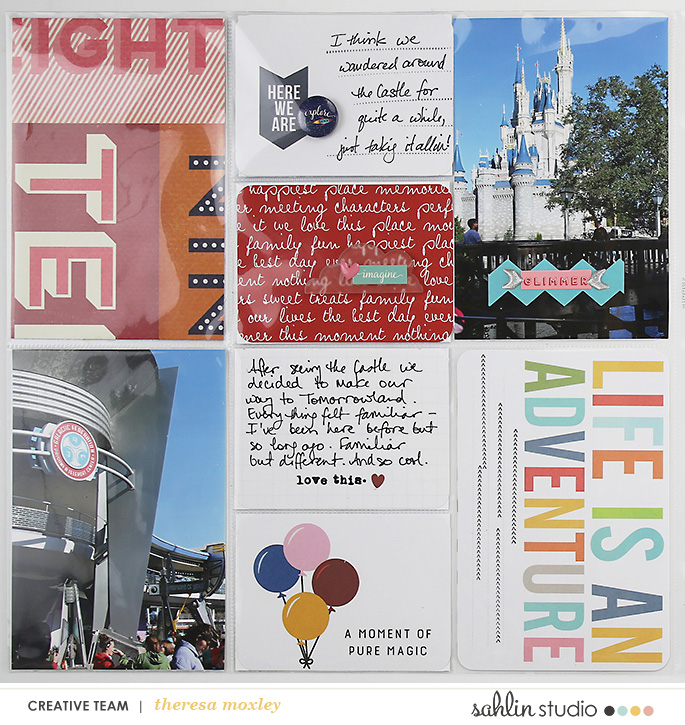 The left hand side of the layout uses vertical photos (I talk about how I dealt with my vertical photos in my process video that will be linked below), which left horizontal 3×4 pockets to fill. The "Here We Are" card and "word pattern" card are lightly embellished using flair and acrylic shapes. Also notice how I added journaling lines around the embellishment.
JOURNALING TIP: Try breaking up your journaling. A little bit here and there, together they tell the whole story. This helps to make the journaling portion of your page so much less overwhelming. Try to see each card and each pocket, as an opportunity to write a few sentences. Then the whole page will show the story you want to tell is there.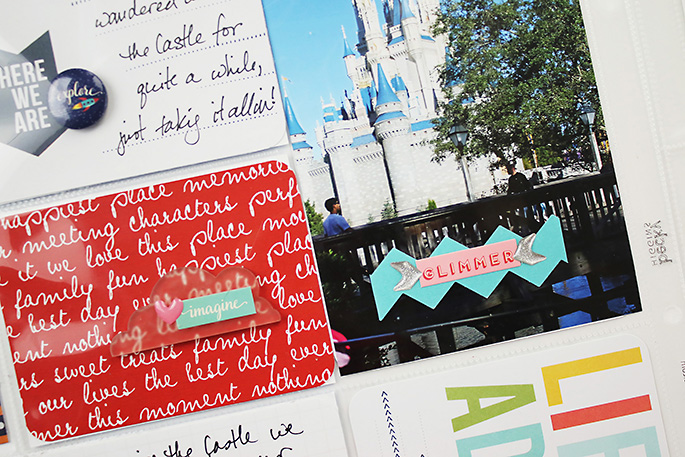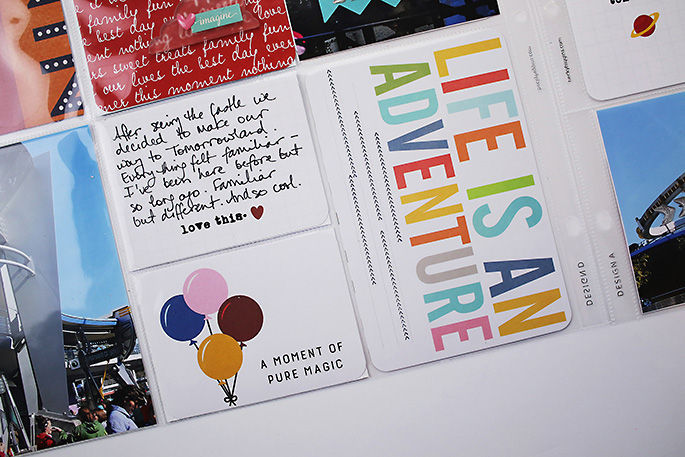 One of the things I love most about Project Mouse is how easy it is to coordinate with other products we know and love. Here I have included a card from the Becky Higgins Honey Edition Core kit and it ties in beautifully.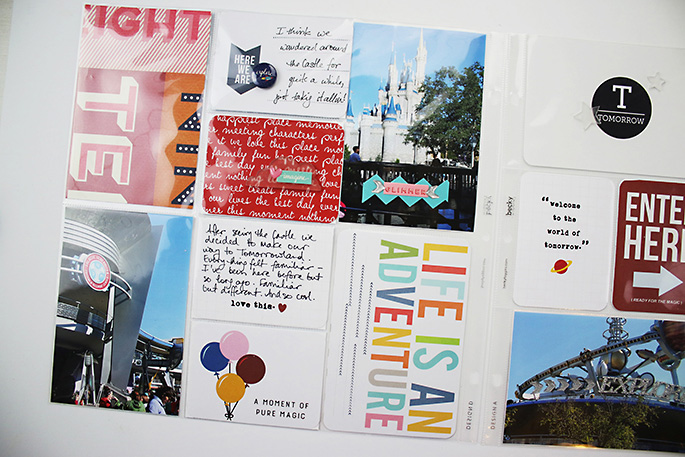 The excitement and joy of Magic Kingdom. We have arrived and gotten our bearings so let's have some fun!
Right Hand Side – Entering Tomorrowland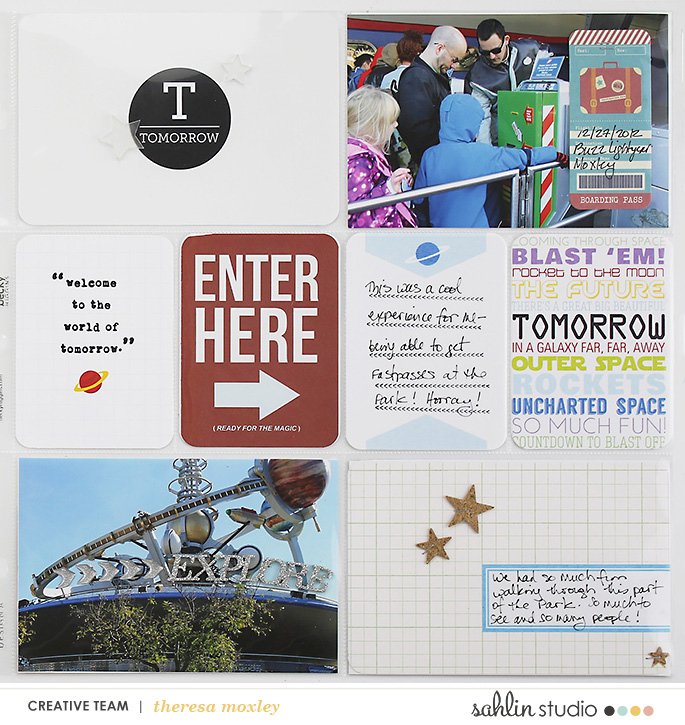 Tomorrowland is easily a favorite part of Magic Kingdom, and the Project Mouse:Tomorrow collection does not disappoint! The colors and sentiments are fantastic! It was so easy to choose these cards to clearly identify where in the park we are and what we are doing. For me, getting Fastpasses was a new adventure. I had been to Disney once in my life and that was 25 years ago! I love that I was able to capture this quick snap of our crew grabbing those.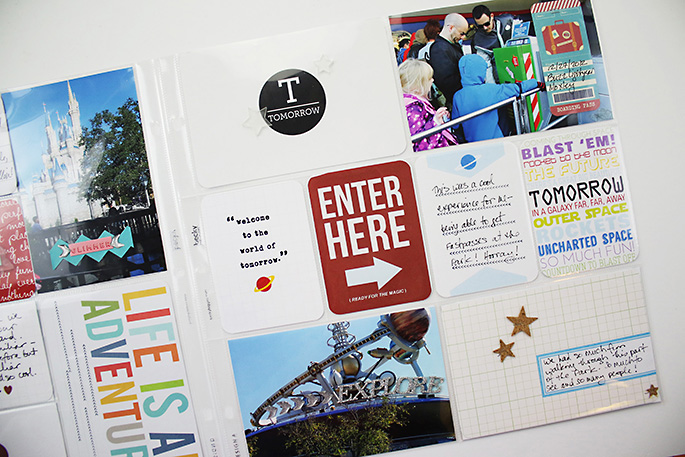 I LOVE digital products!! But while I love them, I also love the texture that adding physical products bring to our layouts. This is the beauty of hybrid – this Tomorrow card stands beautifully by itself, and it was fun to add these acrylic stars as well.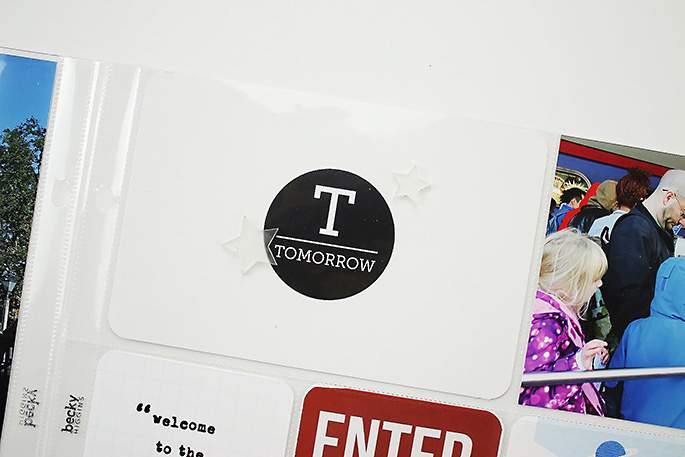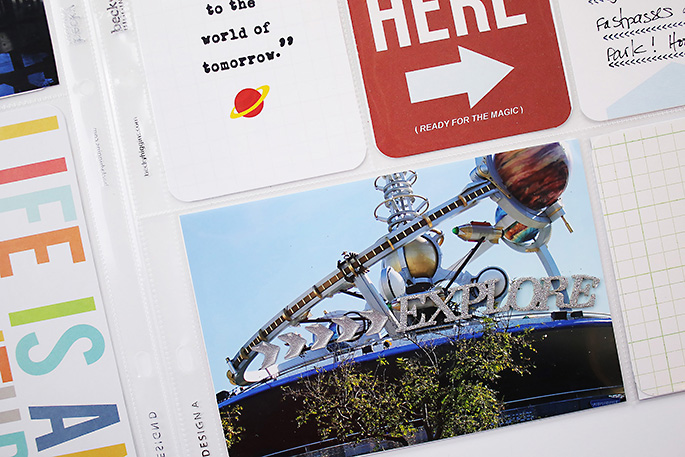 This photo of the Astro Orbiter makes me mega happy. (Fun fact: we did not ride this one because I am terrified of heights and open spaces!) But it still looks so space-aged.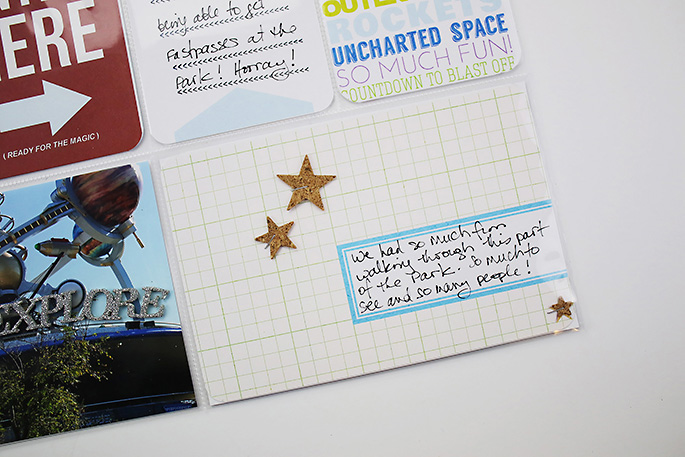 This simple label card provides so many opportunities to embellish and journal, so I chose to add dimension to the stars by adding these fun cork stars. Add journaling and that one is done!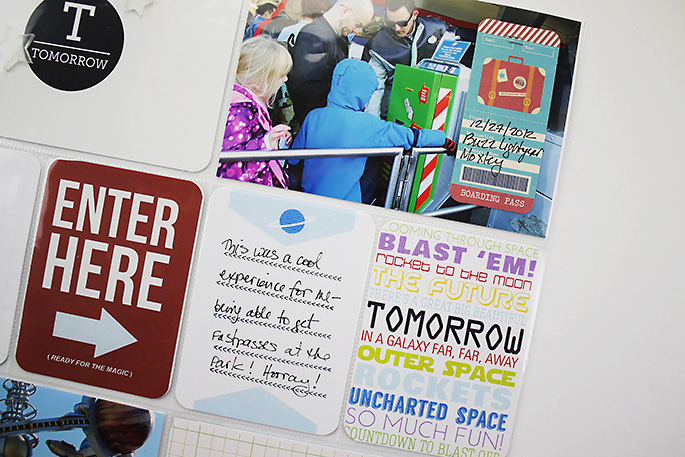 The subway art on this particular card makes it absolutely one of my favorites! No embellishment needed.
One more quick peek at the right hand side of this layout: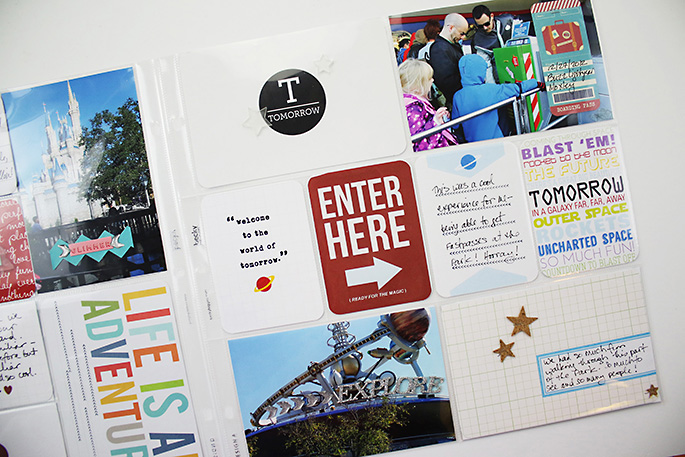 Thanks so much for following along on this journey! See you soon!
Products Used
Project Mouse Products: Main Street, Tomorrow, and Basic kits; Other products used: puffy stickers (Doodlebug); patterned paper, die cut embellishments, flair, and acrylic shapes (Shimelle Starshine); cork embellishments, silver glitter foam word (Gossamer Blue); filler cards and roller stamp (Becky Higgins Honey Edition core kit).
**This layout previously appeared on Theresa's personal blog, which can be viewed here: Disney Layout 04. There is also a process video which can be viewed here: larkindesign on YouTube.
Hi, I'm Theresa of Larkindesign from Kernersville, NC where I live with my four kids, one awesome husband, two cats, a dog, and a bunny. And occasionally our cat brings us pet salamanders. When I am not calming chaos I am in my studio, playing with photos and colors and embellishments. This scrapbooking thing is my passion and I love inspiring others to feel the same way!