Hi everyone, Theresa here of Larkindesign and I am so excited to share today's layout with you! Several months ago we learned that our very own Krista Sahlin was invited to create a Value Kit for Becky Higgins Project Life, and oh my goodness! The kit is amazing and I cannot wait to share it with you! This Value Kit is called, "Stories", and features all the things we love about Sahlin Studio: classic colors that go with everything, beautiful fonts and journaling prompts that fit.
Have a look at how I have used it here.
Full Layout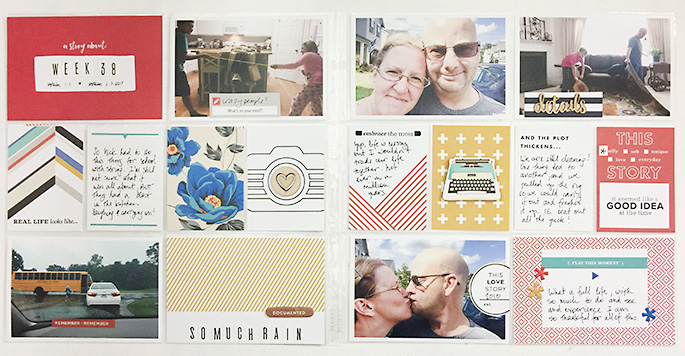 I am still plugging along in my 2017 album, so I was delighted to use this collection for my Week 38. At this point in my memory keeping, I consider my photos to be neutral and therefore don't worry about whether the colors match with the kit I am wanting to use. I did go through the Stories kit and pull all my favorite cards. My best advice for using up your supplies and getting them onto your layouts is simply to use your favorites first. Sometimes it might mean using the ones you are tempted to set aside and never use!
Left Side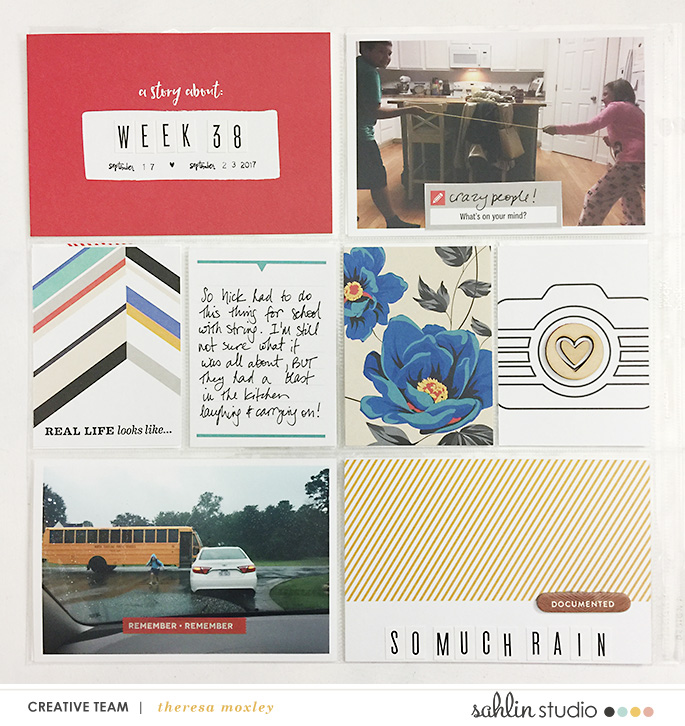 Two cards in this kit that are most definitely favorites for me are the red date card and the blue floral card. Those became the jumping off point for my card selections, and from there I tried to repeat the colors across the layout. The date card is always the easiest place to begin a layout, because you already know what needs to go on the card. I have added my date using some alphabet stickers from Studio Calico and a roller date stamp from Heidi Swapp.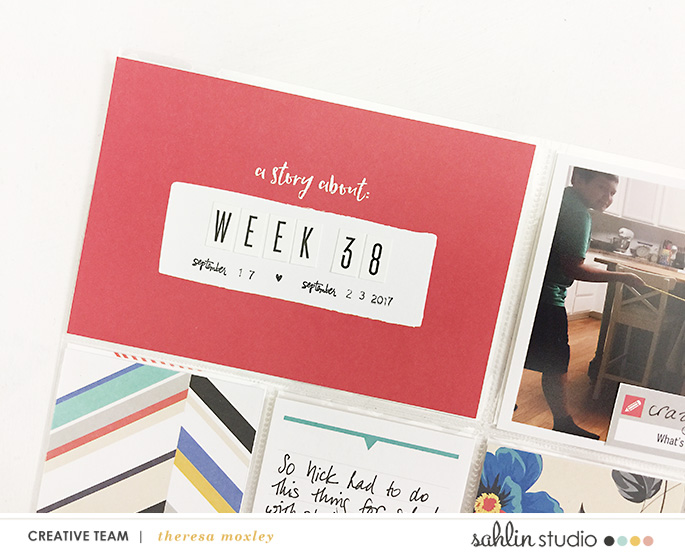 The chevron caught my eye as well, because it is a perfect opportunity to repeat the beautiful colors in the kit! I added a simple stamped sentiment to the card as well. Don't forget that stamping absolutely counts as your journaling on your layouts, and is a great way to convey feelings and emotions the photos invoke for you.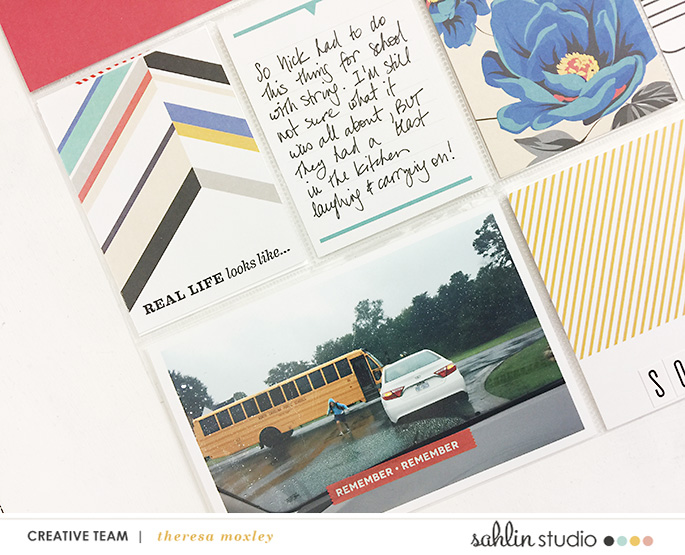 I also repeated the alphabet stickers to journal about how much rain we were having that week. The Documented chipboard piece is from Crate Paper, and I selected it to repeat the wood accent that appears several times around the page as well.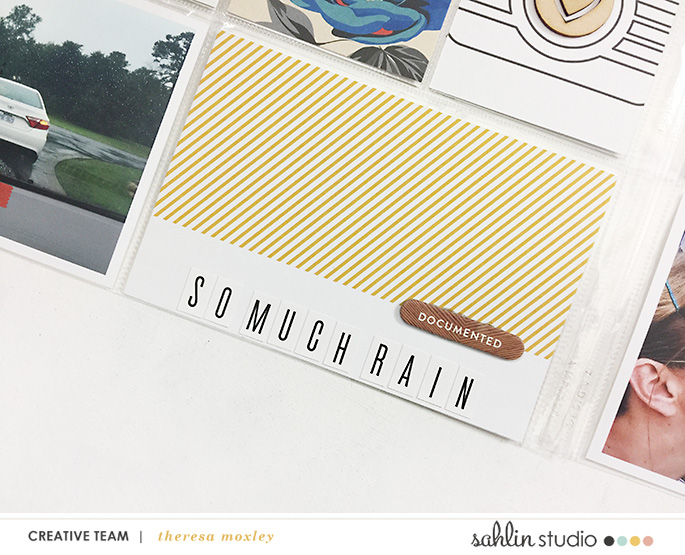 This photo of Nick and Natalie in the kitchen is such an every day moment and makes me incredibly happy that I do this project! Nick had some sort of string assignment at school, and he and Natalie were laughing and carrying on. When you have four teenagers in your home it can feel like you home has been taken over by wild animals, but it is also the source for so much laughter and joy! Notice how I cut out a part of one of the journaling cards and layered it as an element at the bottom of the photo. This is my favorite thing about the Value Kits: you receive so many cards that you can cut them up and layer them and still have lots left over for more layouts in the future!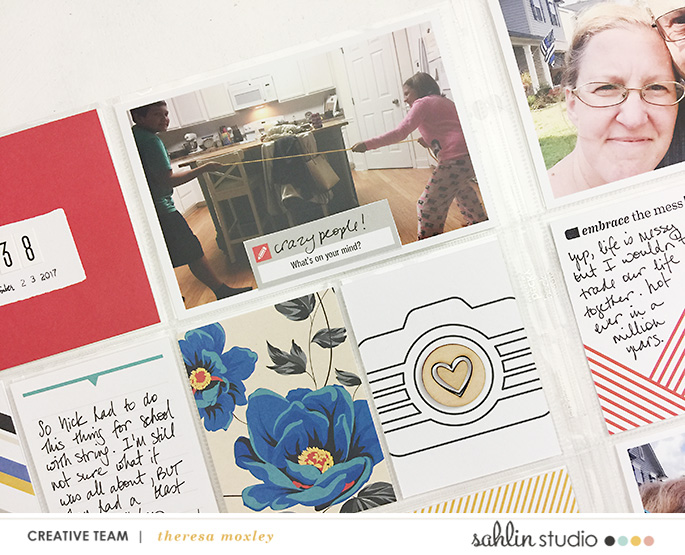 On the right hand side I have included photos of me and my husband Alan, just taken impromptu in front of our house. I love the simplicity of these photos, we have quite a collection of them over the years and they are treasures. During this particular week we were also deep cleaning the house, so you can see the guys trying to put the rug back in the living room.
Right Side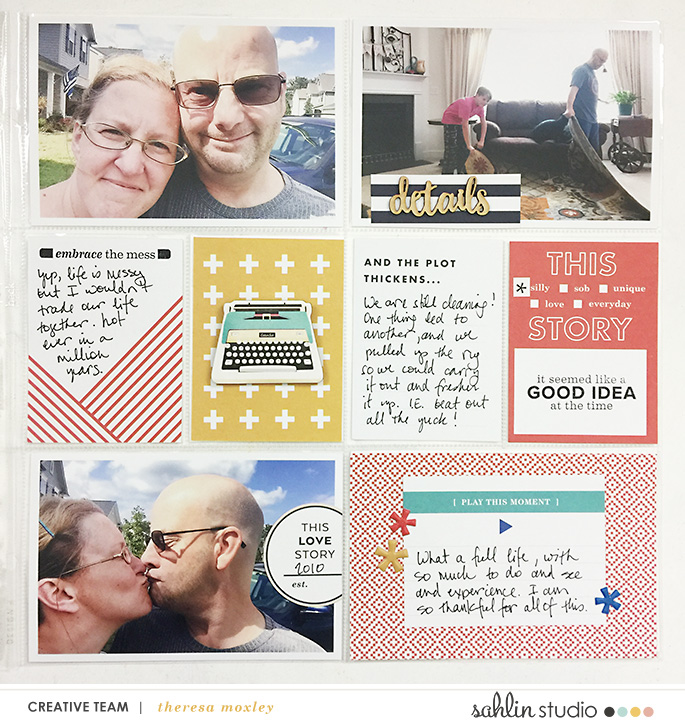 The deep cleaning was actually quite an event and we were most definitely at the "this seemed like a good idea" point. Lots of laughter and crazy moments, and one single photo plus the fun journaling cards makes it a forever memory right here in our album. These are some of the less glamorous moments of life, but still so precious.
This card is also layered using different cards from the kit. I wanted to repeat the red again, and also tie in the turquoise. I also added a few epoxy asterisks (Studio Calico) which also repeat colors and add fun embellishments to the card. I have also been recently adding affirmations to my journaling, reminding myself of the beauty in life, the beauty in laughter and families and children and in love.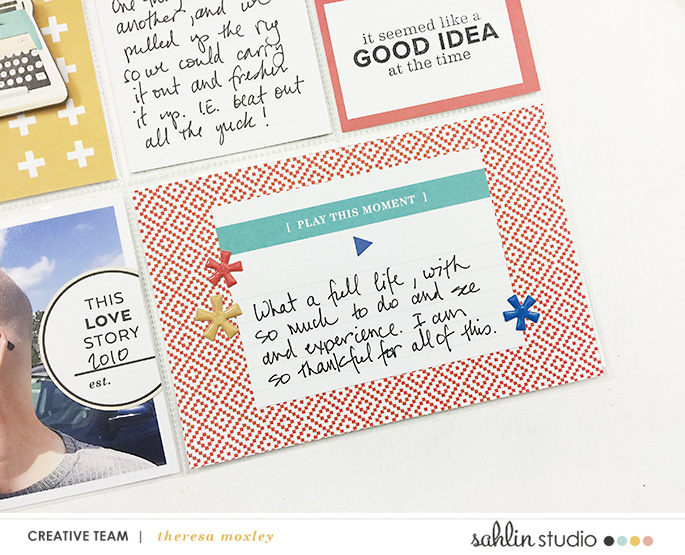 The Chipboard typewriter here is also from Crate Paper. I added it to repeat turquoise one more time on top of the yellow card, and I love those colors together! All of the colors in this kit speak to me and all come together to create such beautiful pages.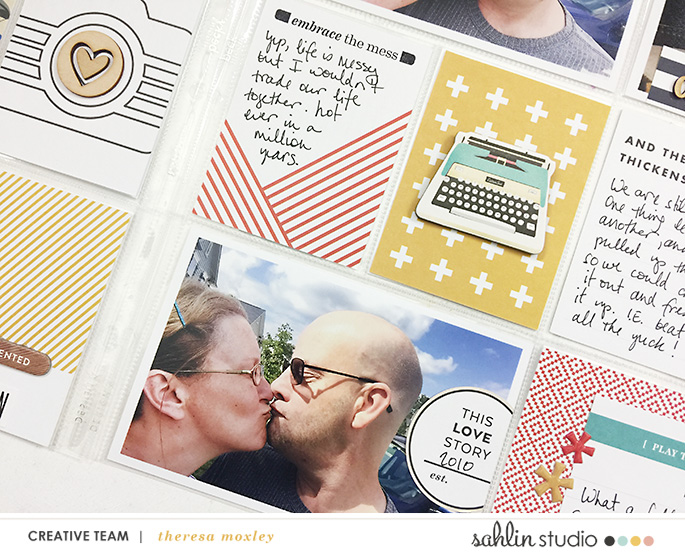 Have you had a chance to pick up the Stories kit? I hope this has inspired you, it is definitely a kit you do not want to miss and you will love using it in your layouts!
~Theresa
If you'd like to see my process for this layout, you can view it here:
Products used in this layout include:
Becky Higgins Project Life Stories Value Kit;  OR Project Life Stories Value Kit DIGITAL
Other products: Studio Calico wood veneer, stamps, epoxy asterisks and alphabet stickers; Felicity Jane wood veneer hearts; Elle's Studio details wood veneer; Crate Paper chipboard pieces.
Hi, I'm Theresa of Larkindesign from Kernersville, NC where I live with my four kids, one awesome husband, two cats, a dog, and a bunny. And occasionally our cat brings us pet salamanders. When I am not calming chaos I am in my studio, playing with photos and colors and embellishments. This scrapbooking thing is my passion and I love inspiring others to feel the same way!