Hi everyone, it's Theresa Moxley here and today I wanted to share a layout I've created in my Bermuda honeymoon album, using the Project Mouse Paradise collection!
Do you ever have a project that you put on the shelf for a while? And you know it's there and you feel bad that you haven't worked on it in a while, but life just gets in the way and other projects take precedence and well, months go by. And then, all of a sudden, you see the perfect product or collection and you are smitten so you reach for that project because you know it's perfect! I absolutely love when that happens, and my Bermuda album is that project and the Paradise collection is just that collection. Have a look!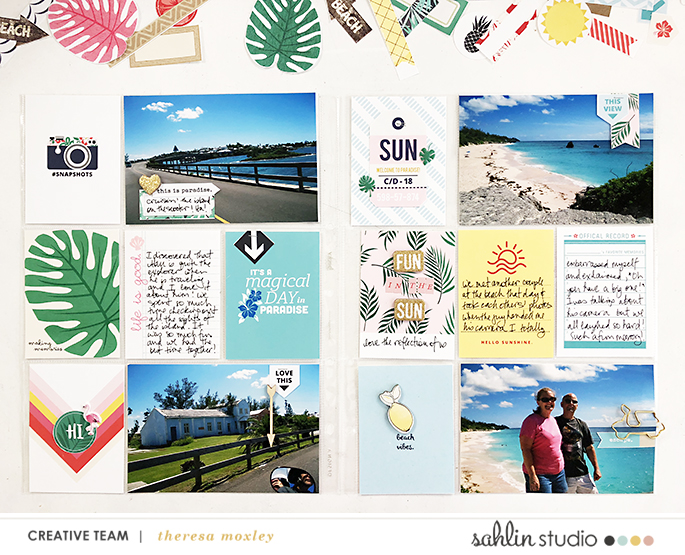 In 2012, my husband Alan and I got married and we ventured to Bermuda on a most amazing honeymoon. For this layout I began with some of our photos we took while we were exploring around the southern end of the island. The beach we are visiting is called Horseshoe Bay.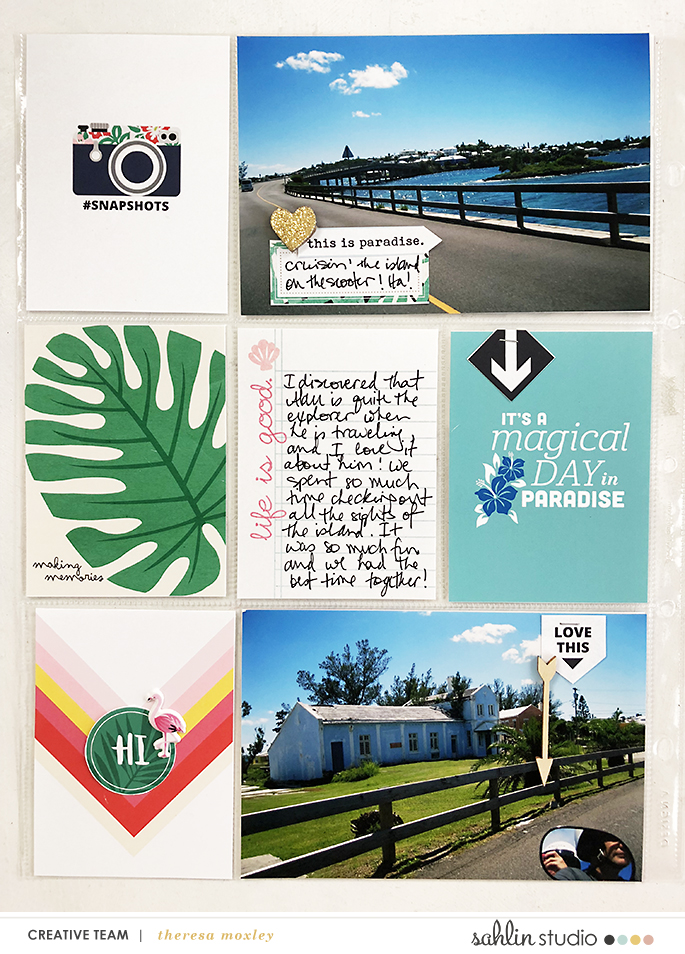 Of course the sights and views from the island getaway are so happy and bright, and the colors of the Paradise collection compliment these photos beautifully. I love the pinks and blues and greens, so I chose my favorite 3×4 cards and printed them out. Whenever I choose my cards, I always select my favorites first and try to repeat colors or motifs across the layout.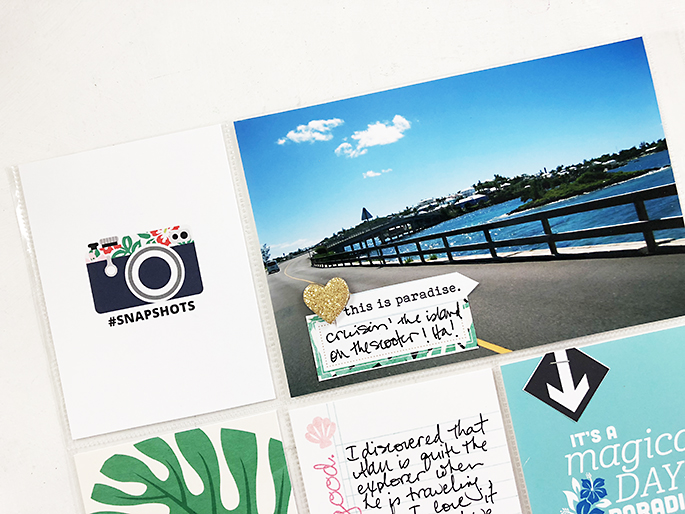 Alan and I rented a scooter for our adventures around the island, because on Bermuda there are no rental cars. I was terrified at first, to be completely, hilariously honest, but by the end of the week I was comfortable enough to take photos en route!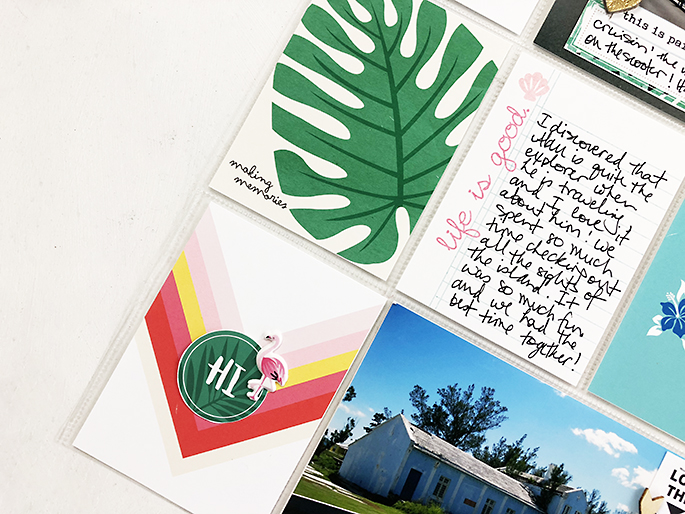 I made sure to include several journaling cards around the layout to help me tell these stories. This is my favorite part about pocket pages: opportunities to add little stories here and there. The Life is Good card here is center of the layout and draws your eye right to this story. I have added just a few embellishments on this side of the page, especially the printables that are included in the kit. They are so easy to print and cut out!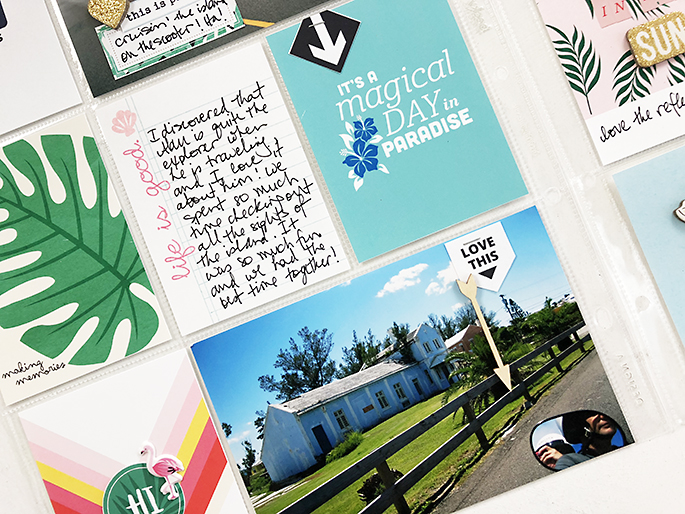 This little photo at the bottom of this page is one of my favorites because it was completely accidental! I love seeing mine and Alan's reflections in the rear view mirror, me with the camera and him focused on driving. I've used the arrows to point to that tiny corner.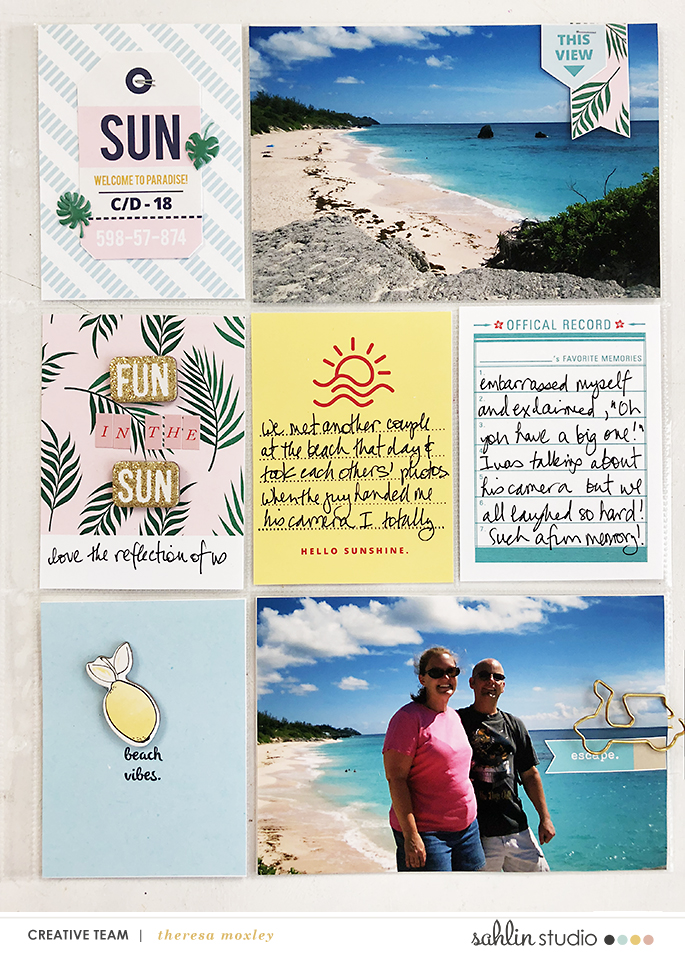 This side of the layout features Horseshoe Bay, which was definitely a favorite place we found on the island. I also had a really funny, embarrassing story so I've used two journaling cards for this. One of my favorite things about the Paradise collection are the arrows that appear in various ways. I have absolutely used those arrows to lead your eye around the layout.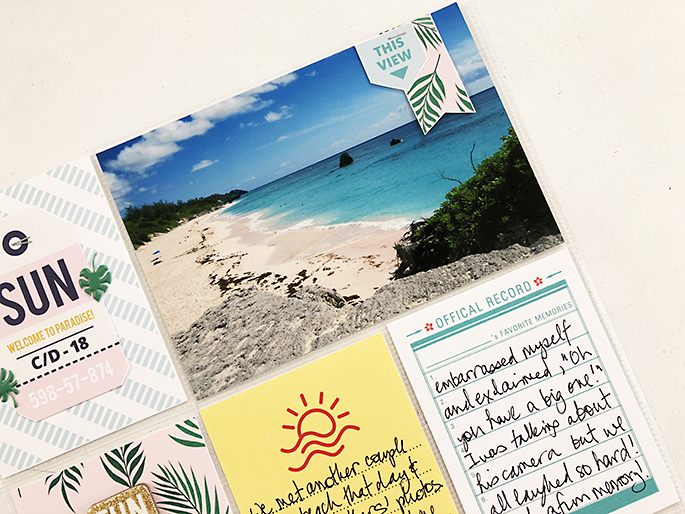 Because I love hybrid scrapbooking, and I love adding dimensional items, there are just a few tiny physical embellishments that can be found here and there as well. The scooter clip will live on the outside of the page protector and adds a fun element to this photo!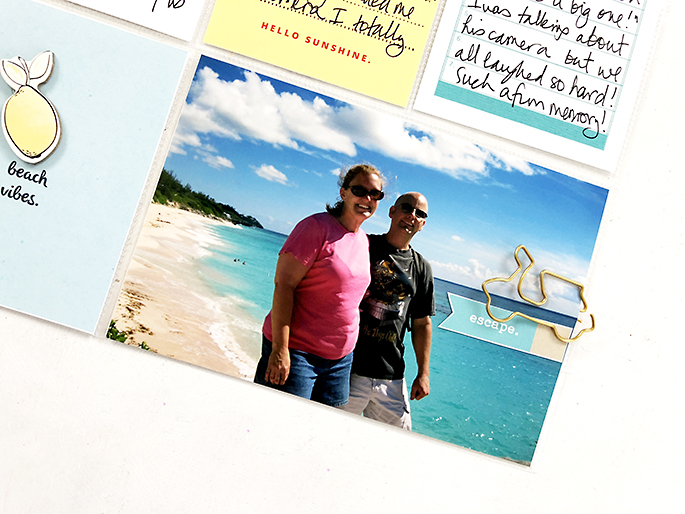 This collection makes my heart so happy with all the colors. Notice the teals of the water, the pinks in my shirt, the sky blues, and the yellow of the sunshine! You absolutely can't go wrong!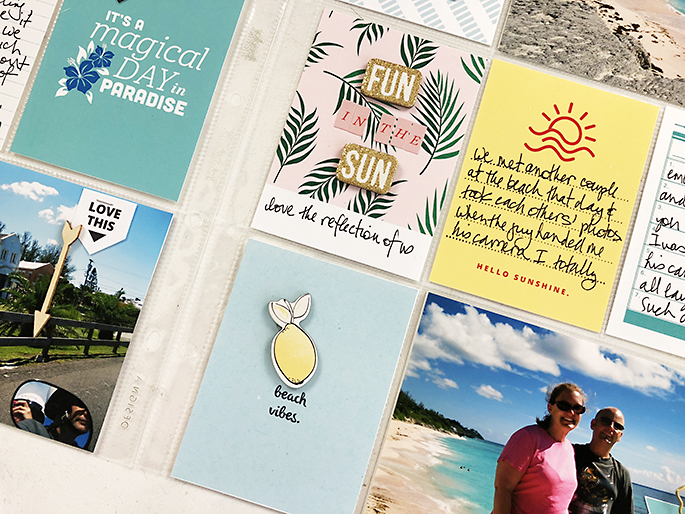 Watch My Process Video
Would you like to see more of my process? I have a process video that you can view here:


So what is your project that has been sitting on the shelf for a while? I encourage you to pull it down today and create something! Also don't forget to pick up this beautiful collection and find some beach photos to scrap. You will be so glad you did!
~Theresa

Product used in this layout: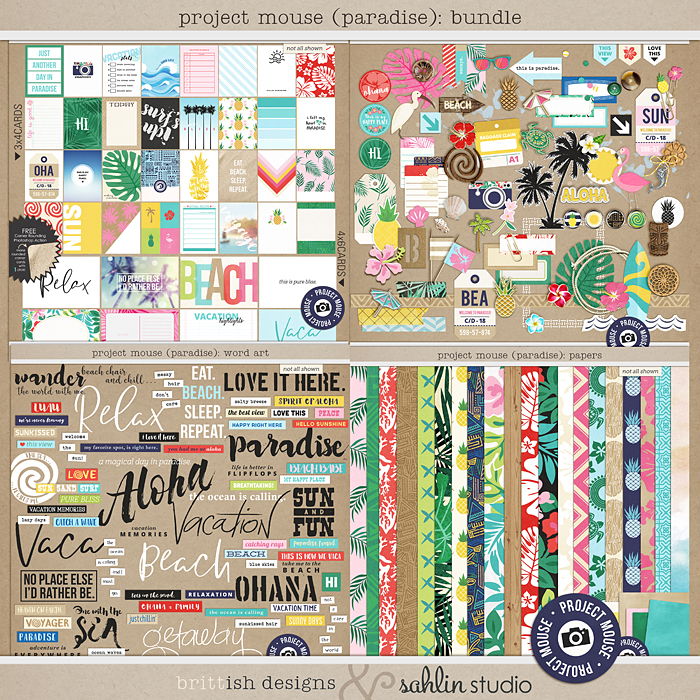 Additional products used in this layout: Sahlin Studio Project Mouse Paradise Full Bundle, Project Mouse Paradise Journal Cards; Project Mouse Paradise Elements.

Physical embellishments: Crate Paper Oasis chipboard and puffy stickers; Studio Calico alphabet stickers; miscellaneous scooter paper clip and wood arrow from my stash.
Hi, I'm Theresa of Larkindesign from Kernersville, NC where I live with my four kids, one awesome husband, two cats, a dog, and a bunny. And occasionally our cat brings us pet salamanders. When I am not calming chaos I am in my studio, playing with photos and colors and embellishments. This scrapbooking thing is my passion and I love inspiring others to feel the same way!