Hello Lovelies! It's Theresa here and today I want to show you seven quick ways to create dimensional, physical embellishments with your digital products. Specifically, we will be designing embellishments for Document Your December, so you will be ready for the Holiday Season!
Creating hybrid embellishments has long been a favorite thing for me, because it allows you to stretch your beautiful digital supplies, and it's also really cool to see what sort of ideas you can create. Here are a few products we will be using to help us today:
Supplies:
• Your Favorite Digital Collections (I will be using Sahlin Studio December Kit, Mad For Plaid, December Days No 02, December Days No 03, Home For The Holidays, Oh What Fun!, Making Spirits Bright, and Santa's Workshop)
• Vellum
• Glossy Accents
• Kraft paper
• Your Silhouette or other die cutting machine
• Of course your own imagination and creativity!
Process:
To start with I recommend simply organizing some of your digital elements onto a blank canvas to print and cut using your Silhouette. Cutting out elements onto vellum is my favorite way to add a new texture to hybrid scrapbook layouts!
Vellum Embellishments: For my first example I have printed and cut a deer head onto vellum. The Mad For Plaid collection has some fantastic cut files that you can overlay a pattern onto, print with your printer, and then have your Silhouette cut it out for you. For the layout below I slid the deer head into a pocket page so he will float on the page, and added a festive bow so he really sparkles.  Once your deer is cut out, it can also be layered on top of any kind of material you like: chalkboard card stock, burlap, ribbon, or even a gold medallion would be stunning.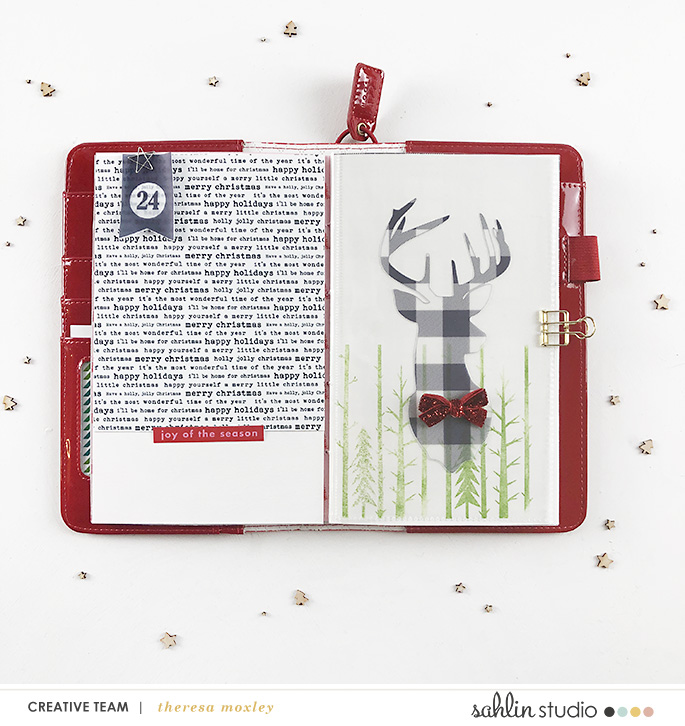 Vellum Papers:  Check out this Foundation Page I created in my 2017 album, using a patterned paper from the December Kit. This patterned paper had a white background and the loveliest floral pattern, so it was perfect to print onto clear vellum. I recommend printing on a printer-friendly vellum (Grafix is an excellent course) and use your Draft setting on your printer. I punched it to fit into my album and reinforced the holes just to make sure they last.  Then embellish as you wish.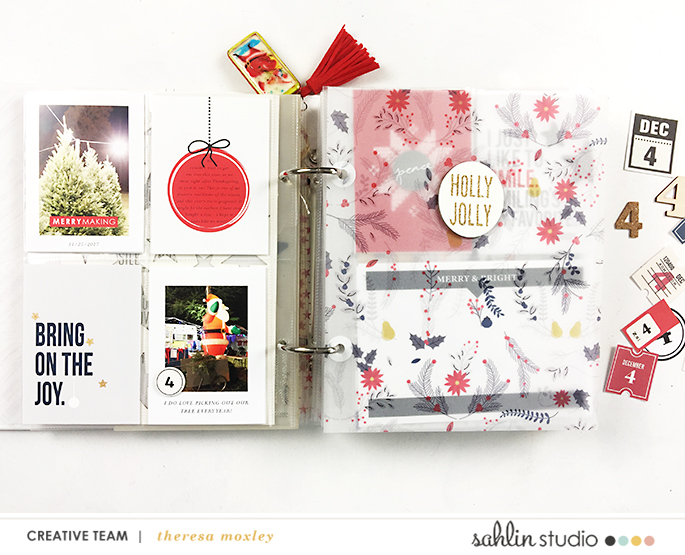 Adding Number Bits:  If you are documenting Your December in a Daily format, then you probably love having fun numbers to use in your projects each year! One of my favorite techniques is to create my own number tabs, and of course Sahlin Studio has so many amazing options for numbers! My personal favorites are the December Days No, 02 + 03. In 2016 I created these: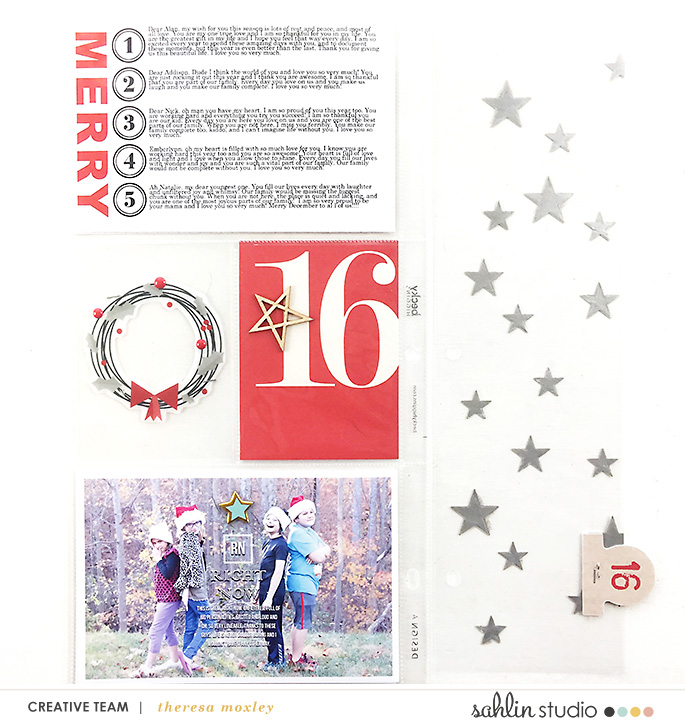 These are so easy to make, so let me share how I did it. First select that number you want to use, preferably one that is tab shaped in some way. Open it up in Photoshop and enlarge your Canvas size so you have space to double the tab. Copy and Paste the tab so you have two of them, and then simply rotate the second tab around so the top of it touches the top of the first one. You want them to overlap a bit. Save that as a new file, add it to your Print and Cut file, and then you will be able to open it in Silhouette. The Silhouette can now Trace both tabs as one object. Once it is cut, simply score and fold it over, and Ta-Da, you have a tab!
Vellum Washi Tape or Elements: Another favorite for me is making vellum washi strips. Just like we printed the vellum patterned paper, we can also print the washi strips and even strips of patterned paper onto vellum. Cut the strips out, and if you wish you can tear the ends of the strips so they really do look like washi strips on your layouts. You can use most tape runners to adhere the strips to your layout, the pattern will hide your adhesive.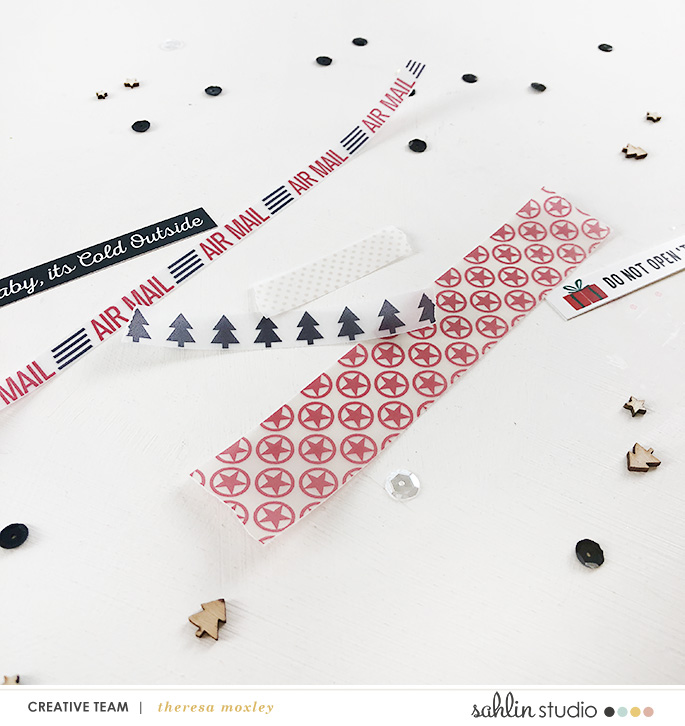 Print on Kraft Paper: If you like the look of Kraft paper in your projects, you will really like this next tip: printing tags on kraft paper instead of white card stock. I recommend selecting tags that have a white background, and those are so easy to print and cut out. These have been embellished quite simply using a bit of washi tape, twine, and just a few tiny enamel stars. These are so handy for adding quick journaling throughout the month of December!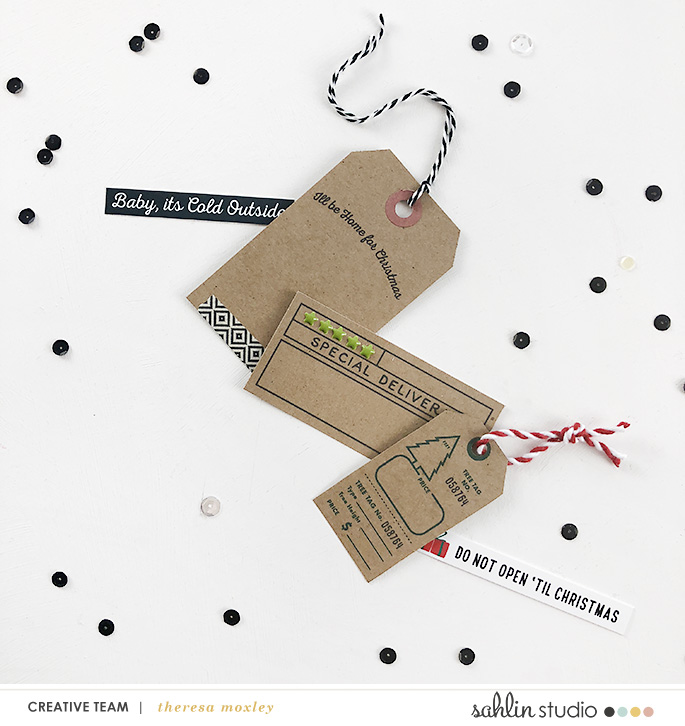 Layer Your Digital Embellishments:  Lastly, digital elements can make the best layered embellishments! Here is an example of a banner I made in 2016 using the Oh What Fun kit. For the banner in the upper left, I printed it twice and then cut the red portion out and adhered it to the first part using pop dots to add dimension. So simple!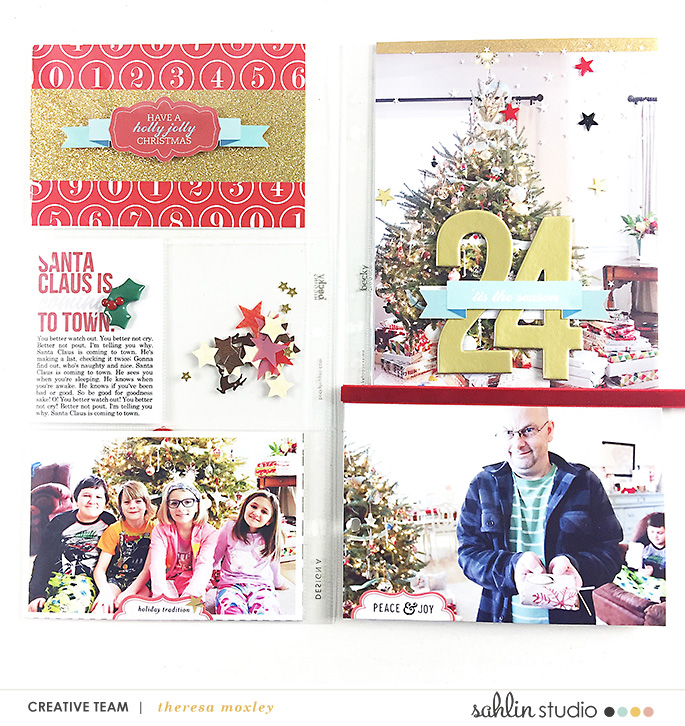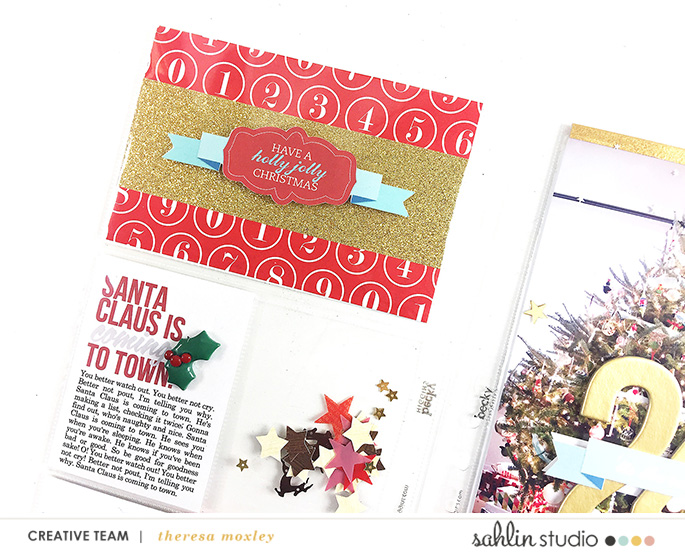 I hope these have been some inspirational tips to stretch your digital supplies this December!
Products used in this post include: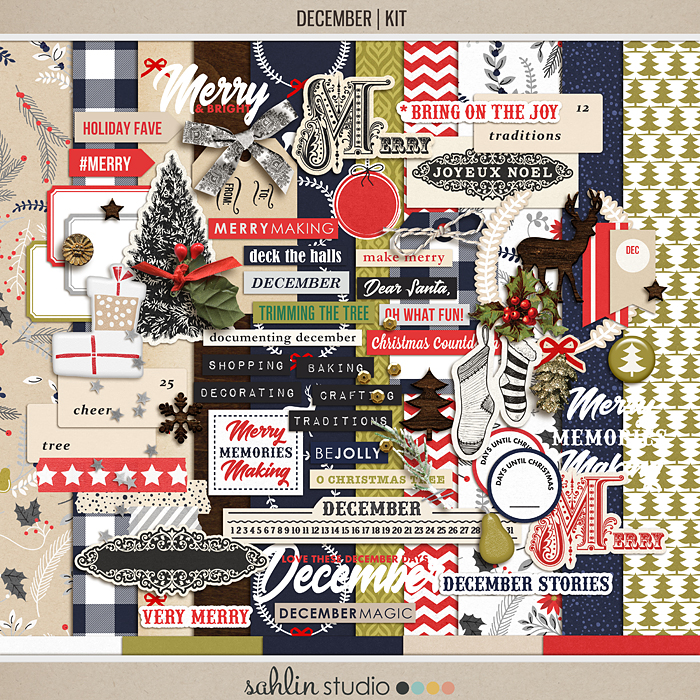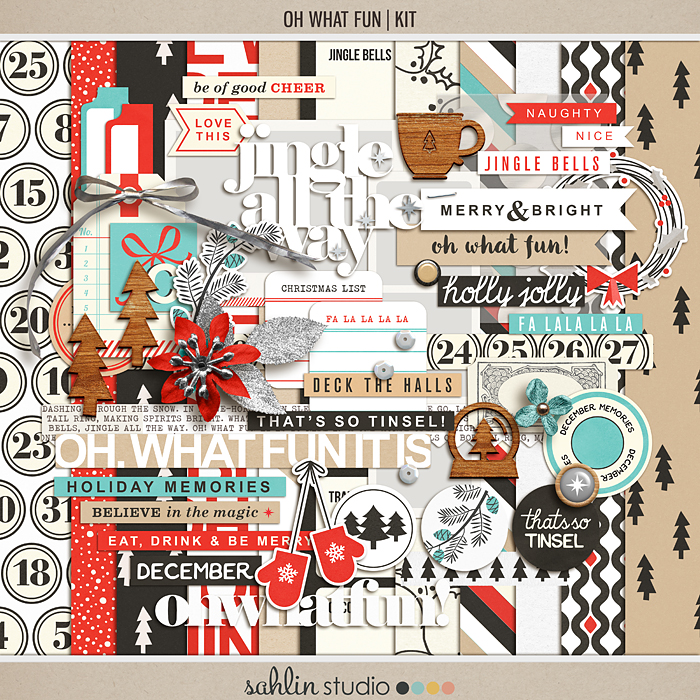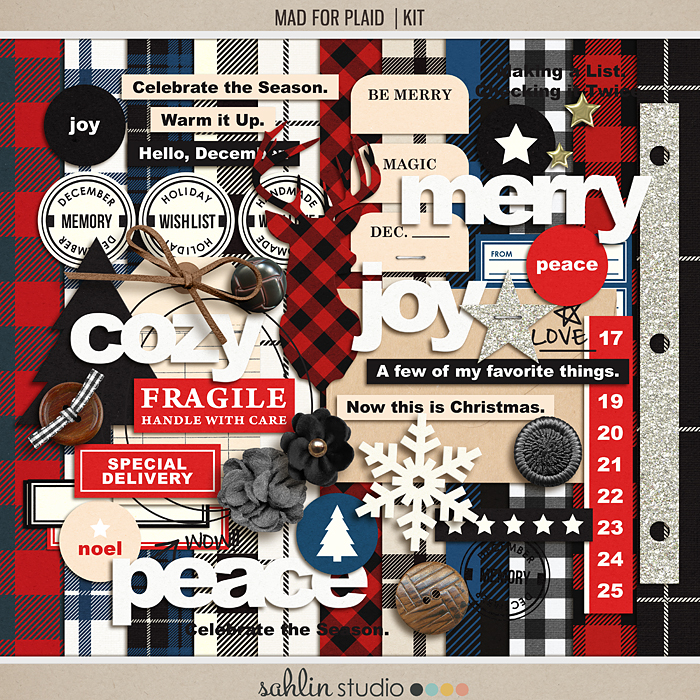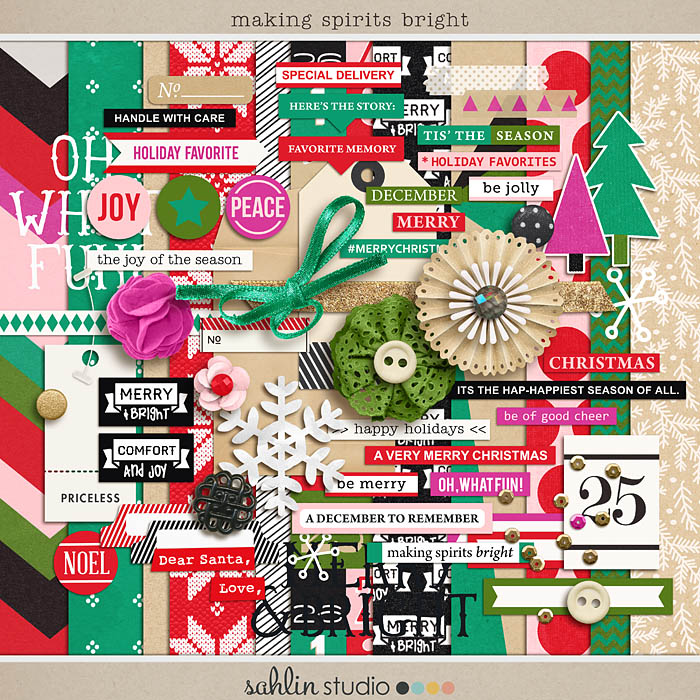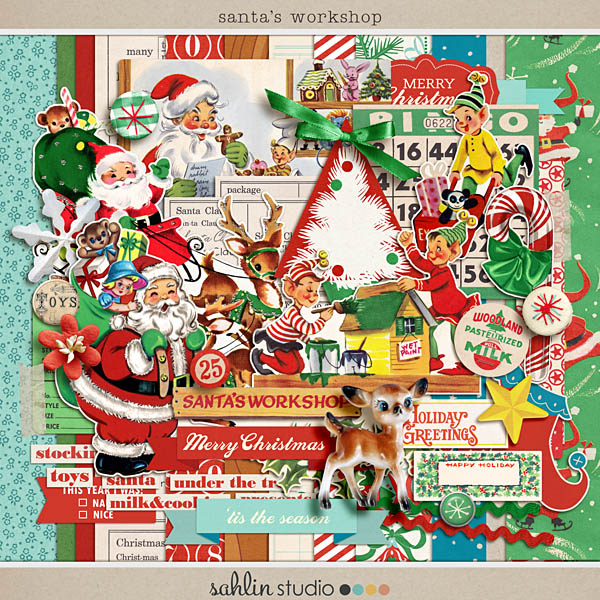 Hi, I'm Theresa of Larkindesign from Kernersville, NC where I live with my four kids, one awesome husband, two cats, a dog, and a bunny. And occasionally our cat brings us pet salamanders. When I am not calming chaos I am in my studio, playing with photos and colors and embellishments. This scrapbooking thing is my passion and I love inspiring others to feel the same way!